HOLLYWOOD PICTURES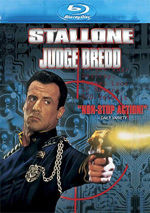 MOVIE INFO
Director:
Danny Cannon
Cast:
Sylvester Stallone, Diane Lane, Armand Assante, Jurgen Prochnow, Rob Schneider
Writing Credits:
John Wagner (characters), Carlos Ezquerra (characters), Michael De Luca (story), William Wisher Jr. (and story), Steven E. de Souza
Tagline:
One man is Judge, Jury, AND Executioner.
Synopsis:
Big-screen superstar Sylvester Stallone powers this nonstop action hit that's loaded with amazing special effects! In a time when all-powerful and coldly efficient "Judges" act with the supreme authority of both the police force and legal system, Judge Dredd (Stallone) is the most feared law enforcer of them all. But when a former Judge (Armand Assante) hatches a sinister plot to overthrow the government and eliminate the Judges, Dredd is framed for murder! Get ready for an explosive action-adventure thrill ride as Dredd does whatever it takes to restore justice!
Box Office:
Budget
$70 million.
Opening Weekend
$12.291 million on 2204 screens.
Domestic Gross
$34.687 million.
MPAA:
Rated R


DVD DETAILS
Presentation:
Aspect Ratio: 1.85:1
Audio:
English DTS-HD MA 5.1
French Dolby Digital 5.1
Spanish Dolby Digital 2.0
Subtitles:
English
Spanish
French
Portuguese
Closed-captioned
Supplements Subtitles:
English
Spanish
French
Portuguese

Runtime: 96 min.
Price: $20.00
Release Date: 9/18/2012

Bonus:
• "Stallone's Law" Featurette
• Sneak Peeks




PURCHASE @ AMAZON.COM

EQUIPMENT
Panasonic 50" TH-50PZ77U 1080p Plasma Monitor; Sony STR-DG1200 7.1 Channel Receiver; Panasonic DMP-BD60K Blu-Ray Player using HDMI outputs; Michael Green Revolution Cinema 6i Speakers (all five); Kenwood 1050SW 150-watt Subwoofer.


[an error occurred while processing this directive]
---
Judge Dredd [Blu-Ray] (1995)
---
Reviewed by Colin Jacobson (September 24, 2012)

With a big-screen remake on the screens, it felt like a good time to check out 1995's Judge Dredd. Set in a dark, violent future, courts no longer exist. Instead, police officers offer instant justice, and of these, Judge Joseph Dredd (Sylvester Stallone) stands as the most respected and feared.

Apparently someone powerful doesn't like him, however, as Dredd gets framed for murder. Convicted of this crime, he receives a life sentence – granted a stay from the usual death penalty at the request of outgoing long-time Chief Justice Fargo (Max Von Sydow) – and is sent to a maximum security facility. However, Dredd manages to escape and attempts to prove his innocence – and also stop the mayhem perpetrated by those who framed him.

After his career reached its popular zenith in 1985, Stallone experienced a steady decline. Things perked up briefly with 1993's Cliffhanger but then went back where they previously stood. I guess audiences tired of Stallone's monosyllabic tough guy routine, and Dredd - a box office clunker – did nothing to alter than impression. It's probably not a coincidence that after two more expensive flops - Assassins and Daylight - Stallone tried to reboot his career with the 1997 drama Cop Land.

I'm not going to say Dredd represents the worst of Stallone's 1990s canon, but I won't say it doessn't, either. Which is a shame, as the movie had some potential to be good. No, the story/characters/theme aren't especially creative, but they still could've delivered an exciting experience. Dredd could've been an interesting mix of Hitchcock and Blade Runner.

Instead, it's just cliché and stupid – really, really stupid. In fact, Dredd sinks to such lows of hammy idiocy that I couldn't help but wonder if the filmmakers intended it as a parody. I don't think they did, but given the movie's absurdity, I can't rule out that possibility.

Dredd really does play like a spoof of bad 80s action flicks. It throws out copious amounts of lame comic relief mixed with over the top action and broad performances. It even gives Stallone a weird form of glamour lighting as though he's the reincarnation of Veronica Lake. None of this works. If the filmmakers want us to invest in the story and events, they fail, as the result is so silly that we can't dig into it.

And if they wanted to create a parody, they flopped as well. Rather than look like a spoof of a bad movie, it just looks like a bad movie. Dredd seems to want to take the path walked by the original Total Recall: a self-aware action flick that revels in its outrageousness.

Unfortunately, it's just too brain dead to succeed. I was never wild about Total Recall, but it works much better than the moronic, campy Dredd. There's a decent flick buried in here somewhere, but I can't find it within this silly stinker.
---
The Blu-ray Grades: Picture B+/ Audio A-/ Bonus D+
---
Judge Dredd appears in an aspect ratio of approximately 2.35:1 on this Blu-Ray Disc. I felt pretty pleased with this solid transfer.
Overall sharpness looked good. A little softness occasionally affected some interiors, but those instances weren't a major factor, as the image remained well-defined most of the time. I noticed no issues with jaggies or shimmering, and edge haloes were absent. Noise reduction didn't mar the presentation, as the movie came with a nice layer of natural grain, and the transfer lacked any specks, marks or other print flaws.
In terms of colors, Dredd provided appealing hues. The tones tended to be a little stylized – with a blue feel in Mega City 1 and a sandier feel to the Cursed Earth – but weren't over the top in that way. Instead, the seemed full and attractive. Blacks looked dark and deep, while shadows showed nice clarity and smoothness. This became a consistently strong image.
Even better, the DTS-HD MA 5.1 soundtrack of Dredd delivered a real slam-bang affair. The movie delivered a wildly active soundscape that used all five speakers in a dynamic manner. Almost no parts of the film lacked good material from the different channels, as we got an immersive, engulfing soundfield. The action flew hot and heavy throughout this impressive mix.
Audio quality was also good. A little edginess occasionally affected speech, but the majority of the lines came across as acceptably natural and distinctive; dialogue was the track's weakest link but not a real problem. Music sounded bold and full, and effects provided some killer material. Those elements seemed lively and powerful, with deep, taut low-end. I felt impressed by this fun soundtrack.
In addition to the film's trailer, we get a featurette called Stallone's Law: The Making of Judge Dredd. It runs 20 minutes, two seconds and includes comments from director Danny Cannon, executive producer Andrew Vajna, producer Beau Marks, production designer Nigel Phelps, visual effects supervisor Joel Hynek, special effects supervisor Joss Williams, costume designer Emma Porteous, and actors Sylvester Stallone, Jurgen Prochnow, Rob Schneider, Diane Lane, Armand Assante, and Joan Chen. "Law" looks at characters and story, sets and production design, various effects, cast and performances, costumes, and action.
"Law" comes from 1995 and exists to promote the film. That makes it frothy and fluffy, but it still throws out occasional pieces of useful info. We don't learn a ton here, but we get some decent footage from the set, so this ends up as a passable promo piece.
The disc opens with ads for Frankenweenie and various TV series on Blu-ray/DVD. These also appear under Sneak Peeks along with promos for The Avengers, Who Framed Roger Rabbit, Castle and more ABC TV series.
Maybe the 2012 update on the franchise will be more satisfying than 1995's Judge Dredd. It seems unlikely to offer a less enjoyable movie, as the campy, idiotic 1995 flick provides few pleasures; it's not even fun in a "so bad it's good" way. The Blu-ray delivers very good picture and audio but skimps on supplements. Though the movie itself lacks charms, at least the Blu-ray brings it home in a satisfying manner.
| | |
| --- | --- |
| Viewer Film Ratings: 3.8333 Stars | Number of Votes: 6 |