Kate and Leopold appears in an aspect ratio of approximately 1.85:1 on this single-sided, double-layered DVD; the image has been enhanced for 16X9 televisions. At times the movie presented a very positive picture, but a mix of problems caused me to drop my grade significantly.
Sharpness appeared good throughout the movie. I felt the image remained nicely crisp and well defined. I detected very few signs of softness or fuzziness. Jagged edges showed no concerns, but I noticed a little shimmering at times, and some minor edge enhancement also appeared.
I thought the mix of print flaws seemed more significant. Occasional examples of grit, speckles, spots and nicks appeared, and the image appeared surprisingly grainy much of the time. When this occurred during low-light sequences, I didn't think it was terribly problematic, though it still looked excessively grainy. However, the concern also cropped up in some daylight scenes, and it became distracting at times.
Colors seemed solid. The 1876 scenes showed a golden tone typical for that kind of material, but it didn't appear intrusive or overdone. The hues came across as clean and natural, and they appeared nicely vivid most of the time. Black levels also seemed rich and deep, while shadow detail looked appropriately dense. Ultimately, much of Kate and Leopold seemed very attractive, but the film exhibited too many flaws for such a recent release.
Though this kind of romantic comedy usually presents a bland soundtrack, I felt fairly impressed by the Dolby Digital 5.1 audio of Kate and Leopold. Its soundfield seemed surprisingly active and engaging. The forward spectrum dominated, but not to the degree I expected. Music showed good stereo presence and imaging, while effects popped up logically and realistically from the sides, and they blended together well. The surrounds kicked in fine reinforcement of the score and they also added a very nice sense of dimensionality to the mix. Most compelling was a loud thunderstorm early in the film, but the rest of the flick imbued even quiet scenes with a good element of atmosphere.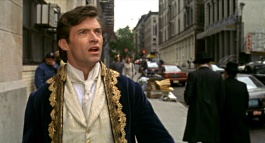 Audio quality also appeared very good, with one periodic exception. Most speech sounded natural and distinct, but at times, the lines showed some edginess. Nonetheless, those instances occurred infrequently, as most of the dialogue was fine, and none of it ever displayed any problems related to intelligibility. Music seemed lush and vibrant, as the score demonstrated excellent range and fidelity. Effects also offered solid clarity and accuracy, and they packed a real punch when necessary; that thunderstorm I mentioned boasted some terrific bass. Overall, the moderate problems related to the speech kept this soundtrack from "A" level, but I still felt impressed with the audio of Kate and Leopold nonetheless.
Though not stuffed with extras, Kate and Leopold does include a decent roster of goodies. Interestingly, the DVD presents two versions of the film: the theatrical release and the director's cut. The latter lasts 118 minutes, while the former goes 123 minutes. I only watched the "director's cut", which I believe uses seamless branching; I'd be surprised to learn they actually inserted two full versions of the movie on the disc given its length. In any case, I never watched the theatrical edition on its own, so I can't compare the two, but I thought it was cool that both appeared on the DVD.
Addition: after a little reading, I discovered that the theatrical cut apparently omitted the notion that Stuart was related to Leopold. That makes sense for reasons I won't explain; to discuss them would reveal plot twists. Let's just say that some questions of taste arise when we know that Stuart and Leopold are kin.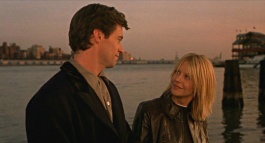 Next we find an audio commentary from director James Mangold, who provides a running, screen-specific track. Mangold's discussion of Girl, Interrupted didn't impress me, but he offers a much more compelling commentary here. He cuts down on the excessive praise for the actors - though he pats himself on the back a little too much, such as his periodic remarks about how much he likes a line or a scene from the script he wrote - and gives us a terrific amount of information. Mangold discusses a tremendous array of subjects, from his feelings about modern society vs. the late 19th century, the polling process used for movies and other things, working with the actors, story issues, and much more. Though he loses a little steam toward the end, he rarely pauses during this chatty, engaging and informative piece.
On the Set provides a short featurette about the movie. The piece lasts 14 minutes and 28 seconds and shows the standard combination of movie clips, behind the scenes snippets, and interviews with principals. In the latter category, we hear from Mangold, producer Cathy Konrad, executive producer Kerry Orent, production designer Mark Friedberg, and actors Meg Ryan, Hugh Jackman, Liev Schreiber, and Breckin Meyer. Don't expect much from this show, for it offers little more than the usual promotional piece. We get a few decent tidbits about set design and a couple of other areas, but otherwise, the program lacks anything of much interest.
More compelling are the seven deleted scenes. Each of these runs between 41 seconds and two minutes, 21 seconds for a total of nine minutes and five seconds of material. The snippets appear in anamorphic 1.85:1 with Dolby Digital 5.1 sound. Virtually nothing here would add much to the film, but the clips are interesting to see, especially a wicked Bradley Whitford improv. Had it appeared in the final cut, it would have stopped the movie cold, and I doubt anyone ever really considered using it, but it's entertaining on its own.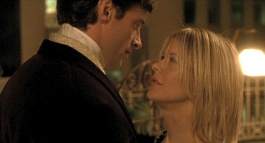 The deleted scenes can be viewed with or without commentary from Mangold. He provides the basic info and relates why the clips didn't make the cut. In addition, he provides a few additional tidbits about the movie, but his remarks remain fairly rudimentary.
In the "short but interesting" category comes the Costume Featurette. This 173-second piece offers statements from costume designer Donna Zakowska and also shows shots from the set and some sketches. Obviously, the brief length of the piece prevents it from becoming terribly deep, but it packs some good information into that short period, and it definitely merits a look.
Next we locate a Photo Gallery. This area includes 82 stills. These mix publicity shots, images from the movie, production photos and some sketches. It's a nice little section, though it could use the thumbnailed approach found on other Disney-produced discs.
The music video for Sting's "Until" also appears. Not one of Der Stingle's better tunes, it comes as a pretty terrible video. The clip relies heavily on scenes from the movie, which intercut with shots of Sting as he records the song. It's a very bland and boring video that looks like no one bothered to put any effort into it.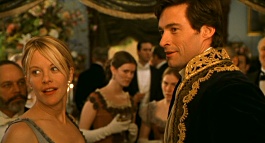 Oddly, the trailer for Kate and Leopold fails to appear on the DVD, but we do find many other ads in the Sneak Peeks domain. This includes a promo for "Miramax Gold" and the Kate and Leopold soundtrack as well as these films: The Others, Serendipity, Strictly Ballroom, Chocolat, The Importance of Being Earnest, and an upcoming version of Pinocchio. A live-action edition of Pinocchio with Roberto Benigni in the lead role? Please kill me now!
While Kate and Leopold mostly gave me what I thought I'd see, I didn't expect to enjoy it. However, I did like the movie, at least to a moderate degree. I won't want to check it out again, but I found it to be a pleasant experience that worked fairly well. The DVD's image seems good for the most part, but some nagging flaws marred it to a moderate degree. The audio appears quite positive except for some vocal distortion, and the disc includes some nice extras. Fans of romantic comedies should give this one a look, for it does nicely within that genre.