MIRAMAX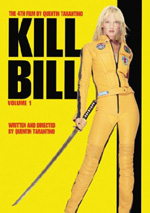 MOVIE INFO
Director:
Quentin Tarantino
Cast:
Uma Thurman, Lucy Liu, Vivica A. Fox, Daryl Hannah, David Carradine, Michael Madsen, Julie Dreyfus, Chiaki Kuriyama, Sonny Chiba
Writing Credits:
Quentin Tarantino
Tagline:
In the year 2003, Uma Thurman will kill Bill.
Synopsis:
A female assassin (Uma Thurman), attacked on her wedding day by her group leader, Bill, wakes up from a coma and seeks revenge.
Box Office:
Budget
$55 million.
Opening Weekend
$22.089 million on 3102 screens.
Domestic Gross
$69.902 million.
MPAA:
Rated R


DVD DETAILS
Presentation:
Widescreen 2.35:1/16x9
Audio:
English Dolby Digital 5.1
English DTS 5.1
French Dolby Digital 5.1
Subtitles:
English
Spanish
Japanese
Korean
Chinese
Closed-captioned

Runtime: 111 min.
Price: $29.99
Release Date: 4/13/2004

Bonus:
• "The Making of Kill Bill
• "5, 6, 7, 8's" Perform "I Walk Like Jayne Mansfield" and "I'm Blue"
• Tarantino Trailers




PURCHASE @ AMAZON.COM

EQUIPMENT
Sony 36" WEGA KV-36FS12 Monitor; Sony DA333ES Processor/Receiver; Panasonic CV-50 DVD Player using component outputs; Michael Green Revolution Cinema 6i Speakers (all five); Sony SA-WM40 Subwoofer.


[an error occurred while processing this directive]
---
Kill Bill: Volume One (2003)
---
Reviewed by Colin Jacobson (April 6, 2004)

For a while there, it looked like James Cameron and Quentin Tarantino were in a staring contest. Both put out movies at the end of 1997 and then took forever to produce follow-up flicks. It was like they battled for the title as the new Terrence Malick.

Tarantino blinked first. The fall of 2003 saw his first flick in almost six years via Kill Bill Volume 1. At least it didn't take long for Tarantino's next release, as Volume 2 hit the screens only about six months after the first iteration.

Will we need to wait until 2010 for the next Tarantino offering? I don't know. Was Kill Bill worth the wait? I also don't know, for I don't want to judge until I see the conclusion of the series. On its own, Volume 1 provides a distinctive and interesting flick, but not one that seems wholly satisfying.

Like Tarantino's other films, he tells Bill in a typically non-linear fashion. I won't simply detail the film in the way it progresses. Instead, I'd prefer to summarize the tale in a general way.

Someone slaughters a wedding party. Only The Bride (Uma Thurman) narrowly survives, though her unborn baby dies. She lays comatose for four years but finally snaps out of it and immediately goes on a mission of revenge against those who attacked her. Formerly a member of the Deadly Viper Assassination Squad, her old compatriots went after her, so she decides to go back after them. She heads to Japan to connect with sword-maker Hattori Hanzo (Sonny Chiba), also a former tutor of ringmaster Bill (David Carradine). The Bride snares one of Hanzo's signature blades and begins her quest for vengeance with Vipers O-Ren Ishii (Lucy Liu) and Vernita Green (Vivica A. Fox). (She'll go after the others and Bill in Volume 2, one presumes.)

Again, since Bill works in a non-linear way, don't expect the story to unfold in a manner remotely close to what I just described. Indeed, though it occurs last in the strict chronology, the conflict with Green opens the film. As with his prior flicks, though, Tarantino makes this potentially disjointed flow very smoothly, and it never feels forced or awkward.

Actually, I take that back, as maybe it does sometimes flail a bit. Sometimes I write the movie review element of my articles right after I see the flicks theatrically; it saves me time when I later get the DVD. I didn't do that for Bill but now wish I had, mainly because I changed my mind about it.

When I watched the flick in theaters last fall, it left me fairly cold. It had its moments, but a lot of it felt like Tarantino tried too hard. After all that time between movies, expectations ran very high, and it didn't help that Bill appeared to proclaim itself as a Major Work: the opening credits list it as the "4th Film By Quentin Tarantino", which comes across like a rather pompous and grandiose way to open the piece.

It still strikes me as odd, but I definitely like the movie itself much more than I did the first time. Perhaps Bill tosses so much at the audience that it really requires a second screening to maintain one's bearings. It definitely presents a wild mélange of genres and styles. Though mainly inspired by cheap Japanese action flicks of the Seventies, the film tosses in many other styles. It even includes an extended anime sequence. Miraculously, that piece blends with the rest, even though it easily could have ground the film to a halt.

In an interesting departure, Bill features little of Tarantino's trademark snappy banter. You'll find nothing quotable like the "Royale With Cheese" bit from Pulp Fiction or the Like a Virgin chat at the start of Reservoir Dogs. Instead, much of Bill features rather stilted and intentionally overwrought dialogue. I mean, would anyone really say "I beseech you" in this day and age? Probably not, but it works fine in this sort of flick.

Of course, it's not like Tarantino totally avoids quirkiness. However, in this setting, a lot of it takes on a rather distasteful tone. For example, the treatment the Bride receives as a comatose hospital patient seems pretty bizarre. Quentin also heaps on the blood, though in more of a comical vein; Bill's bloodiness reminds me more of Monty Python and the Holy Grail than something realistically gory.

In any case, Kill Bill won't be for everybody. Actually, I find it hard to pin down a real target audience for this film. Sure, I suppose those with an affection for the genre flicks to which Tarantino pays homage will get into it, but he plays with the rules so much that it doesn't seem solely meant for them. In patching together various styles, Tarantino creates something unique and definitely intriguing. Bring on Volume 2!
---
The DVD Grades: Picture B+/ Audio B+/ Bonus C
---
Kill Bill Volume 1 appears in an aspect ratio of approximately 2.35:1 on this single-sided, double-layered DVD; the image has been enhanced for 16X9 televisions. Most of the time the movie looked excellent, but a few small concerns lowered my overall impression.
Sharpness usually came across well. Some scenes looked a little soft, particularly during the Vernita Green sequence early in the film. Otherwise, the movie almost always appeared quite crisp and detailed. Jagged edges and shimmering created no problems, and I noticed no signs of edge enhancement. As for print flaws, the occasional speckle cropped up, but the movie mostly seemed clean.
To call the palette of Bill "stylized" would be a gross understatement. The color schemes varied frequently throughout the movie. From the vivid, almost garish colors of the suburbs to the sickly blue-greens of the hospital to the warm, rich golden tones of Hanzo's shop, tones shifted often. The DVD always replicated these nicely, with great distinctiveness and clarity. Black levels seemed deep and firm, while low-light shots looked clean and accurately delineated. Ultimately, the visuals of Kill Bill seemed very satisfying.
Similar sentiments greeted the audio of Kill Bill. The DVD presented both Dolby Digital 5.1 and DTS 5.1 soundtracks. The pair seemed very similar. Volume levels differed, as the DTS mix was mastered at a considerably higher level, but otherwise the two appeared virtually identical.
As with the visual schemes, the use of audio varied dependent on the setting. Many parts of the movie featured a heavy emphasis on the forward spectrum, but during more action-oriented sequences, the surrounds became substantially more active. Blood splattered wildly and weapons flew around the spectrum. Other elements brought life to the rears, but those did the majority of the work along with various vehicles. Music also demonstrated significant support from the surrounds at times. Effects always seemed accurately placed and they moved smoothly around the field. The elements blended cleanly and naturally.
Audio quality seemed solid. Dialogue always sounded distinctive and crisp, with no issues connected to intelligibility or edginess. Music varied somewhat since the film used so much source material, but the songs and scores mainly came across as vivid and dynamic. Effects presented lively elements, with good clarity and range. Bass response was clean and tight, and the entire track seemed accurate and vibrant. The audio of Kill Bill consistently satisfied.
Unfortunately, the DVD's supplements seem less enticing. The prime attraction comes from The Making of Kill Bill. This 22-minute and four-second piece presents the standard assortment of movie snippets, archival materials, and interviews. We get notes from writer/director Quentin Tarantino, producer Lawrence Bender, composer the RZA, and actors Uma Thurman, Vivica A. Fox, Julie Dreyfus, Daryl Hannah and Lucy Liu. They get into the origins of the flick, training, casting and characters, the film's style and the shoot, the mélange of genres and various inspirations, the use of music, and shooting in Asia. A minor amount of fluff appears here, but the show seems surprisingly tight and informative. It gives us a nice accounting of many areas. While I don't see it as a great documentary, it does well for what it is, and it provides a surprisingly solid look at the flick.
Next we find "5, 6, 7, 8's" Perform "I Walk Like Jayne Mansfield" and "I'm Blue". Here we see the girl band from the club at the end of the movie as they play the tunes cited. Essentially, this offers a look at outtakes from the movie; these snippets don't cut to other parts of the movie and just focus on the band as they perform. The second song shows up in the movie, but the first doesn't. I can't say I like either, but this adds a mildly cool extra anyway.
Finally, we get a collection of Tarantino Trailers. We find ads for all of QT's directorial efforts: Reservoir Dogs, Pulp Fiction, Jackie Brown, and both volumes of Kill Bill. Volume 1 is represented by both its teaser and "bootleg" trailers, while we find a teaser for Volume 2.
I don't know if Kill Bill Volume 1 lives up to six years of expectations, but it provides a satisfying stew nonetheless. The movie mixes many different formats but holds them together surprisingly well to create a distinctive action flick. The DVD offers very solid picture and audio but skimps on extras; only the short but decent documentary keeps the supplements from totally bombing. Too bloody and bizarre for a mass audience, those with an affinity for the off-beat but still accessible should dig Kill Bill Volume 1.
| | |
| --- | --- |
| Viewer Film Ratings: 4.5121 Stars | Number of Votes: 82 |