Reviewed by Colin Jacobson
Special Edition DVD
MGM, widescreen 1.85:1, pan&scan, languages: English DD 5.1, French Dolby Surround, subtitles: English, French, double side-single layer, 28 chapters, rated R, 117 min., $24.98, street date 5/18/99.
Supplements:
Audio commentary by directors Peter & Bobby Farrelly
Deleted scenes
8-page booklet featuring trivia & production notes
Theatrical trailer
Studio Line
Directed by Peter & Bobby Farrelly. Starring Woody Harrelson, Randy Quaid, Vanessa Angel, Bill Murray, Chris Elliott, William Jordan.
The guys who brought you There's Something About Mary and Dumb and Dumber strike again with a gut-busting farce that's "just too funny" (Los Angeles Times)! Woody Harrelson, Randy Quaid and Vanessa Angel come up winners in this riotous, joke-a-second comedy with plenty of balls.
Harrelson is Roy Munson, a pro bowler who seems destined for greatness, or as close to greatness as a bowler can get. But after a run-in with angry competitors, Roy finds himself sadder, wiser and minus his bowling hand! Years later, he meets the na´ve Ishmael, an Amish bowling whiz. Together they set out for a million-dollar tournament in Reno, and along the way pick up Claudia, a sexy vixen with brains, attitude and really big...ideas. With her help, they make it to the tournament. But will Roy and Ishmael win the big match and score fame and fortune...or will all their hopes and dreams just go barreling down the gutter?
Picture/Sound/Extras (B-/C-/C+)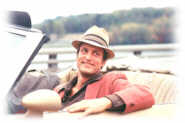 Okay, I'll admit this right off the bat: I'm not a fan of the Farrelly brothers form of humor. Dumb and Dumber truly lived up to its title, and There's Something About Mary offered about two or three decent laughs; the rest of it was simply a lame attempt to pass off disgusting sights as humor. Sorry, but seeing Cameron Diaz style her hair with spooey just doesn't do it for me.
Perhaps because I'm ridiculously masochistic, I decided to give Kingpin a whirl. It was the only Farrelly brothers picture I hadn't seen, so I was curious to discover if it possessed any kind of redeeming qualities that were so painfully absent from the other two.
Strike three! Kingpin is a comedy in name only; there's so little funny stuff happening here that it's positively stunning; you'd think that by accident they'd get something right every once in a while.
Actually, the movie starts off fairly promisingly. This is almost completely due to the presence of Bill Murray. As we learn in the directors' audio commentary, Murray made up the vast majority of his lines himself; he literally threw away his script on most occasions. As such, it's not a coincidence that his parts of Kingpin are honestly the only scenes that offer any laughs.
Unfortunately, his is a small role, and he's essentially out of the picture after about the first 15 minutes. We see more of Murray toward the end of the film, but by then it's a case of too little, too late; I thought his parts didn't work as well at that point not so much because his jokes were worse but more due to the fact that I was so worn out from all the unfunny crap I'd seen in the interim.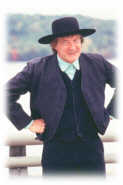 Other than Murray, nothing else in Kingpin makes a positive impact. The rest of the movie is mush of inane comic antics that rarely approach the realm of "funny." Many of the same lousy jokes get repeated over and over again; for example, we hear name quips along the lines of "Don't call me Shirley!" way too many times. And there are just so many prosthetic hand gags one man can take; that prop gets way overused.
Outside of Murray, the rest of the cast function as virtual nonentities - they're just taking up space. Well, that's not completely true; Vanessa Angel looks really hot. She couldn't act her way out of the proverbial paper bag, and her comic skills are nonexistent, but she does get the old pulse racing!
Woody Harrelson and Randy Quaid are very talented and likable actors, but they're completely wasted here. Neither possesses the comedic skills necessary to make Kingpin watchable. Actually, I'm not sure anyone is that talented; if Murray hadn't scrapped the script, he probably would have bombed as well.
Don't misunderstand me and accuse me of being some sort of priggish prude who's too uptight to go for the baseness depicted here; that couldn't be farther from the truth. I greatly enjoy "dumb guy" routines - I love Mike Judge's stuff - but there has to be some level of cleverness or intellectual irony present; the Farrelly brothers have no clue. It completely escapes me why the frequently inventive and creative work of Adam Sandler gets bashed as being blatantly stupid but the predictable, plodding inanities of the Farrelly boys receive critical kudos.
In Billy Madison, Sandler presented a scene in which Billy and his cronies - all men in their late 20's or 30's - delighted in playing the old "burning pile of poop on the doorstep" practical joke. This scene worked because it was funny to see the anachronism of these adults engage in and are tremendously amused by this pathetic prank.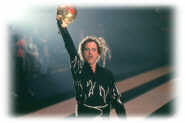 If the Farrelly brothers offered this scenario, however, they would just have someone burn some poop because, you know, it's POOP! You don't need anything else - it's POOP! That's funny!
Or maybe not. Way too much of their material replaces cleverness and wit with simply outrageousness and shock. There's nothing funny about Woody Harrelson getting it on with a skanky old lady and then vomiting - it's damned disgusting. Woody with a "milk mustache" of bull semen? Same deal - it's just completely disgusting. It requires no skill to develop these kinds of gags; you just have to be someone who likes to say and do socially inappropriate things. The Farrelly brothers are the kid in your school who would eat a worm just to get a reaction; they wouldn't know a good joke or a funny scene if it whapped them in the ass. (I said "ass!" I'm hilarious, too! Where's my five movie deal?)
The Kingpin DVD includes four minutes of footage that didn't appear in the theatrical version. Since I didn't see the movie prior to obtaining the DVD, I can't state specifically of what the extra scenes consist, but from what I understand, it's basically some bits of existing segments that were dropped to keep the film in "PG-13" territory (it's now "R"). Great. I guess that means this version's even more disgusting than the original cut was. There's definitely something to be said for theatrical releases marking the definitive version of a film...
With or without the extra footage, Kingpin is WAY too long. This movie pushes the two hour mark, and it shows. The story - well, what little plot there is - slowly meanders its way toward the film's inevitable conclusion. The film wouldn't have been any funnier, but a tighter cut - say, in the 90 to 100 minute range - would have made it more bearable; the tedium of it makes the lack of comedy even more difficult to stand.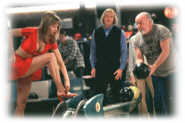 Speaking of the ending, the Farrellys don't even have the guts to bring the movie to a logical conclusion. After nearly two hours of documenting "man's inhumanity to man" through horrible people and unpleasant situations, they cop out and give us a saccharine-sweet happy ending. Buh? Where did that come from? It seems ridiculously out of place and strikes me as simple intellectual cowardice. It's like the way Don Rickles will spend an hour with his insult-filled routine but then tell everyone, "I'm just joking! I really love everybody!" before he leaves the stage. The Farrellys seem to think that their happy ending shows that they have heart, and that they've created rich, likable characters. Neither is the case; the truth is that they're just wimps, afraid to finish what they started. If you want to make an over the top movie of this sort, at least go all the way; don't insult us as you try to have your cake and eat it too. I wouldn't have enjoyed the film any more if it had been internally consistent, but at least it would have demanded more respect.
I guess the Farrellys and I seem to be on completely different wavelengths, because I simply cannot find any redeeming value in their work. Geez, I even detest their taste in music, as they delight in such artists as the cloying, artificially quirky Jonathan Richman and bloated, indulgent wannabes Blues Traveler (both of whom make onscreen appearances here; Richman also worked as the "Greek chorus" in Mary). Yikes!
As far as the DVD of Kingpin goes, it also is not very impressive. The picture frequently/usually looks very good, with strong focus and effective colors. However, the image also tends to be rather grainy and soft at times, and the hues can often look oversaturated. For some reason, this seemed to be a problem mainly in the first half of the film; with the occasional exception, the movie looked better as it continued. Nonetheless, it's a fairly mediocre transfer.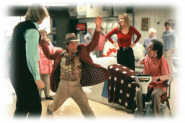 As questionable as I found the image to be, the Dolby Digital 5.1 sound mix is even worse. This thing's 5.1 in name only, as far as I can tell; the use of the surround channels was very weak. Occasionally we hear the faint echo of music emerge from them, and we get some very rare effects, but that's about it. This surround mix was so poor that at one point, I stopped the movie and ran some diagnostics on my receiver to make sure it was working correctly!
Kingpin does make pretty effective use of the front channels, however, as sound pan nicely across them. As far as the quality of the audio goes, I thought it was average at best; dialogue, effects, and music sounded okay but not especially good. The whole mix simply struck as being very weak and punchless for such a recent movie.
As far as supplemental materials go, the main attraction in Kingpin is the running audio commentary from the Farrelly brothers. Like the film, this track is also basically a disaster. Since I so clearly do not relate to their style of humor, I hoped that their musings would reveal to me what they're trying to do and what point they're trying to make. No go. Every so often, they offer some information about their style or their philosophy, but those nuggets are exceedingly few and far between.
Instead, what we get is essentially a very long credit listing. The brothers spend literally the vast majority of the track telling us the names of all the actors, as in, "That's Petey Brewster, he's the accountant on the picture, we flew him in to do a couple days... That guy in the back there, that's Sam Singleton, we went to college with him, he's a good guy..." That's what they say, over and over and over again! It's really quite stunning; often, when they actually start to tell us some interesting information, they'll interrupt themselves to mention another onscreen participant!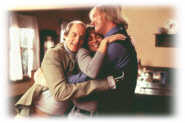 Even when they do tell us something useful, it gets repeated again and again. Yeah, it's interesting to know that Bill Murray wrote his own stuff, but did they have to relate this fact so many times? I'd guess that they repeat this information at least seven or eight times during the movie; it's probably higher. This commentary isn't as unlistenably dry as that from Roger Donaldson on Dante's Peak, but it's woefully short of insight or entertainment.
As far as other supplements go, we get the theatrical trailer and a pretty nice booklet that includes production notes, and various factoids about the participants and about bowling. The booklet's probably the most entertaining thing here, which isn't saying much.
At this point, I'm supposed to make a recommendation. If you've read the preceding paragraphs and didn't just skip down here first thing, then you don't have to be Nostradamus to know which way I'm going to go: Kingpin is a terrible movie brought to home video via a fairly mediocre DVD. If you're already a fan of the picture - and God help you if that's the case - then there's really nothing I can say that will dissuade you; the DVD's not very good but it's not like it's Scarface bad or anything. Still, you'd be better off saving the money; just hang out in a barn and watch the animals poop - it's about the same as watching Kingpin.
Related Sites
Current as of 6/12/99

Official Site--Released in 1996, it's great to see that MGM stills maintain the site. The simple design is a sharp contrast to today's advanced and flashy movie sites. The Production section records the making of the film, while a useful Links section points you to the bowling leagues, tournaments, and communities.
Roger Ebert--"Kingpin provides the release of many kinds of laughter."
James Berardinelli's ReelViews--"The really disgusting thing about this movie isn't the crude jokes themselves, but how grossly unfunny they all are."
Woody Harrelson Fan Site--"This site is dedicated to Woody Harrelson, actor/environmentalist. I hope this is a place where you'll learn more about Woody and his causes." A comprehensive site with a wide choice of categories and strong content.
Mr. Showbiz Celebrities: Bill Murray--An excellent source for profile and credits.
Amazon.com--Available to purchase are the DVD at 30% off and the original movie soundtrack featuring various artists.
Reel.com--Purchase the DVD at 30% off.
Previous: Alien 3/Alien Resurrection | Back to Main Page