After all that we finally move to DVDs Three and Four, where boohoogles of additional extras reside. Disc three starts with a 78-second Introduction from director Peter Jackson. He gives us a quick overview of what to expect from these platters and also provides tips for navigation of them. Jackson points out the existence of a "Play All" option but notes the potential drawbacks to its usage.
Entitled "From Book to Vision", DVD Three initially splits into six subdomains. J.R.R. Tolkien – Creator of Middle-earth offers a 22-minute and 27-second program that mixes short movie images, archival pieces, and interviews with Peter Jackson, co-writer Philippa Boyens, Tolkien historians Tom Shippey, Chris Upton, Humphrey Carpenter, and Dr. Patrick Curry, Tolkien's published Rayner Unwin, Jane Johnson of Harper Collins, conceptual designer John Howe, and actor Viggo Mortensen. The program provides a short biography of the author and then delves into some discussion of the nature of some parts of the stories. "Tolkien" gives us a nice look at the realm's creator and his influences and attitudes.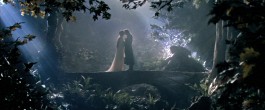 The 20-minute and three-second From Book to Script gives us some shots from the set, movie clips, and interviews with Peter Jackson, director of photography Andrew Lesnie, actors Sean Bean, Christopher Lee, Billy Boyd, Elijah Wood, Liv Tyler, John Rhys-Davies, Viggo Mortensen, Ian McKellen, Orlando Bloom, Sean Astin and Dominic Monaghan, Weta Workshop designer/sculptor Daniel Falconer, miniatures director of photography Alex Funke, executive producer Mark Ordesky, co-writer Philippa Boyens, Tolkien scholar Brian Sibley, editor John Gilbert, Weta Workshop creative supervisor Richard Taylor, Weta VFX art director Christian Rivers, co-producer Rick Porras, co-producer Jamie Selkirk and producer Barrie Osborne. As indicated by its title, this show covers the initial parts of the film adaptation. We hear about how the project went from Miramax to New Line and we then learn about all the difficulties cast and crew encountered when they tried to meld the tale for the screen. The program provides a very nice discussion of the challenges and why the filmmakers made some of their choices.
One other interesting aspect of "From Book to Script": you'll note the absence of co-writer Fran Walsh from that program and all the other video snippets. That seemed odd, but Philippa Boyens explains that Walsh doesn't show up so she and Jackson can still try to maintain some form of privacy; he represents the public face of the team, as required of a high-profile director.
Five smaller segments make up the content of Visualizing the Story. "Storyboards and Pre-Viz: Making Words Into Images" lasts 13 and a half minutes and uses the standard format with movie clips, behind the scenes footage, and interviews. We hear from Jackson, miniatures director of photography Alex Funke, Weta VFX art director Christian Rivers, producer Barrie Osborne, production designer Grant Major, actor Elijah Wood, co-producer Rick Porras, Weta VFX cinematographer Brian Van'r Hul, Weta animation designer and supervisor Randall William Cook, and pre-viz/VFX art department coordinator Marion Davey. "Images" covers all the preparation for those elements of the movie. We learn about the storyboards and all the other forms of visual planning Jackson and the rest accomplished. We'll see more detailed examples of these in the rest of "Visualizing", so this program provides a nice introduction and overview for the subjects and how they were used during Fellowship.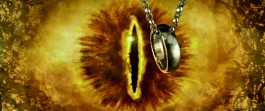 "Early Storyboards" contains filmed and acted art for three different scenes: "The Prologue" (7:38), "Orc Pursuit into Lothlorien" (93 seconds), and "Sarn Gebir Rapids Chase" (102 seconds). None of those ended up in the final film, which makes their appearances here all the more valuable. The "Pre-Viz Animatics" offer basic looks at two sequences: "Gandalf Rides to Orthanc" (68 seconds) and "The Stairs of Khazad-Dum" (2:19). These demonstrate early computer animated renditions of those scenes.
More of this sort of footage appears in "Animatic to Film Comparisons". This shows a "Storyboard to Film Comparison" for "Nazgul Attack at Bree" that allows you to watch the split-screen comparison or the storyboards or film alone; it lasts 106 seconds, and you can use the "angle" button to flip through the three options. A "Pre-Viz to Film Comparison" shows up for "The Bridge of Khazad-Dum"; like the last piece, it lets you jump from the split-screen presentation to the pre-viz or film elements alone, and it runs two minutes, 34 seconds.
Finally, the "Bag End Set Test" takes six minutes, 33 seconds and starts with comments from Peter Jackson, co-producer Rick Porras, and Weta VFX art director Christian Rivers. They discuss the material we'll see, which mostly consists of practice footage that shows Jackson as Bilbo and Porras as Frodo. This offers a very entertaining piece.
We get four subdomains in Designing and Building Middle-earth, three of which provide documentary programs. "Designing Middle-earth" lasts 41 minutes and 11 seconds and features the same format seen with the prior piece. It includes interviews with Peter Jackson, conceptual designers Alan Lee and John Howe, Weta Workshop creative supervisor Richard Taylor, production designer Grant Major, Weta Workshop designer/sculptor Daniel Falconer, Christian Rivers, visual effects art director Jeremy Bennett, co-producer Porras, and supervising art director/set decorator Dan Hennah. This show covers many of the film's visual elements. From early conceptual art to specifics of locations and sets and props, we get lots of information about these topics. After a general introduction, we go through each of the movie's sites in the order they appear. This becomes a satisfying way to explore the places and artifacts of the film, and "Building" works nicely.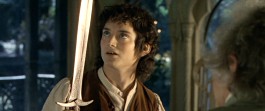 Called "Weta Workshop", the next program examines that studio's work on Fellowship. The documentary lasts 43 minutes and features interviews with Jackson, actors Wood, Lee, McKellen, Tyler, Rhys-Davies, Bean, Mortensen and Astin, conceptual designers John Howe and Alan Lee, producer Osborne, Weta Workshop creative supervisor Richard Taylor, Christian Rivers, co-producer Porras, designer/sculptor Falconer, Weta Workshop manager Tania Rodger, miniatures director of photography Funke, prosthetics supervisor Gino Acevedo, and sword smith Peter Lyon. While "Building" covers the design of the many elements, "Workshop" looks more at the actual construction of those pieces and it also gets into the creatures, weapons, armor, and various other elements.
"Workshop" features discussions of the film's miniatures as well as the building of the monsters, prosthetics, and additional practical pieces. Mostly we watch Richard Taylor as he walks through the different props and other things and tells us about them. That may sound dry, but the presentation mixes up the media enough to keep matters interesting. The material about hobbit feet and other alterations to the actors seems especially interesting. "Workshop" nicely matches with "Building", as the combination of programs provides a good examination of the film's physical design aspects.
This domain's final documentary, "Costume Design" runs 11 minutes and 33 seconds. In addition to the standard movie bits and behind the scenes material, we hear from costume designer Ngila Dickson, producer Osborne, and actors Wood, Mortensen, McKellen and Lee. Dickson strongly dominates this entertaining piece. She leads us through the enormity of the task and then offers specific comments about the creation of many of the different outfits. She gives us a great deal of detail and insight into this aspect of the production.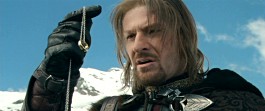 In the "Design Galleries", we find substantial stillframe materials and more. This area splits into two smaller domains: "The Peoples of Middle-earth" and "The Realms of Middle-earth". "Peoples" further divides into "The Enemy", "The Last Alliance", "Isengard", "Bilbo Baggins", "The Fellowship", "Rivendell", and "Lothlorien". Unsurprisingly, each of these then breaks down into character-specific galleries, and with so many of them at hand, I won't list them all. Within the "Peoples" section, we find galleries for 28 different characters or types. Each of these includes between nine and 106 images for a total of an amazing 1223 stills. The shots show concept drawings as well as costume tests and other photos.
In addition, 35 of the stills include optional commentary. An icon notes when this becomes available for certain shots, and we find statements from Christian Rivers, John Howe, Alan Lee or Daniel Falconer. Their remarks provide some nice insight into the design of the various participants.
The other section of the "Galleries" features "The Realms of Middle-earth". This divides into 12 smaller domains: "The Second Age (Prologue)", "The Shire", "Bag End", "Bree", "Isengard", "Weathertop", "Trollshaw", "Rivendell", "Moria", "Lothlorien", "The Silverlode and the Anduin", and "Amon Hen". These areas provide between 16 and 95 stills for a total of 705 individual images. Like the "Peoples" domain, these mix photos and concept art. We also get 21 more commentaries for various shots; the remarks here come from Lee, Howe, and Jeremy Bennett.
With the Middle-earth Atlas, we can examine the "geographical context to the events that take place in The Fellowship of the Ring". It allows you to follow either Frodo's journey or Gandalf's path. Essentially this means we wind out way through the map and see brief movie clips to illustrate each location. Frankly, the "Atlas" seems a bit lame. I'd prefer some greater depth of information about the different places instead of this abbreviated version of the film.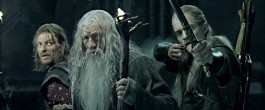 For specific location information, we move to New Zealand as Middle-earth. It leads us through the sites for Hobbiton, Weathertop, Fordof Bruinen, Rivendell, Lothlorien, River Anduin, and Amon Hen. You can examine these individually or use the "Play All" to see them as one nine-minute and 52-second program. It includes remarks from Rick Porras and Dan Hennah plus lots of video footage from these places. We see Jackson and crew as they scout the spots. "New Zealand" offers a quick and efficient glimpse of these locations.
DVD Four receives the title "From Vision to Reality' and divides into six smaller sections after a 27-second Introduction from Elijah Wood; it serves the same purpose as Jackson's opening on DVD Three. We begin with Filming The Fellowship of the Ring, which then splits into four subdomains. As one might glean from the title, "The Fellowship of the Cast" mainly examines the movie's actors. It runs 34 minutes and 37 seconds as it offers the standard combination of film snippets, behind the scenes footage, and interviews. We get remarks from Peter Jackson plus actors Elijah Wood, Ian McKellen, Billy Boyd, Dominic Monaghan, Sean Astin, Sean Bean, Liv Tyler, Ian Holm, Christopher Lee, Orlando Bloom, Viggo Mortensen, and John Rhys-Davies.
"Cast" doesn't try too hard to let us know how the actors approached their roles. Instead, it provides a nice look at their interactions and bonds. Mostly anecdotal in nature, the program relates lots of incidents from the set. We hear how Astin sort of remained in character and cared for Wood even after the cameras stopped rolling, and we also get notes about personality traits of other actors. We watch some of the training through which the performers went and learn about their doubles. The program emphasizes personal information and it offers an unusual and entertaining experience.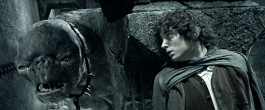 "A Day In the Life of a Hobbit" relates the average experience for those actors. We see material from the set and hear from Jackson, Wood, Monaghan, Boyd, and Astin. The program starts at five AM with the application of the hobbit feet and traces the day through additional makeup work and information about topics like their doubles and forced perspective work. The 13-minute and six-second piece gives us a quick but enjoyable behind the scenes glimpse at the actors' time on the film.
Though its title implies a fairly technical program, "Cameras in Middle-earth" really offers more of a production journal. The 49-minute and 38-second documentary goes through different realms as it conveys general details about the shoot. In addition to the scads of on-set footage, we get comments from Jackson, actors Wood, Monaghan, Astin, McKellen, Boyd, Lee, Mortensen, Tyler, Bloom, Rhys-Davies and Bean, producer Osborne, director of photography Andrew Lesnie, physical effects technician Geoff Curtis, co-producer Rick Porras, supervising art director/set decorator Dan Hennah, riding doubler Jane Abbott, production designer Grant Major, Weta supervisor Richard Taylor, and physical effects supervisor Stephen Ingram.
Like "Cast", "Cameras" also seems somewhat anecdotal in nature, but it more fully provides documentation of the shoot. We learn of the different camera units used for the film and then follow the production from location to location. These elements show lots of behind the scenes material that aptly displays the various challenges and issues. The interviews tell us more nuances of the production and toss in some nice details such as the special lighting used for Galadriel, boat training, and Astin's foot injury. "Cameras" remains engrossing and informative from start to finish.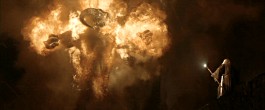 When we move to the Visual Effects realm, we discover three documentaries related to that topic. "Scale" discusses the challenges required by the different sizes of the various Fellowship characters. The 15-minute and 34-second show mixes good material from the set with comments from Jackson, Weta VFX cinematographer Van'r Hul, producer Osborne, director of photography Lesnie, Weta chief technological officer Jon Labrie, Weta animation designer and supervisor Randall William Cook, production designer Major, VFX supervisor Jim Rygiel, Richard Taylor, Rick Porras, Elijah Wood, Billy Boyd, John Rhys-Davies, and Ian McKellen. The program offers a fine chat that aptly describes the different methods and shows us the ways in which they work. It provides a compelling and satisfying examination of this topic.
"Miniatures" divides into two pieces. "Big-atures" offers a 16-minute and 15-second documentary about the film's small-scale sets and objects. It includes comments from Jackson, Richard Taylor, Barrie Osborne, Alex Funke, and Weta Workshop miniature builders Mary MacLachlan and John Baster. After a general discussion of miniatures, we get more specific information about the following topics: "Rivendell", "Lothlorien", "Isengard", "The Argonath", and "Khazad-Dum". It shows these components in nice detail and allows us to gain insight into their creation.
Also in the "Miniatures" section, we find a collection of six "Galleries". These cover "Orthanc" (36 stills), "Rivendell" (63 shots), "Moria" (36), "Lothlorien" (14), "Hobbiton Factories" (14), and "The Argonath" (16). The galleries offer a mix of concept art and photos of different parts of the miniatures. These elements really allow you to appreciate all the detail work that went into their creation.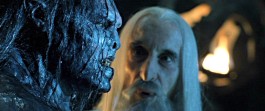 For information about computer effects, check out "Weta Digital". This 24-minute and 50-second piece offers statements from Jackson, Osborne, Alex Funke, Jon Labrie, Weta conceptual digital visualization Gray Horsefield, Weta digital models supervisor Matt Aitken, visual effects art director Jeremy Bennett, Jim Rygiel, Christian Rivers, Randall Wallace Cook, Brian Van'r Hul, Digital Domain VFX supervisor Mark O. Forker, VFX art director Paul Lasaine, and Weta crowd software developer/supervisor Stephen Regelous. This program covers most things computer animated, with a particular emphasis on digital sets and monsters. Some of the better moments relate the details about the cave troll and Balrog as well as the Wraithworld, digital doubles, and the water horses. "Weta Digital" includes lots of nice information and is an enjoyable piece.
Post-Production: Putting It All Together splits into two areas. "Editorial: Assembling an Epic" gives us a 12-minute and 45-second featurette about this topic. We hear from Jackson, editor John Gilbert, first assistant editor Peter Skarratt, co-producer Jamie Selkirk, director of photography Lesnie, producer Osborne, executive producer Mark Ordesky, and assistant editor Annie Collins. They discuss the enormous of amount of footage shot for the film as well as how they pared down all that material. They also comment on issues related to the scenes restored to the extended cut. Some of the information seems redundant after the commentaries, but "Together" packs these topics together into one solid little package.
An unusual supplement arrives next. Called "Editorial Demonstration: 'The Council of Elrond'", this combination of six different 88-second snippets lets you examine the decisions made by the editors. Six windows run various takes while we see the final one at the bottom of the screen. Helpfully, the borders of the take currently in use light up, so you can follow each one as it hits the bottom image. Click on each of the six windows to watch those takes on their own. This offers a very cool and entertaining look at the raw footage from the film and the way it made it into the final product.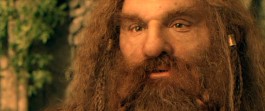 In Digital Grading, we get a 12-minute and seven-second program that discusses color alteration done by the computer. We get comments from Jackson, Andrew Lesnie, Barrie Osborne, supervising digital colorist Peter Doyle, and Jim Rygiel. They cover the ways that the computer allowed them to work on color issues, and we see many demonstrations of these instances. Most of these show before and after shots, so this provides an informative and useful piece.
The Sound and Music section offers two separate documentaries. "The Soundscapes of Middle-earth" lasts 12 minutes and 35 seconds as it presents remarks from Jackson, supervising sound editor Mike Hopkins, supervising sound editor/co-designer Ethan Van der Ryn, Barrie Osborne, post-production supervisor Rosemary Dority, actor Elijah Wood, and sound designer David Farmer. After some general comments about how the team came together, we get specific material about the following elements: the Watcher, the Moria orcs, the cave troll, the Balrog, the ringwraiths, the ring, and ADR. I always find sound design fascinating, and this program offers a nice look at how they brought the audio of Middle-earth to life.
Unsurprisingly, "Music for Middle-earth" concentrates of the film's score. In this 12-minute and 28-second piece, we get comments from Jackson, Osborne, composer Howard Shore, dialect coach Roisin Carty, and co-writer Philippa Boyens. It follows a format similar to "Soundscapes" in that it starts with general material and then gets into more specific information. We learn about the following areas: "The Song of Beren and Luthien", "A Choir For Moria", "In Dreams", "Aniron (Theme for Aragorn and Arwen)", "Lothlorien", "The Revelation of the Ringwraiths", "Isengard", "The Voice of the Ring", "The Fellowship Theme". Shore goes into what he wanted to achieve with some of the music, and he also discusses the new music he composed for the extended version. In addition, we hear about some of the recording sessions, with notes about some of the vocalists and other areas. "Music" gives us yet another very informative and enjoyable documentary.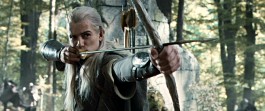 DVD Four comes to a close with The Road Goes Ever On.... This seven-minute and 21-second program offers a valedictory statement for the movie. We find statements from Jackson, Dominic Monaghan, Elijah Wood, Ian McKellen, Sean Bean, Viggo Mortensen, Liv Tyler, executive producer Mark Ordesky, Weta Workshop Creative Supervisor Richard Taylor, and producer Osborne. Other than some shots of the Fellowship premieres in London, Los Angeles and New Zealand, "Road" offers little useful material, but it acts as a nice send-off for the package, especially since it concludes with a couple of minutes of credits for the folks who put together this amazing set.
All four DVDs include identical DVD-ROM content. They offer links to lordoftherings.net and "Exclusive Online Features". As I write this a week before this set hits stores, the latter connection simply heads toward New Line's home page. I don't know if that'll change and provide something more meaningful once folks can actually buy the four-disc Fellowship, but right now there's nothing too special about the site.
One comment about this package's extras: it duplicates absolutely nothing we found on the original 2-DVD set. I regard that as good and bad. On the positive side, it's cool that we find so much new content, and it rewards purchasers of both sets as it gives them a total of three DVDs totally devoted to supplements. However, it means that we can't consider the "Extended Special Edition" as totally definitive since it lacks basics like trailers. It's too bad that New Line didn't put together a set that combines this release with DVD Two of the original version; that would give die-hard fans everything from both versions in one place.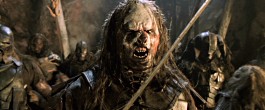 But one should think of these comments as nit picking in the extreme. I can always think of something that could have appeared, but that shouldn't obscure the astonishing amount of information on display here. With 14 hours worth of audio commentaries, almost six and a half hours of video footage, well over a thousand frames of stills and more, this package stuffs a mind-boggling array of material.
Almost more astonishing is the fact that almost all of it's good. With so many pieces, the law of averages dictates that at least a few of them should seem dull or lifeless. However, with the exception of the fairly pointless "Atlas of Middle-earth", I enjoyed literally everything found here. Of course, I liked some of them much more than others, but all the elements other than the "Atlas" seemed interesting and worthwhile.
One might wonder how the Special Extended Edition of Fellowship compares with the other 800-pound gorilla of DVDs, the Pearl Harbor VISTA series package. In terms of features, the two seem quite comparable. Fellowship includes an additional audio commentary and provides a somewhat stronger focus on the making of the film in question; many of Harbor's extras detail historical events, as one appropriately expects. Harbor offers an absolutely splendid package, but I think I favor Fellowship, if just because I definitely prefer that movie.
It took me three viewings, but I finally think I've started to see why so many people love The Lord of the Rings: The Fellowship of the Ring. I don't know if I'll ever reach their level of fervor, but I've come to really enjoy the flick and think it works quite well. The Special Extended Edition DVD adds a half an hour of mostly useful and entertaining material that serves to make the film even stronger than its Oscar-nominated theatrical cut. The package displays very good picture and sound as well.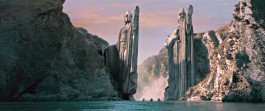 And then there are its extras. Aside from the aforementioned Pearl Harbor set, the Special Extended Edition of Fellowship provides an unprecedented array of supplements. This package proves that one can have both quantity and quality, as almost everything available here warrants your attention.
If you dig that kind of thing, that is. That notion somewhat affects my recommendation. On one hand, I absolutely adored the Special Extended Edition and want to urge every fan to pick up a copy. It's a stellar set that thoroughly entertained and informed me. However, I'm a dedicated fan of supplements; even after I've reviewed more than 1300 DVDs, I still get a kick out of this stuff. Many people are like my Dad. He's never listened to a commentary or watched a DVD documentary, and no matter how strongly I espouse the wonders of Fellowship, he doesn't plan to change his tune now.
Under normal circumstances, that means I'd gleefully recommend the Special Extended Edition to anyone who enjoys extras and send the folks like my Dad toward the two-DVD theatrical cut. However, the elongated nature of the film found on the four-disc package influences my decision. While not radically better than the theatrical cut, I think the extended version improves the film, and it helps set up the events found in the next two flicks.
To further complicate matters, New Line produced two versions of the set. In addition to the one detailed here, there's a five-DVD package called the "Collector's Gift Set". The fifth disc features National Geographic's Beyond the Movie documentary. The release also includes "exclusive Argonath bookends sculpted by the film's visual effects artists, exclusive Decipher trading cards, and a special edition of the Lord of the Rings Fan Club official movie magazine". Sounds good, but it comes with a price, as the "Collector's Gift Set" lists for a whopping $79.92. I'd like to have a copy myself, but for twice the cost of the standard four-DVD release, it's hard to justify the extra money. Nonetheless, for die-hard Rings fans, it might be worth it.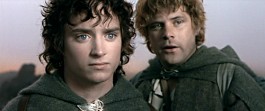 So here's the bottom line: if you own no version of The Fellowship of the Ring, you should, and you should go for the four-DVD Special Extended Edition. If you already have the two-disc theatrical cut and enjoy supplements, snag the bigger package as well. If you currently own the old DVD and don't give a hoot about extras, go ahead and grab the four-disc set anyway so you can watch the longer version of the film. If you eat, sleep and breathe Fellowship, go for the super-deluxe "Collector's Gift Set".
I guess I just should have offered a blanket recommendation for the Special Extended Edition, huh? Whether you spring for the "Collector's Gift Set" or just stick with the standard four-DVD version, you definitely need to pick up the Special Extended Edition of The Fellowship of the Ring. It offers an amazing experience that remains gripping from start to finish.