FOX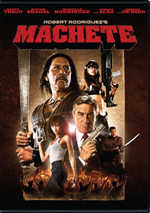 MOVIE INFO
Director:
Ethan Maniquis, Robert Rodriguez
Cast:
Danny Trejo, Robert De Niro, Jessica Alba, Steven Seagal , Michelle Rodriguez, Jeff Fahey, Cheech Marin, Lindsay Lohan
Writing Credits:
Robert Rodriguez, Álvaro Rodríguez
Tagline:
They just fucked with the wrong Mexican!
Synopsis:
From director Robert Rodriguez comes an action-packed, cutting-edge serving of carnage asada ... with killer deleted scenes that deliver more guns, more girls and more Machete action ... Set up, double-crossed and left for dead, Machete (Danny Trejo) is an ass-kicking ex-Federale who lays waste to anything that gets in his path. As he takes on hitmen, vigilantes and a ruthless drug cartel, bullets fly, blades clash and the body count rises. Any way you slice it, vengeance has a new name - Machete.
Box Office:
Budget
$10.5 million.
Opening Weekend
$14.102 million on 2670 screens.
Domestic Gross
$26.589 million.
MPAA:
Rated R


DVD DETAILS
Presentation:
Aspect Ratio: 1.85:1/16X9
Audio:
English Dolby Digital 5.1
French Dolby Surround 2.0
Spanish Dolby Surround 2.0
Subtitles:
English
Spanish
Closed-captioned
Supplements Subtitles:
None

Runtime: 105 min.
Price: $29.99
Release Date: 1/4/2011
Bonus:
• Audience Reaction Track
• Deleted Scenes
• Trailers and Sneak Peek
• Previews




PURCHASE @ AMAZON.COM

EQUIPMENT
Panasonic 50" TH-50PZ77U 1080p Plasma Monitor; Sony STR-DG1200 7.1 Channel Receiver; Panasonic DMP-BD60K Blu-Ray Player using HDMI outputs; Michael Green Revolution Cinema 6i Speakers (all five); Kenwood 1050SW 150-watt Subwoofer.


RELATED REVIEWS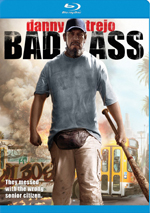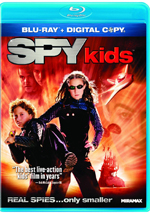 [an error occurred while processing this directive]
---
Machete (2010)
---
Reviewed by Colin Jacobson (June 22, 2012)

Under the category of "now I've seen everything" comes 2010's Machete. Movies based on external sources – books, plays, videogames, etc. – are as old as cinema itself, but Machete puts a new twist on things: it's a movie based on a fake trailer!

We first heard of Machete as part of Grindhouse back in 2007. Director Robert Rodriguez threw in the short phony trailer as part of the experience, but apparently he was so taken with it that he decided to actually make the thing. Since there aren't all that many fake trailers in existence, I doubt this'll become a trend, but at the very least, it's an unusual path for a film to take.

A prologue introduces us to a Mexican Federale named Machete Cortez (Danny Trejo). When he attempts to rescue a kidnapped girl (Mayra Leal), he ends up in a trap. A group led by sleazy druglord Torrez (Steven Seagal) kills Machete's wife (Nina Leon) and leaves him for dead.

Machete survives and makes his way to the US. Three years later, we find him as a day laborer who gets a tantalizing offer. If he kills anti-immigration Texas State Senator John McLaughlin (Robert De Niro), he'll earn a tidy $150,000.

Machete accepts the deal but finds himself on the end of another double-cross. Before he can nail McLaughlin, businessman Michael Booth (Jeff Fahey) and his henchman shoot Machete, wing McLaughlin in the leg and frame Machete for the attempted assassination of the senator. This gives the sagging McLaughlin a campaign a big boost and sends Machete on the lam, as he tries to clear his name and get to the bottom of the whole affair. Along the way, he hooks up with forces who fight against the anti-immigrant sentiment.

That leads to the most heavy-handed side of Machete. The film offers a terribly simplistic view of the immigration subject; except for Torrez – played by a non-Latin actor, by the way - all of the Mexican characters are righteous and good, and all of the gringos are evil and sleazy. Granted, one doesn't look to a flick like this for nuanced political discussion, but the movie's attempts to make the story a referendum on immigration vary between insipid and insulting.

And unnecessary, especially for this kind of movie. Granted, the 70s "B"-fare that Machete emulates sometimes delivered a token nod toward social issues, but the theme doesn't really fit here. I think the flick would work better with less adornment; a minor political subtext would've been fine, but the story tends to get too hung up on its attempted topicality.

Which leads to a second problem: Machete is just too darned long for a film like this. No, 104 minutes isn't an especially elongated running time, but it feels excessive in this case, as the movie tends to drag. When you get into an over the top action flick, you want to feel like you're on a wild ride, but too much of Machete slumps and sags, especially during the tedious third act.

Some of that stems from the extreme violence seen in the movie. I don't object at all to the graphic nature of the bloodshed; it's all done in a campy, silly manner that's part of the film's potential charm. However, this becomes a case of diminishing returns, as the movie can't top itself. The more violence we see, the less we care, and the less of a reaction it provokes.

Machete comes with a pretty terrific cast, but it suffers from a weakness at the top. Trejo fills supporting roles well, but I don't think he has the chops to carry a movie. He seems a bit lost, as though he doesn't quite know what to do with all the screentime.

At least Machete showcases some good nudity, especially when we see the stunning Leal in the all-together. Otherwise, it's pretty much a dud. It throws out a few decent thrills but gets less and less interesting as it proceeds.
---
The DVD Grades: Picture B-/ Audio A-/ Bonus D+
---
Machete appears in an aspect ratio of approximately 1.85:1 on this single-sided, double-layered DVD; the image has been enhanced for 16X9 televisions. This was an inconsistent transfer but one that usually looked fairly good.
The best shots came from exteriors. Those exhibited quite positive delineation and clarity, and they seemed smooth as well. Once we went toward interiors – or nighttime scenes – the image faltered. Those tended to be somewhat muddy and demonstrated prominent artifacts. Definition took a hit much of the time, as these shots could be somewhat soft and fuzzy.
Still, overall clarity was pretty good, and only sporadic instances of jagged edges or shimmering occurred. I did notice a little edge enhancement, and those artifacts could be a bit of a distraction. Source flaws were absent – unintentional source flaws, that is. Ala the Grindhouse flicks, we got some fake print wear during the prologue. However, that motif went away once Machete made it to the US, and no unintentional defects cropped up along the way.
The film's palette reflected the hot Texas setting. It tended to be sandy and arid, with an emphasis on tan tones. Occasional rich reds materialized as well, and the colors tended to look pretty good. They could be a bit heavy at times, but they were usually nice. Blacks appeared dark and tight, but as noted earlier, shadows varied. Low-light shots could demonstrate decent delineation, but some tended to be too thick. Overall, even with the inconsistencies, this was a "B-" image for a standard-def DVD.
I found more consistent excitement from the film's Dolby Digital 5.1 soundtrack. This mix used all the speakers in an aggressive manner to create a solid auditory setting. With a wild run of gunfights, explosions and general mayhem, the track boasted a lot of info from all around the room. These elements fit together in a satisfying way and delivered a high-octane presentation.
Audio quality seemed solid. Speech was distinctive and natural, with no edginess or other concerns. Music showed solid vivacity and clarity, while effects added a great deal of power to the mix. Those elements came across as loud and clear, with strong punch. I felt quite happy with this involving soundtrack.
Though Robert Rodriguez movies usually come packed with extras, Machete lacks many. We start with an audience reaction track. This plays the flick with a recording of a crowd as they view it. I've seen similar features on a few other discs and I usually think they're a waste of time. Such a track makes sense for something like Rocky Horror, but that's about it. But hey, if it sounds fun to you, go for it!
Five Deleted Scenes fill a total of six minutes, 32 seconds. These include "Twins" (1:41), "McLaughlin Interview" (1:00), "Booth and McLaughlin in Limo" (0:41), "Sartana Questions McLaughlin" (2:23) and "Sartana Catches Sis" (0:47). Most offer unnecessary exposition – the story's not complicated as it stands – but "Twins" and "Sis" offer an interesting concept, as they show that Sartara has a twin sister. This isn't a great twist, but it's vaguely fun.
The disc opens with ads for Unstoppable, Spartacus: Blood and Sand and Fox horror movies on Blu-ray. We also get two trailers for Machete and Sneak Peeks for A-Team, Street Kings 2, Fox 75th Anniversary and Twelve.
Machete came from unusual origins and occasionally offers over the top action fun. However, it also tends to be heavy-handed in its political content and it runs too long, factors that harm its overall effectiveness. The DVD provides generally good picture, excellent audio and a smattering of minor supplements. This isn't a bad flick, but it's not consistently satisfying.
| | |
| --- | --- |
| Viewer Film Ratings: 2.5 Stars | Number of Votes: 2 |