FOX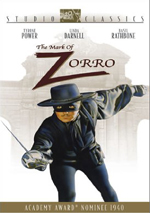 MOVIE INFO
Director:
Rouben Mamoulian
Cast:
Tyrone Power, Linda Darnell, Basil Rathbone, Gale Sondergaard, Eugene Pallette, J. Edward Bromberg, Montagu Love
Writing Credits:
John Taintor Foote, Garrett Fort, Johnston McCulley (novel, "The Curse of Capistrano"), Bess Meredyth
Tagline:
The Jagged Mark of His Sword Struck Terror to Every Heart - But One!
Synopsis:
Tyrone Power stars as 19th Century nobleman Don Diego de Vega, whose father, the mayor of Los Angeles, is removed from office by the sinister Captain Pasquale (Basil Rathbone), now corrupt "alcalde".
By day, the crooked politicians rob the citizenry at every turn, and at night, Don Diego, wearing a mask, defies their laws and avenges the innocents. As he leaves his trademark - the letter "Z" - wherever he goes, he also leaves an impression on the mayor's niece (Linda Darnell), who can't help but love the hero in disguise.
MPAA:
Rated NR


DVD DETAILS
Presentation:
Fullscreen 1.33:1
Audio:
English Monaural
Spanish Monaural
French Monaural
Subtitles:
English
Spanish
Closed-captioned

Runtime: 94 min.
Price: $19.98
Release Date: 10/7/2003

Bonus:
• Audio Commentary with Film Critic Richard Schickel
• A&E Biography Episode "Tyrone Power: The Last Idol"
• Trailers




EQUIPMENT
Sony 36" WEGA KV-36FS12 Monitor; Sony DA333ES Processor/Receiver; Panasonic CV-50 DVD Player using component outputs; Michael Green Revolution Cinema 6i Speakers (all five); Sony SA-WM40 Subwoofer.


[an error occurred while processing this directive]
---
The Mark Of Zorro: Studio Classics (1940)
---
Reviewed by Colin Jacobson (October 10, 2003)

When I reviewed 1998's The Mask of Zorro, I noted that I thought the franchise seemed like an unlikely candidate for an update. Like others such as Flash Gordon, Zorro feels so strongly bound to an older time that the character risked seeming out of place today.

A fairly exciting and enjoyable flick, Mask disavowed me of those notions. However, I still think Zorro feels like the kind of character based represented in older flicks. A screening of 1940's The Mark of Zorro backed up my thoughts, as this lively little movie offers a fine representation of action tales in that era.

Zorro opens in Madrid, where we meet a young cadet named Diego Vega (Tyrone Power). He trains in manly arts like swordplay and horse riding, and he presents the strongest candidate in his class. However, his preparation comes to an end when his father calls him home to California. Diego feels unhappy to return, mostly because he doesn't think he'll find any adventure in that sedate locale.

He quickly learns otherwise when he gets there and finds that apparently the locals now fear his father, the leader of the community known as "The Alcade". He finds they've been treated harshly, but he discovers that Don Luis Quintero (J. Edward Bromberg) forced Vega's father Don Alejandro (Montagu Love) out of office. Assisted by an enforcer named Capitan Esteban Pasquale (Basil Rathbone), he taxes the residents heavily and treats them poorly. We find that Pasquale really runs the show and Quintero is little more than a silly figurehead.

Soon a masked hero named Zorro emerges to fight against the oppression. We learn that Vega and Zorro are one and the same, but no one else is aware of this fact. He fights the power and causes quite a stir, especially among the authorities against whom he combats. He also romances Quintero's niece Lolita (Linda Darnell), though the foppish personality Vega adopts to keep folks from connecting him to Zorro initially disgusts her.

For many different reasons, Zorro reminded me a lot of 1938's The Adventures of Robin Hood. Some of these are superficial. Not only did they come out theatrically within two years of each other, but also they hit DVD shelves separated only by a span of seven days.

The pair essentially tell the same story. Both were preceded by Douglas Fairbanks versions in the Twenties. Both focus on an oppressive authority against which rebels fight. Both flicks climax with sword battles and even feature some of the same actors. Rathbone essentially plays identical roles in both movies; Pasquale is a virtual clone of his Sir Guy in Robin Hood, another second in command for an oppressive authority. Eugene Pallette also turns up in both as feisty friars.

However, although Zorro could come across as little more than a rip-off of the successful Robin Hood, it instead develops a personality of its own. Actually, Zorro probably should badly founder in comparison with Robin Hood. While the latter remains the superior film, the gap doesn't seem enormous, as Zorro mostly succeeds.

A lot of the credit goes to Power for his lively performance as the lead. He brings the appropriate levels of charisma and heroism to Zorro, but he really shines in his fey work as Vega. It's tremendously amusing to see him feign malaise and disinterest in pretty much everything. Power keeps things comic and fun but doesn't turn too campy or overly comedic; we can accept that the locals buy his act without too much of a stretch. Power covers both parts with aplomb and makes them distinct characters that nonetheless still feel like they come from the same actor.

The areas in which Zorro suffers when compared to Robin Hood come from its obviously smaller scope and budget. Whereas Robin Hood developed on a grand scale and used many vivid locations, Zorro always looks and feels like they shot it on a soundstage. It keeps a much smaller focus, with fewer characters and less breadth to the adventures. At times it feels claustrophobic, as it doesn't present a sense of wild adventure one might expect.

Nonetheless, it works for what it is. The sporadic action sequences fare pretty nicely, and the climactic swordfight brings things to a head well. Some of the characters actually come across as more interesting than those in Robin Hood. There's not a tremendous difference, but the folks in Zorro appear a little more distinctive and memorable, and those personalities help make the film likable. Unfortunately, the villains never quite live up to their billing. They simply don't seem all that evil, and we don't get the appropriate sense of threat.

That makes the plot less focused than I'd like. However, overall I think The Mark of Zorro presents a nice mix of action, romance and comedy. It's a reasonably tight little flick that moves quickly and delivers an enjoyable and generally exciting piece of work.
---
The DVD Grades: Picture C/ Audio C-/ Bonus C+
---
The Mark of Zorro appears in an aspect ratio of 1.33:1 on this single-sided, double-layered DVD; due to those dimensions, the image has not been enhanced for 16X9 televisions. While the picture didn't look terrible for its age, it didn't seem particularly positive either.
At least most of the issues didn't come about due to problems with sharpness. Zorro presented a few slightly ill defined shots, but not many. For the most part, the scenes were reasonably accurate and distinctive. No issues connected to shimmering or jagged edges showed up either, and only a smidgen of edge enhancement seemed apparent.
Black levels varied but usually seemed acceptable. Dark tones occasionally looked somewhat inky and loose, though. They never became really weak, but they only sporadically demonstrated very positive depth. Low-light shots were generally fine, though some seemed moderately thick and opaque.
The transfer's main problem stemmed from source flaws. Quite a lot of defects popped up throughout the movie. Grain seemed heavier than normal, and I also saw specks, grit, streaks, thin lines, blotches and general debris. These came up pretty consistently and caused more than a few distractions. At times, the movie was a bit flickery as well. Again, given the age of the film, I didn't think it looked bad. In addition, the prevalence of the flaws decreased as the movie progressed; the final act looked notably cleaner than the early parts. However, since I've seen many other transfers for flicks of this era that seemed much superior, the average image of Zorro was something of a disappointment.
As with many Fox Studio Classics DVDs, The Mark of Zorro included a remixed stereo soundtrack along with the original mono version. The stereo Zorro wasn't a mess like some of the studio's other remixes, but it seemed pointless and not as good as the original track. The stereo imaging seemed like nothing more than glorified monaural for the most part. The vast majority of the audio remained anchored in the center. Some light spread moved to the sides and rears, but this remained ill defined and loose. Otherwise, the audio seemed highly concentrated in the middle. At least the material appeared better localized in that way; some of the other remixed flicks displayed very loose placement that made them distractingly unfocused.

Like most of these stereo remixes, Zorro added a sense of reverb to the audio. Some of the tracks presented a very high level of echo, whereas others were pretty subdued. Zorro fell somewhere in the middle. The reverb was prominent through much of the flick, but it didn't seem as excessive as in other movies. Still, it caused some distractions, particularly related to speech. The lines were somewhat edgy and brittle at times, and they seemed moderately tinny. Effects showed a little distortion but not a lot, though they also demonstrated lackluster fidelity and could be a bit harsh. Music favored the treble elements and failed to present much range. The score wasn't terribly thin for a movie from 1940, but it seemed average at best. Occasional pops and light background noise also appeared.

Although the movie's stereo track seemed generally acceptable, it really appeared pointless to me, and I preferred the original monaural mix. It came across as noticeably more natural and lacked the thinness and reverb of the stereo mix. It also failed to present the mild edginess. A little noise appeared, but those elements weren't bad, and musical reproduction was cleaner. The mono track didn't seem stellar, but it definitely outdid the stereo remix.

The Mark of Zorro presents a somewhat smaller roster of extras than most "Fox Studio Classics" DVDs. Still, it includes a couple of substantial supplements. It opens with an audio commentary from film critic Richard Schickel. A veteran of many of these sorts of tracks, Schickel can offer some good information, but he can also provide pretty spotty discussions as well. Unfortunately, Zorro falls into that category, as Schickel presents a rather bland look at the movie.

Unlike film historians like Rudy Behlmer, Schickel doesn't really try to give us a broad examination of Zorro. He provides general biographical information about the participants and a fairly generic critique of the flick itself. He picks out moments he likes and dislikes, though he doesn't offer a terribly full impression of his thoughts about the movie as a whole. A few details about the production emerge along the way, but most of the commentary covers the subjects mentioned. This makes the track rather low-key, and Schickel starts to run out of things to say as he progresses. Many empty spaces appear, especially during the film's second half. Overall, this is a pretty bland and uneventful commentary.

Next we get an episode of A&E "Biography" entitled Tyrone Power: The Last Idol. This 44-minute and 59-second program mixes archival materials, movie clips from Power offerings, and interviews with biographer Fred Guiles, friends J. Watson Webb, Evie Wynn Johnson, actors Roddy McDowall, Piper Laurie, Terry Moore and Alice Faye, actors/former wives Annabella and Linda Christian, and daughter Taryn Power. The show covers Power's early life and his family background in performing, his early career and its development, and various personal dramas and acting activities. A typical entry in this genre, "Idol" gives us the ups and downs in fairly melodramatic fashion, but it covers the details reasonably well. It functions as a decent biography of the actor but it doesn't do anything more than that.

Finally, we find a domain called Studio Classics. This includes promos for All About Eve, An Affair to Remember, Anastasia, The Day the Earth Stood Still, Gentleman's Agreement, The Ghost and Mrs. Muir, The Inn of the Sixth Happiness, Love Is a Many-Splendored Thing and How Green Was My Valley. Oddly, the disc presents no trailer for Zorro itself.

Though it seems more derivative of The Adventures of Robin Hood than I'd like, The Mark of Zorro develops enough of an individual personality to make it entertaining. A lot of the credit goes to its star, as Tyrone Power provides a light and lively performance that makes the movie swing. The DVD itself seems fairly average, though, as it presents acceptable but unspectacular picture, sound, and extras. The film and the DVD don't compare with Robin Hood, but this fun little flick nonetheless deserves your attention.
| | |
| --- | --- |
| Viewer Film Ratings: 4.3125 Stars | Number of Votes: 16 |