HBO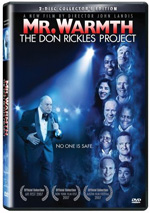 MOVIE INFO
Director:
John Landis
Cast:
Don Rickles, Various
Writing Credits:
Various
Tagline:
No one is safe.
Synopsis:
A cavalcade of stars line up to pay tribute to American actor/comedian Don Rickles in this documentary feature. Director John Landis splices excerpts from Rickles's movie career into the footage as celebrities such as Jay Leno, Sarah Silverman, Whoopi Goldberg, and Chris Rock all heap generous praise on the often-controversial star. Landis's film is based around Rickles's stand-up act at the Stardust in Las Vegas, which shows that he's lost none of his rapier wit despite the advancing years.
Box Office:
Budget
$500 thousand.
MPAA:
Rated NR


DVD DETAILS
Presentation:
Widescreen 1.78:1/16X9
Audio:
English Dolby Surround 2.0
Subtitles:
None
Not Closed-captioned
Supplements Subtitles:
None

Runtime: 90 min.
Price: $26.99
Release Date: 2/19/08

Bonus:
• Outtakes/Deleted Scenes




PURCHASE @ AMAZON.COM

EQUIPMENT
Sony 36" WEGA KV-36FS12 Monitor; Sony DA333ES Processor/Receiver; Panasonic CV-50 DVD Player using component outputs; Michael Green Revolution Cinema 6i Speakers (all five); Sony SA-WM40 Subwoofer.


[an error occurred while processing this directive]
---
Mr. Warmth: The Don Rickles Project (Collector's Edition) (2007)
---
Reviewed by Colin Jacobson (January 24, 2008)

While I don't think that Don Rickles pioneered his brand of insult humor, he certainly perfected it. We take a look at the legendary comedian in Mr. Warmth: The Don Rickles Project, a new documentary from director John Landis.

Warmth follows a pretty standard documentary format. It features archival material and Rickles' current stand-up routine as well as interviews with Rickles and many prominent folks. We hear from Rickles himself as well as Harry Dean Stanton, Clint Eastwood, Robert De Niro, Richard Lewis, Stardust Showroom lead usher Victor Figueredo, Stardust cigarette girl Heidi Akawa, conductor Joe Mele, Chris Rock, Rickles' band, Sarah Silverman, Bob Newhart, Whoopi Goldberg, Steve Lawrence, Robin Williams, Roseanne Barr, Dave Attell, Christopher Guest, Billy Crystal, Regis Philbin, road manager Tony "O" Oppedisano, Sidney Poitier, Penn Jillette, Bobby Slayton, manager Eliot Weisman, Mario Cantone, Kathy Griffin, Ed McMahon, Jeffrey Ross, The Tonight Show Starring Johnny Carson executive producer Peter Lassally, George Wallace, Martin Scorsese, George Lopez, Jay Leno, Larry King, Ernest Borgnine, Carl Reiner, Debbie Reynolds, Jack Carter, Roger Corman, wife Barbara Rickles, Joan Rivers, James Caan, Jimmy Kimmel, Keely Smith, Harry Shearer, Great Canadian Gaming Corporation vice president Howard Blank, Tom and Dick Smothers, Toy Story director John Lasseter, John Stamos, Bob Saget, University of Arizona Icecats head coach Leo Golembiewski and Golden Nugget Director of Entertainment Ron O'Neal.

The first third or so of Warmth offers various testimonials about Rickles as well as lots of footage from his modern stand-up act. Not until nearly 40 minutes do we dig into various areas of Rickles' life. We learn about his mother, his rise in show business, his wife, his work in Las Vegas, and other aspects of his life.

Without question, Warmth works best when we hear reminiscences about Rickles' life and career. Rickles himself does this best. Sure, we figure he's probably told these same stories umpteen times over the years, but they're still funny and charming, and he delivers them in a way that informs and entertains.

Rickles' contemporaries also shine during those moments. Newhart proves especially fun to hear. I never knew that he and Rickles were such close friends, and that relationship especially surprises since they couldn't possibly be much more different as comedians. Newhart's remarks are quite insightful and add to the program.

I also really like the abundance of archival footage. Who knew that Rickles appeared in so many movies and TV shows? It's one thing to simply hear of his many appearances, but we also get to check out a lot of them. Rickles in a Sixties teeny-bopper beach flick? That snippet might be worth the price of admission alone.

However, the best vintage material comes from Rickles' many visits on the old Carson Tonight Show. An especially priceless clip shows the time he accidentally busted Johnny's cigarette box on a show with a guest host. Carson returns the next night and confronts Rickles on the CPO Sharkey set. It's tough to tell how much of this was staged, but it doesn't matter, as it's classic stuff. Honestly, I'd pay just to say a few hours of Rickles with Carson – and how about more of the show where Sinatra guest hosted?

It's good that we see so much of Rickles' current act. He may be in his eighties, but he still shows the same energy and fervor on stage, so the years don't seem to have slowed him. We get just enough of this footage to remind us of Rickles' talents.

Warmth only falters a little when it delves into the testimonials. Sure, it's moderately interesting to hear younger comics discuss Rickles, and they provide a little insight into his charm. However, they usually aren't particularly interesting, and they fill time that could better be served with more archival materials or memories from Rickles contemporaries.

That quibble aside, Mr. Warmth provides an affectionate and entertaining portrait of a legendary comedian. It's not quite "warts and all", but it doesn't need to go down that path. Instead, it acts like a fine appreciation of the artist.
---
The DVD Grades: Picture B-/ Audio C/ Bonus C+
---
Mr. Warmth: The Don Rickles Project appears in an aspect ratio of approximately 1.78:1 on this single-sided, single-layered DVD; the image has been enhanced for 16X9 televisions. No one expects stellar visuals from a documentary like this, and Ghost came through with solid but unexceptional picture quality.
As always, I have to differentiate between the newly-shot interviews and the archival footage. The latter demonstrated the usual up and down quality, and most showed their age. They were perfectly acceptable given their roots, but they lacked consistency.
The modern interviews also tended to be somewhat erratic. For the most part, they showed nice sharpness, but some exceptions occurred and a few images appeared a little soft. No issues with jagged edges or shimmering popped up, though, and source flaws were absent from these shots.
Colors remained subdued for these elements. "Talking head" shots don't lend themselves to bright, bold hues, so the emphasis on laid-back tones didn't surprise me. The segments seemed accurate, at least. Blacks were also acceptably dense, and shadows were clear. This was a satisfactory presentation for this sort of production.
As for the Dolby Stereo soundtrack of Mr. Warmth, it maintained a heavy emphasis on speech. It's a chatty little show, which is exactly what you'd expect from a documentary about a stand-up comedian. Much of the audio focused on the certain channel, though music demonstrated decent stereo spread. Effects occasionally opened up matters to a greater degree, and a few segments – like one that showed archival footage from World War II – managed to create a rather involving setting. However, those instances occurred infrequently, and the majority of the audio remained dialogue heavy.
Audio quality was decent but not much better. My biggest complaint stemmed from some of the speech, as those elements showed more edginess than I'd like. This wasn't constant, but it created more than a few distractions. Music was fairly robust, at least, and the smattering of louder effects demonstrated pretty good clarity and punch. Since speech dominated and had some problems, I felt the audio merited a "C", however.
Since Mr. Warmth comes as a two-disc set, you might expect it to pack in lots of extras. Nope – the 90-minute feature sits alone on DVD One, while DVD Two simply offers a collection of 27 Outtakes and Deleted Scenes. These usually offer more interview clips ala the ones in the feature. All together, they run a total of 52 minutes and 42 seconds.
Among these, we find "US Comedy Arts Festival" (4:06), "Joan Rivers: 'You're Right and They're Wrong'" (1:15), "Robin Williams Wishes Don a Happy Birthday" (0:51), "Landis Directs De Niro" (1:04), "James Caan: Sonny Corleone Finds His Inner Rickles" (3:14), "Don Rickles: High Holy Days" (1:10), "Don Rickles: Anthony Quinn Story" (5:35), "Innocent Blood" (2:36), "Caesar's Palace Walk of Fame 2006" (2:04), "The Secret Life of Bobby Slayton" (0:22), "Bob Newhart: Johnny Carson's Beach House" (0:52), "Eliot Weisman at Sinatra's Funeral" (0:44), "Joan Rivers 'Can't Top That'" (0:29), "Penn Jillette 'One Show Business'" (1:34), "Travels with the Newharts Part 2" (1:58), "Bob Newhart on Acting" (0:54), "Don's Dressing Room at the Stardust" (0:46), "The Copacabana" (10:59), "Don Rickles: Walter Winchell" (1:07), "Jack Carter 'Sophie Tucker, She Hated Everybody'" (0:45), "Joan Rivers: Honest Don" (0:45), "Whoopi Knows Hockey Puck" (1:26), "Don Rickles: Liberace Etta's Friend" (1:11), "Jeffrey Ross Gets It Quiet" (0:13), "Chuck Williams" (0:46), "James Caan" (5:03) and "Don Rickles: Harrah's Lake Tahoe Show Cards" (0:52). In an annoying choice, there's no "Play All" option here, so you have to muck through all 27 snippets manually.
Which of these clips stands out as the most memorable? Unsurprisingly, the longer ones are usually the best. "Arts Festival" is fun since it shows more of the Rickles/Newhart dynamic – with an emphasis on Bob – and Rickles gets in a few more amusing anecdotes; the "Anthony Quinn Story" is especially funny. While I like Rickles, I do prefer Newhart, so I'm happy to see any of the footage with Bob. By far the longest segment at nearly 11 minutes, "The Copacabana" offers amusing and absorbing reminiscences about the old nightclub scene.
A lot of the clips show up here because they're interesting but don't connect to Rickles. For instance, we hear Rivers talk about how a note from Lenny Bruce helped her through tough times. It's a nice tale but it has nothing to do with Rickles.
We also find a few outtakes. One shows Landis as he tries to get De Niro to say what he wants him to say. Overall, the clips are pretty entertaining. There's a little fluff here – who cares about Slayton's Creature from the Black Lagoon collection? – but most of the footage deserves a look.
One of the few remaining links to the glory days of Las Vegas, Don Rickles is still going strong in his eighties. We get a fond and entertaining look at the comedian in Mr. Warmth, a somewhat inconsistent but usually enjoyable documentary. Both picture and audio seem acceptable, and we get a collection of interesting cut footage as well. This isn't a great DVD by technical standards, but it's a good program that earns my recommendation.
| | |
| --- | --- |
| Viewer Film Ratings: 4.1111 Stars | Number of Votes: 9 |