WARNER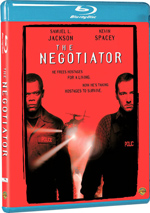 MOVIE INFO
Director:
F. Gary Gray
Cast:
Samuel L. Jackson, Kevin Spacey, David Morse, Paul Giamatti, J.T. Walsh, Ron Rifkin, John Spencer
Writing Credits:
James DeMonaco, Kevin Fox
Tagline:
Chicago's two top negotiators must face each other. One of them is holding hostages. The other is demanding surrender. And everyone's holding their breath.
Synopsis:
Jackson plays Danny Roman, a cop who, anxious to clear himself of false accusations, takes a group of people hostage and requests the presence of a fellow officer from another precinct. Spacey plays Chris Sabian, a hostage specialist, the Negotiator, who comes in to try and defuse the situation and bring Roman in. He is not prepared for what he hears and the city isn't ready for what they do.
Box Office:
Budget
$50 million.
Opening Weekend
$10.218 million on 2436 screens.
Domestic Gross
$44.484 million.
MPAA:
Rated R


DVD DETAILS
Presentation:
Widescreen 2.40:1
Audio:
English Dolby TrueHD 5.1
French Dolby Digital 5.1
Spanish Dolby Digital 5.1
Italian Dolby Digital 5.1
Subtitles:
English
French
Spanish
Dutch
Finnish
Italian
Norwegian
Swedish
Danish
Closed-captioned
Supplements Subtitles:
English
French
Italian
Spanish
Dutch

Runtime: 139 min.
Price: $28.98
Release Date: 11/10/2009

Bonus:
• ďThe Eleventh Hour: Stories from a Real-Life NegotiatorĒ Featurette
• ďOn Location: Why ChicagoĒ Featurette
• Trailer




PURCHASE @ AMAZON.COM

[an error occurred while processing this directive]
---
The Negotiator [Blu-Ray] (1998)
---
Reviewed by Colin Jacobson (March 16, 2010)

In 1998ís The Negotiator, we get a twist on the standard hostage/cop drama. The film introduces us to Danny Roman (Samuel L. Jackson), a cop who deals with hostage situations. Though unconventional, he proves effective at his job.

Maybe a little too effective, in fact, so someone frames him for murder and embezzlement. With few other options, the hostage negotiator becomes the hostage taker: Danny kidnaps a few prominent police officials in the hopes that he can grill them and ferret out the real culprit.

Of course, the cops donít take this lying down, so they bring in their own forces. This pits Danny against another negotiator, the cool, methodical Chris Sabian (Kevin Spacey). Sparks fly as the two butt heads.

Negotiator comes blessed with many positives. I already mentioned that it enjoys a clever concept, and it certainly boasts an excellent cast. In addition to Jackson and Spacey, we find many solid professionals like JT Walsh, Ron Rifkin, David Morse, and John Spencer. Heck, even a pre-fame Paul Giamatti shows up in a small part.

With all that going for it, Negotiator shouldíve been a firm triple, if not a home run. So why does the result come across more like a broken-bat single? Because it feels too much like a by the numbers 90s cop flick. The situation has definite promise, but the film tells its tale in a decidedly ordinary manner. We find the usual cop movie archetypes and story development; nothing on display here allows the film to break free from its genre constraints.

Negotiator doesnít even manage to exploit its novelty factor well. At times, we see hints of how Danny's skills will help him, but those donít appear as often as we might expect. Instead, the movie prefers to concentrate on basic cop melodrama; the unique negotiator aspects fail to make a substantial impact much of the time.

Unfortunately, the actors canít do much to elevate the film either. Even with all that talent, the characters remain basic and unmemorable. Oh, the interactions between Jackson and Spacey occasionally produce some good sparks, but they tend to stay on cruise control. Giamatti manages to turn his small role into a fun one, but he has too little to do to redeem this flick.

None of this makes The Negotiator a bad movie; these factors simply turn it into a mediocre production. And a disappointing one at that, as I think it shouldíve been considerably more engaging than it is. This is the kind of movie that lets you pass the time on a rainy afternoon, but itís nothing more than that.
---
The Blu-ray Grades: Picture B-/ Audio B/ Bonus C-
---
The Negotiator appears in an aspect ratio of approximately 2.40:1 on this Blu-Ray Disc. This was a serviceable but not special transfer.
Sharpness was generally positive. Most shots displayed good clarity and definition, but some parts of the film came across as a little soft and fuzzy. Still, overall definition was fine. No issues with jagged edges or shimmering occurred. The flick also lacked edge enhancement or source flaws; the film looked clean.
Colors were pretty good. The movie didnít boast a particularly dynamic palette, but the hues remained reasonably full and rich. Unfortunately, blacks came across as a bit inky, and low-light shots tended to be moderately dense. They werenít overly dark, but they suffered from some muddy qualities. Enough of the movie looked good to make this a ďB-Ē transfer, but it never quite excelled.
The Dolby TrueHD 5.1 soundtrack of The Negotiator was also good but not great. The soundfield offered decent range. As expected, the smattering of action scenes provided the highest level of involvement. For instance, the SWAT attack on Danny used the various speakers in an active manner.
Much of the movie stayed with general atmosphere, though. This meant helicopters that buzzed around the background and other elements that contributed to the feeling of place. Music boasted good stereo reproduction and helped flesh out the soundscape.
Audio quality was positive. Speech sounded crisp and distinctive, without edginess or other issues. Music appeared lively and full, and effects provided good delineation and clarity. When necessary, the track exhibited solid bass response. At no point did this become a particularly memorable soundtrack, but it was perfectly acceptable.
In addition to the filmís trailer, the Blu-ray includes two featurettes. The Eleventh Hour: Stories from a Real-Life Negotiator goes for six minutes, 51 seconds and provides notes from LAPD Officer Todd Rheingold. He talks about his job and some anecdotes from his work. Rheingold tells us interesting tales; itís too bad we get less than seven minutes of his thoughts.
On Location: Why Chicago runs 16 minutes, 27 seconds and features director F. Gary Gray, producer David Hoberman, production designer Holger Gross, and executive producer David Nicksay. As implied by the title, ďLocationĒ looks at issues related to shooting in Chicago. We look at various locations and sets as well as subjects connected to the area. This becomes a reasonably engaging examination of some production subjects; itís not a terribly broad piece, but it offers good details.
Despite a clever concept and an excellent cast, The Negotiator never becomes anything memorable. It comes across as a rote cop thriller without enough inventiveness to make it zing. The Blu-ray provides decent but unspectacular picture and audio along with a few decent extras. You might give the movie a look if it turns up while you channel-surf, but I donít think itís worth more investment than that.
| | |
| --- | --- |
| Viewer Film Ratings: 4.3692 Stars | Number of Votes: 65 |