Disc 5
Episode 16: When the Bough Breaks takes the Enterprise to the legendary planet of Aldea, a place that equates to something such as Atlantis. Although the inhabitants have the power to cloak their whole planet, they suffer from a disease that won't allow them to reproduce. As such, they take six children from the Enterprise so they can rebuild their society. Of course, this doesn't sit well with Picard and company, so they need to figure out how to rectify the situation.
"Bough" started intriguingly but quickly falters once we discerned where the story would go. Much of it seemed predictable and illogical. I mean, the Aldeans will rebuild their society with six kids? The show suffered from other gaps which left it moderately entertaining but lackluster.
Episode 17: Home Soil lands the crew on the planet Velara III, an apparently barren rock that terraforming will make into a lush land. However, it turns out that Velara III may not be quite as lifeless as originally believed. An inorganic but intelligent form is discovered, and it shows heavy powers that allow it to threaten the Enterprise.
The episode offered a pretty decent mystery during its early moments, as it became clear that something unusual was at work. Once we learned of the new lifeform, the show gave us an intriguing view of a very unusual species. "Soil" wasn't one of the better programs, but it seemed at least moderately different and enjoyable.
Episode 18: Coming of Age features a dual storyline. Wesley goes to take his entrance exam for Starfleet Academy, while Admiral Quinn (Ward Costello) brings weaselly Lt. Commander Remmick (Robert Schenkkan) on board to investigate possible sleaziness on the part of Picard. The show follows these two sides without any real plot otherwise; it's a more character-based episode as we watch how things unfold.
Perhaps because of the unusual focus, I rather liked "Age". Many fans hate Wesley, and I can't say he does much for me, but I enjoyed the look at the Starfleet Academy testing process. It was also interesting to see Picard and his decisions questioned. Overall, I found this to be a pretty solid episode.
Episode 19: Heart of Glory offers our first look at Klingons other than Worf. While in the Neutral Zone, the Enterprise meets a ship with some Klingons aboard. They claim to have been passengers, but it quickly turns out that they're dissidents who want to challenge the long-standing peace between their race and the Federation. Along those lines, they attempt to enlist the assistance of their "brother" Worf.
As with "Age", I liked "Glory" because of its additional character exploration. It provided our best look to date at Worf and actually gave Dorn an opportunity to do more than just glower. It also included some real tension and felt almost like an episode of X-Files; that makes sense, as director Rob Bowman also worked on that series as well as 1998's feature film. It's definitely one of Season One's best programs.
Disc 6
Episode 20: The Arsenal Of Freedom continues the string of above-average shows as the Enterprise runs into problems on a planet named Minos. It was once run by weapons manufacturers who created devices that were too successful; the arms killed their inventors and now threaten our Starfleet buddies. An away team with Picard, Data, Riker and Dr. Crusher (Gates McFadden) tries to deal with their attackers, while the Enterprise - currently helmed by Lt. LaForge (LeVar Burton) - also reacts to similar problems.
The show lacked depth and became fairly predictable at an early point. However, it also featured more action than usual, which made it a welcome departure. TNG could be rather chatty at times, so I liked the chance to see things get more down and dirty. I also enjoyed the opportunity to see LaForge play a bigger role, so "Arsenal" seemed like a good episode.
Episode 21: Symbiosis halts that burgeoning run of good shows. The crew meet with the representatives of two planets who depend on each other: the Ornarans and the Brekkans. To survive a persistent plague, the former need a drug developed by the latter, but a disaster on board the Ornaran ship renders them unable to pay for the new supply. Picard has to remedy the situation between the desperate Ornarans and the mercenary Brekkans to the satisfaction of both sides.
Essentially "Symbiosis" offered a bland anti-drug morality play. It provided a preachy and fairly obvious program that really didn't go anywhere. Admittedly, I liked the nicely ambiguous ending, but the sappy "just say no" tone of the rest of the show left me cold.
Odd casting note: "Symbiosis" included not one but two actors who also appeared in 1982's Star Trek II: The Wrath of Khan. Richard Judson played Khan's assistant, while Merritt Butrick performed as Kirk's son David; he reprised the role in 1984's Star Trek III: The Search for Spock. Trek has a history of recycling actors; for example, Maj Barrett played significant roles in both "The Original Series" - as Nurse Chapel - and TNG. However, I thought it was weird to give us Butrick again less than four years after Spock, especially since David was a pretty important role.
Episode 22: Skin of Evil remains notable for one important reason: the death of a main character. Unfortunately, the episode seems otherwise forgettable. Troi's shuttle tries to return to the Enterprise but it crash-lands on a planet called Vagra II. There some mysterious force traps the inhabitants of the craft and won't let the Enterprise beam them up or help them. Eventually an away team comes down to the surface to deal with the power, an intelligent and bitter oil slick called Armus. Essentially evil personified, the crew have to try to rationalize with it to regain their injured friends.
As I mentioned, one of the main actors buys it here; I won't reveal which, though most fans already know that person's identity. The monster with all the psychic pain was a hokey little twist that seemed unconvincing and dull. Armus never became interesting, and the show maintains an identity solely due to the crewmember's death. Otherwise, it's a pretty flat episode.
Episode 23: We'll Always Have Paris takes a closer look at Picard's past. A brilliant scientist's experiments with time have created a dangerous loop, and the Enterprise needs to fix this. As a complication, the scientist's wife Jenice (Michelle Phillips) is Picard's long-lost love; he left her to pursue the lonely career of a Starfleet officer.
That element provided the strongest side of "Paris". This dimension would be more fully explored in 1994's theatrical release Generations, but I liked the brief examination of Picard's pre-TNG life. The time warps also gave us some interesting moments. "Paris" fell a little flat at times, but overall, I enjoyed it.
Curiosity: since Generations offered a look at Picard's dream reality, shouldn't Jenice have been a part? Wouldn't she be his fantasy wife?
Disc 7
Episode 24: Conspiracy is the penultimate episode of Season One, and it really starts to heat up the series. Admiral Quinn and Commander Remmick from "Coming of Age" return as it appears a plot within Starfleet threatens the organization. Picard and company investigate this possibility and discover the truth behind the allegations.
At its best, this was a nicely tense and exciting program. It followed the conspiracy in a tight manner and offered some spooky moments as well. It's also surprisingly gory for a TV show; I won't go into details since they'd contain spoilers, but the episode included some very gross shots. It even provided a cool cliffhanger ending that made this a solid program.
Episode 25: The Neutral Zone completes Season One on another high note. Data discovers an ancient derelict spacecraft and explores it. There he finds a few still-operational cryogenic units, three of which possess survivors from the 20th century. They come aboard the Enterprise as they encounter the Romulans for the first time in decades.
"Zone" combines some effective comedy with good tension and intrigue. Most of the time I don't care for Trek gags; they seem contrived and forced, which was the main reason I disliked Star Trek IV: The Voyage Home. However, the humor of "Zone" worked, perhaps because most of it came from the 20th century folk, not the crewmembers. It was also exciting to see the Romulans again, and the program neatly integrated them for a pretty good episode.
So that finished off Season One on a high note. A few general notes about the initial year of Star Trek: The Next Generation: the effects sucked. Admittedly, they were far better than what we saw on the "Original Series", but considering the advancements of the intervening 20 years, that's to be expected. I didn't think they lived up to what we should have found for a show of this era; they seemed pretty darned cheesy at times.
I also was less than fond of the show's scores. According to one of the DVD's documentaries, the programs used a real orchestra, but the music sure sounded synthesized to me. The scores usually detracted from the action, which wasn't a good thing.
Most of the rest of the show seemed pretty positive, though. I most liked the fact TNG didn't attempt to simply regurgitate everything we saw during the "Original Series". It created its own identity, a tendency that should grow during subsequent seasons.
The actors also managed to differentiate themselves from their predecessors. As I noted earlier, I first thought that Riker duplicated Kirk, and I also felt Data would rip off Spock. While those characters showed occasional similarities, they never felt like bald copies of the originals.
Fans seem to dislike the first season of Star Trek: The Next Generation, but I enjoyed it. Perhaps the shows will look bad when compared to later seasons, but since it's all I've seen, I can't make such judgments. TNG remained a part of the Trek universe while it forged its own personality and tone. I eagerly look forward to future TNG episodes.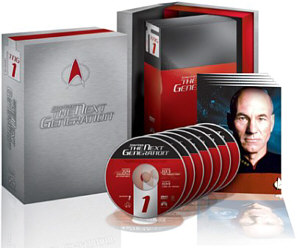 Star Trek: The Next Generation appears in an aspect ratio of 1.33:1 on these single-sided, double-layered DVD; due to those dimensions, the image has not been enhanced for 16X9 televisions. From what I understand, these shows were shot on film but mastered on videotape. Unfortunately, this means we get the worst of both worlds, as I saw problems related to both film and video throughout the shows. At times the episodes presented solid visuals, but they displayed a myriad of concerns that made them look erratic.
Sharpness varied. Much of the material seemed reasonably crisp and detailed, but that faltered on many occasions. Wider shots offered the biggest problems, as they often appeared somewhat soft and fuzzy. Moiré effects caused some minor shimmering at times, and I also saw periodic examples of jagged edges. Edge enhancement also created concerns. Haloes seemed noticeable much of the time, and these caused some distractions. They also appeared to contribute to the softness, as they helped render a few wide shots as less distinct than I'd expect.
A mix of source flaws showed up throughout the episodes. I also detected occasional examples of grit, speckles, hairs, nicks and some small marks. Grain appeared periodically. Most of the shows lacked any substantial grain, but when it appeared, it could be heavy at times. For example, "Where No One Has Gone Before" suffered from fairly heavy grain at times. These issues rarely became excessive, but they could appear distracting.
Colors also appeared somewhat erratic. ST:TNG didn't offer the same breadth of hues found on the original series. That show needed to sell some color TVs, so the tones intended to make those sets irresistible to viewers. TNG didn't need to do that, and it used a more restricted palette. At times, the colors looked nicely rich and distinct, but they also came across as dull and murky for parts of the shows, and some red light was somewhat runny. In general, the hues were acceptable but unspectacular.
Similar elements marked the black levels, which seemed reasonably deep much of the time, but they also could be a bit muddy on occasion. Shadow detail was fairly good. A few low-light sequences came across as somewhat heavy and dense, but much of the material was appropriately opaque and distinguishable.
"The Original Series" DVDs had their problems, most of which resulted from the age of the material. However, the fact they were finished on film helped make their quality relatively high. ST:TNG lost some points because of the video mastering. I think if they'd finished the shows on film, they'd have demonstrated greater definition, color vividness and depth of blacks; the video elements rendered them as less clear and rich. Ultimately, the shows often looked quite good, and I thought they seemed acceptable as a whole, but the overall product definitely wasn't as smooth and vibrant as I'd like.
On the other hand, I felt very impressed with the Dolby Digital 5.1 soundtrack of Star Trek: The Next Generation. These shows were originally mastered with Dolby Surround mixes, and the new 5.1 mixes helped broaden those nicely. The soundfields of the various shows seemed very engaging. The forward spectrum dominated, and it offered fine stereo imaging for the music as well as a strong sense of atmosphere. The front speakers provided a clear and vivid environment, and various elements like ships and phaser fire panned cleanly across the channels. Planet environments often came across nicely, as they offered lively and engaging audio.
For the most part, the surrounds offered general support of the front speakers. They showed some split-channel material at times. This occurred mainly via ship fly-bys, as crafts passed cleanly from front to rear. Otherwise, the surrounds mostly gave us a good sense of environment, and they also added musical support. The 5.1 remixes didn't reinvent the wheel, but they opened up the tracks nicely.
Audio quality seemed quite good for its age. At times speech came across as somewhat flat and thin, but for the most part, the lines remained distinct and natural, and I heard no problems related to edginess or intelligibility. Music was nicely vivid and bright. I wasn't wild about the synthesizer sound, but the quality of the music remained positive, as the score was consistently clear and bold. Effects showed good clarity and accuracy, and they displayed very few signs of distortion. All elements provided very nice bass response, as low-end seemed deep and rich throughout the shows. All in all, I was very pleased with the Dolby Digital 5.1 audio of Star Trek: The Next Generation.
Though not chock full of extras, Star Trek: The Next Generation does provide a smattering of supplements. All of these consist of relatively brief documentaries, and they reside on DVD Seven. The Beginning offers a pretty general look at the series' early days. During this 18-minute and 10-second program, we get show clips, shots from the set, and interviews with executive producer/creator Gene Roddenberry, supervising producers Robert H. Justman and Rick Berman, production designer Herman Zimmerman, Industrial Light and Magic's Pat Sweeney and David Carson, and actors Patrick Stewart, Jonathan Frakes, Gates McFadden, Denise Crosby, John de Lancie, Marina Sirtis, Wil Wheaton, Brent Spiner, Michael Dorn, and LeVar Burton. Most of the interviews seem to be from modern sources, though some clearly come from the early days of the show.
"The Beginning" offers a pretty superficial discussion. It covers some effects material, a little casting, the origins of the series and some of the challenges it presented. However, don't expect much from it, for it remains cursory at best. Some interesting moments emerge, but as a whole, it seems a bit scattershot.
The other documentaries improved, however. All of them featured the same format and many of the same participants. Selected Crew Analysis runs 15 minutes and 25 seconds and includes comments from Berman, Stewart, Sirtis, McFadden, Frakes, Wheaton, Dorn, Burton, Spiner, Crosby, and de Lancie. While "The Beginning" offered mainly new clips, "Analysis" provides more of a mix; many of the pieces come from the Eighties. The compilation nicely looks at character development, and it offers a fun and entertaining little discussion.
The Making of a Legend goes for 15 minutes and 35 seconds, and it focuses more strongly on technical elements. We hear from supervising producers Berman and Justman, actors Stewart, Frakes, Dorn, Burton, and Spiner, production designer Zimmerman, associate producer Peter Lauritson, special effects supervisor Dan Curry, scenic art consultant Mike Okuda, senior illustrator Rick Sternbach, makeup designer Michael Westmore, and composer Jay Chattaway. The cover all the visual elements behind the show - including special effects, production design, makeup and art design - as well as music. We find cool moments like the breakdown of the transporter effects and also get good information about how Spiner and Dorn go through makeup and how LaForge's visor was created. It's a nice piece that offers a lot of information within its short running time.
For the last documentary, we discover Memorable Missions. This 17-minute and 10-second program concentrates on anecdotes that relate to specific episode. It goes over nine of the 25 shows and includes interviews with Berman, Frakes, Burton, Stewart, Curry, Westmore, Lauritson, actor Armin Shimerman, Roddenberry, and Crosby. We hear a lot of entertaining notes here, as we get details about a variety of elements. Obviously it lacks great coherence since it jumps from episode to episode, but it gives a reasonable amount of worthwhile and fun facts.
Lastly, inside the DVD's complicated fold-out case, we find a small booklet with a smidgen of information. It includes a small note from Rick Berman as well as very brief biographies of nine Enterprise crewmembers and all 25 episodes listed in alphabetical order. Admittedly, this boxed set isn't stuffed with extras, but what we find is good, and the pieces complement the package pretty well.
Before I got Star Trek: The Next Generation Season One, I'd never seen an episode of the program. Now that I've become better acquainted with the crew of the Enterprise-D, I can't wait for the second season. While few of the shows were genuinely excellent, most seemed good, and I didn't honestly dislike any of them. As for the DVDs, picture quality represents the original material, which means it shows a mix of problems. Nonetheless, the shows remain watchable, and sound seems very strong. Extras aren't overwhelming but they appear interesting. I enjoyed my time with ST:TNG and the series' fans should be happy to receive this nice package.