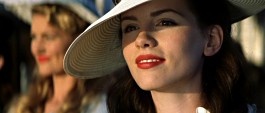 Pearl Harbor appears in an aspect ratio of approximately 2.35:1 on these single-sided, dual-layered DVDs; the image has been enhanced for 16X9 televisions. The first DVD included about the first 130 minutes of the film, right up until Roosevelt's famous "infamy" speech; DVD Two featured the final 54 minutes, most of which encapsulated the Doolittle raid. One expects a recent, high profile film like Pearl to look good, and one would expect correctly.
Sharpness seemed consistently excellent. A few scenes were intentionally soft. The shots during the attack that took place at the hospital highlighted this technique; those scenes used a very blurry look to accentuate the mood. Otherwise, the movie was very detailed and well defined. I saw virtually no examples of jagged edges or moiré effects, and I also detected no signs of edge enhancement. Print flaws seemed similarly absent; I never witnessed any grain, speckles, grit, marks, debris or issues of any sort during this clean and fresh presentation.
Bay imbued Pearl with a warm and romantic glow for the most part; even during some of the more frantic attack scenes, the movie generally presented this kind of tone. In any case, the colors looked quite solid, as they consistently appeared concise and vivid. The hues of Pearl didn't exactly leap out at me, but they seemed vibrant and distinct, and the DVD reproduced them with fine clarity; I saw no concerns related to noise, bleeding, or other issues. Black levels were deep and dense, while shadow detail appeared appropriately opaque but never excessively heavy. Low-light scenes really came across well, as they presented very accurate and well defined shots. Overall, Pearl Harbor provided a very solid visual experience.
Similar sentiments applied to the soundtracks of Pearl Harbor. The DVD includes both Dolby Digital 5.1 and DTS 5.1 mixes. For the most part, these two sounded quite similar; I'll compare them more directly after I discuss their general qualities.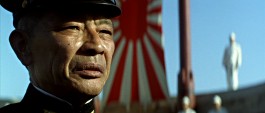 Not surprisingly, Pearl presented a very vivid and active soundfield. During quieter sequences - i.e., most of the first 90 minutes - the mixes remained reasonably subdued. However, they still offered a lot of involving and convincing ambience. Even when the tracks lacked any slam-bang effects, the audio showed good atmospheric aspects. Those segments weren't totally devoid of any engulfing sound, by the way; for example, when trains rolled in and out of stations, the tracks presented them with excellent spatial characteristics and definition. In addition, Hans Zimmer's score showed nice stereo presence and separation and filled the setting well.
Of course, the audio really came to life during the action scenes, and the entire attack sequence came across like one long demo piece. All five channels got a very active workout, as effects burst out of every possible area. Planes flew by, bullets zipped past, and explosions rocked the room. The mixes really brought a great sense of presence and dimensionality to these scenes, and the overall effect offered a fine environment.
Audio quality also appeared excellent. Dialogue remained natural and distinct at all times, and I observed no edginess or problems related to intelligibility. Music seemed nicely bright and vivid, and the score offered fine fidelity and dynamics. The drumming that accompanied the shots with the Japanese sounded especially vibrant and forceful, but all of the music worked well.
The effects had a life of their own. Those elements showed fine range and accuracy at all times. No matter how loud the situation became, I always thought the effects stayed crisp and free from distortion. Highs appeared clear and bright, while bass response was devastating at times. Low-end consistently remained deep and rich, and I thought bass was also very concise. Those elements really shook the room, but they seemed quite tight and lacked any boominess.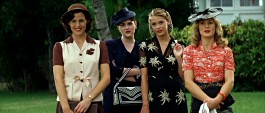 For the most part, the two mixes sounded a lot alike, but I thought the DTS track appeared moderately stronger. As good as the Dolby version was, the DTS one improved upon it with stronger bass and a better defined spatial presence. The differences were small but noticeable; I simply thought the DTS presentation packed a better bunch and was somewhat more convincing. I didn't feel the variations were substantial enough to give each mix its own letter grade, but consider the DTS edition as an "A" that's almost an "A+", while the DD track gets an "A" that borders on an "A-". In any case, both were very solid; had I never heard the DTS version, I doubt I'd have any complaints whatsoever about the Dolby track.
If you decide to compare and contrast, you'll note that the picture and audio comments replicate what I wrote in my original review. This doesn't occur solely due to laziness. To my eyes and ears, the two discs offered virtually identical presentations. I felt very impressed with the old disc, and this one struck me equally positively. Actually, I might give a slight nod to the newer package, as it looked and sounded even better than I remembered, but the differences remained slight. Overall, the two seemed very similar, so they got the same grades.
One unusual audio feature found on Pearl Harbor is a "Dolby Headphone Soundtrack". Apparently a number of DVD-ROM players - like the newest versions of PowerDVD and WinDVD - use this method to translate any standard 5.1 track into a faux multi-channel piece for headphones. The version on Pearl will work with any DVD player, though, and it exists mainly as a sort of demo for the system.
I didn't screen the whole movie with the headphone track activated, but I went through parts of the attack sequence. So how does it sound? Let's just say that I won't sell my full surround system any time soon. My headphones are some decent Sennheisers; they aren't top of the line, but they've served me well. I found the Headphone track to provide a smidgen more breadth and scope to the events, but it wasn't enough to seem like a revelation.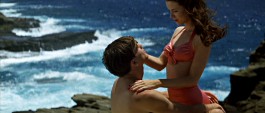 Really, the entire presentation came across as little more than a fairly good stereo mix. I like the idea of this feature, but I didn't find the result to be anything special. However, at least the DVD includes a special "Dolby Headphone" trailer you can see if you access the mix!
Pull up a chair, grab a drink - it's time to go over the extras found on this 4-DVD "VISTA" Series release of Pearl Harbor, and it's gonna take a while. The old release included a fairly good smattering of supplements; in my original review, I gave the set a "B" for extras. However, that doesn't compare with the exhaustive offering found here. All of the materials found in the old package appear here as well; I'll differentiate those by underlining them. Normally I accentuate the new pieces, but since Pearl provides too much new footage to make that approach practical.
Most of the materials appear on DVDs Three and Four, but the first two include a fair number of extras. We get three audio commentaries, all of which spans DVDs One and Two. The first comes from director Michael Bay and film historian Jeanine Basinger, both of whom sat together for this running, screen-specific track. All of Bay's four films to date include commentaries, but Pearl Harbor offers only the second one of this nature. The Criterion editions of The Rock and Armageddon provided edited tracks in which Bay was only one of a group of participants.
Prior to this new release of Pearl Harbor, Bay's debut film, 1995's Bad Boys, was the only one of his four flicks to include a solo track from the director. Unfortunately, it offered a fairly spotty experience. When Bay spoke, he gave us some terrific - and surprisingly candid - material, but he went silent too much of the time.
Perhaps to help combat that possibility, Bay sits with his old film school professor, Jeanine Basinger, for this commentary. The two show a nice casual chemistry as they discuss the film, and Basinger helps act as interviewer at times; she prompts Bay to chat about certain aspects of the movie. However, something about her participation leaves a mildly bad taste in my mouth. It feels like the track includes someone with credentials as a film historian to add weight to Bay's pedigree. The director absorbs a lot of criticism, and it seems as thought Basinger appears to try to convince viewers that the critics are wrong.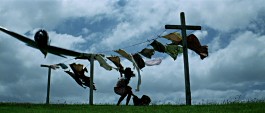 I've usually liked Bay's work, so I don't need to be convinced, and Basinger's unrelenting admiration for the director's work seems a little much at times. She does tone down this tendency as the track progresses; after time, she becomes more of an interviewer than a commentator, which is probably best. I don't mean this as a slight on her own skills as a film expert, but the whole thing seems a little too incestuous for my liking.
In any case, Bay's commentary provides a reasonably good look at the film. He seems more subdued than usual, but that may occur due to timing. Bay notes that they recorded the track toward the end of September 2001, and few felt terribly peppy and chatty at that time in history. I should note that Bay does loosen up a bit toward the end of the piece. During the Doolittle raid sequences, he displays some of his trademark profanity, and he more actively criticizes some of the movie; for example, he disparages the shot of some geishas. The commentary suffers from occasional gaps at times, but considering the length of the film, I can excuse these.
Bay gives us a fairly engaging conversation. In regard to the film itself, he often focuses on the visual effects and other technical aspects like editing and camera techniques. At times he touches on storytelling moments, but those don't pop up too frequently. In addition, Bay goes over historical elements, with a particular emphasis on the facts and fiction of the film itself. Overall, the commentary gets the job done, but I must admit it seems like the least engaging of the four Bay tracks I've heard. I think it offers a reasonably good look at the subject, but Bay set the bar high for himself with prior commentaries, so perhaps a decline was inevitable. In any case, this one appears strong enough to merit a listen.
The next commentary features producer Jerry Bruckheimer and actors Ben Affleck, Josh Hartnett, and Alec Baldwin. Bruckheimer and Baldwin were taped on their own, but Hartnett and Affleck interacted for their portions of this edited but generally screen-specific track. As I listened to it, I got the feeling the comments from Baldwin and Bruckheimer came from general interviews, but it was very clear that Affleck and Hartnett watched the movie as they spoke.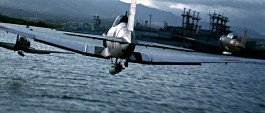 Elsewhere I've described actor tracks as the "fool's gold" of audio commentaries; they sound so appealing, but they usually stink. One major exception: anytime I see Affleck's name attached. Whether in pieces for Kevin Smith films like Mallrats and Chasing Amy or Bay's own Armageddon, Affleck consistently provides a lot of frank information and an amusing presence. Here, he and Hartnett play off each other nicely. I feared that Hartnett wouldn't hold his own with chatty Ben, but he keeps up and offers plenty of good notes of his own. Those two cover much of their involvement and other issues - they also taped their remarks not long after September 11 - and their sections of the track work very well.
Bruckheimer, on the other hand, remains a pretty dull guy. He does give some decent information about the production's challenges and what he wanted to do with it, but the man seems incapable of providing any real spark. He conveys moderately useful notes but still puts you to sleep while he does it.
Baldwin's comments fall between the other two camps. He definitely doesn't come across with the humor and verve of the Hartnett/Affleck section, which seems like a disappointment; early on, we hear about what a funny guy Baldwin is - which is true - but he doesn't convey that attitude. Still, he contributes a good look at his parts of the movie, especially through some facts about Doolittle. Overall, the actors/producer commentary has a few flaws, but it provides the best of the three tracks.
Finally, the third track offers a "crew commentary" with remarks from director of photography John Schwartzman, costume designer Michael Kaplan, production designer Nigel Phelps, supervising art director Michael Laing, and composer Hans Zimmer. Three of the men were taped on their own, but Schwartzman and Kaplan sat together for their remarks. Their pieces also were the only screen-specific moments; it appears the other three's material came from interviews.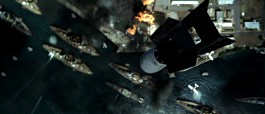 Schwartzman heavily dominated the commentary. I'd estimate he spoke during at least 60 percent of the track. Kaplan offered the next highest level of material, and I figure that Laing came in third with Zimmer fourth and Phelps last. Obviously, the track took a technical look at the movie, but it worked quite well. Even with Schwartzman's prevalence, the piece covered a lot of different challenges involved with making this kind of film. Schwartzman went over a lot of topics and let us know many different elements of his work, and the others added just enough to make their areas known. The commentary suffered from a few too many empty spots, but I still thought it offered a nice look at this side of the production.
Available on both Discs One and Two, Pearl Harbor includes the THX Optimizer program. Also found on The Phantom Menace and Willow, this purports to help you set up your home theater to best present the movie on the disc in question. Apparently the Optimizer is unique for each DVD on which it's included; unlike programs such as Video Essentials, the Optimizer should tweak your set-up differently every time. Frankly, I've been very happy with my already-established calibration and I'm afraid to muck with it, so I've never tried the Optimizer. If you lack calibration from Video Essentials or a similar program, or if you're just more adventurous than I, the Optimizer could be a helpful addition.
Also on Disc One, something called Why Letterbox? appears. To find this, go to the "Set Up" menu and click to the left of the "Audio Commentaries" option. Hit "enter" and you can watch this 100-second argument for original aspect ratios. With some comments from video colorist Stefan Sonnenfeld, we see a few examples of altered and correct scenes from the movie. It's a decent little look at the way that pan and scan mars films. It seems odd to include this as a hidden piece, though, especially since the package's booklet mentions it.