WARNER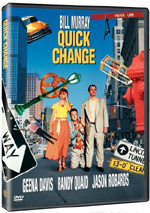 MOVIE INFO
Director:
Howard Franklin, Bill Murray
Cast:
Bill Murray, Geena Davis, Randy Quaid, Phil Hartman, Kathryn Grody, Jason Robards, Richard Joseph Paul
Writing Credits:
Jay Cronley (book), Howard Franklin
Tagline:
The bank robbery was easy. But getting out of New York was a nightmare.
Synopsis:
When a man dressed as a clown enters a bank and trys to rob it, no one takes him seriously at start. But as this New Yorker pulls this daring robbery with the help of his friends, it looks like leaving the bank with all the stolen money is the easy part! All they have to do now is make it out of the city and to the airport. They have plenty of time, but its not that easy as they seem to get out of one problem only to fall into another. Will they make before the cops catch up with them?
Box Office:
Opening Weekend
$4.700 million on 1596 screens.
Domestic Gross
$15.260 million.
MPAA:
Rated R


DVD DETAILS
Presentation:
Widescreen 1.85:1/16x9
Audio:
English Dolby 2.0
French Dolby 2.0
Subtitles:
English
Spanish
French
Closed-captioned

Runtime: 88 min.
Price: $14.98
Release Date: 2/14/2006

Bonus:
• Trailer




PURCHASE @ AMAZON.COM

EQUIPMENT
Sony 36" WEGA KV-36FS12 Monitor; Sony DA333ES Processor/Receiver; Panasonic CV-50 DVD Player using component outputs; Michael Green Revolution Cinema 6i Speakers (all five); Sony SA-WM40 Subwoofer.


RELATED REVIEWS
[an error occurred while processing this directive]
---
Quick Change (1990)
---
Reviewed by Colin Jacobson (February 6, 2006)

DVDs hit retail shelves nine years ago. I got my first DVD player a little less than eight years ago. Given the paucity of titles available in mid-1998, plenty of movies resided on my personal want list. This included many of the usual suspects like the Star Wars trilogy, the Indiana Jones flicks, and the the Alien series.

Virtually all of these personal holy grails came out on DVD before 2006. Valentineís Day finally brought one of my all-time favorite comedies: 1990ís Quick Change. When I first saw it 16 years ago, I thought the movie was amusing but nothing special. However, it grew on me as the years passed. Now I see it as Bill Murrayís best flick.

Quick Change casts Murray as a wannabe criminal named Grimm. He tires of the messiness of life in New York and decides to rob a bank so he, his girlfriend Phyllis (Geena Davis) and dim-witted pal Loomis (Randy Quaid) can retire to a tropical island. The first part of the movie shows the actual caper, while the second depicts their increasingly frustrating attempts to flee New York City. We watch all those complications along with the pursuit of Police Chief Rotzinger (Jason Robards).

I left my synopsis fairly vague for a couple of reasons. For one, the story doesnít need more detail than that; at its heart, Quick Change offers a basic plot that it expands with many terrific little character vignettes. To some degree, the movie connects a series of skits into one piece. It does so well enough that it never feels disjointed, but in truth, thatís how the story works.

I also avoided too many specifics because I really donít want to ruin the fun for new fans. Part of the filmís joy comes from the succession of ridiculous situations into which our three heroes Ė or anti-heroes, if you will Ė find themselves. The movie avoids any semblance of realism with its goofy supporting characters. Among others, we get nasty mobsters, a weeping cabbie who speaks no English, and yuppies fed up with crime Ė all over the top, and all absolutely hilarious.

When I first saw the movie, I thought it petered out after the bank robbery sequence. Those elements are so funny and distinctive that it seems easy to view the rest as anti-climactic. I was wrong, as the remainder of the filmís at least as good if not better. I wonít claim that every sequence soars, but more than enough of them succeed to make the movie insanely strong.

Over the last 16 years, actors like Kurtwood Smith, Tony Shalhoub, Victor Argo and Stanley Tucci have turned up in many different vehicles. No matter what they do, Iíll always think of them in their Quick Change roles. (Okay, I also think of Smith as Boddicker from Robocop, but I prefer him here.) Quick Change boasts an amazing supporting cast, all of whom are absolutely wonderful.

And donít forget our leads. Does the role of Grimm do anything to stretch Murrayís traditional screen personality? No, but I canít say that bothers me; heís perfect for the role and awfully funny. Davis grounds the movie but also offers more than a few amusing moments, while Quaid adds heart as the sweet but incompetent Loomis.

God help me, I really do love Quick Change. In a career filled with memorable flicks like Ghostbusters, Stripes and Groundhog Day, Quick Change is my favorite. If thatís not high praise, I donít know what is.
---
The DVD Grades: Picture B-/ Audio C+/ Bonus D-
---
Quick Change appears in an aspect ratio of approximately 1.85:1 on this single-sided, single-layered DVD; the image has been enhanced for 16X9 televisions.
For the most part, sharpness seemed reasonably tight and well-defined. A little softness crept into some wide and/or low-light shots, but the movie usually presented nice definition. I noticed no problems with jagged edges or shimmering, and only light edge enhancement was visible through the flick. The print displayed occasional speckles, marks, grit and a blotch or two. Overall, the film was reasonably clean, though.
Most movies of this oneís era show flat colors, and Quick Change reflected some of those concerns. The tones could seem a bit too dense at times. However, they mostly appeared pretty concise and natural. Blacks were deep, though they could be a little murky. Low-light shots came across as slightly thick but remained acceptably visible. Though this wasnít a stellar transfer, it was about what I expected.
The Dolby Surround 2.0 mix of Quick Change seemed similarly decent. The forward soundstage appeared only mildly broad and spatially-defined, as it stuck fairly closely to the center. We got music that spread across the front, but effects were more restricted and didnít add much to the proceedings. The rears basically just reinforced the music, though they occasionally tossed in some gentle effects as well.
Audio quality was fine. Speech seemed natural and concise, with no issues connected to intelligibility or edginess. Effects played a minor role but they sounded clean and accurate. Music displayed some looseness that stemmed from the original production. It went with a reverb-heavy style that doesnít sound very good 16 years later. Nonetheless, I couldnít fault the DVD for problems connected to the source, and the music was consistently acceptable. The score showed fair dynamics and clarity. Not exactly an ambitious mix, Quick Change offered perfectly adequate audio.
Given my affection for Quick Change, Iíd really hoped for a special edition DVD. Bill Murray seems fairly averse to participation in these elements, but since Quick Change represents his sole directorial credit Ė along with co-director Howard Franklin Ė I thought maybe heíd relent.
Alas, we get almost no extras on this DVD. All we find is the movieís trailer. I expect thatís probably because the folks at Warner didnít pursue supplements, not because Murray and the others declined, but their absence still comes as a disappointment.
But itís not a major letdown, since Iím simply happy to finally have Quick Change on DVD. Itís not an exaggeration to refer to this as one of my 15 or so favorite movies, as it remains as funny and inventive today as it did in 1990.
The DVD presents good picture and sound, though neither excels. The absence of extras comes as a disappointment. Nonetheless, with a low list price of $15, itís hard to complain, especially given the high quality of the movie itself. I heartily recommend this wonderful film.
| | |
| --- | --- |
| Viewer Film Ratings: 4.8666 Stars | Number of Votes: 15 |