Reviewed by Colin Jacobson
DVD
Columbia-TriStar, widescreen 2.35:1/16x9, standard 1.33:1, languages: English Dolby Surround [CC], French Dolby Surround, subtitles: English, French, double side-single layer, 28 chapters, theatrical trailer, rated PG, 107 min., $27.95, street date 12/22/98.
Studio Line
Directed by Fred Schepisi. Starring Steve Martin, Daryl Hannah, Shelley Duvall, Rick Rossovich, John Kapelos, Fred Willard.
Comic genius Steve Martin delivers an incredible performance as an engaging small town fire chief who has only one tiny flaw--no, make that one HUGE flaw--his astonishingly long nose. Although he considers it no laughing matter, the hilarity never stops as C.D. Bales (Martin) contends with jerky nose jokes, a bumbling crew of firemen, and his secret love for gorgeous astronomy student Roxanne (Daryl Hannah). Unfortunately, she is attracted to fireman Chris (Rick Rossovich), who's tall on looks and short on conversation. And when C.D. agrees to coach the dumbstruck Chris in his pursuit of the fair maiden, this ticklish triangle dissolves into a hilarious series of rib-tickling romantic misadventures.
Picture/Sound/Extras (B+/B-/D-)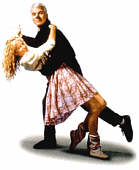 Will history soon repeat itself? As I write this, Academy Award nominations for 1999 films should be out in about three weeks, and it looks like Oscar will again shun a stellar comic performance; I hope Eddie Murphy gets a nod for his amazing work in Bowfinger but I won't be surprised if he doesn't.
Murphy can cry on Bowfinger costar Steve Martin's shoulder, because Martin's been there and done that. Academy voters ignored Martin's efforts both for 1984's All of Me and 1987's Roxanne, despite critical plaudits for both roles.
I haven't seen All of Me in quite some time, but twelve years later, it still looks like Martin got screwed. Was his performance the best of 1987? That I can't say, but it was enough of a comic tour de force to at least warrant nomination.
Martin plays C.D. Bales in this revamping of the "Cyrano" story. Bales has a small chip on his shoulder due to the nose on his face, an appendage so extreme that he could rent it out as a chin-up bar. When lovely Roxanne (Daryl Hannah) comes to town, he's immediately smitten but his lack of romantic confidence - completely at odds with every other aspect of his personality - prevents him from pursuing her affections.
Inevitably, a complication arises when Chris (Rick Rossovich) arrives on the scene. He possesses every physical advantage but isn't what you'd call a heavy thinker. Chris also suffers from a lack of social confidence, so he entreats C.D. to use his intellect to win Roxanne to Chris' side.
The story itself never rises above the simple moralizing of "it's what's on the inside that counts" but the performances help make it charming and entertaining. Martin indeed excels as Bales. He brings a wonderfully fluid physicality to the role in addition to a verbal grace and wit that work well. When needed, Martin also makes Bales vulnerable and expresses his self-doubt convincingly.
As Roxanne, Hannah seems acceptable, but I must admit her work never did much for me. For the audience to believe that Bales would be smitten by Roxanne, we need to see more than Hannah's physical charms, and she partially succeeds in her attempt to convince us that Bales' attraction is more than skin deep, but only partially. I thought her Roxanne occasionally came across as rather self-absorbed, since her relationship with Chris/Bales seems to be completely about her; granted, this may have occurred mainly for story reasons, but it would have been nice to see what she gave back during the relationship, as we mainly see and hear her demands and desires.
Rossovich aptly portrays Chris as an affable lunkhead. While our sympathies remain firmly in C.D.'s court, Chris makes for a likable character; we hope that he'll fail in his quest for Roxanne's affections, but we wish him no ill will. Rossovich keeps the character genial but not overly compelling, which effectively maintains the distance from him that we need.
The film boasts a rather strong supporting cast, but none of them really get to do much; the movie focusses very strongly on its three principles. Actually, Shelley Duvall seemed vaguely irritating as Dixie, friend to both C.D. and Roxanne, but Fred Willard offers some well-practiced bluster as the town's mayor. Michael J. Pollard, a character actor who virtually defines "quirky," also turns up in a rather annoying part as volunteer fireman Andy. Keep an eye out for Damon Wayans, by the way, as another fireman.
Director Fred Steeps moves the story along at a decent pace, though some scenes seem to lag a little long and he tends to milk some gags too hard. Overall, Roxanne is an affable little movie that probably would have been forgotten by now were it not for a fine lead performance from Steve Martin.
Roxanne appears in both its original theatrical aspect ratio of 2.35:1 and in a fullscreen rendition on this double-sided, single-layered DVD; the widescreen side has been enhanced for 16X9 televisions. While not without flaws, Roxanne offers a generally solid picture.
Sharpness appears consistently good. Some wider shots look a bit vague and hazy, but not terribly so. Moiré effects occasionally intrude on the image - at one point, Pollard wears a striped shirt that goes nuts in this regard - but generally aren't a problem. The print itself seems blessedly clean; I never noticed any signs of grain, marks, scratches or speckles.
Colors looked adequate though not spectacular. Overall they seemed reasonably bright and vivid. Black levels tended to be slightly too intense, which reduced shadow detail too often and made some scenes appear excessively dark. Check out our introduction to Bales, for example, when he encounters the jerks on the street; much of this interaction is rather murky. Although Roxanne features a number of small flaws, the overall impression remains strong, though, for most of the film looks very good.
Decent but less impressive is the movie's Dolby Surround 2.0 mix; it's a perfectly acceptable but also perfectly blah track. The soundstage greatly favors the front and then highlights the center channel even more intensely; much of the audio barely rises above the level of monaural. Sound occasionally slips through to the front side speakers, though, and can sometimes create a decent little bit of ambience. The surround channels seem largely ignored with only rare bursts of effects or a little music. Given the age of the material, this is slightly disappointing but seems pretty well what one would expect of a comedy from 1987.
The quality of the audio also appears fairly typical for the time period. Dialogue is well-reproduced and easily intelligible, though it lacks much depth. Music seems slightly thin and reedy but appears smooth and clear at least. Effects come across about the same way, with decent accuracy but not much life. Still, this is a pretty quiet little movie, so there's not a whole lot to worry about in regard to sound; Roxanne excels in no sonic way but it accomplishes way it needs to do.
The only area in which Roxanne bombs comes when we examine its supplements. The DVD includes a theatrical trailer and some brief but mildly interesting production notes in its booklet. It's a pretty weak batch of extras.
Roxanne makes for a moderately entertaining film and comes as a moderately well-done DVD, with pretty good picture and sound but a serious paucity of supplements. It stands as a decent rental title if you're in the mood for a gentle comedy.
Related Sites
Current as of 1/27/2000
Roger Ebert--"What makes Roxanne so wonderful is not this fairly straightforward comedy, however, but the way the movie creates a certain ineffable spirit."
Steve Martin - A Wild and Crazy Guy--The site has a terrific design and content; categories includes films, writing, records, television, press, and FYI.
Joerg's Unofficial Daryl Hannah Fan Page--Offers a very brief biography and filmography, but it does have a lot of pics.
Amazon.com--Purchase the DVD at special discount.
Reel.com--Purchase the DVD at special discount.


Previous: A Fish Called Wanda | Back to Main Page