WARNER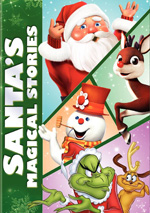 MOVIE INFO
Director:
Various
Cast:
Various
Writing Credits:
Various
Synopsis:
Dr. Seuss' How the Grinch Stole Christmas / The Year Without a Santa Claus / Jack Frost
MPAA:
Rated NR


DVD DETAILS
Presentation:
Aspect Ratio: 1.33:1
Audio:
English Monaural
Subtitles:
English
Closed-captioned
Supplements Subtitles:
English

Runtime: 125 min.
Price: $29.98
Release Date: 10/4/2011

Bonus:
Disc One:
• "Rudolph's Shiny New Year" Special
• "Nestor the Long-Eared Donkey" Special
• Audio Commentary with Animator Phil Roman and Voice Actor June Foray.
• "Dr. Seuss and the Grinch: From Whoville to Hollywood" Documentary
• "Who's Who in Whoville" Biographies
• Pencil Tests
Disc Two:
• "Rudolph's Shiny New Year" Special
• "Nestor the Long-Eared Donkey" Special
• "We Are Santa's Elves" Featurette
• "School of Stop Motion" Featurette
Disc Three:
• "A Miser Brothers Christmas" Special
• "Rudolph and Frosty's Christmas In July" Special
• "Totally Cool Crafty Creations" Featurette
• "Snip's Snowy Singalong"
• "What Makes Stop Motion Go?" Featurette
• Previews




PURCHASE @ AMAZON.COM

EQUIPMENT
Panasonic 50" TH-50PZ77U 1080p Plasma Monitor; Sony STR-DG1200 7.1 Channel Receiver; Panasonic DMP-BD60K Blu-Ray Player using HDMI outputs; Michael Green Revolution Cinema 6i Speakers (all five); Kenwood 1050SW 150-watt Subwoofer.


[an error occurred while processing this directive]
---
Santa's Magical Stories (2011)
---
Reviewed by Colin Jacobson (November 15, 2011)

Given the fact that this three-DVD set comes with the title Santa's Magical Stories, one might expect active participation from jolly St. Nick across the board. One would expect incorrectly, as the package simply serves to collect a bunch of popular holiday specials in one place. But it gives us a whole lot of these, so title aside, it has potential to offer a good set. I'll look at each disc on its own here.

DVD ONE: Dr. Seuss' How the Grinch Stole Christmas!

When the name "Chuck Jones" pops up, I'd bet that most people immediately think of Looney Tunes cartoons. After all, that's where he made his claim to fame, and I believe that most people would associate him with that material.

However, I'd also bet that no individual Looney Tunes cartoon qualifies as Jones' most well-known and most watched piece of work. That honor almost certainly falls to the classic TV special that he produced, How the Grinch Stole Christmas. How many skillions of people have seen that sucker since it first aired in 1966? Many, many skillions, I'd guess, and that's a lot!

Of course, since the formal title of this program is actually Dr. Seuss' How the Grinch Stole Christmas, Jones is overshadowed in this work by the prominence of another. Actually, we should make that others, since lead voice actor Boris Karloff would receive higher billing than Jones.

But make no mistake about it. While Seuss' story and Karloff's vocal certainly contribute in no small part to the success of this program, it's Jones' wonderful and evocative animation that carries the day. It's not technically very slick - after all, this project was produced for television, a medium that doesn't offer a budget to allow an animator to perform to the best of his abilities - but it helps capture the spirit of the project and brings it nicely to life. Yes, more fluid animation would have been good, but the heart of the Dr. Seuss story comes through and works very well.

I must admit that while I like The Grinch, it's not really one of my favorite Christmas specials. Rudolph, Charlie Brown and The Year Without a Santa Claus are all above it in my opinion. Nonetheless, The Grinch deserves its status as a Christmas classic and will continue to be watched by skillions for years to come.
---
The DVD Grades: Picture A-/ Audio C
---
The Grinch Who Stole Christmas appears in an aspect ratio of 1.33:1 on this single-sided, double-layered DVD; due to those dimensions, the image has not been enhanced for 16X9 televisions. For this release of Grinch, they finally got it right.
Sharpness seemed solid. No issues with delineation ever arose in this tight and concise presentation. I also failed to detect any signs of jagged edges or shimmering, and edge enhancement seemed to be absent. Unlike the prior Grinch DVDs, this one came almost totally free from source flaws. Other than a couple of small specks, the show looked very clean.
Colors excelled. The program offered a lot of bright primary hues and reproduced them well. These were tight and lively at all times. Blacks seemed dense and firm, while shadows looked clear and appropriate. Overall, I found much to like in this terrific presentation.
The monaural audio of Grinch was less pleasing. Music consistently sounded clean and reasonably vibrant; low end was lacking, but the general tone seemed fair. Both dialogue and effects were decent but usually flat and blah; there's a plainness to them that lacked treble and crispness. Boris Karloff's narration sounded especially distant and wasn't particularly natural. The Grinch audio seemed acceptable for material from the Sixties, but don't expect much from them.
A partial reproduction of a 2008 DVD, this set includes a few bonus specials. We find 1981's Leprechaun's Christmas Gold (24:45) and 1980's Pinocchio's Christmas (49:12). These two are stop-motion "Animagic" presentations.
Perhaps due to its shorter than usual length, Gold provides a tremendously plot-heavy affair. Sure, it tosses in a few songs and some character moments, but usually it maintains a relentless focus on its tale. Not that there's all that much to this inconsequential piece, especially since the lead character's a moron. It's an unusual spin on a Christmas special since we don't usually – or ever, honestly – connect Leprechauns with the holiday, but it's not a memorable show.
Speaking of characters not associated with Christmas, we move to Pinocchio. The show sounds like some sort of marketing synergy: "Kids love Pinocchio and Christmas, so let's combine them!" Whatever crass motivation may have sparked this special, it's actually not bad. It's certainly superior to the other two bonus shows, and it has some good moments. Though I wouldn't classify it on a level with the usual Christmas classic suspects, this one entertains.
Dr. Seuss and the Grinch: From Whoville to Hollywood runs 15 minutes, 44 seconds as it mixes program clips, archival materials and interviews. We hear from author Kathleen Krull, "The Art of Dr. Seuss" curator Bill Dreyer, widows Audrey Geisel and Marian Jones, Dr. Seuss Rhymes and Reasons author Peter Jones, animation producer Paul Dini, and Seuss' stepdaughter Lark Dimond-Cates. The show offers notes about Dr. Seuss's life and career as well as info about his creations. We also learn a little about the TV adaptation of Grinch.
Some good details pop up here, though the format grates. In addition to lots of extraneous comments from various cute moppets, narration comes in the form of a dreadful rap tune. The show's worth the look, but that rap makes me want to smash my TV.
Pencil Test provides three sketches of the Grinch, while Who's Who In Whoville gives us brief biographies of director Chuck Jones, writer Dr. Seuss, and actors Boris Karloff and June Foray.
Finally, we get an audio commentary from animator Phil Roman and voice actor June Foray. Both sit together for a running, screen-specific chat. Since the show only lasts 26 minutes, there's not a whole lot of depth to their comments. Frankly it's a disappointment the track doesn't feature Jones instead, but I found this piece to be generally enjoyable. Roman provides the most actual information, although Foray chimes in with some solid historical perspective as well. It's not a great commentary, but it's a nice addition that deserves a listen.
DVD TWO: The Year Without a Santa Claus
While I don't think that 1974's The Year Without a Santa Claus is the best Christmas special ever made, I do believe it contains the greatest holiday song. You can keep your "White Christmas", hold onto your "Rudolph the Red-Nosed Reindeer", forget about "Silent Night" - I want my "Mr. White/Green Christmas"!
No, these tunes aren't warm or sentimental, and they actually have nothing to do with the holiday. However, I don't care! Also known as the "Miser" songs, these companion ditties are the main reason anyone remembers Year. I'm sure it would have escaped me years ago without the wonderful production numbers that accompany the songs.
As far as I'm concerned, the rest of Year either sets the table for the tunes or it lets us slowly ease out of our joy after they appear. Not that the other parts of the show are bad. Actually, Year is a reasonably competent program, though the scenes that don't include the Miser Brothers can't compare with more famous broadcasts like Rudolph or Frosty or The Grinch.
Nonetheless, its claim to fame remains the songs sung by the Misers. The main plot: Santa (Mickey Rooney) feels unappreciated and thinks the world no longer needs him. As such, he cancels Christmas. I wasn't aware that the holiday had become so commercialized that it no longer exists if Santa fails to distribute gifts- does Jesus know about this? Anyway, Mrs. Claus (Shirley Booth) tries to spark his spirit. She sends a couple of elves named Jingle (Bob McFadden) and Jangle (Bradley Bolke) plus strangely-young reindeer Vixen - why she's portrayed as younger than the others receives no explanation - to discover some signs of life.
Frankly, the whole story makes little sense. We hear much discussion as to whether folks believe in Santa Claus, but every newspaper reports his existence as factual - his decision to skip Christmas makes the front page! If he doesn't exist, then how did the reporters get this information? Are denizens of the show's world so cynical that they believe absolutely nothing reported by newspapers? It seems to me that in the world portrayed by the program, the question of Santa's existence is moot. They know he's out there, so how is it possible for so many to lack belief?
Because it works for the plot? Yup, that's literally the only reason for this. Anyway, one wee non-believer named Ignatius Thistlewhite (Colin Duffy) - a distant relative of Pete Postlethwaite? - states that if the elves can make it snow in steamy Southtown, they'll believe in Santa. Geez, what hard-edged tykes!
The elves consult with Mrs. Claus, and she agrees to ask the Miser Brothers - Snow (Dick Shawn), who controls cold weather world-wide, and Heat (George S. Irving), who does the same with warmth - to allow some flakes to fall in Southtown. Snow's all for it, but Heat - who feels no one likes him - refuses. Mrs. Claus takes the issue to their mom, Mother Nature (Rhoda Mann), who sets matters straight and the cold sets in among the southerners.
Ironically, all of these machinations end up moot. Santa changes his mind after he receives a pathetic letter from some little girl who whines about how sad she'll be if she doesn't get her new Second Nose-Job Barbie. As such, the fat man decides to rustle up the old sleigh and all's well once again.
Yeah, the show has plenty of flaws, but who cares as long as we get to hear the Miser songs? In case you haven't seen the program, we experience these show-stopping numbers when we're introduced to the boys. Snow comes first, as he and his little Snowettes put on a killer version of "Mr. White Christmas"; how can you top lyrics like "He's Mr. White Christmas/He's Mr. Snow/He's Mr. Icicle/He's Mr. 20-Below"?
Answer: you can't, unless you factor in the variation from his brother. Really, the two tunes are identical except for temperature-related words. Both feature similar choreography as well, with the Big Boys accompanied by their singing and dancing helpers.
It's all simply wonderful. If you haven't seen the show, you can't understand how much fun it is. Perhaps nostalgia accounts for some of its appeal, but by that token, I - and others - should be equally charmed by other goofy holiday tunes. We're not, and make no mistake - for once, I'm not alone on this issue. Check out the reader reviews on IMDB and Amazon and you'll see rave after rave for the Misers.
Year came from Rankin/Bass productions in 1974 and was part of their line of "Animagic" shows. These programs used stop-motion animation plus a little traditional work as well, most significantly for some lip-synch issues. Though the work seems pretty primitive - especially in comparison with lovely movies like The Nightmare Before Christmas and James and the Giant Peach - it still appears effective and watchable. For folks in my generation, these shows were our first experiences with stop-motion, and it's fun to re-examine them.
---
The DVD Grades: Picture B/ Audio C+
---
The Year Without a Santa Claus appears in an aspect ratio of 1.33:1 on this single-sided, double-layered DVD; due to those dimensions, the image has not been enhanced for 16X9 televisions. The show looked surprisingly good given its age and origins.
Sharpness was pretty solid. While I couldn't call the results razor-sharp, I also couldn't identify any instances of actual softness. Though the image didn't present killer definition, it appeared more than satisfying in that regard. No examples of jagged edges or shimmering materialized, and edge enhancement remained absent. Source flaws seemed minimal. A little grain occasionally interfered, and I also noticed a few specks and marks. These were minor and not an issue.
Colors looked good. The show tended toward solid primary colors, and the results show nice blues and reds throughout the program. At times the tones could seem just a bit more pale than I'd like, but I usually felt they were satisfying. Black levels also seemed pretty deep and dark, and shadow detail was appropriately heavy but not excessively thick. I wasn't impressed enough to give the image a grade above a "B", but I still liked what I saw.
The monaural audio of The Year Without a Santa Claus seemed adequate but unspectacular. Dialogue usually sounded fairly natural and distinct. Though it occasionally displayed some minor edginess, it always remained easily intelligible. Music also showed lightly brittle and harsh qualities at times, and those elements lacked any significant dynamic range, but the songs were fairly clear and smooth. Effects came across as clean and accurate without much depth but also without any concerns related to distortion. It's a bland but decent soundtrack that seemed appropriate for programs of the era.
In terms of extras, this disc replicates the 2007 Deluxe Edition. We find two additional Rankin/Bass "animagic" shows from the Seventies.
First up is 1975's Rudolph's Shiny New Year, a program that may well be the only special devoted to that holiday. The plot relates to the start of the New Year; Happy, the baby New Year, has run away because everyone laughs at his huge ears. Since he's had similar experiences, Rudolph (Billie Mae Richards, the original voice of the character) is dispatched to find the wayward tyke and bring him to his senses. As the show progresses, Rudy travels through the Archipelago of Last Years to find Happy, and he meets a series of wacky partners along the way.
Narrated by Red Skelton, this special has a few moments but it generally seems slow and forced. There's not a lot of magic on display, and the songs are lackluster as well. It's a watchable but bland follow-up to the 1964 original.
I also found the show's message to make little sense. In Rudolph, we learn not to mock others who look different, especially because they might save your bacon someday; the same tone occurs during this DVD's third special, Nestor the Long-Eared Christmas Donkey. Shiny features a character with a physical deformity - Happy's giant ears – but instead of showing the virtues of his unusual situation, the baby's taught to laugh about it.
Actually, he's told that he should enjoy the fact so many people laugh at him because this means his freaky appendages bring joy to others. Unfortunately, it's clear everyone laughs at him and not with him. Even when little Happy's eyes well with tears, the cruel guffaws continue. It's a frightfully muddled message that makes little sense in this context.
By the way, if you watch carefully, you'll notice some recycled puppets. In one crowd scene, I detected Mrs. Thistlewhite from Year - with a different man. That hussy!
As I alluded above, we also get 1977's Nestor the Long-Eared Christmas Donkey. Unlike almost all of the other Rankin/Bass specials, this one actually involves Jesus and that whole Bethlehem side of things - no signs of reindeer, elves or snowmen here! I believe the only other R/B shows that go this way are the two with the Little Drummer Boy.
Despite that twist, Nestor really is nothing more than a retelling of Rudolph combined with Dumbo. Nestor is hounded because of his long ears and gets the boot from his home when the owner loses money because of him. His mother runs to help him, but she buys the farm when she tries to protect him from a storm. All alone, Nestor ekes out a living and eventually is chosen to help out a needy couple who expect a baby. And with his heroic efforts, he becomes to toast of the town and everyone loves him, freakishly enormous ears or not!
Although it's not original, Nestor seems fairly entertaining. It helps that the show runs only 25 minutes opposed to the 50 minutes of most R/B "animagic" offerings; the derivative nature of the project might have been more problematic had the program run longer. As it stands, Nestor is a cute and endearing little special.
More recycled puppets: in an early scene, both Jingle and Jangle can be viewed, and we also see the same Mrs. Claus from Year. However, we find a different Santa for reasons unknown, other than possibly the thought that Year's St. Nick too strongly resembled Mickey Rooney. (Actually, given Rooney's diminutive size, it's possible that wasn't a puppet in Year - it might have been the real thing!)
Next we discover two featurettes. We Are Santa's Elves runs 16 minutes, 33 seconds as it combines show clips, archival elements and interviews. We hear from historian Rick Goldschmidt, artist Don Duga, director/producer Arthur Rankin, Jr., musical director/composer Maury Laws, artist/character designer Paul Coker, Jr., and actors Bradley Bolke and Rhoda Mann. The program looks at the origins of the Rankin/Bass team and the development of their production company. We learn about the "animagic" process, general issues related to the creation of the specials, songs and scores, and a few specifics about Year.
My only complaint about "Elves" comes from its brevity. I'd especially like to learn more about the overall functioning of Rankin/Bass; the show breezes through those topics pretty quickly. Nonetheless, we get a nice overall view of the studio and learn a reasonable amount about Year as well. It's a good little show.
Next comes the nine-minute and 36-second School of Stop Motion. It involves notes from Chiodo Bros. Productions' Charles, Stephen and Edward Chiodo and stop motion animation pioneer Ray Harryhausen. They provide a look at the history of stop motion animation and how it works. As with "Elves", the show's shorter than I'd like, but it offers a nice look at how filmmakers create stop motion work.
DVD THREE: Jack Frost
At the age of 12, I think I still cared about various holiday specials. That said, I have absolutely no memory of 1979's Jack Frost. Is this because I never saw the show or because it was totally forgettable? I may not be able to answer that question, but I can address my feelings toward Frost as an adult.
I thought Frost might attempt to fill the kiddie special hole between Christmas and Easter, but apparently it originally aired in December, so I'm left adrift by its timing. Groundhog "Pardon-Me-Pete" (voiced by Buddy Hackett) stars in the annual Groundhog Day festivities, and he acts as narrator. We go to the village of January Junction, a burg ruled by the iron first of the Cossack Kubla Kraus (Paul Frees).
One day Jack Frost (Robert Morse) visits the town and encounters cute Elisa (Debra Clinger). Jack falls for her and turns into a human so he can woo her. However, Elisa pines after a knight named Sir Raveneau, and other complications also ensure. Kubla steals Elisa for himself, so Jack has to fight to rescue Elisa, win her love – and overthrow the tyrant for good measure.
When I started this review, I wondered if I saw Frost in 1979 and forgot about it. I still don't know the answer to that query, but it seems altogether entirely possible, as the special boasts almost nothing to make it memorable.
Many of these Rankin-Bass shows lack great substance, but they compensate with clever bits. Frost lacks many of these fun moments, and it seems even less depth than usual. This is a thin story that struggles to fill its 49 minutes. Frost might've fared better at half an hour, as the extended running time makes the program slow and sluggish.
Tons of padding occurs via extraneous characters, plot elements and songs. While the show doesn't pack in scads of tunes, it throws in too many – or maybe it just feels that way since the numbers on display are so bland. There's not a memorable melody to be found in this drab concoction.
Frost also bogs down with all its characters and plot bits. For instance, the show forces us to sit through extended exposition about Kubla's lonely lot in life. This seems unnecessary to me. Maybe it intends to set up his eventual redemption, but why bother? Plenty of other simple baddies went down similar happy endings but we didn't need to see so much of their unpleasant existences.
All of this leads to my belief that the show's creators just wanted to pad out the program and make it fill an hour. Why not leave well enough alone and stick with a shorter format? I don't know, but Frost lacks the substance to stretch to a full hour.
Every once in a while, we encounter an amusing bit, like Kubla's mechanical ventriloquist puppet Dummy. Some of the actors add a bit of life; in particular, Morse gives Jack more personality than one might expect. These are minor positives, however, as Frost turns into a rather dull holiday special.
---
The DVD Grades: Picture B+/ Audio C+
---
Jack Frost appears in an aspect ratio of 1.33:1 on this single-sided, single-layered DVD; due to those dimensions, the image has not been enhanced for 16X9 televisions. Virtually no issues developed in this fine transfer.
Sharpness was pretty solid. While I couldn't call the results razor-sharp, I also couldn't identify any instances of actual softness. Though the image didn't present killer definition, it appeared more than satisfying in that regard. No examples of jagged edges or shimmering materialized, and edge enhancement remained absent. Source flaws seemed essentially absent. Grain remained light, and other than a speck or two, the show looked quite clean.
Colors seemed good. The show tended toward a chilly blue tint, and those elements satisfied. Other tones – like the reds of Kubla's clothes – also appeared full and rich. Black levels also seemed pretty deep and dark, and shadow detail was appropriately heavy but not excessively thick. All of this was good enough for a "B+".
The monaural audio of Jack Frost seemed adequate but unspectacular. Dialogue usually sounded fairly natural and distinct. Music also seemed fairly clear and smooth; no real dynamic range emerged, but the material was acceptable. Effects came across as clean and accurate without much depth but also without any concerns related to distortion. It's a bland but decent soundtrack that seemed appropriate for a program of this one's era.
This version replicates the extras of the 2008 DVD and adds some new ones. Two extra holiday specials appear. A modern program, A Miser Brothers' Christmas runs 44 minutes, 23 seconds and stars the breakout characters from Year. Mother Nature (Patricia Hamilton) gathers her children for a family reunion. North Wind (Brad Adamson) convinces her to let him have control of Christmas if something happens to Santa (Mickey Rooney). North Wind uses this as a power play; he stages an "accident" to ground Santa and allow himself to take over the holiday.
Who can stop him? Feuding brothers Heat Miser (George S. Irving) and Snow Miser (Juan Chioran), that's who. Mother Nature believes that the brothers' antics caused Santa's injury, so she forces them to take over for Mr. Claus and cover the holiday. They attempts to put aside their differences and work together – all while they prevent North Wind's hostile takeover.
On the positive side, the special brings back some surviving voice talent. It's nice to hear Rooney and Irving reprise their roles – and a surprise, as I didn't expect those elderly gentlemen to come back for more. Alas, death prevented the presence of Dick Shawn as Snow Miser and Shirley Booth as Mrs. Claus; Rhoda Mann fails to play Mother Nature again, but I don't know if death caused that omission or not.
Chioran does a weak impersonation of Shawn, unfortunately, and that causes a hole at the middle of the film. He overacts relentlessly and can't carry the role in a satisfying way.
Not that I think a better performance would've made this spotty special stronger. It's tough to take sidekicks and revolve a story around them. It worked well when Disney made Lion King 1.5 but flopped when they threw out Kronk's New Groove. Miser Brothers doesn't totally bomb, but it's never particularly enjoyable, and it's certainly not nearly as good as Year.
Two holiday icons unite in 1979's Rudolph and Frosty's Christmas in July (1:36:58). At the start, Santa (voiced by Mickey Rooney) details a prologue. We learn of an evil wizard named Winterbolt (Paul Frees) who ruled the north in a cruel manner. Lady Boreal put a stop to his nastiness and allowed life to return to the north; that's what brought Santa and his folks up to the North Pole.
Unfortunately, Lady Boreal's powers eventually wane, and Winterbolt emerges from his icy slumber. He aspires to take over the North Pole from Santa, and he uses his dragons to create an impenetrable storm that will ground his reindeer. Of course, if you saw Rudolph, you'll know what happened to his plan. July teaches us that Lady Boreal gave Rudolph (Billie Mae Richards) his glowing nose, but that power came with a condition: he can never use his abilities for bad purposes.
Back in the present, Winterbolt tries to sabotage Rudolph but realizes that he won't be able to do so as long as the reindeer remains in the north. When a circus's financial problems affect the love life of Milton the ice cream man (Red Buttons), Rudolph and Frosty agree to go south and help. They'll perform as part of the circus and bolster its bottom line. This sets them up for problems with Winterbolt and many dramatic challenges.
Though many Rankin-Bass specials stretched to the one-hour mark, I believe that July was the only one to go past the 90-minute point. Indeed, when it first aired, it filled a two-hour block, so it lasts almost twice as long as shows like Rudolph or The Year Without a Santa Claus.
Kid-oriented Christmas specials usually offer quick, breezy entertainment, so the choice to push July close to the two-hour mark seems dicey. I'd like to report that July fills its time well, but it tends to drag. While most of these shows go with simple storylines and entertain us with various songs and scenes, July bogs us down with a complicated plot. Even if it stayed solely with the antics of Winterbolt, it'd be more muddled than most. However, it tosses in a few other elements and becomes awfully complicated for a show of this sort.
Perhaps the producers intended July as the Christmas special to beat all others. Not only does it nearly double the length of its predecessors, but also it packs a more star-studded cast than usual. Oh, all of the Rankin-Bass shows featured aging "names", but July brings in more than usual. In addition to Rooney and Buttons, we get folks like Ethel Merman and Shelley Winters.
I assume that Rankin-Bass used older stars to appeal to the adults in the audience. After all, as a kid, I didn't squeal with delight when I saw Merman's name on the marquee. I don't know if this tactic worked, but I will admit that the stars bring some credibility to the project.
That minor credibility is about all July has to offer. Actually, the story does present a few slightly clever twists such as the note about how Lady Boreal gave Rudolph his powers. The seedy Scratcher the reindeer character also seems moderately intriguing.
And that's about all she wrote. In addition to its muddled plot, July suffers from slow pacing and lackluster songs. To fill its time, the show packs in quite a few little production numbers, none of which will make us forget the better tunes of programs from the past. The songs seem half-hearted and forgettable.
Which is true for pretty much everything in July. Rudolph and Frosty themselves often feel like afterthoughts, and the show seems awfully lacking in inspiration. That makes for a long, tedious 97 minutes.
Next we find some featurettes. Totally Cool Crafty Creations lasts eight minutes, 38 seconds and host "Francine Flake" shows us how to make snowflakes, snow globes, and "instant snow". This might be fun for kids, but it does nothing for me. Actually, that's not totally true; "Francine" is a babe, so she offers eye candy for the guys.
Snip's Snowy Singalong allows you to croon along with three of the tunes from Jack Frost. We find Karaoke-style entries for "Jack Frost", "Just What I Always Wanted" and "The Groundhog Song". Since the DVD already includes subtitles, I'm not sure what purpose this feature serves, though the bouncing snowflake highlights the words you're supposed to sing, so maybe that'll help some folks.
For a look at the production of Miser Brothers, What Makes Stop Motion Go? lasts 23 minutes, 17 seconds and delivers comments from director Dave Barton Thomas, puppets department head Melissa Nicoll, producer Lynda Craigmyle, puppet builder Brenda Baumgarten, wardrobe Samara McAdam, sets department Rob White and Allan Meuse, casting/voice director Susan Hart, actor Mickey Rooney, post production supervisor Chris Morris, and animators Bronwen Kyffin and Aaron Woodley. They give us details about the procedures used to bring the special to life. It's fun to hear more about stop motion, an this turns into a breezy and informative piece.
The disc opens with ads for the Blu-ray Peanuts Holiday Collection and the How the Grinch Stole Christmas 50th Anniversary Edition. We also find a promo for Happiness Is… Peanuts: Snow Days.
While the specials found in Santa's Magical Stories are hit or miss, we do find quite a lot of good material here. Grinch and Year Without a Santa Claus qualify as classics, and some of the others provide entertainment as well. The shows usually look and sound reasonably nice, and we get a solid roster of bonus materials here, mainly via a bunch of additional specials.
With a price of less than $30, Stories delivers a heck of a value… if you don't already own the various specials. Virtually everything here has already been released, so many fans will have purchased the same shows in the past. If that doesn't include you, however, this is a great deal, as it contains hours of fun entertainment at a low price.
| | |
| --- | --- |
| Viewer Film Ratings: -- Stars | Number of Votes: 0 |