LIONS GATE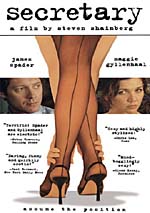 MOVIE INFO
Synopsis:
Lee Holloway (Gyllenhaal) has a few strikes against her when she applies for a secretarial position at the law office of E. Edward Grey (Spader). At first the work seems quite normal but soon, in between typing, filing and coffee making, Lee and Mr. Grey embark on a more personal relationship together, crossing the lines of conduct that would give any human resource director the vapors!

Director:
Steven Shainberg
Cast:
James Spader, Maggie Gyllenhaal, Jeremy Davies, Lesley Ann Warren, Amy Locane
Writing Credits:
Erin Cressida Wilson, based on the short story by Mary Gaitskill

Tagline:
Assume the position.
Box Office:
Opening weekend $182,306 on 11 screens.
Domestic gross $4.046 million.
MPAA:
Rated R for strong sexuality, some nudity, depiction of behavioral disorders, and language.


DVD DETAILS
Presentation:
Widescreen 1.85:1/16x9
Audio:
English Dolby Surround
Subtitles:
English, Spanish
Closed-captioned

Runtime: 111 min.
Price: $24.99
Release Date: 4/1/2003

Bonus:
• Audio Commentary With Director Steven Shainberg and Writer Erin Cressida Wilson
• "Behind the Secretary" Featurette
• Trailer
• Photo Gallery




EQUIPMENT
Sony 36" WEGA KV-36FS12 Monitor; Sony DA333ES Processor/Receiver; Panasonic CV-50 DVD Player using component outputs; Michael Green Revolution Cinema 6i Speakers (all five); Sony SA-WM40 Subwoofer.


[an error occurred while processing this directive]
---
Secretary (2002)
---
Reviewed by Colin Jacobson (March 26, 2003)

Not surprisingly, marketing folks try to promote movies in the most positive light possible. That means they scour the Earth for chipper blurbs about even the most widely panned flicks. I believe that every movie is someone's favorite, so somewhere on the planet they can dig up a happy word from a person with at least marginal credentials.

In regard to 2002's Secretary, it wasn't too tough for Lion's Gate to locate praise for the film, as many critics liked it. Indeed the DVD case includes five different quotes that laud the flick. However, the studio made an odd choice for the one that appears on the back of the DVD's case. Look there and you'll find this statement from Manohla Dargas of the Los Angeles Times: "A gently bent old-fashioned romance".

"Gently bent"? "Old-fashioned romance"? When I hear "old-fashioned", I think of holding hands and shared lemonade on the front porch swing. I definitely don't conjure images of spankings and masochism. Secretary offers an old-fashioned romance only if your bloodline includes the Marquis de Sade.

Secretary focuses on mousy Lee Holloway (Maggie Gyllenhaal). After a brief glimpse of things to come, we flash back to six months earlier and see Lee as she emerges from hospitalization at a mental institution. Lee engages in self-mutilation, and apparently one time a few months earlier, she had an "accident", so her parents placed her at this establishment.

Lee comes out on the day of her sister's wedding. There we meet her drunken father (Stephen McHattie) and abused mother (Lesley Ann Warren) as well as her prospective boyfriend Peter (Jeremy Davies). After some glimpses of Lee's dull life and her self-mutilation, we see that she decides to take secretarial classes. She does well at these and applies for a job with lawyer E. Edward Grey (James Spader).

Oddly, the quirky barrister tries to shy her away from the job, as he tells her how dull the work is. Lee states that she wants it anyway and takes it. We soon see a tougher side of Mr. Grey, as mild humiliation of Lee via menial and slightly degrading tasks initially arouses him. She warms to these activities, and she slowly begins to become more assertive.

In the meantime, Lee dates Peter, though her heart doesn't seem to be in it. When Grey sees the pair on a date, he becomes angry, and this eventually leads to an incident where he spanks Lee on the job as punishment for typing errors. She really digs the abuse, and the pair begin a warped romance of sorts. Lee continues to go out with Peter as well, though she clearly favors the more unusual affair with Mr. Grey. The rest of the movie follows the course of the love triangle.

Secretary clearly won't be for everyone, mainly due to the graphic nature of its content. Actually, there's not a lot of actual violence, but the concept of a young woman who so gleefully embraces domination and abuse will obviously not sit well with many. We see some sexually provocative material as well, including quite a few masturbation sequences.

On the surface, it may seem like Secretary sends the message that women want to be controlled and treated poorly. Lee However, it's a mistake to take that from the film. All I got from it was that this very psychologically messed up woman needed this kind of domination. The movie comes painfully close to endorsing the behavior, but it doesn't quite get there, so I wouldn't generalize the theme to a wider degree.

The material seems easier to take due to the stellar performance of its lead actress. Gyllenhaal develops the character in a very natural and smooth manner. Lee easily could have become cartoony and forced, but in Gyllenhaal's hands, she seems vivid and lively. Gyllenhaal makes Lee convincing during her self-injurious and mousy stage, and she develops the role's stronger elements in a neat and believable manner. Lee doesn't just suddenly go from quiet and introverted to aggressive and self-assured without any rhyme or reason; Gyllenhaal's realistic and vibrant performance almost single-handedly makes the film work.

Spader and the others also offer good work, but this remains Gyllenhaal's flick to win or lose. Without her, Secretary might have fallen flat, for not much else about it seems all that compelling. The story moves reasonably well and director Steven Shainberg doesn't harm the piece in any noticeable way, but none of the other factors appear terribly compelling either. Happily, at least he keeps it from veering into movie of the week territory, as the material never turns sappy. Shainberg also reins in the action and doesn't make it self-consciously idiosyncratic.

Secretary probably won't become a star-making vehicle for Maggie Gyllenhaal, as it's too small and quirky to reach much of an audience. However, her work her definitely shows her skills and helps her differentiate herself from her better-known brother Jake. A quirky and generally compelling film, Secretary provides an unusual but intriguing experience as a whole.
---
The DVD Grades: Picture B / Audio C+ / Bonus C+
---
Secretary appears in an aspect ratio of approximately 1.85:1 on this single-sided, single-layered DVD; the image has been enhanced for 16X9 televisions. The film's indie origins caused a few small concerns, but overall the presentation seemed quite good.
Sharpness almost always appeared terrific. The majority of the flick came across as distinct and accurate. A couple of wide shots seemed slightly soft, but those examples occurred infrequently and were quite minor. Jagged edges and moiré effects created no issues, and I also noticed no signs of edge enhancement. As for print issues, Secretary appeared grainier than most modern flicks, especially during early scenes. However, this looked like something that stemmed from the original photography and didn't impress me as a transfer concern. Otherwise, I noticed a few small examples of grit, speckles and nicks, but these stayed minor.
Despite the subject matter, Secretary displayed a surprisingly bright and varied palette. The DVD displayed these tones well and looked quite good. The colors appeared vivid and vibrant across the board, and they always remained tight and distinct. Black levels seemed deep and rich, but shadow detail was somewhat more erratic. Some low-light sequences came across as moderately opaque, but others like the job interview were nicely neat and clear. In the end, some small issues affected the visuals, but Secretary generally offered a positive picture.
As for the Dolby Surround 2.0 of Secretary, it seemed adequate but nothing more than that. The scope of the soundfield appeared very modest. Music showed decent spread across the front, and effects presented a minor sense of general environment. The surrounds also kicked in with some slight reinforcement of these pieces. However, these factors remained quite slight, as much of the film remained focused on the front center channel; the mix stayed very subdued across the board.
Audio quality seemed good but didn't stand out due to the lackluster presentation. Speech sounded natural and distinct, and I noticed no signs of edginess or problems related to intelligibility. Effects played such a small role that there wasn't much to decide upon there, but those elements seemed acceptably accurate and concise. Music also appeared clear and smooth, as those pieces were fairly bright and showed decent low-end response. Nothing about the audio of Secretary demonstrated any problems, but the mix remained too unexceptional to earn a grade higher than a "C+".
Only a few extras come along with Secretary. We start with an audio commentary from director Steven Shainberg and writer Erin Cressida Wilson, both of whom sit together for this running, screen-specific piece. A low-key offering, the pair provide a moderately informative but fairly average commentary. Shainberg dominates, as Wilson chips in infrequently. The pair cover a mix of issues related to the film, most of which hit on typical issues. We hear about locations and art design, working with the actors, alterations made from the script, and various challenges. We also get a little analysis of the flick and its characters. Unfortunately, much of the track just covers the usual happy talk, as the pair tell us how great everything is. Shainberg really seems to be in love with his movie, and this tone influences much of the piece; it becomes rather tiresome at times, especially during the flick's second half. Overall, the commentary provides some decent information, but it doesn't seem to be especially useful. It comes across as a decent track but not one that adds a lot to the listener's understanding of the film.
Next we find a seven-minute and eight-second featurette called Behind the Secretary. This provides the usual mix of film clips, shots from the set, and sound bites with director Shainberg plus actors Maggie Gyllenhaal and James Spader. Though a little more detailed than the standard puff piece, "Behind" doesn't really give us much depth. We learn a bit about the actors, visual design, and a couple other elements, but don't expect a lot of useful information here.
Finally, Secretary ends with a couple of minor pieces. We get the film's trailer, presented anamorphic 1.85:1 with Dolby Surround 2.0 audio. We also discover a Photo Gallery. It includes 14 stills, most of which show publicity shots. Except for a shot of Gyllenhaal with a skillfully arranged bearskin rug, none of these seem very interesting.
A perverse but fairly interesting love story, Secretary does little exceptional as a film. However, a dazzling turn by its lead actress helps make the piece much more compelling than otherwise may have occurred. The DVD presents fairly good picture quality along with average sound and a small roster of extras headlined by a decent but inconsistent audio commentary. I didn't think highly enough of Secretary to firmly recommend a purchase, but I think that for folks interested in a warped and graphic tale like this, it at least merits a rental.
| | |
| --- | --- |
| Viewer Film Ratings: 4.2142 Stars | Number of Votes: 42 |