UNIVERSAL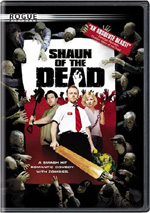 MOVIE INFO
Director:
Edgar Wright
Cast:
Simon Pegg, Kate Ashfield, Nick Frost, Lucy Davis, Dylan Moran, Nicola Cunningham
Writing Credits:
Edgar Wright, Simon Pegg
Tagline:
A romantic comedy. With zombies.
Synopsis:
Get ready for a gut-busting, bone-mashing good time in the hilarious horror comedy, Shaun of the Dead.
There comes a day in every man's life when he has to get off the couch … and kill some zombies. When flesh-eating zombies are on the hunt for a bite to eat, it's up to slacker Shaun (Simon Pegg) and his best pal (Nick Frost) to save their friends and family from becoming the next entrée. Satisfy your bloodthirsty appetite with the movie that masters of horror and film critics alike are hailing as the funniest and scariest movie of the year. Novelist Stephen King gushes "it's a 10 on the fun meter and destined to be a cult classic" and Newsweek calls Shaun of the Dead "a bloody hoot!" It's a screamingly hilarious zomedy that will have you dying with laughter.
Box Office:
Budget
$75 million.
Opening Weekend
$45.033 million on 3471 screens.
Domestic Gross
$102.543 million.
MPAA:
Rated R


DVD DETAILS
Presentation:
Widescreen 2.35:1/16x9
Audio:
English Dolby Digital 5.1
Spanish Dolby Digital 5.1
French Dolby Digital 5.1
Subtitles:
English
Spanish
French
Closed-captioned

Runtime: 105 min.
Price: $29.98
Release Date: 12/21/2004

Bonus:
• Audio commentary with Actor/Writer Simon Pegg and Director Edgar Winter
• Audio Commentary with Simon Pegg, Kate Ashfield, Nick Frost, Dylan Moram, and Lucy Davis
• Simon Pegg's Video Diary
• Casting Tapes
• Edgar and Simon's Flip Chart
• SFX Comparison
• Makeup Tests
• EPK Featurette
• Zombie Photo Gallery
• 2000 Ad Strips
• Poster Design Gallery
• Theatrical Trailer
• Sixteen Extended Scenes
• Outtake Reel
• Four TV Bits from the film
• 2 Alternate Takes
• Plot Hole Filler
• Zomb-o-Meter Trivia Track
• Interactive Storyboard Comparison




PURCHASE @ AMAZON.COM

EQUIPMENT
Mitsubishi WS65315 65" TV; Pioneer VSXD409 Home Theater Receiver; Sony DVP NC665P 5 Disc DVD player; KLH Home Theater Speakers


[an error occurred while processing this directive]
---
Shaun Of The Dead (2004)
---
Reviewed by Brian Ludovico (Januray 5, 2005)

Ever since teenage boys started taking teenage girls to the local Drive In / Make Out theaters in dad's Buick, the zombie movie has been an absolute staple in cinema. These movies have never been about award winning performances, gripping narrative or even eye popping special effects. In fact, in most every one of the zombie movies, the plot is basically the same: recently dead folks sprout up out of the ground, chow down on some human flesh until being defeated by an unlikely or initially unwilling hero. Add bare breasts, gore, sight gags or other spices to taste for differentiation.

These movies were designed to be scary, not terrifying, and the plots were simple enough so that even a necking teen could follow the story in between smooches. I was never a big fan of this genre and the repetitiveness that comes with it. That said, I have trouble putting a fine point on why, exactly, I enjoyed Shaun of the Dead as much as I did.

Perhaps I enjoyed it this much because it wasn't your usual zombie fest. If I'd have looked closer, Shaun of the Dead's poster art would have told me all I needed to know: "It's a Romantic Comedy. With Zombies." I'm always telling my wife that romantic comedies - be they Love, Actually or Something's Gotta Give - needed some zombies (or monkeys or ninjas) to really be good movies. Finally, someone has heard my pleas.

The film starts out by introducing us to the listless, aimless life led by its title character, Shaun (Simon Pegg). We first meet him where he and his flatmate Ed (Nick Frost) spend almost every night, at the Winchester Pub. Shaun's girlfriend Liz (Kate Ashfield) is giving Shaun her "state of their union" address, and that means she's not exactly happy. She's been with Shaun for three years and hasn't even met his mum. Every night they go to the same tired old pub, never going anywhere new or trying anything exciting. Her own flatmates, David and Dianne, tell her she deserves more. Liz doesn't want to 'bin' Shaun - she just wants her life to be more fulfilling.

Back at the flat, we see some of the problems with Ed that make Liz want to separate Shaun from him once in a while. It's not that he's a bad guy by any stretch; it's just that his biggest contribution to mankind is that he does a spectacular impression of the orangutan from Any Which Way But Loose. He's a slovenly, lazy, overweight, abrasive at times and unemployed mess - which incidentally makes him hilarious. He isn't even officially a flatmate; he just came over one day and never went home…five years ago.

Pete, the flatmate with the real world job and life, is sick and tired of Ed. He hates that Ed's only source of income is selling the occasional bag of weed, he hates that even though he's home all day, he doesn't clean up the apartment, he hates that he erases everyone else's messages from the answering machine, he hates that Ed never closes the front door. While Ed might only slightly annoy Liz, Pete is completely fed up with Ed. He's one more crack away from bopping Ed right in the nose.

Shaun's life at the flat isn't tranquil by any means. His job stinks, and to make things worse, he breaks a promise to Liz, a promise she saw as a symbol of their future together. Instead of taking her to the restaurant as he promised, at the last minute he proposes to go to The Winchester with Ed. Liz goes ballistic and spectacularly dumps Shaun. They have a huge blowout in front of Liz's flatmates David and Dianne, and Liz summarily tosses Shaun out of her building.

Emotionally, Shaun's a wreck. He needs time to think, to clear his mind and take stock in where he's going. Where does he end up? The Winchester, of course, where he consorts with Ed who tries to cheer him up. Shaun is depressed, drunk and wandering through life, oblivious to reality, in a cocoon of his own little world, with no real goals, no ambition, and now, no girlfriend.

When he wakes up the next morning, Shaun doesn't notice anything different in his usual routine. He doesn't notice that the homeless guy who asks him for change every morning is even less coherent than usual. He doesn't notice the completely blank eyes of the kid who kicks the soccer ball all morning. He doesn't notice the broken windshields, the headless body in a yard, the shuffling, moaning people all over his neighborhood. He doesn't notice the bloody handprints on the door to the cooler where he gets his Coke. When he gets home, and starts running through the television reports, he doesn't stick around long enough to hear what they're saying: England has a zombie outbreak.

Ed informs Shaun that there's a girl in their back yard. When they go out to confront her, they have a bit of fun with her because they figure she's only really, really drunk. They figure something else is wrong when she accidentally gets impaled on an umbrella stand, only to rise and continue her slow - very slow - assault. The two escape to their flat to come up with a plan. Their first step is to sit down, have a spot of tea, and watch some television. When they have to deal with an unwelcome visitor, it becomes clear that these flesh eating zombies, slow and weak as they might be, present a mortal danger to mankind. Shaun must come up with a plan to save his friends, his mum and stepdad, his ex-girlfriend whom he'll try to win back in the process, and her flatmates. Where will this merry band of survivors hole up and wait out the terror of zombie attacks?

Where else? The Winchester Pub. With a little luck, a cricket bat, his stepdad's Jag and some ingenuity, the six of them race against time and a slow moving army of moaning, half-rotten corpses to reach their refuge, where they can play pool, drink beer and smoke.

Don't misunderstand - Shaun of the Dead is not a spoof or a send up of a zombie movie. This is a loving homage to the pantheon of zombie films, only this one uses the zombies as almost a secondary story line. This isn't Scary Movie, either, where we walk from set piece to set piece, with cheap sight gags and scatological, sixth grader humor, either. It's a pretty British-feeling style of humor, dry, clever, witty and only infrequently slapstick.

The humor really blossoms because of the two main characters, Shaun and Ed. Pegg's Shaun is a perfect deadpan, almost stereotypically British in his relatively even reactions to the zombies. He doesn't get too freaked out when a zombie is in his yard… only when a zombie missing an arm comes into his living room does he freak.

Nick Frost - Pegg's castmate from the television show Spaced, where both honed their impeccable comedic style - is absolutely awesome as Ed. He has to maintain a delicate balance and be annoying, but not too annoying, and crude, but not too crude. Basically, Ed is the high school friend who hasn't grown out of high school, still reveling in sneaking farts on his flatmates. He's got a good heart and is as loyal a friend as one can ask for. And he's got that whole orangutan impression thing going for him, too.

In almost every regard, I absolutely loved this movie; it's one of those films that really makes me thankful to have a gig like this one. I'd have never found Shaun otherwise. If I had to find something about Shaun of the Dead that I didn't like, it would have to be the somewhat grinding tonal shift in the film's last third. Thanks to the zombie plot line, this shift is necessary to close the arc as much as the film does. A movie this funny really doesn't feel right when it has a main character choosing between life and death of another main character and crying. Still, the way the film gets its final resolution is in keeping with the overall nature of the story, and the epilogue section is hilarious.

If you put the word "zombies" into the search engine over at IMDB, you'll come up with a whopping 54 partial matches for movie titles. Using the euphemism "living dead," you find an additional sixty. Not one of them is like Shaun of the Dead. It doesn't matter if you're into zombie movies or romantic comedies, because if you enjoy either, Shaun of the Dead is a fantastic choice. It's a little gory at times, but it makes for a great little date DVD, and it's one of the funniest movies of 2004.
---
The DVD Grades: Picture B/ Audio B+/ Bonus A-
---
Shaun of the Dead appears in an aspect ratio of 2.35:1 on this single-sided, double-layered DVD and has been anamorphically enhanced for 16X9 televisions. Save for the soft, organic filmy quality - as opposed to the sharpness of digital - that the picture has, there's really nothing of note from a video perspective. It's another utilitarian execution, as it serves the film just fine.
The only minor problem I could find was with the film's fleshtones, but even that was hard to judge. Most of the live actors are in heavy, heavy zombie makeup which looks inconsistent, but only because I think the zombies are supposed to be in varied states of decay. Black depths are tested during the siege at the Winchester and respond with aplomb, creating a nicely detailed picture. High contrast shots, like the fire during the same scene, are perfectly color balanced, looking totally realistic without ever bleeding. Daytime shots are much the same, looking extremely well rendered. For a disc with the amazing amount of bonus materials and five separate audio tracks, the lack of compression artifacts or mosquito noise is the most impressive part of the track, and scored its largest points.
The default audio track on Shaun of the Dead is a Dolby Digital 5.1 surround mix that's quite effective. The film provides ample opportunity to utilize the surround elements, particularly as it progresses. For example, the Winchester siege, the film's most technically challenging sequence, really creates some fine audio imagery as the monsters crack through windows around the building. Their moaning and crashing comes through in each of the speakers, really enveloping the viewer in the experience. There are plenty of other localized sounds to continue the effect, like Shaun's mum in the garden next door, or when Shaun and Liz argue at her apartment. Dialogue resides mainly in the center channel, and that's perfectly clear throughout. The imaging throughout really highlights how much Universal and Focus worked on making this a DVD that stands above the rest.
While the technical ratings are above average if not superb, Shaun of the Dead really shines in the supplements category, as this is as exemplary bonus package for a single disc. With a US box office of around $13 million in eight weeks, and about six and a half million pounds in England in six weeks, Shaun of the Dead wasn't exactly a box office monster. Focus and Universal must have decided from the start to make the disc as marketable as possible. This is a top shelf bundle of bonus materials.
It starts with a section called "Raw Meat," whose motif is mainly preproduction and early shooting footage material. Under this section, we start with Simon Pegg's Video Diary, a seven minute piece that basically follows or encounters many of the principals and their interactions with Simon. I'm not so sure about the title because it doesn't follow Simon exclusively, but it's still interesting and funny. Via handheld digicam, we're treated to bits like makeup testing on the zombies, following around Simon and seeing takes, rehearsals, and even Nick Frost getting a shot in his bum.
Up next was casting tapes, which runs about four minutes and shows early tests for the actors who ended up playing Liz, Pete, David and Dianne, all doing reads with either Simon or Edgar. This is one of the places where I found early evidence to how tight the script stayed, because many of the lines that are read remain in the film, scenes almost exactly the same as they were written. One of the less exciting bonus materials is the thirteen minute Edgar and Simon's Flip Chart. This is a creative process that Simon and Edgar used prior to scripting and storyboarding, or even 'treating' the movie. I'm not sure how widespread this practice is, but it looks like just a straight brainstorming session, as both men guide us through their notes on a large flipbook. It takes us from beginning to end and discusses more scenes that were conceptualized but never shot. At times it can be a little tedious, but I liked the backgrounds on Dianne and David.
Continuing under "Raw Meat," we have a two minute SFX Comparison that separates real life and effects elements, then melded back together, for sequences featuring Bloody Mary and Zombie Pete's demise. I liked this because it didn't go into some long winded technical explanation with SFX experts or animators. Instead, it was "A + B = C." Makeup Tests also runs about two minutes, as we see various zombies in their zombified state. The final supplement under "Raw Meat" is the EPK Featurette, a seven minute piece that's pretty much exactly what it says. Like most EPK featurettes, it contains sound bytes from its stars and director about the film, about the genesis of the project, and about the principles working together on British sitcom "Spaced." With that, the "Raw Meat" section is exhausted, and we head back out to the main extras interface.
Zombie photo gallery is a thirty five image slideshow of zombies in various states of disrepair. The 2000 Ad Strip section contains six promotional posters, the same comic book style drawings that run throughout the navigations for Shaun of the Dead. The unusual thing about these is that sections of the posters are zoomable for finer inspection and appreciation of the artwork. In my experience this is a completely unique feature for ad materials. Poster Design features nine of the final poster arts for the movie from various markets.
Next stop is the film's American theatrical trailer, which in 140 seconds gives entirely too much of the movie away. Thankfully, it's not so careless with the film's jokes, as there are far too many to put in a trailer. I'd have liked to see some of the European takes on the trailer.
Like the "Raw Meat" heading, Shaun of the Dead also features a section called "TV Bits," which I figured would be some of the television commercials from around the world. Instead, this turns out to be far more entertaining. There are several times throughout the film where Shaun and Nick are watching TV reports, programs or commercials relating to zombies. Some of these spots had to be filmed, and that's what "TV Bits" is made up of. There's the four minute T4 and Coldplay piece that we see at the film's epilogue, a couple of takes on an almost entirely improvised piece that is actually quite funny. There's the sixty second intro to the fake reality show Fun Dead, where zombies are used for entertainment in a game show. Twice we see a talk show in the film, and both ninety second bits are included here. The first, Nine Lives Are Up, is the earlier piece that David quotes to Shaun and Liz during a row. The second, I Married a Monster is like a follow up, where the same woman's boyfriend is now her husband, which is what she wanted, but he's also a zombie.
"Missing Bits" surprisingly isn't a section of deleted scenes. There's Funky Pete, which explains that the film is contractually obligated to be edited for broadcast or airplane viewing, and therefore all of the F bombs are excised and replaced with "funk" or derivatives thereof. It's absolutely ludicrous. Also under this subsection we have The Man Who Would be Shaun, a 30 second piece where Simon Pegg is just using a weird voice in a scene until he cracks up. My favorite piece in this section is Outtakes, a bunch of bloopers and crack ups that lasts for over ten minutes. I wish more movies would include the blooper reel, which is invariably funny and shows the humanity and joy in projects like these.
Remaining in "Missing Bits", we have fifteen Extended Bits available with Simon Pegg and Edgar Wright commentary. Under the 'play all' option, they run thirteen minutes. This basically shows extra lines of dialogue that were edited out to tighten up the finished product. I'd lament the lack of true deleted scenes, but I really don't think there were any. My guess, judging by the creative processes and the commentary track, is that most of the stuff they deleted they did before filming started. What they shot, they put on film, with minor snips here and there.
The disc also features a Plot Holes section, which is made up of comic book animation and voiceover from the character. Through this section, we get to find out What Happened to Shaun When He Ran Off, What Happened to Dianne when She Left the Winchester, and How Did Ed get from the Cellar to the Shed, all at thirty seconds each. Don't be fooled, even though this is the last of the stuff under the extras menu, this is far from the last of the supplements.
Over under the subtitles menu, we find the "Zomb-O-Meter," which is fast becoming another of my favorite types of features, the trivia track. Like a subtitle track, it runs across the bottom of the screen most of the time, providing tidbits of information on the locations in and around London, musical cues (most of which have something to do with dead people or escapes) and the film's countless allusions to other zombie films. This is another feature I hope becomes more widespread as DVD evolves. Under the subtitles section we also find storyboard comparison. This is usually a pretty bland extra, but Shaun of the Dead formats it in an interactive way. As each chapter begins, a pair of red eyes light up in the top right corner. If one presses "enter," the disc takes the viewer to the corresponding storyboard section.
The final bonuses can be found under the disc's audio menu, where we discover two commentary tracks. The first, the Simon Pegg and director Edgar Winters commentary track, contains a lot of recollection of filming, material on their work together in the television show "Spaced." They also discuss the film's origination (from an episode of 'Spaced'), the film's music and a lot of stuff about the film references within Shaun of the Dead. It's conversational, loose and easy to listen to, but my only issue is that much of the information can be gleaned from the trivia track.
The second piece is the cast commentary track, containing Simon Pegg, Kate Ashfield, Nick Frost, Dylan Moram, and Lucy Davis. I've said in the past that I'm not a big fan of the full-house commentary, and this really highlights why. With this many people, they can start a conversation about one portion of the film (as they do here several times), talk about it for ten minutes and miss more interesting parts. Yes, this is a funny track because they're funny people, but if it's film insight you're looking for, stick with the trivia track. This one is more like watching the movie with a party of people at a pub. The only difference is that while they're distracting you, you can't participate in what they're saying.
Zombiphiles will appreciate its many respectful tips of the cap to the genre's standard bearers both widely known and obscure. People like myself who aren't into straight zombie movies should find it light, clever and entertaining even on repeated viewings. With a supplemental package that has to be classified as one of the most impressive pressed to a single disc, solid technical ratings on both sides, and a fantastically funny little movie, I can't recommend Shaun of the Dead with enough praise.
| | |
| --- | --- |
| Viewer Film Ratings: 4.3148 Stars | Number of Votes: 54 |