COLUMBIA TRISTAR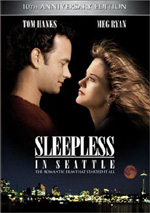 MOVIE INFO
Director:
Nora Ephron
Cast:
Tom Hanks, Meg Ryan, Bill Pullman, Ross Malinger, Rosie O'Donnell, Gaby Hoffmann, Victor Garber, Rita Wilson
Writing Credits:
Nora Ephron, David S. Ward, Jeff Arch
Tagline:
What if someone you never met, someone you never saw, and someone you never knew was the only someone for you?
Synopsis:
Tom Hanks stars as Sam Baldwin, a widowed father who, thanks to the wiles of his worried son, becomes a reluctant guest on a radio call-in show. He's an instant hit with thousands of female listeners, who deluge his Seattle home with letters of comfort. Meanwhile, inspired in equal parts by Sam's story and by classic Hollywood romance, writer Annie Reed (Meg Ryan) becomes convinced that it's her destiny to meet Sam. There are just two problems: Annie's engaged to someone else, and Sam doesn't know - yet - that they're made for each other.
Box Office:
Budget
$21 million.
Opening Weekend
$17.200 million.
Domestic Gross
$126.533 million.
MPAA:
Rated PG


DVD DETAILS
Presentation:
Widescreen 1.85:1/16x9
Fullscren 1.33:1
Audio:
English Dolby 2.0
Subtitles:
English
Chinese
Korean
Thai
Closed-captioned

Runtime: 105 min.
Price: $14.95
Release Date: 9/23/2003

Bonus:
• Audio Commentary with Director Nora Ephron and Associate Producer Delia Ephron
• "Love In the Movies" Featurette
• Music Video
• Talent Files
• Trailers




EQUIPMENT
Sony 36" WEGA KV-36FS12 Monitor; Sony DA333ES Processor/Receiver; Panasonic CV-50 DVD Player using component outputs; Michael Green Revolution Cinema 6i Speakers (all five); Sony SA-WM40 Subwoofer.


RELATED REVIEWS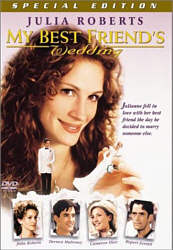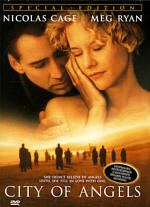 [an error occurred while processing this directive]
---
Sleepless In Seattle: 10th Anniversary Edition (1993)
---
Reviewed by Colin Jacobson (December 12, 2003)

Look up "chick flick" in the dictionary and you just might see a picture of the cover of 1993's Sleepless In Seattle. Does this sentimental romantic comedy offer anything for those of us with a "Y" chromosome? Not really, as Sleepless seems like a sappy and dopey romantic comedy.

At the start, we meet architect Sam Baldwin (Tom Hanks) and his eight-year-old son Jonah (Ross Malinger). Sam's wife (Carey Lowell) dies of cancer after a brief illness, and this leaves him with a prolonged period of depression. He decides he needs a change, so he moves from Chicago to Seattle.

The film suddenly jumps ahead 18 months and takes us to Baltimore, where we meet newspaper writer Annie Reed (Meg Ryan) and her fiancé Walter (Bill Pullman). On Christmas Eve, he meets her extended family, and they declare their engagement. However, when Annie talks to her mother about the pending nuptials, we can sense that something isn't quite right and Annie longs to be swept off her feet.

On the way home from the party, Annie listens to a radio advice program and hears Jonah call Dr. Marsha Fieldstone (Caroline Aaron) about his dad's depression. This captures the attention of the audience, especially for the women, who pounce on the opportunity to pursue "Sleepless In Seattle", as Dr. Fieldstone dubs him.

The movie follows their parallel stories. Annie tries to convince herself that Walter's the man for her, but she remains obsessed with "Sleepless" and eventually composes a letter that her friend Becky (Rosie O'Donnell) surreptitiously sends for her. Sam disregards the letters from the women who hear of his case, but he finally gets back into dating when he asks out Victoria (Barbara Garrick). Jonah doesn't like her, and he pushes Annie on him after he reads her letter. This all leads inexorably toward a climax during which Annie and Sam may or may not meet.

Perhaps Sleepless is one of those movies I shouldn't review since I'm not in the target audience. However, unlike something like Teletubbies, I'm not all that far from the crowd for which Sleepless shot. While it clearly was meant mainly for women, the movie also made some attempts to appeal to a male audience since I'm sure the filmmakers knew the ladies would drag their dudes to shows. I guess it worked for the women, since it earned a lot of money and remains popular enough to warrant this "10th Anniversary" DVD.

I don't get the movie's continued appeal. Actually, I'm not sure why it was popular in the first place, as it seems like an unsatisfying attempt to cover many bases. At its heart, it offers a sentimental romance. The movie starts at a funeral and feels most natural when it follows its emotional impulses. These don't appear terribly satisfying, but at least they come across as well intended.

Unfortunately, Sleepless wants to have its cake and eat it too. In attempts to broaden its audience, the movie tacks on unsuccessful attempts at humor. The film features many little quirky bits that feel like they're lifted from Seinfeld. However, they lack any of the marvelous "slice of life" insights of that series. Instead, these feel artificial and forced. The movie intersperses quirks without any sense of naturalism. Instead, the jokey bits appear in a way that makes them come across as self-conscious attempts at humor, and they don't work.

Sleepless also really pours on the schmaltz, which makes the stabs at humor all the more unsuccessful. The movie seems like a contrived attempt to create a "classic" romance but it also wants to spritz the results with some irreverent hilarity. The film desperately wants to achieve a sense of subdued wackiness, but there's not a wacky bone it its body.

Maybe I just have a low tolerance for cutesy and cloying flicks. Unfortunately, the level of forced humor and sappy sentimentality during Sleepless In Seattle seems awfully high, and this makes it really tough to take. It becomes pretty nauseating at times and never manages to come across as anything more than a contrived and predictable romantic comedy. At least Meg Ryan's hair looks good; given the cheesy and dated coifs that dominate the flick and Ryan's own penchant for bad haircuts, that positive should count for something.
---
The DVD Grades: Picture C-/ Audio C/ Bonus C
---
Sleepless In Seattle appears in both an aspect ratio of approximately 1.85:1 and in a fullscreen version on this single-sided, double-layered DVD; the widescreen image has been enhanced for 16X9 televisions. Only the letterboxed picture was reviewed for this article. The movie remained consistently watchable but the image usually seemed pretty drab.
For the most part, sharpness was acceptable. Occasional shots came across as somewhat ill defined and fuzzy, however. The movie didn't appear as crisp and detailed overall as I'd like. I saw no concerns related to jagged edges or moiré effects, but some moderate edge enhancement cropped up periodically. Grain seemed more prominent that I'd expect, and I also noticed occasional examples of specks and grit, but print flaws usually remained fairly minor.
The palette of Sleepless seemed rather flat. The hues looked acceptable some of the time, but they often appeared bland and lifeless. Skin tones were somewhat pinkish as well. Black levels varied between decent depth and moderate muddiness. Low light shots tended to be somewhat thick. For example, when we're supposed to see Jonah in the shadows during the first phone call, we could barely make him out at all. The image of Sleepless seemed generally acceptable, but it was fairly lackluster as a whole.
The Dolby Surround 2.0 soundtrack of Sleepless In Seattle also failed to make much of an impression. Even for a romantic comedy, the scope of the soundfield seemed restricted. The image remained highly oriented toward the front, and the center channel dominated. Music demonstrated acceptable but not terribly well defined stereo imaging, and effects displayed only some light ambience. The surrounds seemed very passive and they presented nothing more than the most basic reinforcement of the front speakers.
Audio quality was acceptable but nothing more. Speech was reasonably natural and distinct, and I noticed no problems connected to intelligibility or edginess. Effects played a small role, but they sounded fairly concise and accurate. Music was more important and depended a lot on the source material; the soundtrack utilized a lot of older recordings, so I didn't expect tremendous vivacity from them. The score and tunes were fairly rich and full but not anything more than that. Sleepless presented a utilitarian mix and that was about it.
This 10th anniversary release of Sleepless In Seattle doesn't exactly pack on the extras. The main attraction comes from an audio commentary with writer/director Nora Ephron and associate producer/uncredited writer Delia Ephron. Nora presents a running, screen-specific track; recorded separately, the commentary plops occasional remarks from Delia during the gaps.
Not that it fills all the empty spaces, as quite a few of those moments occur during this track. The gaps create the piece's main weakness. Otherwise, the Ephron sisters offer a pretty good look at the movie. We learn a lot about the genesis of the film's script as they explore rewrites and changes made to the piece. Nora also gets into issues connected to locations and the cast. In particular, she relates some intriguing notes about Tom Hanks' style and decisions he made about his character. If we get past all the empty spots, this is a pretty interesting commentary.
Next we get a short featurette called Love in the Movies. This lasts 13 minutes and eight seconds and mixes movie clips with sound bites from Nora and Delia Ephron, Meg Ryan, Tom Hanks, Empire State Building historian Lydia Ruth, Loveline hosts Dr. Drew Pinsky and Adam Carolla, and producers Linda Obst and Gary Foster. Created around the time of the flick's theatrical release, they muse on movies, love, romance, and toss in a few notes about Sleepless as well. It's all very general and not terribly interesting.
A few minor components round out the package. We get Talent Files for director Nora Ephron plus actors Tom Hanks, Meg Ryan, Bill Pullman, Rosie O'Donnell, and Rob Reiner. These consist of nothing more than lightly annotated filmographies. In the theatrical trailers area we locate ads for Sleepless, My Best Friend's Wedding, It Could Happen to You, Philadelphia, and Nothing in Common. Lastly, we discover a music video for "When I Fall In Love" by Celine Dion and Clive Griffin. A very standard combination of movie clips and lip-synching, it inspires one comment: blech!
Similar sentiments greet the sappy and mushy Sleepless In Seattle. Despite the film's attempts to generate snappy patter and comedic elements, it falls flat, and it never becomes anything more than a painfully saccharine piece of romantic drivel. The DVD presents mediocre picture and sound plus a drab roster of extras. The mix of bad movie with bland DVD means that I can't recommend this one, though it's very low list price of less than $15 should make it appealing to fans.
| | |
| --- | --- |
| Viewer Film Ratings: 4 Stars | Number of Votes: 27 |