HBO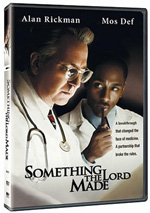 MOVIE INFO
Director:
Joseph Sargent
Cast:
Alan Rickman, Mos Def, Mary Stuart Masterson, Kyra Sedgwick, Merritt Wever, Doug Olear, James E. Ash, David Bailey, Nat Benchley
Writing Credits:
Peter Silverman, Robert Caswell
Tagline:
A breakthrough that changed the face of medicine. A unique partnership that broke the rules.
Synopsis:
Something the Lord Made tells the emotional true story of two men who defied the rules of their time to launch a medical revolution, set against the backdrop of the Jim Crow south. Working in 1940s Baltimore on an unprecedented technique for performing heart surgery on "blue babies," Dr. Alfred Blalock (Alan Rickman) and lab technician Vivien Thomas (Mos Def) form an impressive team. As Blalock and Thomas invent a new field of medicine, saving thousands of lives in the process, social pressures threaten to undermine their collaboration and tear their friendship apart.
MPAA:
Rated NR


DVD DETAILS
Presentation:
Widescreen 1.85:1/16x9
Audio:
English Dolby Digital 5.1
English Dolby 2.0
Spanish Dolby 2.0
French Dolby 2.0
Subtitles:
None
Closed-captioned

Runtime: 110 min.
Price: $26.98
Release Date: 1/25/2005

Bonus:
• Audio Commentary with director Joseph Sargent, writer Peter Silverman, and producers Robert Cort and Eric Hetzel
• Historical Slideshow
• Making-Of Featurette




PURCHASE @ AMAZON.COM

EQUIPMENT
Mitsubishi WS65315 65" TV; Pioneer VSXD409 Home Theater Receiver; Sony DVP NC665P 5 Disc DVD player; KLH Home Theater Speakers


[an error occurred while processing this directive]
---
Something The Lord Made (2004)
---
Reviewed by Brian Ludovico (March 4, 2005)

Something The Lord Made is the remarkable story of Vivien Thomas (deftly played by Mos Def), the son of working class African Americans living in Tennessee just after the Great Depression hit. Like most black families in the Thirties, the Thomas family found themselves marginalized by white society. When Vivien is laid off from his carpentry job, he gets an opportunity to work in the field heíd always dreamed of: medicine.

He gets work at Vanderbilt University, working in the lab for surgeon Dr. Alfred Blalock (Alan Rickman). Blalock has been working on a cutting-edge technique for treating traumatic shock, working with dogs to try to solve the last few pieces of the puzzle. Vivienís job is basically cleaning up after the dogs, but at least heís in the environment, gaining valuable experience for when he goes to college.

Unfortunately, Thomasí bank fails and his dream of going to med school vanishes. He doesnít despair, and continues to work with Blalock. The doctor notices Vivien shows immense interest as well as a great pair of hands, and begins to tutor him in surgery and medical principals. Eventually, Blalock comes to regard Thomas as so indispensable to his work that he takes a prestigious job at Johns Hopkins University on the condition that they also hire Thomas. Itís here at Johns Hopkins where these two men will change the world.

At Johns Hopkins, Blalock takes on the vexing ĎBlue Baby Syndrome.í The syndrome had a 100% fatality rate, mainly affected infants and toddlers, and was caused by a congenital heart defect. The defect restricted the flow of oxygenated blood to the lungs, thereby causing the skin, lips, and gums to take on a bluish hue, hence the name. For decades, there was absolutely no hope of a cure, because since the dawn of surgery, there had always been the rule ďDonít touch the heart.Ē Blalock and Thomas were going to flout that convention and literally change the direction of medicine. Thomas does much of the research, even constructing tiny instruments to work internally on a six month old child without damaging the tissue.

When the time comes to undertake the controversial and very dangerous operation (remember, not only is this the first open heart surgery, but itís a heart about the size of a peach pit), Blalock wonít perform the procedure without Thomas standing behind him, instructing and assisting him. Due to Thomasí color, this was a major problem with many observing doctors. With Thomasí help, the surgery is a success, and the field of cardiac surgery is born. Itís a field that in the future will save one and three quarter million lives per year.

Of course, this groundbreaking surgery brings fiscal success and medical glory to both Johns Hopkins University and the team of doctors who performed it. Unfortunately, none of this glory or gratitude comes Vivenís way; heís black, and invisible to the outside world. When Blalock himself doesnít mention Vivienís name, Vivien decides to leave medicine and pursue his goals outside of Johns Hopkins. Thereís a couple of twists and turns along the way; I donít want to spoil the whole film, but rest assured that eventually, the friends will reconcile, and Vivien will finally get what he deserves.

This is another excellent HBO movie, thanks to an intriguing story and its excellent performances. Mos Def, the movieís star, is exemplary as the lead. I really liked the character because he never becomes bitter or angered by the social climate he lives in. He doesnít like the circumstances, nor does he put up with treatment that he finds disrespectful, but he seems to understand the situation. He doesnít make some political stand on it, though he certainly has rights to. Instead, he concentrates on the greater good and his work as a surgeon, even if no one can call him that.

Rickman is great as his cantankerous and arrogant friend and mentor, Dr. Blalock. What I liked most about Blalock is that he doesnít seem to recognize that Thomas is black; he just sees him as a talented and smart man who can help him further his important research. The interplay between the two is outstanding.

The question about this movie then becomes ďIf itís such a great story and the performances are so good, why is it confined to HBO?Ē To understand the answer, itís important to understand the evolution of HBO as a studio. Fifteen years ago, HBO was just another premium cable channel, a place where home viewers got to see movies they may have missed in the theaters, or tape their favorites to VHS for repeat viewing. HBO had very, very few original projects, most of which fell into two categories: crappy show (Arli$$ for example) and made-for-TV movies.

The latter category was the more frustrating. HBO was grabbing stories that were too boring for actual movies, yet had integral subject matter that was too racy for networks, and they felt like made for TV movies. This philosophy gave rise to such blasť pieces as The Josephine Baker Story, Citizen Cohen and Barbarians at the Gate, movies cheaply made that HBO could self-supply for their air time.

Fast forward to the latter half of the Nineties, at which time there seemed to be a philosophical and creative shift at the network. It dawned with HBOís first critically and commercially successful television show, Oz, and really blossomed with the cultural force that The Sopranos has become. At the same time when they were revamping their original television programs, they began to pick different kinds of movies for production. Instead of picking movies that were sort of lost in the public interest, they have started to pick movies that are intriguing stories, extremely well made with big name stars, but those that have impossible marketing angles, so major studios ignore them. From this batch we have Conspiracy, Wit and now, Something the Lord Made. If it had been a theatrical release, it would have been a commercial bomb, mainly because thereís no way to sell it. Since it was on HBO, itís in the class of the networkís most accomplished original projects, rather than ďthat movie about the black doctor that made no money.Ē Donít miss Something the Lord Made.
---
The DVD Grades: Picture B/ Audio B-/ Bonus C-
---
Something The Lord Made appears in an aspect ratio of 1.85:1 on this single-sided, double-layered DVD and has been anamorphically enhanced for 16X9 televisions. The subject matter doesnít exactly lend itself to stunning visual imagery, but while it doesnít thrill, it doesnít disappoint, either.
There are no special effects sequences in Something The Lord Made, so weíre mainly concerned with color reproduction and picture clarity. In those regards, this disc is certainly a success. Again, realizing the time period that this story takes place in, we know weíre not talking about popping super-vibrancy here. Mainly weíre dealing with a realistic palette comprised mainly of brick reds, gray skies and green grasses. Where the movie shines is in its shadow detail, most notable in the lab scenes as well as in the operating rooms. The disc shows many different shades and really creates a fine image. Artifacting is kept to a minimum, showing only a couple of negative flecks in a dingy Tennessee sky. Something The Lord Made looks exactly as good as it should look.
Aurally, Something The Lord Made is pretty Ďnuts and bolts,í which serves this material well. The disc defaults to a Dolby Digital 5.1 track, but remember, itís a biographical story about two surgeons, so thereís not a lot of opportunity to blow the covers off the back speakers or thump the subwoofer. The main audio activity is dialogue, delivered mostly through the center speaker. Those elements sound great and are well mastered. The subtle audio imaging - things like murmurs of observing doctors or the bounce of an echo in an empty office - work fine. The lateral channels, as usual the case with movies like this one, harbor the filmís orchestral score, assembled by Christopher Young. This is a CD-clear track, to be sure; it just isnít anything to go crazy about.
As far as extras go, Something The Lord Made shows that HBO isnít just pushing out barebones discs anymore. The main attraction is a feature length commentary track containing director Joseph Sargent (yes, the same Joseph Sargent who has Jaws IV on his resume), writer Peter Silverman, and producers Robert Cort and Eric Hetzel. As Iíve mentioned before, the more participants there are on a commentary track, the harder it is for me to listen to. Usually, theyíre constantly stepping all over each other and making sure theyíre earning their paycheck.
This one, though, is strangely filled with silent gaps. When they are actually contributing, they talk about some interesting things. They confirmation that my theory on this movie, that it was designed to be a theatrical release and research showed there was no real market for it, is correct, and share interesting thoughts on making a movie like this one that deals with delicate social issues. Thereís also a good bit of research-related material and historical tidbits thrown in here and there. Overall, this is fine track that covers a wide range of topics.
Thereís a making-of featurette, running under four minutes. This is pretty typical filler material for HBO, something they can run in between movies. It gives the viewer the Ďbroad strokesí on stuff like the actual people behind the characters, obstacles they faced, stuff like that. Of course we get to hear from Mos Def and Alan Rickman, as well as director Joseph Sargent. The problem with the featurette is that it gives an awful lot away, and might suck some of the joy out of the movie for first time viewers.
The final feature is a historical slideshow. This is a series of photographs of the actual people and events related to the film. A short bit of text accompanies each of the pictures explaining whatís going on in the photo and its relevance. Itís a creative and poignant feature that one doesnít find on many discs. Of course, that doesnít change the fact that while this disc isnít barebones by any stretch, itís far from packed with supplements.
As such, itís difficult for me to recommend Something The Lord Made as a purchase. Given that itís an HBO original production, it most certainly will be played again, and with digital television and the availability of HBOHD, the picture and sound are as good as the DVDís. For those of you who subscribe to HBO, youíre already paying to see it, and the commentary track and meager supplements certainly arenít worth a $20 investment.
For those out there who donít have HBO, Iíd definitely recommend renting this disc on the strength of the film itself. Itís a great story of a man who was sort of pushed to the side of greatness, a man who greatly contributed to one of the most important medical innovations in history.
| | |
| --- | --- |
| Viewer Film Ratings: 4.5555 Stars | Number of Votes: 90 |