20TH CENTURY FOX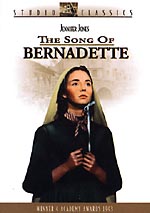 MOVIE INFO
Synopsis:
Bernadette Soubirous (Jones) is a sickly 14-year-old girl who sees a vision of a "beautiful lady", and never suffers from her illness again. Moreover, a fountain materializes near her vision that seems to heal visitors who bathe in it. Unspoiled by her apparent gift, Bernadette nonetheless suffers the prejudices of those around her in this extraordinary, inspiring film that also stars Vincent Price, Charles Bickford and Lee J. Cobb.

Director:
Henry King
Cast:
Jennifer Jones, William Eythe, Charles Bickford, Vincent Price, Lee J. Cobb, Gladys Cooper, Anne Revere
Writing Credits:
George Seaton, based on the novel by Franz Werfel

MPAA:
Not Rated.

Academy Awards:
Won for Best Actress-Jennifer Jones; Best Art Direction-Set Decoration; Best Cinematography; Best Score-Alfred Newman.
Nominated for Best Picture; Best Director; Best Screenplay; Best Supporting Actor-Charles Bickford; Best Supporting Actress-Gladys Cooper; Best Supporting Actress-Anne Revere; Best Film Editing; Best Sound.


DVD DETAILS
Presentation:
Fullscreen 1.33:1
Audio:
English Digital Stereo
English Digital Mono
Spanish Digital Mono
Subtitles:
English, Spanish
Closed-captioned

Runtime: 156 min.
Price: $19.98
Release Date: 6/3/2003

Bonus:
• Audio Commentary with Biographers Edward Z. Epstein, John Burlingame, and Donald Spoto
• A&E Biography Episode: "Jennifer Jones: Portrait of a Lady" Movietone Newsreel
• Theatrical Trailer
• Restoration Comparison




EQUIPMENT
Sony 36" WEGA KV-36FS12 Monitor; Sony DA333ES Processor/Receiver; Panasonic CV-50 DVD Player using component outputs; Michael Green Revolution Cinema 6i Speakers (all five); Sony SA-WM40 Subwoofer.


[an error occurred while processing this directive]
---
The Song of Bernadette: Studio Classics (1943)
---
Reviewed by Colin Jacobson (June 19, 2003)

[quote]For those who believe in God, no explanation is necessary. For those who do not believe in God, no explanation is possible.[/quote]

1943's The Song of Bernadette opens with the text displayed above. I can scarcely imagine a more condescending and sanctimonious start to a movie. That attitude doesn't totally permeate the film, but its one-sided attitude makes it tough to take.

Set in 1858, we go to Lourdes, France, where we meet Bernadette Soubirous (Jennifer Jones). A sickly girl whose chronic asthma often keeps her from school, Bernadette's family struggles to eke out a living. One day she and her sister go to fetch some wood. While her sister and a friend gather the timber, Bernadette stays behind because she's too frail to cross a frigid stream. She ventures into a grotto and sees a vision of a magical lady who sure looks a lot like the Virgin Mary (Linda Darnell).

Immediately after this encounter, Bernadette's health vastly improves, and good luck starts to befall her family. She soon has another vision, and the lady asks her to return for 15 consecutive days. However, she starts to come under great pressure from others not to do this. Some believe she saw the Virgin Mary – though Bernadette never makes such a formal claim – but others feel she's a fraud. Her parents think they're the town laughingstocks, and local religious and civic officials try to halt Bernadette's treks.

Eventually Bernadette slowly starts to win over some of the non-believers, though many opponents remain. Father Peyramale, Dean of Lourdes (Charles Bickford) requests that Bernadette ask the lady to perform a miracle and make a rose bush bloom in February. This doesn't occur, and Bernadette briefly looks like a fool when the lady tells her to wash herself in a seemingly nonexistent stream. However, after she leaves, others see the stream appear.

When partially blind stonemason Bouriette (Sig Ruman) gets some of the water on his eyes, he regains his sight. Others bring sick cases to the grotto, and many apparent miracles occur. Soon many pilgrimages come to the water, much to the consternation of the same civic and religious authorities who tried to suppress Bernadette in prior times. Those who do change their tune – such as the mayor (Aubrey Mather) – do so for greedy reasons. The law cracks down on her heavily and threatens Bernadette to an extreme. The rest of the movie follows her fate.

Without question, Song boasts an intriguing story. Many people know bits and pieces of the history of Lourdes; heck, Madonna even named her daughter after the place! However, most – including me – have little knowledge of the tale behind the fame. No matter what one's religious beliefs may be, the legend seems potentially compelling.

Unfortunately, the filmmakers decided not to leave any question where they stand on the issue. Never for a moment are we allowed to consider the possibility that a) Bernadette is delusional, or b) the miracles aren't real. The movie treats the topic as fact and never accords the audience any chance to question this. The simple manner in which Bernadette encounters the lady leaves no opportunity for debate; since we see things along with her and from her point of view, we observe everything as reality.

In addition, all those who mock or don't believe in Bernadette's visions receive no sympathy whatsoever. Granted, some of them change their tunes eventually, but while they don't see her side of things, they come across as bad people. I suppose it's good to see some character arc occur, but it's unfortunate that only those who come to agree with Bernadette receive this positive treatment.

The others remain demonstrably evil. They appear cruel and sadistic at worst and smug and superior at best. Surely some of the folks who felt skeptical about these alleged miracles weren't terrible people. However, Song never entertains that notion, as all the non-believers come across as horrible people.

The film would have worked much better if it'd given the audience a little more credit to think for themselves. It's so one-sided that it leaves no room for interpretation, and it literally becomes preaching to the choir. Those who believe will love it, while those who don't – or those who question – will likely feel insulted by the movie's heavy-handed treatment.

In other ways, Song seems competently made. Jones earned an Oscar for her work here, and while I don't know if she merited that level of recognition, she does nicely in the role. She brings a nice sense of innocence, dignity and elegance to the part. She makes sure that Bernadette doesn't come across as self-righteous or arrogant, and she allows the film to become more palatable.

The Song of Bernadette might have seemed even more interesting if the lead character was granted any form of nuance or personality other than saint-in-training. Unfortunately, this isn't a movie for those who want to entertain even the faintest question about its subject, as it treats religious matters with a tone of smug conviction. Overly long and off-putting, Song presents a poor examination of its subject.
---
The DVD Grades: Picture B+ / Audio C- / Bonus B
---
The Song of Bernadette appears in an aspect ratio of 1.33:1 on this single-sided, double-layered DVD; due to those dimensions, the image has not been enhanced for 16X9 televisions. Though Song celebrates its 60th anniversary this year, the transfer didn't show its age, as the picture looked quite good.
Sharpness seemed positive. An occasional wide shot displayed slight softness, but those occurrences were rare. Most of the movie came across as tight and well defined. Jagged edges and moiré effects also caused no concerns, and only a smidgen of edge enhancement cropped up during the movie.
Print flaws usually create the highest level of concerns for an older movie, but Song looked surprisingly clean. Some examples of specks and grit showed up throughout the movie, but these remained quite minor. While I can't call the image immaculate, it seemed very clean for its age. Black levels were sumptuous and rich, while shadow detail looked excellent. Low-light shots seemed nicely defined and crisp, and contrast was strong. Overall, The Song of Bernadette demonstrated a satisfying transfer.
Unfortunately, the stereo soundtrack of Song seemed less pleasing. The imaging remained essentially monaural. Actually, I flipped back and forth between the stereo mix and the film's mono track as well, and I discerned absolutely no differences between the pair. I never noticed any audio from the sides during this heavily centered presentation.
I didn't subtract any points due to a lack of ambition in that realm, but Song did lose credit due to moderately weak reproduction. Speech occasionally came across as muted and dull. The lines usually displayed no issues related to intelligibility, as I almost always easily understood the material. However, the dialogue lacked any natural tones. Effects were a minor role in this chatty movie, and they appeared fairly thin and brittle. Music tended to sound trebly and somewhat harsh. Decent but loose bass response came along with louder parts of the score, but the track usually was a bit rough. A moderate rumble remained in the background throughout the movie, and I also noticed occasional examples of popping and noise. I still felt that Song merited a "C-" because I don't expect great quality from a 60-year-old flick, but the audio seemed flawed nonetheless.
As with all of the "Fox Studio Classics" DVDs, The Song of Bernadette packs a nice roster of supplements. We start with an audio commentary from biographers Edward Z. Epstein, John Burlingame, and biographer/historian Donald Spoto. All three were recorded separately and their comments were edited together for this piece.
Overall, the three men offered a lot of intriguing notes. Since Epstein wrote about actor Jennifer Jones and Burlingame studied composer Alfred Newman, it came as no surprise their statements focused on those respective subjects. Epstein ably related information about Jones' life and career, and appropriately included many statements about her work on Song. Burlingame offered some short details about Newman's whole career, but the majority of his comments related to the music for Song. Spoto took a more global approach and mostly went over facts related to the history behind the real-life Bernadette. All three demonstrated passion for their subjects, and they helped make this a consistently informative and engaging commentary.
Next we get an episode of A&E Biography entitled Jennifer Jones: Portrait of a Lady. The 44-minute and 20-second program mixes archival materials, movie clips from Jones offerings, and interviews with actors/friends Dennis Hopper, Carrie Fisher, and Sally Kellerman, friend Dominick Dunne, actor Charlton Heston, biographer Edward Epstein, author Roy Mosely, son Robert Walker Jr., and stepson David Selznick. The show covers Jones' early life and her childhood interest in performing, her first romance and its consequences, her early career, big break and name change, her split with her first husband, and various personal woes and acting activities. A typical entry in this genre, "Portrait" gives us the ups and downs in fairly melodramatic fashion, but it covers the details reasonably well. It functions as a decent biography of the actress but it doesn't do anything more than that.
Many of these "Fox Studio Classics" DVDs include archival footage, and that goes for Song as well. We find one Movietone Newsreel called "American GIs Award Jennifer Jones". The 56-second clip comes without any fanfare, as it simply shows the ceremony. It's not that interesting.
A Restoration Comparison provides text that covers the work done for this DVD and then shows splitscreen images of a mix of different versions of the film. Lastly, some advertisements appear. In addition to the trailer for Song, we find a section called Movie Classics. This includes promos for All About Eve, An Affair to Remember, The Day the Earth Stood Still, Gentleman's Agreement, The Ghost and Mrs. Muir, Love Is a Many-Splendored Thing, and How Green Was My Valley.
Heavy-handed and formulaic, The Song of Bernadette examines an interesting subject but it does so badly. It so heavily suffers from its narrow viewpoint that it becomes insulting to the viewer. The DVD presents very good picture quality and a generally intriguing package of supplements, but the audio shows its age and seems less satisfying. Still, fans of Song should feel pleased with this release. I can't recommend it to others, unfortunately, as I really disliked this flick.
| | |
| --- | --- |
| Viewer Film Ratings: 4.6 Stars | Number of Votes: 65 |