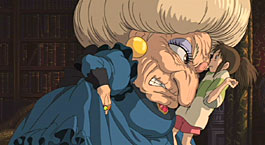 Spirited Away is presented in its original theatrical aspect ratio of 2.0:1 with anamorphic treatment. Thankfully, Disney has gone to great pains to make sure the transfer looked marvelous for American audiences and the results are quite impressive. The film's transfer overseas in Asia was the source of much contention, as it supposedly suffered from a rather severe red tint. While I never saw the transfer for myself, I have no reason to doubt the validity of this claim, as there are enough sources available stating this particular problem with the Asian transfer. Regardless, Disney has corrected that problem for the Region One release and Spirited Away looked quite pleasant and remained sharp and distinct at all times.
The image was immaculately sharp and detailed during the entire film and was never burdened by any sort of excessive grain or edge enhancement whatsoever. Spirited Away was an utter visual feast and it contained an absolutely stunning color palette that was expertly reproduced for the DVD and there were absolutely zero instances of bleeding or over-saturation noted. Black levels in the film were appropriately deep and dense and it allowed for excellent shadow detail and delineation and ultimately, a very three-dimensional appearance. In short, this is simply an arresting film and my limited vocabulary simply doesn't do it justice – you simply have to check it out and experience it for yourself.
Flaws with the transfer were limited to just a couple of jaggies and harsh edges that were of the blink-and-you'll-miss-it variety, as well as a dash of grain in one of the opening scenes of the film. I can count the number of flakes and specks on the print on half a hand and besides that, there's nothing else worthy of mention. Heck, even the flaws I mentioned were nit-picky and rather miniscule considering the grand scheme of things. An 'A+' should be reserved for an absolutely perfect print and unfortunately, Spirited Away contained a couple of very, very small flaws that kept it from attaining a perfect score. However, this is easily on the best transfers to pass through my DVD player in many months.
Disney has knocked one out of the park with their very welcome and very extraordinary video transfer for Spirited Away. The film itself is a vision to behold and thankfully, Disney has preserved Miyazaki's stunning vision for the home viewing market. The film, as well as the transfer, must be seen to be believed and Disney has done a hands-down, incredible job.
Thankfully, Disney has included the film's original Japanese soundtrack in a well-done Dolby Digital 5.1 transfer that's top-notch. The studio has also included a very impressive English dub in Dolby 5.1 that was overseen by Pixar staples, Kirk Wise and John Lasseter, who both happen to be huge Miyazaki fans themselves. Both tracks sound quite nice and Disney has really done a great job with the respective transfers.
While I always encourage viewers to enjoy foreign films in their original language with English subtitles, I have to hand it to Disney here, as the English dub for Spirited Away is as good as any dub I've ever heard. The voice talent is magnificent and the dubbing was as tight as it could have possibly been. However, let me reiterate that I feel very strongly about watching the film in its original Japanese dub first and then checking out the English dub afterwards.
Either way, both tracks were very crisp, clean, and clear and while not very aggressive or antagonistic, the tracks maintained a very strong presence via some ambient and enveloping moments throughout the film. The forward soundstage was the main recipient of the action and exhibited some very nice directional effects and split surround usage. You will notice some rear surround usage scattered throughout the film that generated a judicious amount of ambience and environmental effects, although the rears were used just as often to reinforce the very engaging score from the film. The LFE added some extra punch on quite a few occasions to certain effects, as well as supported the score nicely. However, there weren't any instances noted where living room furniture or pictures were rearranged – what was noted was appropriate for the material at hand.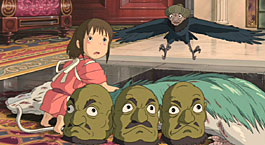 In addition, Disney has also added a French audio track in Dolby 2.0 surround, as well as English Closed Captions and Subtitles.
When I saw the two-disc set for Spirited Away, I was really excited because not only is the film a masterpiece, but it seemed on the surface that I was going to get a ton of supplemental material on the film, its creator, and its creation. Unfortunately, I was completely wrong, as Disney hasn't really added much value to the film in the extras department. After you read through this section, you'll wonder why it took two-discs to house the small amount of material Disney has provided.
DISC ONE
As usual, Disney starts out their DVD with a couple of forced trailers that can be skipped by pressing the –MENU- button on our DVD remote. Here, we find trailers for Miyazaki's Castle in the Sky, as well as KiKi's Delivery Service … and after they're done, we are taken to the DVD's main menu and that's where we'll find the BONUS FEATURES selection.
First up is an Introduction by John Lasseter (1:09) and here he gives us a quick introduction to the film and professes his love for Miyazaki and his work. While it seems rather ridiculous that Lasseter would give us a capsule review of the film before it starts, I'm sure Disney was doing this in preparation of the people who would purchase this disc without really being aware what they were getting in to. While it may seem silly to those accustomed to Japanese animation, it makes sense for Disney to do this because they haven't done a great job of marketing the film to uneducated Americans who might think that Spirited Away is nothing more than a Japanese Toy Story or something.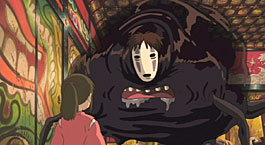 Next is The Art of Spirited Away (15:12) and starting off, we get a bunch of American voice actors (who did the English dub for Pixar) reassuring audiences that the movie is a good one. More or less, it really serves as Disney's "English friendly" version of a "behind the scenes" or "first look" feature. While there is a 41-minute Japanese version of this material on Disc Two, Art does a good job on educating the uneducated on Miyazaki, his tireless work, his marvelous vision(s), his incredible films, as well as the creation and inspiration for his masterpiece, Spirited Away. We see the creation of the American team at Disney and how Miyazaki's films came to be part of Disney's already impressive stable. It's an interesting look behind-the-scenes at how the film became "Americanized" and some of the issues encountered while doing so.
Sneak Peeks includes trailers for Castle in the Sky, KiKi's Delivery Service, Finding Nemo, Atlantis: Milo's Return, Stitch! The Movie, Bionicle: Mask of Light, The Lion King: Special Edition, and a trailer that gives us a quick glimpse of what's New From Disney Interactive. After we're done here, the remaining supplements reside on the second disc.
DISC TWO
The second disc in the set starts out with Behind the Microphone (5:40), a fluffy promotional piece on how Disney handled the ADR sessions for the English dub of the film. We see footage of the actual ADR sessions taking place and we get interviews with those who participated in the dub, as well as those responsible for the more technical sides of things. It's too short to be informative and really what we get are simple extended introductions to the American voice actors. (With all the American talent involved, it looked more like a Pixar reunion than anything else.)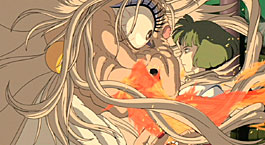 Next up is the standard issue Storyboard-To-Scene Comparison (10:37) that starts out by giving us the option of choosing the language we'd like to hear the scenes in (English or Japanese) and then, by using the –ANGLE- button on our DVD remote, we can swap between two "angles" - the storyboard or the finished scene from the film. Not a real great implementation of such a generic feature and ultimately, not very interesting either.
The next supplement is a Nippon Television Special (41:50) that ran on Japanese TV in advance of the feature. While our cultures are radically different, PR is very much the same in both of our countries, as this supplement looked and felt very similar to other "First Look" or "Making Of" features I have seen on countless other DVDs. However, even though the piece remains very promotional in nature, it's a great find for those of us with limited knowledge of the project, as well as Miyazaki himself. We get an inside look at Studio Ghibli and how they prepare for a large feature such as this; we learn Miyazaki's inspiration for making Spirited Away; we meet many of the principals at Studio Ghibli and learn a bit more about the input they had on the project; and so on. The feature covers a lot of ground and while admittedly promotional, is quite informative too. While it's not one of the best features of its kind, it's by far the most interesting piece in the Spirited Away DVD set.
Next up are the Original Japanese Trailers (28:57) and here we get exactly what the title says – almost 30-minutes of trailers for the film that simply run back to back to back. The second trailer actually runs like a Cliff's Notes version of Spirited Away and practically tells you the entire story in just a few minutes. Quite repetitive and quite laborious to watch, I'd say you should just invest the 30-minutes you're gonna spend here watching the film instead.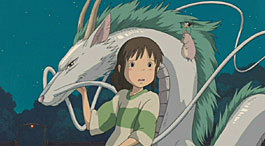 While a two-disc set usually means great things for the viewer and the fan, I can't really say that's not the case with Spirited Away. Disney has done a much better job on less superior films and it's unfortunate that we don't have any more material to supplement the film than what has been provided here.
Spirited Away is an animation classic that is well deserving of its Best Animated Feature Oscar from this years Academy Awards ceremony. It's a breathtaking film and an awe-inspiring representation of the stunning Japanese anime that is finding more and more mainstream acceptance here in the States. While Disney hasn't handled the supplements on the film as well as I would have liked, the DVD is technically solid – and in many cases, superior – to many of its kind on the market currently. Ultimately, Spirited Away is a very solid set that comes highly recommended. It simply begs to be seen rather than read about and I'd highly suggest you check it out as quickly as possible.