PARAMOUNT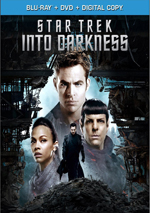 MOVIE INFO
Director:
J.J. Abrams
Cast:
Chris Pine, Zachary Quinto, Zoe Saldana, John Cho, Simon Pegg, Benedict Cumberbatch, Bruce Greenwood, Peter Weller, Anton Yelchin
Writing Credits:
Roberto Orci, Alex Kurtzman, Damon Lindelof, Gene Roddenberry (television series, "Star Trek")
Tagline:
Beyond the darkness, lies greatness.
Synopsis:
When the crew of the Enterprise is called back home, they find an unstoppable force of terror from within their own organization has detonated the fleet and everything it stands for, leaving our world in a state of crisis. With a personal score to settle, Captain Kirk leads a manhunt to a war-zone world to capture a one man weapon of mass destruction. As our heroes are propelled into an epic chess game of life and death, love will be challenged, friendships will be torn apart, and sacrifices must be made for the only family Kirk has left: his crew
Box Office:
Budget
$190 million.
Opening Weekend
$70.165 million on 3868 screens.
Domestic Gross
$227.161 million.
MPAA:
Rated PG-13


DVD DETAILS
Presentation:
Aspect Ratio: 2.40:1
Audio:
English Dolby TrueHD 7.1
Spanish Dolby Digital 5.1
French Dolby Digital 5.1
Portuguese Dolby Digital 5.1
English Audio Description
Subtitles:
English
French
Spanish
Portuguese
Closed-captioned
Supplements Subtitles:
English
French
Spanish
Portuguese

Runtime: 131 min.
Price: $39.99
Release Date: 9/10/2013

Bonus:
• "Creating the Red Planet" Featurette
• "Attack on Starfleet" Featurette
• "The Klingon Home World" Featurette
• "The Enemy of My Enemy" Featurette
• "Ship to Ship" Featurette
• "Brawl By the Bay" Featurette
• "Continuing the Mission" Featurette
• "The Mission Continues" Advertisement
• DVD Copy




PURCHASE @ AMAZON.COM

EQUIPMENT
Panasonic 50" TH-50PZ77U 1080p Plasma Monitor; Sony STR-DG1200 7.1 Channel Receiver; Panasonic DMP-BD60K Blu-Ray Player using HDMI outputs; Michael Green Revolution Cinema 6i Speakers (all five); Kenwood 1050SW 150-watt Subwoofer.


---
Star Trek Into Darkness [Blu-Ray] (2013)
---
Reviewed by Colin Jacobson (August 29, 2013)

After Star Trek: Enterprise ended in 2005, the franchise went dormant for the first time since Star Trek: The Motion Picture brought it back to life in 1979. However, fans only needed to wait four years for JJ Abrams' big-screen reboot. 2009's Star Trek took the "Original Series" characters back to their roots and allowed a new beginning.

That flick did well at the box office and resulted in the inevitable sequel: 2013's Star Trek Into Darkness. The story picks up the characters as they observe the inhabitants of a primitive planet. However, a volcano starts to erupt and will level the place unless Captain James T. Kirk (Chris Pine) and company halt this event. First Officer Spock (Zachary Quinto) handles the main duties and almost dies along the way, but Kirk takes the Enterprise out of hiding in time to save his colleague.

This violates Starfleet's "Prime Directive", which says that its officers cannot interfere with the normal progress of less advanced societies, and Kirk loses command of the Enterprise. However, before Admiral Pike (Bruce Greenwood) can take over the ship, a Starfleet agent named John Harrison (Benedict Cumberbatch) launches a terrorist attack that leaves Pike dead and Kirk back on the Enterprise.

Admiral Marcus (Peter Weller) assigns Kirk and crew to track down and slay Harrison, a task that leads them to the Klingon homeworld. Along the way Kirk learns that this job may not be as simple as it seems, so he and his crew need to deal with a series of complications, some of which connect to Harrison's true identity.

That "true identity" offered possibly the worst-kept secret in modern movie history, so I doubt many out there won't know Harrison's real name/background. Still, I prefer to avoid potential spoilers, so I'll leave out that "revelation".

I really liked the 2009 Trek - probably more than I anticipated. While I've always enjoyed the franchise, I feared the worst due to the nature of reboots; they can seem desperate and misguided much of the time.

Of course, some think Abrams' take on the subject did wind up as "misguided". Abrams famously indicated that he knew little to nothing about Trek before he got the gig, and some believe that lack of familiarity came through in the film.

As much as I enjoyed the 2009 flick, I understood that it wasn't "traditional Trek". The movie felt more like a Star Wars-style sci-fi action effort with Trek trappings; it lacked the more introspective feel of the series' standard offerings. That was fine with me; while some might view the 2009 Trek as "dumbed down", I liked the shot in the arm it gave to a franchise that'd bordered on running on fumes for years.

This led to a different level of expectations for Darkness, and I'm not sure it lives up to them. This doesn't make Darkness a bad film at all; indeed, I find it to offer a lot of enjoyment. However, I don't think it quite lives up to its immediate predecessor, and it comes with a few more deficits than I'd like.

My main complaint comes from the semi-derivative nature of Darkness. As I mentioned earlier, a reveal of Harrison's real identity would fall into the spoiler category, and that's because his character showed up in prior Trek efforts. When I first heard this role would be part of Darkness, I felt disappointed; I really didn't want the rebooted franchise's first sequel to come across as a kind of remake.

And Darkness doesn't truly remake the earlier flick, but it leans on it more than I'd like. Perhaps some fans like this "alternate history" side of things, but I don't. I'd prefer to see the rebooted franchise take advantage of Trek lore but not in such an obvious manner; leave direct references as inside jokes, not as such prominent inspiration.

This leads to a sequence that directly echoes the earlier film – a segment that was deeply emotional in the prior flick. In this case, unfortunately, it falls flat. During the earlier movie, the scene relied on our deep, long-lasting attachment to the characters – and actors – for drama, but we don't maintain the same connection here. That leaves the sequence as little more than a self-conscious callback without one-tenth the emotional power of its predecessor.

These complaints aside, Darkness provides a pretty enjoyable effort. Like the 2009 film, it works best when it highlights adventure. Yes, that stands in opposition to original Trek, which reached its heights due to character/philosophical elements, but I'm fine with that. No, I don't feel the same commitment to rebooted Kirk, Spock, etc., but I can still have fun with them, and the Abrams Trek brings out the often underdeveloped "exciting Trek" in a positive way.

The actors continue to do well with their roles. Indeed, they feel more natural this time, as they make the parts more their own. I don't think any of the actors simply impersonated their predecessors, but I felt the past more actively in 2009; now I still see shades of the original actors but think the reboot performers make the characters their own in a more concise fashion.

That probably seems most obvious with Pine. In the 2009 film, he didn't impersonate William Shatner, but he made sure he included some "Shatnerisms". That was a good idea for the first flick – he had to ensure that fans still saw his Kirk as "real Kirk" – but I'm glad he tones down the mannerisms this time. This allows him to create a character with connections to the past but not stuck there.

Quinto's Spock remains a more complicated venture for me. I found him to be a weak link in the 2009 film and have yet to think of a reason to change that opinion, as he just feels… wrong for the role. There's a reason he came to prominence as a villain in Heroes and he simply lacks the dispassionate side we expect from Spock. While I don't want him to imitate Leonard Nimoy, I think Quinto comes across as too peevish to fit the character; he's not bad in the role but I still have yet to warm to his interpretation.

Overall, though, I do like Darkness, and I must give the film credit for its basic popcorn appeal. It also holds up well to repeated viewings; the Blu-ray represents my third screening of the flick over barely three months, and it continues to entertain. I don't think it equals the pleasures of the 2009 Trek and I actively dislike some of its choices, but Darkness presents enough fun to become a good continuation of the series.
---
The Disc Grades: Picture A/ Audio A/ Bonus C
---
Star Trek Into Darkness appears in an aspect ratio of approximately 2.40:1 on this Blu-Ray Disc. I felt completely impressed by this outstanding presentation.
At all times, sharpness delivered strong images. Virtually no signs of softness arose here, as the movie remained crisp and tight even in the widest shots. Jagged edges and moiré effects didn't occur, and the movie lacked edge haloes or other distractions like print flaws; it was always clean.
Expect a heavily teal palette here. A few earthier tones occasionally occurred – like some prominent reds – but the chilly blues dominated. However one feels about those choices, the disc reproduced them in a positive fashion. Blacks were tight and rich, and low-light shots offered smooth, well-defined elements. Everything here soared and gave us a terrific transfer.
One note about the film's aspect ratio: the filmmakers shot roughly 30 minutes of Darkness on IMAX cameras, which resulted in a 1.44:1 framing for those scenes when displayed on the IMAX screens. Whereas the Blu-rays for The Dark Knight and The Dark Knight Rises "expanded" from 2.40:1 to 1.78:1 during those instances, this Darkness disc remains 2.40:1 from start to finish.
That doesn't surprise me, but it does disappoint me. I liked the extra real estate on display during the two Dark Knight flicks and would've liked to see that demonstrated here as well. Still, Darkness does reproduce the original aspect ratio seen by the vast majority of the theatrical audience, so I can't criticize the choice; I simply would've preferred the compromise found on the Dark Knight discs.
We get ample pleasures from the thrilling Dolby TrueHD 7.1 soundtrack of Darkness. A sci-fi flick that didn't skimp on action, the mix made vivid use of all available speakers to create an involving, immersive experience. With lots of battles and space components, the information popped up in logical places, meshed together smoothly and created a wonderful sense of the situations. The soundscape was consistently an active presence and really brought us into the story.
In addition, audio quality excelled. Speech was natural and distinctive, while music sounded robust and full. Effects did the heavy lifting and added real punch to the package; with clean highs and deep lows, those elements sounded great. I couldn't have asked much more from this impressive soundtrack.
All of the disc's extras come via a series of seven featurettes. Via a "Play All" option, these run a total of 42 minutes, 13 seconds. We find Creating the Red Planet (8:28), Attack on Starfleet (5:25), The Klingon Home World (7:30), The Enemy of My Enemy (7:03), Ship to Ship (6:03), Brawl By the Bay (5:44) and Continuing the Mission (1:57). Across these, we hear from director/producer JJ Abrams, executive producer Jeffrey Chernov, greens gang boss Roger Prater, art director Lauren Polizzi, creature designer Neville Page, unit production manager/co-producer Tommy Harper, pyro forepersons Anthony Simonaitis and William Aldridge, first assistant photographer Serge Nofield, costume designer Michael Kaplan, stuntmen Mike Massa and Daniel Stevens, electrical engineer Arnold E. Peterson, producer Bryan Burk, production designer Scott Chambliss, visual effects supervisor/second unit director Roger Guyett, dimmer operator Joshua Thatcher, art director Andrew EW Murdock, makeup effects artist Jamie Kelman, language consultant Britton Watkins, consultant Marc Okrand, writers/producer Damon Lindelof, Roberto Orci and Alex Kurtzman, previs and postvis supervisor Bradley Alexander, VFX producer Ron Ames, first AD Tommy Gormley, fight choreographer Marcus Young, and actors Karl Urban, Jeremy Raymond, Zachary Quinto, Bruce Greenwood, Chris Pike, Zoe Saldana, Sean Blakemore, Benedict Cumberbatch, Simon Pegg, and Peter Weller.
These cover story/character areas, sets and locations, creature, costume and art design, various effects, camerawork, cast and performances, stunts and action, and some other topics. The segments mix comments with ample footage from the shoot, so they add some informative value; I especially like the pre-effects shots that show us what the actors actually did before the technicians worked their magic. This is a somewhat brief collection of clips, but it's enjoyable.
In addition to an ad for a cause called "The Mission Continues", we find a DVD Copy of the film. It includes none of the Blu-ray's featurettes but does throw in some previews.
While not as good as its immediate predecessor, Star Trek Into Darkness provides an enjoyable adventure. It comes with a few questionable choices but packs enough action and fun to make it a winner. The Blu-ray boasts superb picture and audio along with a decent set of supplements. I'm disappointed that we get so few extras – especially after the packed Blu-ray for the 2009 film – but I like the movie more than enough to endorse this package.
| | |
| --- | --- |
| Viewer Film Ratings: 4.5 Stars | Number of Votes: 24 |