PARAMOUNT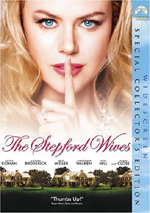 MOVIE INFO
Director:
Frank Oz
Cast:
Nicole Kidman, Matthew Broderick, Bette Midler, Glenn Close, Christopher Walken, Roger Bart, David Marshall Grant, Jon Lovitz, Faith Hill
Writing Credits:
Ira Levin (book), Paul Rudnick
Tagline:
The wives of Stepford have a secret.
Synopsis:
Based on a book by Ira Levin which satirizes the roles of 1950s housewives, this is a remake of the 1975 film adaptation. Director Frank Oz presents a dramatic reworking of the horror classic, putting a totally over-the-top slant on the story that gives it true comedic value. In the early 21st century, a fast-paced Manhattan couple, Joanna (Nicole Kidman) and Walter (Matthew Broderick), both work for a major television network. While she is a leader and breadwinner in producing reality shows, he is a mere middle-management type. So when Joanna has a nervous breakdown, and Walter takes command, he's happy to find that for once in his life she's not stealing his fire. This sentiment is only asserted by the boys club that welcomes him when they move to the "perfect" town of Stepford, Connecticut. There, the women have been transformed by their husbands into a totally submissive, near-robotic state in which they are blissfully happy doing housework and looking pretty, and are totally compliant to their men. With Claire (Glenn Close) and Mike (Christopher Walken) leading this web of weirdness, Joanna and her only normal friend, Bobbie (Bette Midler), race to solve the mystery before they too become Stepford Wives.
Box Office:
Budget
$90 million.
Opening Weekend
$21.406 million on 3057 screens.
Domestic Gross
$59.475 million.
MPAA:
Rated PG-13


DVD DETAILS
Presentation:
Widescreen 1.85:1/16x9
Audio:
English Dolby Digital 5.1
English Dolby 2,0
French Dolby Digital 5.1
Subtitles:
English
Spanish
Closed-captioned

Runtime: 92 min.
Price: $29.95
Release Date: 11/9/2004

Bonus:
• Audio Commentary with Director Frank Oz
• "A Perfect World: The Making of The Stepford Wives" Featurette
• "Stepford: A Definition" Featurette
• "Stepford: The Architects" Featurette
• "The Stepford Wives" Featurette
• "The Stepford Husbands" Featurette
• Deleted/Extended Scenes
• Gag Reel
• Trailers




PURCHASE @ AMAZON.COM

EQUIPMENT
Sony 36" WEGA KV-36FS12 Monitor; Sony DA333ES Processor/Receiver; Panasonic CV-50 DVD Player using component outputs; Michael Green Revolution Cinema 6i Speakers (all five); Sony SA-WM40 Subwoofer.


[an error occurred while processing this directive]
---
The Stepford Wives: Special Collector's Edition (2004)
---
Reviewed by Colin Jacobson (October 29, 2004)

For 2004's remake of The Stepford Wives, director Frank Oz decided to offer a twist on the original's science-fiction thriller. While the new version includes some of those elements, it definitely goes for a more comedic take on the topic.

Wives introduces us to successful TV network president Joanna Eberhart (Nicole Kidman). We see examples of her programming, including a Temptation Island style series. This backfires when one of its contestants - jilted husband Hank (Mike White) - confronts Joanna at a presentation and attempts to shoot her.

This ruckus leads to Joanna's dismissal, and that causes her to fall into a crisis of confidence. A serious "Type-A" businesswoman, Joanna lives for her job, so her firing causes a nervous breakdown that gets her hospitalized. When she comes out, her husband Walter Kresby (Matthew Broderick) thinks they should get away from Manhattan and start over along with their kids Pete (Dylan Hartigan) and Kimberly (Fallon Brooking).

She agrees and they move to idyllic Stepford Connecticut. First they encounter their realtor, Claire Wellington (Glenn Close), who leads them to their enormous "smart" house. Claire also gives Joanna a tour of the town and shows her the other wives at the Simply Stepford Day Spa. All the women look pretty and glamorous at all times, and they behave very subserviently to the men. Walter starts to hang out at the Stepford Men's Association, a very chummy boys' club.

Joanna soon sees that not everyone in Stepford presents perfection when she meets a slovenly ultra-leftist feminist author named Bobbie Markowitz (Bette Midler), who's married to Dave (Jon Lovitz). Joanna also befriends architect Roger Bannister (Roger Bart), the partner of corporate attorney Jerry Harmon (David Marshall Grant). All three are new to Stepford and they don't fit in just yet, so they befriend each other.

Things turn weird during a Fourth of July barn dance. Sarah Sunderson (Faith Hill) goes all trippy during the dance, and Joanna thinks she sees sparks come out of her ears. She wants medical assistance for Sarah, but Claire's husband Mike (Christopher Walken) comes in to fix things and pooh-poohs Joanna's concerns. This incident spurs some irritation in Water, who gets fed up with Joanna's constant need to be correct. He threatens to leave her, so she backs down and declares that she'll change. Joanna attempts to remake herself as a super wife and mother ala the other Stepford women.

Eventually Joanna starts to find a more sinister side to the town. She, Bobbie and Roger investigate various aspects of the community and eventually learn that something weird's going on behind the scenes. It turns out that there's a reason why the women of Stepford seem too good to be true, as a dark secret explains their perfection.

I wasn't sure I should how much I should reveal about that last story point since one might consider it to be a spoiler. It seems unlikely that anyone who sees Stepford won't already know this twist in advance, but I decided to play it safe and not spill all the beans.

The twist causes some problems with the movie, mainly during the third act. Even if we ignore the fantastic science behind the point in question, the film doesn't explain itself well when it addresses the subject. Again, I don't want to spell out things, but some enormous plot inconsistencies and holes pop up, and these make the final act much more confusing and muddled than it should be. This doesn't ruin the film, but it definitely harms it.

Unquestionably, the movie's conclusion stands as its main weakness. Stepford becomes much more concerned with the chiller elements at that time, but its heart just isn't in it. Usually exposition appears during the first act, but in Stepford, most of it resides at the end. Its first act sets up the characters and situations, whereas the last portions explain everything to us. Actually, I suppose this follows the model of a mystery, though instead of a "whodunit", the movie becomes a "howdidtheydoit" and a "whydidtheydoit". The result makes the ending cluttered and awkward.

Up until then, however, Stepford offers a lot of fun. From what I've read, many fans frowned upon the movie's tone, as they disliked the campy frothiness of its comedic bent. However, I think the change of genre makes perfect sense, especially for a movie that relies so much on shocking twists. As with something such as Soylent Green, much of the audience will know where the story's going, so a more literal remake seems illogical. Either the movie could offer a different surprise ala the 2001 Planet of the Apes or it could shift the tenor.

That's what Stepford does, and I think it mostly works. It comes across more as a spoof than a remake much of the time, as it plays up the comedic aspects and minimizes the thriller elements. Sure, those still play a part, but Oz's usually doesn't seem all that interested in them. He prefers broad jokes and satire to scary bits or story development.

Stepford boasts an excellent cast, and they certainly help propel the film. In an interesting twist, Kidman makes Joanna more real while she deals with the fantasy setting of Stepford. She starts out as a cartoon business woman and slowly dials down her performance as the movie progresses. She's a little iffy when it comes to the broad aspects of the character at the start, and she doesn't quite pull off Joanna's work-obsessed personality; Kidman isn't a natural comedic performer, so her stabs at the gags can feel strained. However, she develops well and eventually makes the character winning and effective.

As for the remaining cast, Midler and Close standout as the highlights. Midler makes the cynical Bobbie biting and cruelly hilarious, while Close's over-the-top turn as Claire is completely terrific. She's done the cartoon character route before in the live-action 101 Dalmatians flicks, and she proves equally effective here.

Like I noted, The Stepford Wiives peters out in its third act. However, the movie brings enough lively comedic energy to the table during its first hour to make it a winner. I wouldn't call it a classic, but it presents enough funniness and cleverness to ensure that it remains quite entertaining.
---
The DVD Grades: Picture B-/ Audio B/ Bonus B
---
The Stepford Wives appears in an aspect ratio of approximately 1.85:1 on this single-sided, double-layered DVD; the image has been enhanced for 16X9 televisions. A mostly attractive picture, Stepford nonetheless suffered from a few moderate issues.
Sharpness usually seemed positive. Occasionally, some shots came across as a little soft and ill defined, but those caused only a few distractions. Instead, the majority of the flick appeared fairly distinctive and detailed. Some slight jagged edges and moiré effects appeared, and I also noticed some mild to moderate edge enhancement showed up at times. Print flaws seemed non-existent.
Stepford went with a slightly cartoony palette that seemed fairly well rendered. Colors didn't jump off the screen, but they seemed acceptably vivid and distinctive. Black levels were reasonably deep and dense, but shadows occasionally came across as a little thick. Some low-light situations appeared slightly too opaque, but these usually were fairly clear. Overall, Stepford was a decent transfer with a few problems that knocked it down to a "B-".
For The Stepford Wives, we got a pretty good Dolby Digital 5.1 soundtrack. Music showed nice stereo delineation, and effects created a reasonably lively and convincing setting across the front. Elements were appropriately located, and they blended together cleanly. In general, the film offered a solid sense of atmosphere. Surround usage seemed somewhat limited, as the movie generally presented little more than basic reinforcement from the rears. Some scenes offered decent activity from the rear, especially during the climactic sequence. Nonetheless, the track mainly favored the forward channels.
Audio quality seemed fine. Speech was consistently natural and distinctive, with no signs of edginess or issues connected to intelligibility. Music sounded bright and bouncy, as both score and songs demonstrated good range and fidelity. Effects also worked well. They appeared vivid and clear, and they showed no signs of distortion. Those elements and the music also displayed solid bass response. The low-end always seemed deep and rich. Overall, the audio for Stepford worked acceptably well, but the track lost points due to its lack of ambition
Although the movie disappointed at the box office, its DVD offers a fairly broad roster of extras. We open with an audio commentary from director Frank Oz, who offers a running, screen-specific discussion. Among other subjects, Oz covers alternate opening and closing sequences, sets and locations, story pacing and cuts, directing the actors, production design and visual effects. At times Oz tends to simply narrate the film, but he always comes across as chatty and personable. He goes into a reasonable amount of useful material in the generally informative and engaging piece.
After this we find a series of featurettes. A Perfect World: The Making of The Stepford Wives goes for 19 minutes and 44 seconds as it combines movie snippets, behind the scenes materials, and interviews. We hear from Oz, screenwriter Paul Rudnick, production designer Jackson DeGovia, director of photography Rob Hahn, and actors Glenn Close, Jon Lovitz, Roger Bart, Faith Hill, Bette Midler, Matthew Broderick and Christopher Walken. They discuss the film's visual look, the design of Stepford and its buildings, locations, the execution of the sets, costumes, and the specifics of some scenes. Oz covers some of this material during his commentary, but not with as much depth. This program provides a rich examination of the production design details and the challenges that came with them.
In Stepford: A Definition, we get a three-minute and 51-second program. We find info from Oz, Close, Lovitz, Midler, Bart, Rudnick, Walken, Broderick, Hill and actor Nicole Kidman. They chat about the history of the term "Stepford wife" and its meaning in society. They offer a moderately interesting view of various interpretations but nothing more, and the featurette doesn't tell us much.
Next we locate the five-minute and 50-second Stepford: The Architects. In this, we discover notes from Oz, Rudnick, Kidman, Close, and actor David Marshall Grant. They talk about the genesis of the remake, updating the original material, turning it into a comedy, and the flick's social context. Some moderately incisive notes appear, but don't expect much concrete information.
Two companion programs come after this. We find The Stepford Wives (10 minutes and five seconds) and The Stepford Husbands (8:08). In the first one, we hear from Oz, Kidman, Rudnick, Midler, Close, Bart, Grant, and Hill. The second piece includes comments from Oz, Midler, Close, Broderick, Kidman, Bart, Lovitz, Rudnick, Walken, Grant, and actor Matt Malloy. Both offer basic character notes and some minor glimpses of the actors' work. Neither seems particularly compelling, though they're fun and frothy enough.
Up next come six Deleted/Extended Scenes. These run between 15 seconds and three minutes, six seconds for a total of nine minutes, 47 seconds of footage. Most of these act as extensions to existing scenes. The most interesting one shows Bobbie after Joanna discovers her robotic status; a sequence heavy in visual effects turns her into a Stepford Inspector Gadget. We also see more of the barn dance as well as the climactic plot executed by Walter and Joanna. A new piece shows Walter's qualms and how the other guys reassure him. All are interesting to see.
More unused footage appears via a Gag Reel. It runs four minutes, 31 seconds as it presents the usual giggles and gaffes.
In addition to the theatrical and teaser trailers for Stepford, the DVD includes some Previews. This area presents ads for Team America: World Police, Sky Captain and the World of Tomorrow, Lemony Snicket's A Series of Unfortunate Events, and The Manchurian Candidate. Paramount includes English, Spanish and French subtitles for the majority of the visual extras.
While The Stepford Wives failed to find much of an audience theatrically, I hope it'll wind up with a better fate on DVD. The movie suffers from a mix of flaws but it presents good performances from a terrific cast and mainly gives us a lively and amusing exercise. The DVD features unexceptional picture and sound plus a somewhat superficial but reasonably informative package of extras. I can't call Stepford either a great movie or a consistently positive DVD, but it works well enough overall for me to recommend it.
| | |
| --- | --- |
| Viewer Film Ratings: 3.1923 Stars | Number of Votes: 26 |