WEINSTEIN COMPANY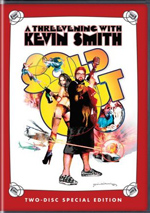 MOVIE INFO
Director:
Joey Figueroa, Zak Knutson
Cast:
Kevin Smith
Writing Credits:
NA
Synopsis:
Kevin Smith - America's coolest geek philosopher and director of Clerks I & II and Zack and Miri Make a Porno - is back: celebrating his 37th birthday in a hilarious take-no-prisoners performance in front of a packed hometown crowd. Join the fun as Smith reveals the hysterical true stories behind the making of Clerks II and Live Free or Die Hard, the inside scoop on Bruce Willis, Ben Affleck and Jason Mewes ... plus Weird Doggy Love and The Jury Duty from Hemorrhoid Hell. Sold Out: A Threevening with Kevin Smith has 3x the raunch, 3x the hilarity, and 3x the charm!
MPAA:
Rated NR


DVD DETAILS
Presentation:
Widescreen 1.78:1/16X9
Audio:
English Dolby Stereo
Subtitles:
English
Spanish
Closed-captioned
Supplements Subtitles:
English

Runtime: 222 min.
Price: $19.98
Release Date: 10/21/2008

Bonus:
• Deleted Scenes
• Previews




PURCHASE @ AMAZON.COM

EQUIPMENT
Panasonic 50" TH-50PZ77U 1080p Plasma Monitor; Harman/Kardon DPR 2005 7.1 Channel Receiver; Toshiba A-30 HD-DVD/1080p Upconverting DVD Player using HDMI outputs; Michael Green Revolution Cinema 6i Speakers (all five); Kenwood 1050SW 150-watt Subwoofer.


RELATED REVIEWS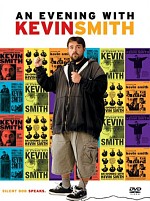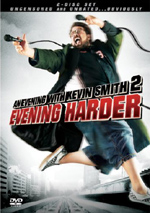 [an error occurred while processing this directive]
---
Sold Out: A Threevening With Kevin Smith - Special Edition (2008)
---
Reviewed by Colin Jacobson (January 9, 2009)

After the success of 2002's An Evening With Kevin Smith and 2006's An Evening With Kevin Smith 2: Evening Harder, did a third iteration become inevitable? Probably, and that's what arrives via 2008's Sold Out: A Threevening with Kevin Smith.

While prior DVDs featured material from multiple shows, Threevening consists of footage from a 2007 appearance at the Count Basie Theatre in Red Bank, New Jersey. This acts as a homecoming since Smith grew up in that area, and it also takes place on Smith's 37th birthday. DVD One runs two hours, five minutes and 27 seconds, while DVD Two fills one hour, 36 minutes and 21 seconds.

Threevening utilizes the same format as its predecessors: Smith starts with a quick intro but spends most of the night fielding questions from fans. On DVD One, Smith opens with tales about his family and childhood memories as well as the origins of his first name. From there, we go into the audience Q&A that dominates the discs.

This part of the show looks at whether Smith would make a more kid-friendly effort for his daughter, the family pets, shooting Clerks II, Hollywood politics and some of his friends, what movie he'd like to remake, and his thoughts about Superman Returns. Over on DVD Two, Smith covers working on Live Free or Die Hard, his unaired TV show Manchild, and his anal fissure.

I loved the first Evening but thought Evening Harder was less involving. Oh, it was still pretty funny, but had more ups and downs than its predecessor. It didn't quite zing like the original program did.

With Threevening, we go back to the more consistent charms of the original DVD. Perhaps Smith's return to his home territory inspired him. I thought he seemed a bit "off" in Harder, so maybe traveling to Toronto and London threw him off his game. With Smith home in Jersey and focused all in one place, he comes across as more comfortable, and the result shows his increased ease.

Man, can that boy talk! But that's a good thing, as a Q&A wouldn't be very good if Smith failed to present many remarks. The Q&A structure really acts as a loose format, since we find lots more "A" than "Q". It doesn't take much to get Smith yammering, so the show doesn't provide a ton of queries.

That's fine with me for a number of reasons. For one, it diminishes the presence of the annoying fanboys. Smith attracts irritating, chubby nerds who try way too hard to establish their coolness when they chat with him. They grate to an extreme, and that was a problem with the prior sets.

It's lessened here because Smith goes on for so long. In addition, the lack of tons of questions means that Smith can get on a roll. This becomes particularly apparent when he chats about Bruce Willis and Live Free or Die Hard. Smith can spin a good yarn, and he rambles about that flick for quite a long time. I think this is the show's highlight, as his tales are consistently informative as well as funny. It's like a good commentary for that movie. Heck, Smith turns his experience with painful anal tears into good comedy!

Of course, not all the stories are created equal. In particular, a tale about how his dad used to feed stray cats goes flat. It's not very good at its heart, but when Smith tries to generate comedy from the eventual demise of these felines, the monologue really tanks. It doesn't help when he later attempts to churn laughs from the fact that a lot of shelter dogs end up being euthanized. Note to Kevin: dead pets don't inspire hearty chuckles.

Despite that misstep, the majority of Threevening works well, especially on DVD Two; that's an almost non-stop run of good material. Smith maintains an amazing gift of gab, and he makes more than three and a half hours of stories go by quickly with this entertaining show.
---
The DVD Grades: Picture B-/ Audio C/ Bonus B
---
Sold Out: A Threevening With Kevin Smith appears in an aspect ratio of approximately 1.78:1 on these single-sided, double-layered DVDs; the image has been enhanced for 16X9 televisions. The simple production looked fine and displayed the original material acceptably well.
Sharpness appeared decent. Some of the wide shots came across as slightly soft, but those created no great concerns. For the most part, the image failed to deliver great detail, but it remained acceptable. Jagged edges and moiré effects caused no problems, but a little light edge enhancement appeared. In regard to source flaws, I detected some mild video artifacting, but otherwise the picture seemed clean.
Given the generally monotone auditorium settings, Threevening provided adequate but unexceptional colors. The brownish palette seemed somewhat dense at times, but the hues generally came across as acceptably natural and distinct. Black levels were reasonably deep but not great, while shadow detail seemed a bit thick for the crowd shots. Ultimately, the image remained watchable but unexceptional. The visuals seemed adequate for this material.
Though the package claimed to have a stereo soundtrack, don't expect much. Maybe some opening and closing bits used the side speakers, but the vast majority of the presentation remained monaural. Smith's comments always emanated from the center channel, and as far as I could tell, all the crowd laughter and applause came from the same spot. I can't say this bothered me, as we didn't need a multichannel spectacular for this material. After all, Threevening consisted of a dude talking for three hours, so a monaural track worked just fine.
Audio quality seemed adequate. Speech remained acceptably natural and distinct, and crowd noise sounded accurate. Only a little music appeared, but those elements appeared fine. Overall, the track was more than acceptable for a program like this.
Only a few extras appear on Threevening. On DVD Two, we get 19 Deleted Scenes. These run a total of one hour, 14 minutes and six seconds. Rather than summarize the subjects on my own, I'll just list the scene headers: "Dogma 2", "Flirting with Princess Leia", "Battlestar Galactica", "Clerks: The Sitcom", "Clerks: The Musical", "The Crazy Lady", "Dead Projects", "Eating Dog Shit", "Garbage Pickers", "Meeting Bruce Willis", "Music in Film", "Paris Hilton and Jason Mewes", "Pooey", "Red State", "The Warlock Scene", "Going to the Grandparents", "The Joel Siegel Story", "The Tuck" and "Sumo the Toilet".
Rest assured that most of the "Deleted Scenes" weren't cut because they weren't amusing. Oh, a few don't really go anywhere, such as "Red State"; it's just a nondescript reference to an upcoming Smith project. And some are very good, while others are simply okay. But most are worth a look, and some of the better ones – like "Garbage Pickers" – are terrific. If you didn't get your fill of Smith from the main program, you'll definitely enjoy these extra scenes.
DVD One includes some ads at its start. We find promos for Zack and Miri Make a Porno, Clerks II, and Now You Know.
You know how supposedly the even-numbered Star Trek movies are good and the odd-numbered ones are bad? Maybe Kevin Smith has the opposite trend at work. The second Evening with Kevin Smith didn't live up to the heights of the first one, but Sold Out: A Threevening with Kevin Smith offers a nice rebound. The DVD offers perfectly solid picture and audio along with a minor roster of extras. This is another amusing and entertaining package.
| | |
| --- | --- |
| Viewer Film Ratings: 4.6666 Stars | Number of Votes: 6 |