Picture/Sound/Extras: B/A/B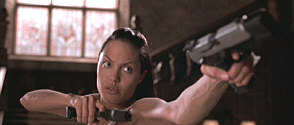 As I noted in my review of Final Fantasy: The Spirits Within, movies based on videogames haven't exactly set the box office on fire. Actually, almost all of them have flopped outright. However, it looked likely that a certain summer 2001 release would change that poor record, as Lara Croft: Tomb Raider appeared to be a serious Big Flick. After all, the game itself was clearly patterned after the Indiana Jones series; with such cinematic origins, a hit movie felt like a lock.
The result wasn't quite the slam-dunk the folks at Paramount would have liked, but Raider certainly didn't tank. The movie snagged a decent but unspectacular $131 million. That figure places it 10th for 2001 as I write this in early November, but it'll definitely fall once all is said and done.
Nonetheless, $131 is nothing to sneeze at, and it seems likely that this film likely will launch a new franchise. I recall hearing indications from star Angelina Jolie that she didn't plan to do any sequels. Perhaps I've misremembered, but even if she skips future entries, that shouldn't stop the burgeoning franchise; the departure of Sean Connery certainly didn't kill James Bond.
However, the movies were never quite as good as the early Connery pieces, and I have a feeling it'd be tough to find a new actress to fill Jolie's shorts. She offered the only high points in this otherwise fairly lackluster and ordinary action flick.
Tomb Raider focuses on the titular adventurer, Lady Lara Croft (Jolie). Bored with the standard quests, she becomes intrigued by a mysterious clock to which she is initially directed through a dream about her departed father (played by Jolie's actual father, Jon Voight). She then investigates of its importance: a planetary alignment that occurs only once every 5000 years will occur soon, and part of the clock can be used to access the two halves of an artifact. When joined, these become the Triangle of Light and it will allow its possessor to manipulate time and space. A spooky cult called the Illuminati want the Triangle so they can run the world; Lara tries to stop them, with the added bonus that if she gets the Triangle, she can alter the past and reunite with her father, who vanished more than 15 years earlier.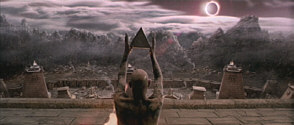 That synopsis makes the story seem much more sensible than the way it comes across on screen. When I saw Raider theatrically last summer, the plot frankly made little sense. During this second viewing, I'd already gone through the DVD's audio commentary, which adds a little discussion of the movie's less coherent elements, so I was better prepped for the story. No, it's not an intricate tale, but it's told in a way that makes it harder to follow, though I ran into no real problems during this second screening.
Not that the increased understanding made the tale more winning or compelling. Basically the story was little more than an excuse for the usual extended action sequences. The split halves of the Triangle were hidden in disparate areas, which gave the movie a reason to take us to Cambodia and the Ukraine. Hey, with Lara's globe-hopping reputation, it was expected that we'd have to head around the world, but I thought the movie went down some rather contrived paths to get us there. It really felt like the locations drove the story rather than the other way around.
Okay, the story's silly and vaguely nonsensical - did the action sequences make up for this? Yes, to a modest degree. The movie began with an extended fight bit, and it offered another three major sequences. One took place at Lara's home, while the two locations received one apiece. All of these were reasonably exciting and well executed, but they weren't really anything special. The added a decent diversion while they occurred, but they didn't stand out from the crowd.
Director Simon West showed moderate flair for visuals in flicks like Con Air, and they skill extended here, but as with that 1997 film, the action pieces appeared so glossy and flashy that they started to obliterate the signs of spark and excitement. The action scenes maintained some interest almost in spite of the director's work, though I still thought he pulled them off acceptably well.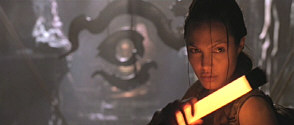 One area in which he and the script failed related to the pacing of the story and the development of the characters. In the latter category, we found very little to expand the participants. As the lead, Lara received the much attention, but we really got to know little about her other than the fact she missed her Dad. Otherwise, we learned almost nothing about the other roles, and they almost uniformly felt like generic stereotypes.
The plot also flew past too quickly, at least during its second half. The first 50 minutes set up the characters and the story, albeit in a somewhat clumsy manner. However, at least it seemed to move at an appropriate pace, as the movie moved through the segments in a fairly logical manner. Unfortunately, the final 50 minutes tended to rush by haphazardly. It felt as though West just wanted to get us to the action and didn't understand the need to expand on the characters and situations more clearly.
As I noted earlier, Jolie was one of the standout aspects of the film. She had some trouble creating a convincing British accent, but she provided the appropriate sass and attitude as Lara. Not only did Jolie present the requisite beauty to play the part, but also she contributed depth, spark, and a terrific physical presence that made her quite believable in spite of the cartoon role she inhabited. If the series must proceed without Jolie, I'm sure it'll survive, but I find it hard to imagine another actress who could fill out the role so successfully.
If the rest of Lara Croft: Tomb Raider had shown the same level of fire and passion displayed by its lead actress, the movie would have been something special. As it stands, Tomb Raider seems to be a sporadically exciting and entertaining, but for the most part, it comes across as a fairly flat and pedestrian action flick.
The DVD: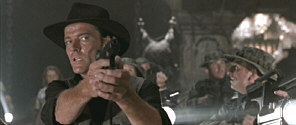 Lara Croft: Tomb Raider appears in an aspect ratio of approximately 2.35:1 on this single-sided, dual-layered DVD; the image has been enhanced for 16X9 televisions. Though the picture often looked quite good, it showed some problems along the way, and wasn't as strong as I expected.
Sharpness usually came across as accurate and accurate. During a few wider shots, the image seemed somewhat fuzzy and soft, but these instances occurred infrequently. As a whole, the movie appeared acceptably distinct and detailed. I saw no signs of jagged edges or moiré effects, but a little edge enhancement marred the presentation at times. I detected no print flaws, as the film appeared to lack any grit, speckles, blotches or other defects. However, what seemed to be some digital artifacts popped up at times, and these gave the movie a mildly grainy look at times. The Tomb Raider DVD packed a lot of video extras, and I think their presence may have affected the appearance of the film itself.
Raider went with a fairly restrained and stark palette, so the DVD had few opportunities to shine in that regard. Nonetheless, colors looked accurate and distinct throughout the movie, and when it presented more vivid tones, they appeared reasonably vibrant and warm. Black levels came across as deep and dense, and shadow detail was appropriately heavy but not excessively thick. Overall, Tomb Raider provided a generally good picture, but it showed a few more concerns than I'd like.
On the other hand, I had no such complaints about the Dolby Digital 5.1 soundtrack of Tomb Raider. The soundfield offered a consistently lively and engaging experience. From the forward speakers, I heard solid stereo separation for the music, and effects presented a vibrant and active presence. Different elements were neatly localized, and they moved across channels and blended together neatly and cleanly.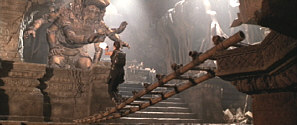 The surrounds also contributed a terrific amount of information as they created an encompassing environment. The rear speakers featured solid reinforcement of music throughout the film, and it included a wide variety of effects as well. Virtually every action sequence came across with a fine level of excitement and activity from all around the spectrum. Gunfire, vehicles, and various baddies all popped up from the different speakers, and these allowed the mix to really kick to life nicely.
Audio quality also appeared very solid. Although much of the speech needed to be looped, dialogue always came across as natural and distinct, and I heard no problems related to intelligibility or edginess. Music seemed robust and vivid, as the songs and the score demonstrated good fidelity and range. Effects were the stars of the show, however, as they presented excellent clarity and accuracy and also packed a good punch. Bass response seemed deep and rich, and highs were crisp and bright. Ultimately, the soundtrack of Tomb Raider offered a consistently involving and vibrant piece.
Remember the bad old days when "Paramount" and "special edition" never connected? Happily, the studio seems intent on dispelling those memories, as they've recently produced a slew of solid DVD packages. From Forrest Gump to The Godfather DVD Collection to Star Trek: The Motion Picture, they've produced some nice work lately, and Tomb Raider offers another fine release.
When I discuss supplements, I normally start with an audio commentary if the DVD includes one. However, for Raider, I'd prefer to begin with the one extra on this disc that really mattered to me: the music video for U2's "Elevation". I'm a huge U2 fan; in fact, as I write this, I'm due to head out the door in a few minutes to drive to Philly to see them tonight. As such, it's not an exaggeration to state that I would have purchased this DVD just for the video. Heck, I've kept The Next Best Thing - a movie I absolutely loathed - in my collection just because it included a Madonna video, so this isn't a stretch.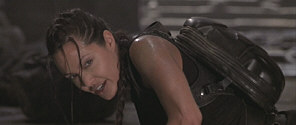 That clip - for "American Pie" - was good, but the U2 piece is definitely more fun. It uses the standard mix of shots from the film and clips of the band as they lip-synch, but it takes technological advancements and plops the members of U2 into some of the flick's situations. In addition, we get the fine "Tomb Raider" mix of "Elevation", a version superior to the one on the album. Unfortunately, the disc doesn't toss in some behind-the-scenes footage found on a Region 2 "Elevation" DVD single, but I was still happy to see the video itself.
Back to the non-U2-related extras! First we got an audio commentary from director Simon West, who offered a running, screen-specific piece. Overall, this track provided some good moments, but I thought it was fairly average as a whole. West tended to focus on the technical aspects of making the movie, and he neatly covered many of those elements. He talked about a lot of the sets and the various effects, and a few decent anecdotes popped up along the way.
Although West went over some of the cuts he made to the film, I found that he didn't tell us much about the creative side of the equation. I'd love to know what challenges this sort of film offered, such as dealing with the pressures of a prospective franchise, and also coping with the limitations forced by adapting a videogame to the big screen. Unfortunately, he didn't talk about those areas.
The track also suffered from a few sizable empty spaces, though these weren't too frequent, and they marked a significant improvement over West's only prior commentary, one he recorded for The General's Daughter; that piece offered extremely long gaps. As with his Daughter offering, West clearly worked from prepared notes during parts of the commentary. Much of the time he sounded casual, though, and it was only obvious that a few segments were read. In general, this was a reasonably decent commentary, though it'll probably be of interest mainly to the movie's biggest fans.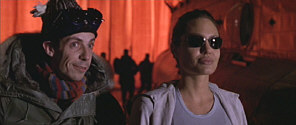 Crafting Lara Croft is a six minute and 45 second featurette about Angelina Jolie's physical training for the film. It includes shots of that work plus movie snippets and interviews with Jolie, director Simon West, producers Lawrence Gordon and Lloyd Levin, stunt coordinator Simon Crane, producer Lloyd Levin, and actor Jon Voight. While the glimpses of her preparation were interesting, overall this felt like a piece that did little more than tell us what a badass Jolie is. It's moderately interesting but insubstantial.
Deleted Scenes provides four unused snippets. These run between 64 seconds and two minutes for a total of seven minutes and three seconds worth of material. These are presented in a 2.35:1 aspect ratio and are enhanced for 16X9 TVs. As a whole, they seemed fairly insignificant, though I did like "You Might Try to Kill Me", if just because this extended sequence added some helpful exposition that made parts of the story clearer. Stunts gives us a nine minute and 25 second look at that aspect of the production. It resembles the other featurettes on the DVD as it combines movie snippets, behind the scenes material from the set, and interviews with director West, Jolie, stunt coordinator Crane, visual effects supervisor Corbould, and producers Gordon and Levin. Once again we hear more about how amazing Jolie is and how she did much of the work on her own. Some of the material from the set was good, but I started to tire of the "Angelina rules!" parade.
The longest program on the DVD, Digging Into Tomb Raider gives us an overall look at the film. The 25-minute and 20-second documentary provides the standard mix of film clips, shots from the set, and interviews. The latter category includes remarks from actors Angelina Jolie, Jon Voight, Noah Taylor, Iain Glen, Chris Barrie, Daniel Craig, Julian Rhind-Tutt, operations director at CORE Design Adrian Smith, head of global development for Eidos Interactive Jeremy Heath-Smith, producers Lawrence Gordon and Lloyd Levin, director Simon West, costume designer Lindy Hemming, stunt coordinator Simon Crane, Nick Rey of Lonely Planet publications, location manager Chris Brock, production designer Kirk Petruccelli, and special effects supervisor Chris Corbould.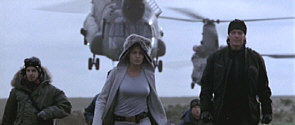 As a whole, this program offered a moderately interesting look at a variety of elements, but I found it suffered from the "how great" syndrome. We heard how great Jolie was, how great the sets and costumes were, how great the props and stunts were, and so on. A reasonable amount of useful information cropped up along the way, and it always remained acceptably breezy and entertaining, but I felt like these occasionally became buried underneath the superlatives.
Visual Effects looks at eight different aspects of the film. These clips last between 85 seconds and three minutes, 57 seconds for a total of 19 minutes and 55 seconds of footage. Visual effects supervisor Steven Begg, Sue Rowe, Jon Neil, Steve Street and Simon Haslett of Cinesite, special effects supervisor Chris Corbould, David Philips, Richard Roberts, Steve Murgatroid, Karl Mooney and Laurent Huguenlot of Mill Film. These segments were actually pretty good. They offered reasonably solid examinations of the various effects challenges, and the participants went through them with good clarity. Most compelling of the bunch was "Time Storm - Powell", because it discussed a deleted scene.
Are You Game? takes a short look at the Tomb Raider videogame phenomenon. With a mix of game shots and interviews with Jolie, operations director at CORE Design Adrian Smith, head of global development for Eidos Interactive Jeremy Heath-Smith, and Eidos CEO Mike McGarvey, this seven minute and 55 second piece tells us a little about the project's origins and its future. The brief snippets about the early days are the most interesting, especially through the glimpses of the original male protagonist for the game. It's still a superficial and hyperbolic piece, but it seems breezy and entertaining enough.
The Alternate Main Title sequence lasts for 123 seconds. Essentially this would have added a little at the start of the film, and it would have given the opening more of a videogame feel. I don't know why they didn't use it, but here it is!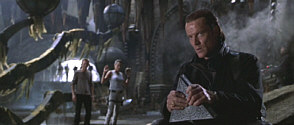 In addition, we find one brief Easter egg. Highlight the "waves" icon beneath the "main menu" symbol on the "special features" page and you can access a two-minute interview with Jolie and Voight. They discuss their interest in working together, and we see some of their interaction during the film. It's too quick to offer much of substance, but it's still fun to see the two together.
The good and the bad of DVD presentation: on the negative side, I disliked the manner in which the options in the "Special Features" menu appeared. When you reach that page, you only see one possibility at a time; you have to click around the screen simply to view the choices. That seems silly; I shouldn't have to search to discover what's available. On the other hand, I appreciate the fact that Paramount again provided both English and French subtitles for virtually all of the extras. They're the only studio that does this on a consistent basis, and the others should get a clue and add the subs as well.
Tomb Raider provides some DVD-ROM features. We get a "Tomb Raider Timeline" gives us a fluffy look at the history of the videogame series. It combines text presented in a chronological way and also allows access to a mix of still images. It's a decent piece of coverage in regard to dates and some basic facts, but it's long on praise for the series and short on real depth.
The "Game Demo" provides a brief three-level version of Tomb Raider Chronicles, while "Web Site Archive" includes all of the material from the movie's Internet location on the DVD. Lastly, the "DVD Online Experience" gives you access to "online features exclusively developed for use with this DVD". A couple of these are pretty minor. The "Extended IPIX Gallery" provides four images. Short for "interactive pictures" (I guess), the IPIX shots show different locales from the movie and let you look around them. It's good in theory, but somewhat dull in reality.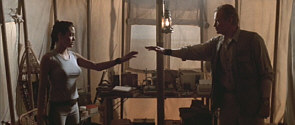 For "Tomb Raider: Next Generation preview", we discover that Paramount will combine two successful franchises into one film. An upcoming release will have the crew of Star Trek: The Next Generation travel back in time and meet up with Lara Croft. Additional crossovers with other Trek series promise sexy catfights between Lara and Seven of Nine.
Okay, I made up that last paragraph. In actuality, the preview promises info about upcoming "Tomb Raider" games, but instead the link just tells us to check back later. Also, the front page of the "DVD Online Experience" allows you to register and get other updates. I wanted to hear more about "Tomb Raider", but this feature only allows for new information about some guy named Tom Raider, so I skipped it. (Not joking this time; the DVD really does have that typo.)
Lastly, we move to this area's most significant feature, the "DVD Challenge" . According to the press release, this game runs the entire length of the film, allowing fans to play, race and shoot their way through the movie along with Lara Croft." That's pretty accurate. You watch the movie on your computer while connected to the Internet, and it presents a series of tasks along the way. Most of those involve multiple choice trivia questions, but some are different minigames.
While not without glitches, I thought this was an interesting concept. It's a cool way to follow along with the movie, and the little tasks were more fun than I expected. A lot of DVD-ROM games are a drag, and this one had the potential to be lame, but somehow it kept me going.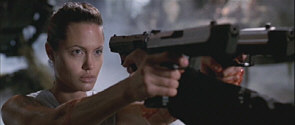 However, some improvements should be made for future games like this. For one, it'd be very helpful to allow the player to pause the contest. It's a pain to be forced to spend 100 minutes straight in front of the screen, and while a few of the minigames allow you to pause, they don't substitute for an overall method to suspend the action. In addition, some glitches occurred at times. Two questions would appear on the screen at once, which rendered both illegible, and occasionally queries came and went in a split second, which left me with no chance to answer them. Nonetheless, I thought the "DVD Challenge" was an interesting and entertaining diversion.
Lara Croft: Tomb Raider may be the most successful movie based on a videogame ever made, but it doesn't take much for that crown, and Raider only fitfully entertains. The flick has some good segments, and Angelina Jolie neatly embodies the cartoony lead, but the film seems poorly paced and jumpy. The DVD offers decent but moderately flawed picture along with a terrific soundtrack and a superficial but generally good roster of extras. Action fans may want to give Tomb Raider a rental, but the movie's too uninspired to merit more than that.