FOX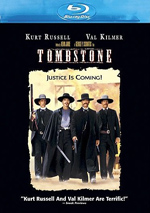 MOVIE INFO
Director:
George P. Cosmatos
Cast:
Kurt Russell, Val Kilmer, Sam Elliott, Bill Paxton, Powers Boothe, Michael Biehn, Charlton Heston, Jason Priestley, Thomas Haden Church, Billy Bob Thornton
Writing Credits:
Kevin Jarre
Tagline:
Justice Is Coming.
Synopsis:
Kurt Russell and Val Kilmer will blow you away in this explosive, action-packed adventure! And now, the legendary battle for justice in Tombstone hits home on Blu-Ray™ for the first time ever. Russell is U.S. Marshal Wyatt Earp; Kilmer is the outrageous Doc Holliday. Together, they team up to lay down the law in a notorious showdown with ruthless outlaws at the O.K. Corral. With an all-star cast that also includes Sam Elliott, Bill Paxton, Dana Delany, Jason Priestley, Michael Biehn and Hollywood icon Charlton Heston, this Wild West epic will transport you back in time and land you smack dab in the center of the crossfire. So strap on your six shooters as you experience the remarkable picture and theater-quality sound of Tombstone in Blu-Ray™ High Definition.
Box Office:
Budget
$25 million.
Opening Weekend
$6.454 million on -unknown- screens.
Domestic Gross
$56.505 million.
MPAA:
Rated R


DVD DETAILS
Presentation:
Aspect Ratio: 2.35:1
Audio:
English DTS-HD MA 5.1
Spanish Dolby Surround 2.0
French Dolby Surround 2.0
Subtitles:
English
Spanish
French
Closed-captioned
Supplements Subtitles:
English
Spanish
French

Runtime: 130 min.
Price: $29.99
Release Date: 4/27/2010

Bonus:
• "The Making of Tombstone" Featurette
• Trailers and TV Spots
• Storyboards
• Sneak Peeks




PURCHASE @ AMAZON.COM

EQUIPMENT
Panasonic 50" TH-50PZ77U 1080p Plasma Monitor; Sony STR-DG1200 7.1 Channel Receiver; Panasonic DMP-BD60K Blu-Ray Player using HDMI outputs; Michael Green Revolution Cinema 6i Speakers (all five); Kenwood 1050SW 150-watt Subwoofer.


RELATED REVIEWS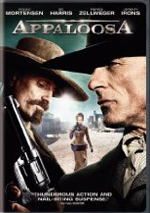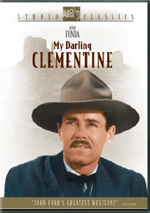 [an error occurred while processing this directive]
---
Tombstone [Blu-Ray] (1993)
---
Reviewed by Colin Jacobson (May 11, 2010)

Behind Oscar winners such as Dances with Wolves and Unforgiven, the Western enjoyed a moderate resurgence in the 1990s. 1993's Tombstone rode that wave as well. While it didn't enjoy a great financial success at the box office, it found a good cult audience over the years and now stands as one of the era's best-liked Westerns.

Tombstone takes us back to Arizona circa 1879. Famed lawman Wyatt Earp (Kurt Russell) retires to this area with his young wife Maddie (Dana Wheeler-Nicholson). He goes there to meet up with his brothers Virgil (Sam Elliott) and Morgan (Bill Paxton); all three want to make their fortune in the wide open west. Wyatt's buddy John "Doc" Holliday (Val Kilmer) comes along to Arizona in the hopes that the dry climate will alleviate his tuberculosis – and also so he can clean up at poker.

Alas, quiet times will not be enjoyed by the gunslingers. Led by Curly Bill Brocious (Powers Boothe), a band of outlaws known as "The Cowboys" runs roughshod over the region. Local law enforcement officials attempt to recruit Wyatt to their cause, but he consistently resists these entreaties.

While Wyatt remains content to rake in money and stay on the sidelines, Virgil eventually gets fed up with the lawlessness and takes over the position as local marshal. Morgan joins up as well, much to Wyatt's anger. He stays on the sidelines for as long as he can – until circumstances force his hand as well and lead toward inevitable confrontations.

I know I saw Tombstone back when it hit screens in 1993, but I'll be darned if I remember anything about it. Actually, I maintain a vague memory of Kilmer's performance as Holliday, but the rest of the movie remains stuck hidden in the recesses of my memory.

I suspect that's because Tombstone just isn't a particularly memorable Western. I certainly don't regard it as a bad flick, and it boasts some good elements, but the film fails to make much of a real impact – at least not until its final act, when it manages to come to life in a more compelling way.

But for the first 90 minutes or so, the tale can plod, and most of the characters fail to involve us. As the lead, Wyatt just seems a bit too stiff. He demonstrates occasional glimmers of life – such as when he rids a local saloon of a problematic card dealer – but he usually feels repressed and dull.

Yes, I understand that a lot of this intends to represent Wyatt's attempts to suppress his true nature. The film takes an active character and places him in passive circumstances, so we're supposed to see the dulling effects. That's fine, but the problem is that we just don't get enough reason to care about Wyatt. He's a fairly flat personality until circumstances force him to take action, and even though the last act makes him more compelling, it's hard to get past the blandness of the first two sections.

I could also really live without the awful courtship between Wyatt and a traveling actor named Josephine (Dana Delany). The scene in which they ride horses together proves truly embarrassing and becomes the film's clear nadir. Honestly, I think the movie would've worked better without the inclusion of Josephine. I know she was a big part of the real Wyatt's life, but she doesn't work in film terms; when we see Wyatt and Josephine together, the movie drags to a halt, partially because Delany and Russell enjoy no chemistry together at all.

Most of the movie's pop comes from Kilmer's much lauded turn as Holliday. He provides the flick's only really interesting protagonist – and also the sole character who shows true dimensionality. A rogue on the surface, Holliday actually is the story's most honorable personality.

As played by Kilmer, he's also a lot of fun. Kilmer gives Holliday a slightly effeminate feeling that makes him come across like someone out of a Tennessee Williams play. Kilmer doesn't make Holliday a cheap joke, though; he lends heart and substance to the part and creates an indelible impression. Kilmer is the class of a pretty good cast, though only he gets a real chance to shine.

Or perhaps he's the only one who really runs with his opportunity. Elliott and Boothe also do quite well, though they get saddled with more one-dimensional roles. Other than perhaps Delany and Jason Priestley, I can't really complain about any of the other actors, however.

And I honestly can't find a lot about Tombstone that I dislike, as it's an interesting story told in a reasonably good fashion. It sure looks great, and it has a nice classic Western feel to it. So why does the end result largely leave me a little cold?
---
The Blu-ray Grades: Picture B+/ Audio B+/ Bonus D+
---
Tombstone appears in an aspect ratio of approximately 2.35:1 on this Blu-Ray Disc. Only minor issues cropped up during this generally solid transfer.
Sharpness was usually satisfying. A little softness occasionally crept into some wider shots, but those instances remained mild. The movie usually provided solid clarity and accuracy. No concerns with jaggies or moiré effects appeared, and edge haloes failed to occur. Source flaws also were a non-factor, as the film seemed clean and smooth.
Colors were a strength. The movie offered a warm, rich palette that consistently looked great. In particular, reds were especially rich, but all the hues appeared full. Blacks were deep and dense, but shadows seemed a bit thick at times. Low-light shots usually appeared fine, but some seemed a little more opaque than I'd like. Overall, however, the flick provided nice visuals without any serious complaints.
As for the DTS-HD MA 5.1 soundtrack, it also fared well. The soundfield offered an open, spacious setting for all the action. The mix expanded best during the mix of gunfights, of course, but storms also used the speakers in an active manner, and other sequences boasted nice environmental material. These sequences worked all the speakers in a satisfying way and added life ot the proceedings.
Audio quality was also good. Speech remained concise and crisp, with no edginess on display. Music appeared full and rich, and effects satisfied. Those elements came across as dynamic and tight at all times. Across the board, the soundtrack helped bolster the action.
Only a handful of extras flesh out the disc. The Making of Tombstone runs 27 minutes, 19 seconds and features director George P. Cosmatos, production designer Catherine Hardwicke, armorer Thell Reed, and actors Kurt Russell, Wyatt Earp III, Powers Boothe, Val Kilmer, Sam Elliott, Stephen Lang, Bill Paxton, Dana Delany, Jason Priestley, Peter Sherayko, Charlton Heston, Michael Rooker, Thomas Haden Church and Michael Biehn. They discuss cast, characters, and performances, story, history and attempts at authenticity, sets and locations, and the shootout at the OK Corral.
I figured a 27-minute show would give us decent details about the production, but unfortunately, promotion remains the order of the day. Most of the time, the program just tells us how great and authentic the film is. I learned a smidgen about the flick, but not much.
Under Director's Original Storyboards, we find a four-minute reel. This shows the OK Corral sequence and plays music as we go through filmed shots of the boards. It's a good way to inspect the planning for this pivotal scene.
Finally, we get a collection of Trailers and TV Spots. We locate a teaser, a theatrical trailer, and seven TV promos.
The disc opens with some ads. We get bits for Prince of Persia: Sands of Time and When in Rome. These also appear under Sneak Peeks along with a clip for Surrogates.
While it certainly enjoys a mix of strengths, I find myself slightly disenchanted with Tombstone. Actually, "disenchanted" probably isn't the right word, for there's little here I can say I dislike. I simply don't think the film leaves a strong impression; it gives us a good Western but not one that stands out as a classic. The Blu-ray provides very positive picture and audio along with minor supplements. I'd like more extensive extras, but the Blu-ray delivers the movie in a pleasing manner.
| | |
| --- | --- |
| Viewer Film Ratings: 4.875 Stars | Number of Votes: 16 |