TOUCHSTONE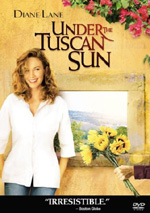 MOVIE INFO
Director:
Audrey Wells
Cast:
Diane Lane, Sandra Oh, Lindsay Duncan, Raoul Bova, Vincent Riotta, Mario Monicelli, Roberto Nobile, Anita Zagaria, Evelina Gori
Writing Credits:
Frances Mayes (novel), Audrey Wells
Tagline:
Life Offers You A Thousand Chances ... All You Have To Do Is Take One.
Synopsis:
From the studio that brought you Sweet Home Alabama comes the extraordinary romantic comedy starring Academy Award nominee Diane Lane. Based on the #1 New York Times best-selling book, Under the Tuscan Sun follows San Francisco writer Frances Mayes (Lane) to Italy as a good friend offers her a special gift - ten days in Tuscany. Once there, she is captivated by its beauty and warmth, and impulsively buys an aging, but very charming villa. Fully embracing new friends and local color, she finds herself immersed in a life-changing adventure filled with enough unexpected surprises, laughter, friendship and romance to restore her new home - and her belief in second chances.
Box Office:
Budget
$18 million.
Opening Weekend
$9.751 million on 1226 screens.
Domestic Gross
$43.610 million.
MPAA:
Rated PG-13


DVD DETAILS
Presentation:
Widescreen 1.85:1/16x9
Audio:
English Dolby Digital 5.1
French Dolby 2.0
Subtitles:
English
Spanish
Closed-captioned

Runtime: 113 min.
Price: $29.99
Release Date: 2/3/2004

Bonus:
• Commentary with Writer and Director Audrey Wells
• Deleted Scenes
• Tuscany 101
• Sneak Peeks




PURCHASE @ AMAZON.COM

EQUIPMENT
TV - Mitsubishi WS-48311 48" HD 16X9; Subwoofer - RBH TS-12A; DVD Player - Integra DPC-7.4 Progressive Scan 5-Disc Changer; Receiver - Integra DTR-7.4 THX Certified; Center - RBH MC-616C MKII; Front Channels - RBH MC-6C MKII Bookshelf Speakers; Mid & Rear Channels - RBH MC-615 In-Ceiling Speakers.


[an error occurred while processing this directive]
---
Under The Tuscan Sun (2003)
---
Reviewed by David Williams (June 9, 2004)

Frances Mayes' 1996 novel, "Under The Tuscan Sun", was a semi-autobiographical tale of the author acquiring an old, rundown Italian villa in the Tuscan town of Corton and fixing the place up – at the same time, immersing herself into the day-to-day life and customs of the locals. She meticulously filled the reader in on all of the intimate details of her gardening, sightseeing, cooking, etc. The book was so descriptive, it literally became a travel guide on how to properly enjoy the Tuscan countryside in all of its splendor. However, fans of the novel that showed up to see the film hardly recognized the story, as writer-director Audrey Wells' big screen adaptation strays quite a bit – and focuses on completely different things - from its source material. While not necessarily a bad thing, the novel and the film share very little in common. Heck, there's even a disclaimer stating that "... the characters and events in the picture have been fictionalized for dramatic effect."

The film introduces us to Frances Mayes (the always gorgeous Diane Lane), played here as an unhappy San Francisco writer going through a very painful divorce because of an unfaithful husband. Frances' best (and pregnant) friend, Patti (Sandra Oh), along with her lesbian partner, Grace (Kate Walsh), try to cheer Frances up, as they present her with a ten-day vacation to Italy. The hitch - the trip is a full blown tour of Italy with the "Gay & Away" club … an eccentric and colorful group of gay tourists.

While in Tuscany, the beautiful surroundings work their magic on Frances and while staring out of a bus window, she spies a dilapidated, 300-year-old Bramasole in the Tuscan town of Cortona for sale and she immediately falls in love with it. Feeling like she's got nothing left to lose, she immediately quits the tour, purchases the home, and decides to leave her life in San Francisco behind. While she knows absolutely nothing about restoration, she contracts many of the lively locals to – over months and months - turn proverbial trash into treasure.

To help with work on the restoration, Frances hires three Polish immigrants and when she has time, she totally immerses herself in the local culture and befriends many of the locals. There's a married real estate agent named Martini (Vincent Riotta) who helps Frances with all of her negotiations throughout the process; a young Polish worker named Pawel (Pawel Szajda) who has fallen in love with a local girl (Giulia Steigerwalt) whose parents object to the relationship; yet another Polish worker, Jerzy (Valentine Pelka), who is pining for Frances herself; Katherine (Lindsay Duncan), a faded beauty and aging British seductress who teaches Frances how to let loose and live a little. But what good's a romantic comedy without romance?!? While on a buying trip to Rome for chandelier accessories, Frances meets Marcello (Raoul Bova), a predictably sappy and romantic type who sweeps Frances off her feet and gives her something she's wanted for a long time … if you catch my drift. However, the unexpected arrival of her best friend - a heartbroken (and still pregnant) Patti - makes scheduling time with her new love quite difficult.

All's well that ends well though, as a couple of plot twists make our heroine's fairy tale life happy and complete. (Did you expect any less?)

Diane Lane does a great job with the part and it's surprising that she hasn't seen more "mainstream" success as a female lead. She definitely deserves it and unfortunately, Under The Tuscan Sun just didn't have the broad-based appeal that many had hoped for. While she occasionally overplays certain scenes, Lane still works well as the lead in the film and here's hoping we see more of her down the road.

Cinematographer Geoffrey Simpson has created another star in the film – the Tuscan countryside. Pastel colored homes and villages, boundless fields of elegant flowers and vegetation, spectacular Mediterranean coastlines, and winding country roads all look quite inviting and simply put, Under The Tuscan Sun is a really gorgeous film to look at. While at times it seems that Simpson unnecessarily mutes a few hues, it doesn't change the fact that the cinematography here is beautiful to behold.

The bit characters in the film unfortunately come off as just that – bit characters. However, films in this genre rarely expand on background characters more than is necessary to tell the story and that's exactly what happens here. The vast majority of the Italian locals look and act like they came right out of an Olive Garden commercial and it comes across as a bit overdone and ostentatious at times. It's not too distracting, but definitely noticeable.

Ultimately, the film plays like something from the Lifetime Network … and while that might be slightly alarming to many of our male readers, it actually wasn't that bad. If you hang in there from beginning to end, you might be surprised at just how much you'll enjoy it. While there's not much to the plot other than "attractive, divorced, American female travels to Italy to rebuild her life while rebuilding a run down villa and finds true love and happiness in the process", Under The Tuscan Sun was admittedly a very charming film that contained colorful locales and eccentric characters and it made for a nice and breezy way to pass a couple of hours.
---
The DVD Grades: Picture B-/ Audio B+/ Bonus C
---
Touchstone brings home Under The Tuscan Sun in an anamorphically-enhanced widescreen transfer in the film's theatrical aspect ratio of 1.85:1. Surprisingly average for such a recent release, the film remains satisfactory for most viewers tastes, as it's doubtful that many would have used Under The Tuscan Sun to show off their home theater to friends and fellow aficionados.
The film presents a very earthy palette (with some soft pastels thrown in for good measure), as the Tuscan countryside looked very inviting and warm throughout. Contrast and balance were well-done and bleeding and smearing never seemed to become a problem. While not as finely detailed and crisp as I expected, the vast majority of the transfer looked pretty decent. Shadow detail and delineation remained slightly above-average, but lacked the fine, smooth edges that would have possibly allowed for a bit more definition in the picture.
Flaws with the transfer were few and far between. Grain was surprisingly light, as was any sort of artifacting, although I noticed the occasional halo and a few instances of ringing. When it's all said and done however, while the transfer looks good, it doesn't look as good as it could/should for such a recent release. Touchstone is capable of much better, but it's doubtful most fans of Under The Tuscan Sun will care.
Where the video seemed to falter somewhat, the audio really managed to meet and even beat my expectations. Presented in a Dolby Digital 5.1, Under The Tuscan Sun displays a rather impressive soundstage that surpasses many, if not most, in the romantic-comedy genre.
Dialogue is obviously the main player in the track and it comes across as very distinct and crisp at all times. Firmly placed in the center channel, there's never any problem with recording levels or intelligibility. The film also presents some surprising ambience that utilizes the rear surrounds much more than expected. While far from aggressive, there are plenty of subtle, environmental cues (thunderstorms, traffic, birds, etc) that really add to the overall experience of the film. The created ambience is very subtle … and enjoyable … but not a totally immersive experience by any stretch. Even so, it works well for the film and comes across quite nicely.
The few effects used in the film sounded properly placed and natural, while the film's well-done soundtrack presented excellent dynamics and fidelity. Your LFE will receive nothing more than an average workout, as it does come to life during some of the more "active" sequences in the film. When it's all said and done, the audio transfer for Under The Tuscan Sun works well for the material and fares much better than the video transfer for the film.
Touchstone has also included a French Dolby 2.0 surround mix, as well as Spanish subtitles and English Closed Captions.
Under The Tuscan Sun is rather sparse when it comes to extras, as an audio commentary with writer/director Audrey Wells is the biggest component. It's a decent commentary and it's quite obvious that Wells enjoyed the film, as well as the time spent recording her commentary. She lets us in on tons of information about the production of the film and unfortunately, it's just not that interesting. After listening to literally hundreds of commentaries over the years, Wells' bland discussions about the making of this particular film simply aren't that engaging. It's not necessarily a bad commentary, it's just not interesting information, as most of you have probably heard this type of commentary executed better elsewhere. Reserved for hardcore fans of the film only.
Tuscany 101 (9:25) is our behind-the-scenes/making-of featurette and we get all of the standard fare comments on the film, its script, its cast, and its production. Much like the commentary, it offers nothing new to the genre. Clips of the film are intertwined with interview snippets and shots from behind-the-scenes to create a very familiar-looking supplement. There's admittedly some good information contained during the short running time of 101, but hardly anything earth-shattering. However, fans of the film/book/Diane Lane will definitely want to check this one out at least once, as there's simply not enough information contained within it to warrant future viewings.
Also included are some Deleted Scenes. There are three scenes included here ("The Singing Contractor", "Discovering The Fresco", and "Clapper Montage") and truth be told, none of them would have helped the film in any form or fashion. The video quality is rough and nowhere near film quality … but considering the material, it's pretty irrelevant anyway.
Finally, we see the always exciting Register Your DVD … Can't say that I've ever used it and I don't really know why I've listed it as an extra. However, if you were wondering; it's there.
Finishing off the DVDs extras are Sneak Peeks for Hidalgo, Calendar Girls, My Boss' Daughter, Under The Tuscan Sun, and a preview of The Soap Network.
Under The Tuscan Sun was definitely better than expected and seemed to do just enough to separate itself from the rest of the pack in the romantic-comedy genre. While I don't know if I could recommend the DVD as a blind purchase, it definitely comes highly recommended as a great way to spend an evening with your significant other. The film was nothing more than a light, fluffy, and uplifting piece with nothing more at its center than a weightless and pleasurable plot.
| | |
| --- | --- |
| Viewer Film Ratings: 4.4523 Stars | Number of Votes: 42 |