FOX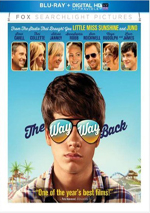 MOVIE INFO
Director:
Nat Faxon, Jim Rash
Cast:
Steve Carell, Toni Collette, Allison Janney, AnnaSophia Robb, Sam Rockwell, Maya Rudolph , Rob Corddry , Amanda Peet
Writing Credits:
Nat Faxon, Jim Rash
Tagline:
We've All Been There.
Synopsis:
Dive into this "smart, imaginative, first-rate comedy" (Karen Durbin, ELLE) featuring an all-star comedic cast, including Steve Carell, Maya Rudolph, Toni Collette, Allison Janney, Sam Rockwell, and Amanda Peet! While 14-year-old Duncan (Liam James) is being dragged on a family trip with his mom (Collette) and her overbearing boyfriend (Carell), he finds a gregarious friend (Rockwell) at a local water park. The two form a powerful bond as Duncan learns to swim through the challenges of life, love, family and friendship, resulting in a vacation he'll never forget.
Box Office:
Budget
$4.6 million.
Opening Weekend
$552.788 thousand on 19 screens.
Domestic Gross
$21.490 million.
MPAA:
Rated PG-13


DVD DETAILS
Presentation:
Aspect Ratio: 1.85:1
Audio:
English DTS-HD MA 7.1
English Descriptive Audio 5.1
Spanish Dolby Digital 5.1
French DTS 5.1
Castillian DTS 5.1
German DTS 5.1
Italian DTS 5.1
Czech Dolby Digital 5.1
Hungarian Dolby Digital 5.1
Thai Dolby Digital 5.1
Subtitles:
English
Spanish
French
Castillian
Dutch
German
Italian
Arabic
Czech
Greek
Hungarian
Chinese
Malaysian
Korean
Romanian
Thai
Vietnamese
Closed-captioned
Supplements Subtitles:
English
Spanish
French
Dutch
German
Italian
Czech
Greek
Hungarian
Korean
Chinese
Thai

Runtime: 103 min.
Price: $39.99
Release Date: 10/22/2013

Bonus:
• "Behind the Scenes" Featurettes
• 3 Deleted Scenes
• Theatrical Behind the Scenes Featurette
• Trailer and Previews




PURCHASE @ AMAZON.COM

EQUIPMENT
Panasonic 50" TH-50PZ77U 1080p Plasma Monitor; Sony STR-DG1200 7.1 Channel Receiver; Panasonic DMP-BD60K Blu-Ray Player using HDMI outputs; Michael Green Revolution Cinema 6i Speakers (all five); Kenwood 1050SW 150-watt Subwoofer.


RELATED REVIEWS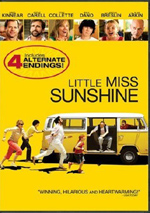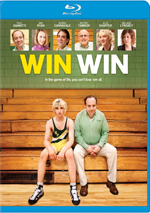 [an error occurred while processing this directive]
---
The Way, Way Back [Blu-Ray] (2013)
---
Reviewed by Colin Jacobson (November 18, 2013)

For a new take on the "coming of age" film, we head to 2013's The Way Way Back. Quiet 14-year-old Duncan (Liam James) takes a summer beach trip with his mother Pam (Toni Colette) as well as her boyfriend Trent (Steve Carell) and his teen daughter Steph (Zoe Levin). Duncan appears unenthusiastic about this vacation, and neither he nor Trent seem to care for each other, a point made clear when Trent berates the boy for his introverted ways.

When the foursome arrives at the beach, they meet up with party-loving neighbor Betty (Allison Janney) and her teen daughter Susanna (AnnaSophia Robb). Duncan clearly becomes smitten by Susanna but doesn't know what to do about his interest, even when she eventually acts awfully kindly toward him.

Duncan feels pretty miserable until he happens upon Owen (Sam Rockwell), a longtime employee at the local water park. Brash and charismatic, Owen quickly acts as a role model to Duncan, and the boy gets a job at the park. We follow his growth over the summer and related character arcs connected to his mom and others.

Periodically I complain about movies that don't seem to know what genre they prefer, and I'm about to do that again. I worry that these comments make it look like I feel every film should pick a genre and adhere slavishly to it, but that's not the case; there are many flicks that span categories and do so seamlessly.

Back is not one of those films, unfortunately, and its erratic nature becomes a problem. In many ways, Back wants to be an 80s comedy. Indeed, as it starts, you might think it takes place 30 years ago, as Trent tools around in an old station wagon. Nope – the movie is set in the present day, and it tries to explain the perplexing choice of transportation with a remark about how Trent drives it to hearken back to his childhood vacations.

Fair enough, and if the "way way back" elements stopped there, I wouldn't comment. However, much of the film's production design continues to throw off a serious "land that time forgot" vibe. The movie throws out a bizarre array of references to the 80s that do little other than confuse the viewer. The kids listen to 80s music, some teens breakdance, modern technology barely becomes apparent – heck, one little kid even plays with vintage Star Wars figures! If the filmmakers wanted to make a movie that looks like it's set in the 80s, why not just set it in the 80s?

A little exploration online reveals they did want to put Back in the 80s but plopped it in 2013 due to budgetary issues. Fair enough, but the messy mixing of periods causes distractions and may take the viewer out of the story. The plethora of 80s elements become a definite distraction and the filmmakers would've been better off if they'd just reworked the script to bring everything up to date.

Back evokes that era in other ways, mainly in the scenes related to Owen. Much of the water park stuff feels like standard 80s "one crazy summer" material, and I'd bet the filmmakers saw 1979's Meatballs at least 200 times. Owen exists to fill the Bill Murray part as the wacky but caring father figure who brings the introvert out of his shell.

And here's where the genre discrepancies become an issue. If Back stuck with the standard "best summer of my life"/coming of age stuff, it'd move a lot more smoothly than it does. However, it tries to pack in so many other elements – usually about Trent and Pam – that it becomes a mess. These take a radical turn in terms of tone and just don't fit with the rest of it.

Actually, I'd probably prefer the movie if it'd stayed with the Duncan/Trent/Pam/Susanna nexus, as that's where the movie works best. That's where it starts and that's where it shows the most promise; before Duncan formally meets Owen, the film works reasonably well.

The film manages to capture the discomfort teens feel when stuck in awkward situations such as when your mom gets a new boyfriend. When it gets to the water park, unfortunately, it takes such an awkward turn that it veers into cliché and shtick. While I recognize the movie needs to find a way to embolden Duncan, I think it could've done something more organic than cram in the wacky Owen-related pieces.

As I mentioned, the ghost of Bill Murray floats over Owen and his shenanigans, and Rockwell creates a poor substitute. I think Rockwell is a talented actor, but he's not right for a Bill Murray-style part. Actually, I'm not sure who is appropriate for a Bill Murray-style role other than Bill Murray, but Rockwell is the wrong guy for the character; he lacks the light charm needed to make Owen the fun-loving goofball the movie seeks.

Rockwell also seems way too old for the character. Like Trent's perplexing choice of vehicle, the movie does attempt to explain his presence as a park employee, but it still seems awfully weird to see a guy in his mid-40s work at a job that seems better suited to a 22-year-old.

This also makes his lusting after teen girls look rather pervy – and when other older actors do the same, the "Ick Factor" just goes through the roof. If the movie had used 20-year-olds, it wouldn't be fine and fit with the intended spirit of fun, but scenes in which 40-something dudes make underage girls wait for water rides so they can stare at their butts come off as creepy.

At least the other actors fare better. Carell proves surprisingly effective as he plays against type as the self-centered Trent, and Collette manages a realistic turn as the divorced mother trying to move on with her life. Janney and Rob Corddry add to the comedic side of things, and James delivers a solid take on the stereotypical introverted teen. Heck, I don't even fault Rockwell for his performance's problems; it's not his fault he was miscast.

Despite these flaws, Back keeps us with it – for a while, at least. The first act – which focuses on Duncan and his family – goes pretty well, but as it progresses, it loses its path. What could've been a good family drama turns into muddled 80s comedy wannabe that doesn't soar.
---
The Blu-ray Grades: Picture A-/ Audio B-/ Bonus C-
---
The Way Way Back appears in an aspect ratio of approximately 1.85:1 on this Blu-ray Disc. Across the board, the image looked strong.
Sharpness worked well. If any notable softness occurred, I didn't see it, as the movie remained crisp and well-defined. I witnessed no issues with jagged edges or moiré effects, and the image lacked edge haloes. No print flaws appeared either.
In terms of palette, Back went with a generally natural tone, though it could veer toward a bit of a teal feel at times; the blue tended to appear at the water park. Overall, the colors appeared full and vivid. Blacks seemed dark and dense, while shadows showed smooth, clear visuals. I found a lot to like about this satisfying presentation.
As for the DTS-HD MA 5.1 soundtrack of Back, it provided a subdued experience typical for character pieces such as this. For the most part, the soundscape didn't have much to do, as it tended toward general ambience. Scenes at the water park opened up matters a bit, as they used the side and back speakers in a mildly engaging manner, and fireworks briefly added some zest. Nonetheless, these components didn't bring a whole lot to the package, so this remained a laid-back mix.
Audio quality was satisfactory. Music sounded peppy and full, while effects were reasonably accurate and concise. Speech sounded natural and easily intelligible. Though nothing here impressed, the track was appropriate for the material.
A handful of extras fill out the disc. Under Behind the Scenes with the Hilarious Cast and Filmmakers, we locate six featurettes. These run a total of 31 minutes, 19 seconds and include comments from writers/directors Jim Rash and Nat Faxon, producers Tom Rice and Kevin Walsh, executive producer George Parra, and actors Steve Carell, Toni Collette, AnnaSophia Robb, Rob Corddry, Sam Rockwell, Allison Janney, Liam James, Maya Rudolph, River Alexander, and Zoe Levin.
The segments cover story/characters and the script, cast and performances, sets and locations, how Faxon and Rash worked on the shoot, and the film's Sundance premiere. The featurettes tend to be somewhat superficial, but they're not bad. They give us a decent array of details and add to the experience, though I would've liked a commentary from Faxon and Rash; they're entertaining and probably would've recorded a fun track.
Three deleted scenes occupy a total of three minutes, two seconds. In "Catching Bob" (1:05), Betty talks about how she found out her husband was gay, while "The Morning After" (1:04) shows Duncan and Peter following their night at a party. Finally, "Do You Wanna Get Wizzed?" (0:53) lets us hear Caitlin's attempt at a water park theme song. On their own, the clips can be amusing, but they're completely superfluous in terms of the story.
Three theatrical featurettes also appear. We get "Tour of the Water Park" (3:22), "The Filmmakers: Jim and Nat" (3:16) and "Ensemble Featurette" (4:34). Across these, we hear from Rash, Faxon, Rockwell, Janney, Carell, Collette, Rudolph, and Robb. We get notes about the locations, cast and performances, and Rash and Faxon's efforts. The tone remains promotional and some of the info repeats from the earlier featurettes, but a few new nuggets emerge.
The disc opens with ads for The East, Baggage Claim, and The Heat. Under Sneak Peek, we find additional promos for The Family and The Internship. The disc throws in the trailer for Back as well.
An awkward mix of family drama and teen comedy, The Way Way Back doesn't come together in a satisfying manner. It boasts a strong cast and occasionally scores, but much of it fails to connect. The Blu-ray comes with excellent picture, decent audio and a few minor bonus features. I want to like Way Way Back but think it lacks the consistency it needs to become a quality film.
| | |
| --- | --- |
| Viewer Film Ratings: 3.5 Stars | Number of Votes: 2 |