SONY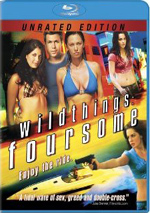 MOVIE INFO
Director:
Andy Hurst
Cast:
Jillian Murray, Jessie Nickson, Mary Rachel Dudley, Ashley Parker Angel, Cameron Daddo, Zakareth Ruben, Josh Randall
Writing Credits:
Howard Zemski, Monty Featherstone
Tagline:
Enjoy the ride.
Synopsis:
Wild Things: Foursome is the seductive next film in the hot and sexy Wild Things series. Hotel magnate Ted Wheetly is tough on his arrogant hard partying son, Carson (Ashley Parker Angel), who believes his wealthy, womanizer father drove his mother to her death. When Ted is killed in a speed boat accident, Detective Frank Walker (John Schneider) is assigned to investigate the case. As he digs deeper into the death, he becomes more and more suspicious of the scheming, seduction, greed, double-crossing, and possibly even cold blooded murder.
Box Office:
Budget
$10 million.
MPAA:
Rated R


DVD DETAILS
Presentation:
Aspect Ratio: 1.85:1
Audio:
English DTS-HD MA 5.1
Subtitles:
English
French
Closed-captioned
Supplements Subtitles:
None

Runtime: 92 min.
Price: $30.95
Release Date: 6/1/2010

Bonus:
• Previews




PURCHASE @ AMAZON.COM

EQUIPMENT
Panasonic 50" TH-50PZ77U 1080p Plasma Monitor; Sony STR-DG1200 7.1 Channel Receiver; Panasonic DMP-BD60K Blu-Ray Player using HDMI outputs; Michael Green Revolution Cinema 6i Speakers (all five); Kenwood 1050SW 150-watt Subwoofer.


RELATED REVIEWS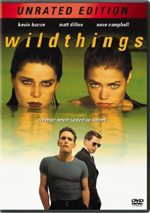 [an error occurred while processing this directive]
---
Wild Things: Foursome [Blu-Ray] (2010)
---
Reviewed by Colin Jacobson (May 10, 2010)

Although 1998ís Wild Things did little at the box office, it found enough of an audience on home video/cable to inspire an ongoing series of direct-to-video sequels. 2010 brings the fourth in this franchise via Wild Things: Foursome.

Set among the privileged youth of sunny Blue Bay, Florida, we meet rich party boy Carson Wheetley (Ashley Parker Angel). He maintains a brittle relationship with his father Ted (Cameron Daddo), largely because Carson blames his dadís selfish ways for his motherís suicide.

Ted dies in a car racing accident, and Detective Frank Walker (John Schneider) finds some suspicious elements during his investigation. Plots thicken when Carson gets accused of rape by Brandi Cox (Jillian Murray), an old acquaintance of his girlfriend Rachel (Marnette Patterson). A tangled web emerges as the story progresses.

I never checked out the second or third Wild Things flicks, but as far as I know, none of the four share characters. I think they simply operate on the same settings/themes, as they all take place in the south and feature murder, sex and intrigue among the wealthy.

The original Things was a decent semi-noir that benefited from a ďB+Ē cast and some clever twists. At no point did it excel, but it was more fun than it had any right to be given its glorified Cinemax feel.

While not as entertaining, at least Foursome isnít the dud I expected it to be. Much of that comes from the twists that occasionally make it interesting. At no point does it threaten to become a taut thriller with any hope of standing up under scrutiny. It packs so much double-crossing and scheming that these eventually become about all the movie has to offer. Foursome certainly doesnít boast rich characterizations or much real story, so it keeps us afloat with one nutty twist after another.

This may be a cheap tactic, but it works Ė sort of. It does manage to ensure our moderate interest in the story and keeps us from getting bored, at least for a while. Toward the end, the movie starts to collapse under the weight of its own silliness, but it brings us along for much of the ride.

Other than those twists, I canít find a ton to endorse here. A movie like this promises sex and skin, and it delivers those during a scene in which Carson gets a fourway. Donít expect additional sizzle in that domain, though; some minor erotic material emerges, but the fourway bit is the only one that impresses.

Another minor pleasure comes from Schneiderís performance as the detective. He gives the role a looseness that feels like the actor knows heís slumming and doesnít give a crap. Such an attitude should damage the film, but instead, Schneiderís choices make his character more interesting than expected.

The other performers fare less well. Theyíre all relentlessly attractive, but none of them could act their way out of the proverbial paper bag. This comes as no surprise; no one goes into a flick like this to find stellar acting, and at least the participants boast the requisite physical charms.

All of these components make Foursome an exceedingly mixed bag, but not an awful one. Though illogical to the point of absurdity and generally mediocre, it has just enough intrigue to keep it watchable.
---
The Blu-ray Grades: Picture D/ Audio C+/ Bonus D-
---
Wild Things: Foursome appears in an aspect ratio of approximately 1.85:1 on this Blu-Ray Disc. A thoroughly disappointing transfer, the image fell far below Blu-ray standards.
Sharpness was one of many problems. Close-ups demonstrated decent definition, but anything wider ranged from soft to downright blurry. Iíd be disappointed with delineation like this from a DVD, so I was shocked to see how fuzzy the Blu-ray appeared. No issues with jagged edges or shimmering occurred, and edge haloes remained absent. However, source flaws were another surprising problem. Foursome showed a lot of unnecessary grain, and lots of little specks cropped up through the movie. Iím not sure why a brand-new film would demonstrate so many print defects.
Given the tropical setting, I expected bright, vivid colors. Unfortunately, the tones on display here appeared dull and bland. At no point did the hues come across as remotely dynamic or lively; they were consistently drab. Blacks were average, while shadows were acceptable but no better. This may be the weakest Blu-ray transfer Iíve seen, especially for a movie just shot the year before its release.
While the DTS-HD MA 5.1 audio worked better, it had some issues as well. I thought the soundscape seemed too active, as the design wasnít particularly natural. This meant the surrounds offered more information than they probably should, especially in terms of music. The score spent more time in the back speakers than in the front, and this didnít seem especially logical. It became a mild distraction, honestly.
Effects fared better, though they also didnít tend to blend together well. Again, the mix used the surrounds in too active a manner, so the elements appeared somewhat unnatural. However, they werenít bad, and they gave the track a decent sense of life and involvement.
Audio quality was pretty good. Some dialogue suffered from iffy dubbing, but the lines usually appeared acceptably natural and clear. While I wasnít wild about the soundscapeís use of the music, the score was vivid and full, and effects sounded fine as well. They offered good definition and range. The somewhat awkward soundfield made this a ďC+ď track, but it wasnít bad.
Expect no supplements, though a few ads open the disc. We get clips for Youth in Revolt, Harry Brown, and Chloe. These also appear under Previews along with promos for The Bounty Hunter and Unthinkable. No trailer for Foursome appears here.
Four films in, the Wild Things franchise continues to live or die with its murky, winding plotlines. Though the film contains notable flaws, Foursome has enough intrigue and fun to make it reasonably entertaining. The Blu-ray has plenty of problems, unfortunately. Audio seems decent, but picture quality looks soft and messy, and virtually no supplements show up here. The movie itself has its moments, but the Blu-ray isnít a good release.
| | |
| --- | --- |
| Viewer Film Ratings: 3.5 Stars | Number of Votes: 4 |