UNIVERSAL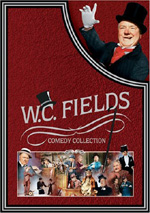 MOVIE INFO
Director:
Edward F. Cline
Cast:
W.C. Fields, Cora Witherspoon, Una Merkel, Evelyn Del Rio, Jessie Ralph, Franklin Pangborn, Shemp Howard
Writing Credits:
W.C. Fields
Synopsis:
W.C. Fields is an American original, the curmudgeonly master of wit and good, mean fun. In this collection of madcap classics, the famously top-hatted Fields unleashes his unique comic zing, proving himself the king of the one-liner. This special DVD collection includes The Bank Dick, My Little Chickadee, You Can't Cheat An Honest Man, It's A Gift and International House. The W.C. Fields Comedy Collection is Fields at his finest, and a must-have for anyone who loves to laugh!
MPAA:
Rated NR


DVD DETAILS
Presentation:
Fullscreen 1.33:1
Audio:
English Monaural
Subtitles:
English
French
Spanish
Closed-captioned

Runtime: 72 min.
Price: $59.98
Release Date: 11/9/2004

Available Only as Part of WC Fields Comedy Collection.

Bonus:
• None




PURCHASE @ AMAZON.COM

EQUIPMENT
Sony 36" WEGA KV-36FS12 Monitor; Sony DA333ES Processor/Receiver; Panasonic CV-50 DVD Player using component outputs; Michael Green Revolution Cinema 6i Speakers (all five); Sony SA-WM40 Subwoofer.


RELATED REVIEWS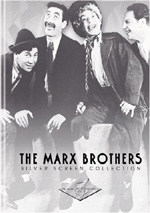 [an error occurred while processing this directive]
---
The Bank Dick: The W.C. Fields Comedy Collection (1940)
---
Reviewed by Colin Jacobson (November 12, 2004)

As I noted in my review of 6 Short Films, my familiarity with the caricatured image of WC Fields is strong, but my knowledge of his actual work is weak. To be frank, I don't think I'd ever watched a complete film of his before I got some Fields DVDs from Criterion a few years ago - not even one whole short! Now I can't call myself an expert about Fields' work, obviously, but at least I'm a bit better educated about the man and his movies.

1940's The Bank Dick comes toward the end of Fields' career. Indeed, he would be dead a scant six years after the release of this movie, and it marks his second-to-last feature role. After 1941's Never Give A Sucker An Even Break, Fields only chipped in a few cameos over the subsequent years.

Although Dick shows Fields in deteriorating health, he managed to make a pretty witty and entertaining film. In a way, it's a mistake to regard Dick as separate from Fields' short films. For one, at a meager 72 minutes, it's not very long.

However, even if it lasted another half hour, it would still owe a serious debt to his prior work. That's because Dick doesn't feature much of a plot and it really comes across as a conglomeration of shorts. This film's a group of sketches loosely connected by an overall theme. I don't regard that as a terrible thing, for Dick has plenty of solid company in that category. In fact, what are probably my three favorite film comedies - This Is Spinal Tap, Pee-wee's Big Adventure, and Quick Change - provide only the loosest of plots to link their events.

Instead, as with Dick, we find lots of wonderful little bits of funniness to maintain our interest. Nothing in Dick stands out as unusual in the Fields' canon, but it works quite well and can be very witty at times. Despite his less-hardy exterior, Fields displays excellent comic timing and keeps things loose. The supporting cast is also generally quite strong, though they remain little more than foils for Fields.

Fields wrote the screenplay under the nutty pseudonym Mahatma Kane Jeeves and continues the string of odd names with his own character: Egbert SousŤ. Note that accent at the end; it means the name should be pronounced "soo-say". Yeah, it's a cheap gag, but I like it anyway. If something's good enough to be stolen by SCTV - which once used a minor character named "Beaver", pronounced "bee-vay" - then it's good enough for me.

Add to that some surprisingly off-color content as well; after all, Fields plays the titular dick, a man who loves a bar called the Black Pussy. Yes, the movie shows lots of shots of the dick entering the Pussy! How they got all that past the Hays Office is a mystery to me.

I won't call The Bank Dick a great piece of work, because it's not. However, it offers a pretty funny and entertaining program. My experiences with old-time comedy have been pretty hit or miss, as I like some of the acts but don't get the appeal of others. Although I've not seen a lot of WC Fields' work, I've been pleased with the films I've watched and look forward to checking out more of his pictures in the future.
---
The DVD Grades: Picture B-/ Audio B-/ Bonus F
---
The Bank Dick appears in an aspect ratio of 1.33:1 on this single-sided, single-layered DVD; due to those dimensions, the image has not been enhanced for 16X9 televisions. At times Dick showed its age, but I mostly felt pleased with the presentation.
Sharpness appeared fairly clean and accurate. Only occasional fuzziness detracted from the presentation. The majority of the flick came across as pretty distinct and accurate. However, I saw moderate levels of shimmering and jagged edges. Clothes tended to present the former, while straw hats created the latter. Neither became extreme, but both seemed heavier than usual. They interfered mostly during the movie production sequence. I also saw a little edge enhancement.
Black levels seemed nicely deep and rich for the most part, with good contrast. Shadow detail was perfectly acceptable and didn't cause any parts of the picture to seem excessively thick or heavy. Given the age of the material, source defects remained pretty minor. The image came across as a bit grainy much of the time, and I also saw occasional examples of specks and small marks. Only sporadic distractions occurred due to these factors, though, as most of the movie seemed clean.
Most of this transfer bettered the prior Criterion edition. Stronger definition and fewer source flaws created the majority of the improvements. This version showed more problems with shimmering and jaggies, but otherwise, the new DVD presented the superior visual presentation. As such, it got a ďB-ď opposed to the old discís ďC-ď.
The film's monaural soundtrack showed similar improvements. Speech demonstrated some of the thinness typical of the era, but the lines usually came across as acceptably natural and distinctive. Only a smidgen of edginess crept in at times, but no issues with intelligibility manifested themselves. Effects seemed fairly clear. They lacked great definition, but they were reasonably rich for their age, and I noticed no real distortion. Some louder elements managed to present decent bass as well.
Music worked about the same as the other pieces. The score wasnít terribly broad and full, but it seemed clean and reasonably dynamic. Some light background noise popped up during most of the movie, but nothing heavy marred the presentation. Though the audio never excelled, it was somewhat above average for a movie from 1940.
As I mentioned, this DVDís audio seemed stronger than the mix heard on the Criterion DVD. That one appeared thinner and harsher. It also demonstrated more notable levels of noise. Once again, the new disc got a ďB-ď, which shot up from the prior releaseís ďC-ď.
No extras appear on Dick. No trailer, no commentary, no nuttiní!
Of all the comics of his era, W. C. Fields comes across as one of the more clever and inventive, and I've enjoyed the few works of his that I've now seen. The Bank Dick is a faulty piece but it provides enough laughs and silliness to merit interest. The DVD offers pretty positive picture and audio but lacks any supplements. Fans should feel happy with the improvements to sound and visuals found in this new release. They donít blow away the prior set, but they present upgrades.
Note that Universal currently offers The Bank Dick only as part of the WC Fields Comedy Collection. This five-disc set also includes My Little Chickadee, You Canít Cheat an Honest Man, Itís a Gift and International House.
| | |
| --- | --- |
| Viewer Film Ratings: 4 Stars | Number of Votes: 6 |