WARNER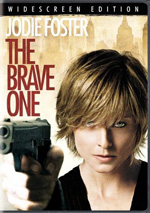 MOVIE INFO
Director:
Neil Jordan
Cast:
Jodie Foster, Terrence Howard, Nicky Katt, Naveen Andrews, Mary Steenburgen, Ene Oloja, Luis Da Silva Jr., Blaze Foster
Writing Credits:
Roderick Taylor (and story), Bruce A. Taylor (and story), Cynthia Mort
Tagline:
How many wrongs to make it right?
Synopsis:
"Why don't they stop me?" Erica Bain wonders. Bain, a popular N.Y radio host, watched her fiance die and nearly lost her own life to a vicious, random attack. Now she discovers a stranger within herself, an armed wanderer in the urban night, out for vengeance and at war with her own soul. Two-time Academy Award winner Jodie Foster, as Erica, joins Oscar nominee Terrence Howard, as a determined cop hot on her trail. Erica's future is uncertain, but one thing is not: The Brave One is a high-tension thriller that packs a visceral and emotional punch.
Box Office:
Opening Weekend
$13.471 million on 2755 screens.
Domestic Gross
$36.789 million.
MPAA:
Rated R


DVD DETAILS
Presentation:
Widescreen 2.35:1/16x9
Audio:
English Dolby Digital 5.1
French Dolby Digital 5.1
Spanish Dolby Digital 5.1
Subtitles:
English
French
Spanish
Closed-captioned
Supplements Subtitles:
English
French
Spanish

Runtime: 122 min.
Price: $28.98
Release Date: 2/5/2008

Bonus:
• "I Walk the City" Featurette
• Five Additional Scenes
• Previews




PURCHASE @ AMAZON.COM

EQUIPMENT
Sony 36" WEGA KV-36FS12 Monitor; Sony DA333ES Processor/Receiver; Panasonic CV-50 DVD Player using component outputs; Michael Green Revolution Cinema 6i Speakers (all five); Sony SA-WM40 Subwoofer.


RELATED REVIEWS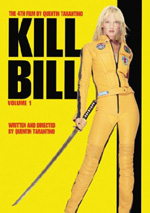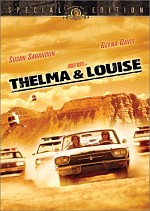 [an error occurred while processing this directive]
---
The Brave One (2007)
---
Reviewed by Colin Jacobson (January 22, 2008)

Raise your hand if you ever thought you'd see Jodie Foster play the kind of part personified by Charles Bronson. I sure didn't expect that, but Foster gets her inner Death Wish on in 2007's The Brave One.

Foster plays Erica Bain, a radio host in New York City. She specializes in observations about the town's grittiness, but her love for the mean streets gets altered one night. While out with fiancé David Kirmani (Naveen Andrews), thugs viciously attack them. This brutal assault leaves Erica comatose for weeks, but it kills David.

Physically and emotionally scarred, Erica finds it tough to adjust to her altered reality, especially in a place as crowded and overwhelming as New York. Only after she acquires a handgun does she begin to feel remotely safe and secure again. And she uses it, too, during a violent incident at a convenience store. Erica flees the scene and feels strangely invigorated by the experience. This leads to a repeat performance when faced by aggressive punks on a subway train, and after that, Erica begins to seek out spots where she can offer her own brand of vigilante justice. The movie follows her down this path as well as her interactions with Detective Sean Mercer (Terrence Howard), the cop on her trail.

As I noted at the start, The Brave One creates immediate and inevitable echoes of Death Wish, but that's not the only film that hearkens to mind. Whether intentional or not, it becomes very difficult to watch this movie and not flash back 31 years to Taxi Driver. Just like that seminal effort, Brave takes place in a gritty New York setting and focuses on a psychologically damaged lone vigilante. Both use an incident in a convenience store as significant events, and even the score of Brave often reminds the viewer of Bernard Herrmann's work for Taxi Driver.

And oh yeah – Jodie Foster appears in both flicks. Some of the similarities might be easier to dismiss were it not for her presence in the pair. When the filmmakers cast Foster in the part, they did even more to create comparisons between the two flicks. Indeed, it's not a great stretch to see Erica as a grown-up Iris. No, I'm not saying that Erica creates an obvious connection to the teen hooker from Taxi Driver, but there's nothing here that makes it impossible to draw that link.

Of course, Erica creates an immensely more sympathetic protagonist than nutty Travis Bickle. We don't know what made him such an angry young man, but we see the creation of Death Wish Erica right before our eyes. The film gives us no hint of any potential prior psychological trauma that would have affected the character, and that's just as well, since it allows us to more greatly identify with Erica.

Despite my modest attempt to portray Erica as a grown-up Iris, we get no indications of similar childhood problems, so we can put ourselves in her place. The movie wants us to feel like we could snap in the same way if put into similar circumstances, and it does so well. Erica never becomes the stoic action hero always ready with a quip when she offs another baddie; she remains consistently human. It clearly lacks the psychological depth of Taxi Driver, but it manages to become something more complex than the average revenge flick.

Some of the credit obviously goes to Foster and the other actors. Foster rarely offers a poor performance, and her take on Erica provides another solid portrayal. She manages to make the character three-dimensional and doesn't resort to cheap tactics to emote and bring out various personality traits. Erica obviously goes through a lot here, and Foster makes it a smooth journey.

I also like Howard as the detective who befriends her. He's a long way from the rapping pimp of Hustle and Flow, as Mercer seems to be a very different character. He doesn't have quite the arc Erica enjoys, but he does go through a variety of circumstances, and Howard pulls off these developments with aplomb. He and Foster create an interesting couple, especially when the relationship between Erica and Mercer deepens.

Add to that a morally ambiguous ending and The Brave One turns into a moderately above-average revenge thriller. The story almost lets down the cast and crew, as it occasionally threatens to become too trite and predictable; it certainly reinvents no wheels. Nonetheless, the flick offers more than enough suspense – and some fine performances – to keep us interested.
---
The DVD Grades: Picture B/ Audio B/ Bonus C-
---
The Brave One appears in an aspect ratio of approximately 2.35:1 on this single-sided, double-layered DVD; the image has been enhanced for 16X9 televisions. Though it never really excelled, the transfer seemed perfectly competent.
Sharpness was usually fine. Some shots appeared a little soft, but those were exceptions to the rule. The majority of the movie provided good delineation and accuracy. Some mild examples of jagged edges and shimmering occurred, but I noticed no issues with edge enhancement. While source flaws were absent, I thought grain seemed a bit heavy at times.
Like most modern thrillers, colors tended to be subdued. Occasionally we found reasonably natural tones, but things usually went down a somewhat cool, desaturated path. The hues looked fine within those parameters. Blacks were decent, though I thought they could be somewhat mushy, and shadows tended to be a little heavy. Neither issue was a major concern, but I felt they made the image less pleasing than I'd like. Nonetheless, this was a generally positive presentation.
Along the same lines, the Dolby Digital 5.1 soundtrack of The Brave One offered moderately above average material. For the most part, the soundfield stayed limited. Street ambiance did the most to open up the track, particularly around vehicles and trains. Those used all the speakers to decent advantage and formed a good sense of place. Music showed nice stereo imaging and also spread to the surrounds in a modest but satisfying way. I couldn't cite a memorable sequence, though, since nothing here was especially impressive in terms of spatiality or involvement.
Audio quality always pleased. Music was bright and dynamic, and effects followed suit. Those elements seemed clear and accurate throughout the movie, and the louder bits showed solid presence. Speech sounded concise and natural, with no edginess or other problems. This was a fairly well-executed – if not ambitious – mix.
Not many extras appear here. We find a featurette called I Walk the City. This 21-minute and 37-second piece mixes movie clips, shots from the set and interviews. We hear from director Neil Jordan, producers Joel Silver and Susan Downey, screenwriters Cynthia Mort and Roderick Taylor, executive producer Herb Gans, production designer Kristi Zea, director of photography Philippe Rousselot, location manager Robert T. Striem, police consultant Neil Carter, and actors Jodie Foster and Terrence Howard. They tell us a little about story and characters, how Jordan came onto the project and his take on the material, the project's path to the screen and various changes along the way, cast and performances, shooting in New York, cinematography, and research.
At its core, "Walk" remains a promotional program. It touts the film and doesn't provide much real depth. However, it includes enough decent material to make it worth a look. We get a smattering of insights along the way, though you definitely shouldn't watch "Walk" until you've already seen Brave One, as it includes some major spoilers.
Five Additional Scenes fill a total of six minutes, 25 seconds. The first two focus on Erica, and the other three concentrate on Mercer. Three of the five are inconsequential additions, but the other two have more substance. We see more of Erica's friend Nicole as she tries to lure our protagonist to a self-defense class; it's not a very good scene, though I like the way it better expands Erica's friends attempts' to bring her out of her shell. The final sequence shows more of Mercer and his ex-wife, as we learn she's pregnant. I think that it might've been a good one to keep in the final film, as it deepens his hurt.
A few ads open the DVD. We get clips for Michael Clayton, Get Smart, Shoot 'Em Up and The Assassination of Jesse James By the Coward Robert Ford. No trailer for Brave One appears here.
While The Brave One doesn't exactly reinvent the vengeful vigilante genre, it provides a few neat twists and entertains along the way. The presence of a fine cast helps make it an above average thriller. The DVD provides pretty good picture and audio but skimps on extras. This one makes for a worthwhile rental.
| | |
| --- | --- |
| Viewer Film Ratings: 4.2307 Stars | Number of Votes: 13 |