WARNER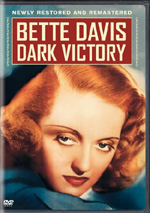 MOVIE INFO
Director:
Edmund Goulding
Cast:
Bette Davis, Humphrey Bogart, Ronald Reagan, George Brent, Geraldine Fitzgerald, Henry Travers, Cora Witherspoon, Dorothy Peterson
Writing Credits:
George Emerson Brewer Jr. (play), Bertram Bloch (play), Casey Robinson
Synopsis:
Bette Davis' bravura, moving-but-never-morbid performance as Judith Traherne, a dying heiress determined to find happiness in her few remaining months, remains a three-hankie classic. But that success would never have happened if Davis hadn't pestered studio brass to buy Dark Victory's story rights. Jack Warner finally did so ... skeptically. "Who wants to see a dame go blind?" he said. Almost everyone it seemed. Dark Victory was Davis' biggest box-office hit up to that time. It reaped huge critical acclaim and won three 1939 Academy Award nominations: Best Picture, Actress and Original Score (Max Steiner). Accolades also went to fellow cast members Geraldine Fitzgerald, George Brent, Humphrey Bogart, Ronald Reagan and Henry Travers. "If it were an automobile," Newsweek wrote, Dark Victory "would be a Rolls-Royce." With Davis in the driver's seat, it's the perfect match of star and vehicle.
MPAA:
Rated NR


DVD DETAILS
Presentation:
Fullscreen 1.33:1
Audio:
English Monaural
Subtitles:
English
Spanish
French
Closed-captioned

Runtime: 104 min.
Price: $19.97
Release Date: 6/14/2005

Bonus:
• Audio Commentary with Film Historian James Ursini and CNN Film Critic Paul Clinton
• "1939: Tough Competition for Dark Victory" Documentary
• Trailer




PURCHASE @ AMAZON.COM

EQUIPMENT
Sony 36" WEGA KV-36FS12 Monitor; Sony DA333ES Processor/Receiver; Panasonic CV-50 DVD Player using component outputs; Michael Green Revolution Cinema 6i Speakers (all five); Sony SA-WM40 Subwoofer.


RELATED REVIEWS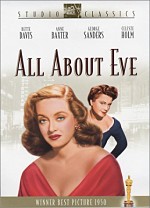 [an error occurred while processing this directive]
---
Dark Victory: Restored & Remastered (1939)
---
Reviewed by Colin Jacobson (June 14, 2005)

A few years ago, I slogged through a quest to see all of the Best Picture nominees from 1939. For the most part, I encountered films about which I already know something, whether they were movies I'd seen in the past such as Gone With the Wind or The Wizard of Oz or at least ones with which I possessed some familiarity like Wuthering Heights or Love Affair.

Dark Victory, however, was a fish of a completely different color. I watched this title simply because of its Oscar connection, and I did so with absolutely no foreknowledge of its story, its cast - nothing!

Wealthy socialite Judith Traherne (Bette Davis) starts to experience headaches and vision problems. These deteriorate to the point where she collapses and falls down some steps. Brain surgeon Dr. Fred Steele (George Brent) plans to leave his practice and go back to research, but Judith's family physician Dr. Parsons (Henry Travers) badgers Steele to examine the case.

Once Steele examines Judith, the case intrigues him, so he postpones his plans to leave town. He discovers she has glioma and needs an operation. Unfortunately, it turns out that she's incurable and doctors feel she has only about 10 months to live. Steele decides not to tell her this, as he prefers she enjoy her final time on earth.

During her blissful ignorance, Judith falls in love with Steele. The doctor proclaims his affection for her as well despite his sadness over her plight. We watch their interactions through the rest of the flick as well as Judith's inexorable march toward her demise and her attitude when she learns of her fate.

As it turns out, Victory boasts a pretty decent group of actors, with supporting turns from Humphrey Bogart, Geraldine Fitzgerald, George Brent, Henry Travers and a young actor you might have heard of called Ronald Reagan.

It's a hoot to watch Reagan in his role as a drunken playboy, but not because of his cartoony performance; the guy really wasn't much of an actor. No, it's just his future political significance that makes him entertaining. Bogart is mildly interesting, though he has a lot of trouble pulling off an Irish accent. He sometimes hits it in a "Lucky Charms" manner, but usually misses the mark.

While the supporting cast is good, it's star Bette Davis who really makes this movie watchable. I often have difficulty accepting the acting in older films because it tends to be more theatrical than what we find in newer offerings. As such, Davis' frighteningly manic performance initially put me off intensely. She attacks this part with gusto; I've seen hummingbirds with less energy than Davis shows here. She reads lines at a rate approaching that of the guys who provide the "fine print" details on radio ads.

Somehow, all of it ultimately works. Even when I found her to be obnoxious, I recognized that I couldn't take my eyes off of her, as she made for an incredibly compelling screen presence. Davis gets to play the gamut of emotions here, from spoiled child to happy woman in love to bitter fatalist. She pulls off the "bitch goddess" scenes much more effectively than the ones in which she's supposed to be chipper and bright. Somehow, that attitude just doesn't suit her, and her "I'm going to make the most of every day!!!" scenes seem less than convincing, though they remain provocative because of her wildly manic zest. She puts incredible bite into lines when she's her nastier self, though, that make all the rest of it worth watching. It's an unusual performance by today's standards, but it's a killer nonetheless.

Davis remains the only thing that distinguishes Dark Victory. The storyline tells a fairly saccharine and melodramatic tale of a woman with a terminal illness and her courageous battle. I suppose it's possible that plot wasn't tired in 1939, but I doubt it. Nothing else about the execution of the film stands out in any way. Davis' performance is the lone aspect of this movie that makes it memorable.
---
The DVD Grades: Picture B+/ Audio B-/ Bonus C
---
Dark Victory appears in an aspect ratio of 1.33:1 on this single-sided, double-layered DVD; due to those dimensions, the image has not been enhanced for 16X9 televisions. A vast improvement over the prior transfer, the new Victory DVD looked consistently positive.
Sharpness usually appeared very good. The main exceptions were intentional, as the film used "glamour lighting" for many close-ups on Davis, and those resulted in notably blurry images. Otherwise, the film only suffered from a few ill-defined shots, as the majority of the flick demonstrated nice delineation. I saw no problems with jagged edges or shimmering, but occasional edge haloes appeared.
While the original transfer was a mess, the new one offered a much cleaner experience. Grain seemed a little heavier than expected, and a few other issues popped up such as a few thin vertical lines, minor marks and blotches. Nonetheless, the defects were quite light for a film of this one's age. Blacks appeared deep and rich, while low-light shots demonstrated nice definition and clarity. The various concerns almost knocked down my grade to a "B", but so much of the movie looked so good for its era that I thought it merited a "B+".
Although the monaural soundtrack of Dark Victory didn't demonstrate as many improvements as the visual transfer, it worked a little better. Speech came across as a little edgy but usually was acceptably concise and natural. Despite some moderate muddiness, the score was fairly clear and bright, with decent definition for a recording from the late Thirties. While effects seemed slightly brittle, they usually seemed reasonably robust and offered minor low-end response. No pops or clicks appeared, but moderate hiss showed up throughout the flick. Nothing about the mix excelled, but it was fine given the flick's age.
Improvements continue when we look at the DVD's extras. In addition to the trailer that also came with the original release, we find a couple of other supplements. These open with an audio commentary from film historian James Ursini and CNN film critic Paul Clinton. Both sit together for this running, screen-specific track. Usually film historians offer biographies of the participants and production notes about the film in question. While Ursini and Clinton offer a little of that, their discussion usually strays from concrete information.
Instead, they semi-critique the flick much of the time. By "semi-critique", I mean that they occasionally discuss the flick's good and bad points, and they provide some interpretation of characters and story issues. For example, they consistently deride Bogart's casting as inappropriate, and they harp on some of the movie's unrealistic elements.
Unfortunately, we don't get much more than that. Periodic tidbits about the participants and the shoot appear, and we hear a couple neat stories like Clinton's encounter with an elderly Bette Davis. Much of the time, however, the pair do little more than narrate the movie, and a fair amount of dead air slows down the discussion. This never becomes a painful experience, but it lacks much depth.
Finally, we get a documentary called 1939: Tough Competition for Dark Victory. This nine-minute and 30-second program includes remarks from Clinton, Ursini, film critic John Anderson, and author and film historian Rudy Behlmer. They discuss the stellar roster of flicks that came out in 1939 and Victory's place in that spectrum. They chat about its prominence at the time, Davis' performance and career, tidbits about the other actors, cinematography and score, and its legacy among the other 1939 classics. Some material repeats from the commentary, but this proves to be a decent overview of the Victory.
A weepy, maudlin chick flick, Dark Victory offers little to make it stand out from the crowd. However, an exceptional - if somewhat off-putting - performance from Bette Davis makes it more interesting than most movies in the genre. The new DVD presents very good picture with decent audio and a few modest extras. Give it a look for Davis' work but don't expect anything else from it.
Should fans who own the old DVD get the new one? Definitely. This one presents a vastly improved transfer and also slightly stronger audio along with a few moderately useful supplements. The new DVD really bettered its predecessor and clearly merits an upgrade.
| | |
| --- | --- |
| Viewer Film Ratings: 4.2857 Stars | Number of Votes: 7 |