UNIVERSAL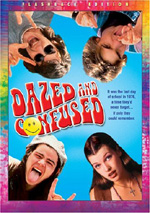 MOVIE INFO
Director:
Richard Linklater
Cast:
Jason London, Rory Cochrane, Wiley Wiggins, Sasha Jenson, Michelle Burke, Adam Goldberg, Anthony Rapp, Ben Affleck, Matthew McConaughey, Parker Posey
Writing Credits:
Richard Linklater
Tagline:
1976 was a time they'd never forget ... If only they could remember ...
Synopsis:
This critically acclaimed cult favorite written and directed by Richard Linklater (School Of Rock), explores the last day of school - and one wild night - in the lives of high school students in 1976. Complete with bongs and bell bottoms, macramé and mood rings, and featuring classic rock music by Aerosmith, Black Sabbath, and KISS, this superb ensemble cast of up-and-comers (Ben Affleck, Matthew McConaughey, Parker Posey and Jason London) delivers an enduring film that Rolling Stone called "spectacularly funny!" 1976 was a time they'd never forget ... if only they could remember ...
Box Office:
Domestic Gross
$7.993 million.
MPAA:
Rated R


DVD DETAILS
Presentation:
Widescreen 1.85:1/16x9
Audio:
English Dolby Digital 5.1
English DTS 5.1
French Dolby 2.0
Subtitles:
English
French
Spanish
Closed-captioned

Runtime: 103 min.
Price: $19.98
Release Date: 11/2/2004

Bonus:
• Deleted Scenes
• "The Blunt Truth"
• Retro Public Service Announcements
• Production Notes




PURCHASE @ AMAZON.COM

EQUIPMENT
Sony 36" WEGA KV-36FS12 Monitor; Sony DA333ES Processor/Receiver; Panasonic CV-50 DVD Player using component outputs; Michael Green Revolution Cinema 6i Speakers (all five); Sony SA-WM40 Subwoofer.


RELATED REVIEWS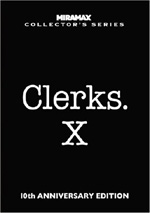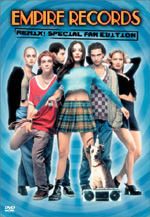 [an error occurred while processing this directive]
---
Dazed And Confused: Flashback Edition (1993)
---
Reviewed by Colin Jacobson (November 10, 2004)

With his debut Slacker in 1991, director Richard Linklater looked at unambitious youngsters in then-modern Texas. 1993's Dazed and Confused jumps back to his youth with a glimpse of high school life in the Seventies.

Set on the "last day of school" on May 28, 1976, we meet the students of Lee High School. The film spreads a broad net and involves many participants. However, a main focus becomes a declaration the football coach wants the players to sign. On it, they promise not to drink or use drugs. Most of the kids agree but plan to violate it immediately, but star quarterback Randy "Pink" Floyd (Jason London) resists. He doesn't think it's appropriate so he struggles with whether to sign it or to quit football.

Much of the film's action revolves around the institutionalized abuse of the rising freshmen. The kids who will be seniors the next year haze and wallop the kids who will migrate over from the middle school. When his big sister Jodi (Michelle Burke) asks the boys to take it easy on her younger brother Mitch (Wiley Wiggins), this puts a big target on his back. The seniors plan to give him special abuse when they catch him, but Mitch and his friends manage to give the boys the slip for a while. The older kids eventually paddle Mitch, so to make up for it, Pink befriends him and invites the younger boy to hang out with him and the others.

On the female side, we meet rising freshman Sabrina (Christin Hinojosa). Darla (Parker Posey) abuses her, and as part of the ritual, she needs to "propose" to a senior boy. She gets stuck with semi-nerdy Tony (Anthony Rapp), and some romantic sparks ignite.

The kids all plan to head to a party at Kevin's (Shawn Andrews) because his parents will go out of town. However, they find out about this before they leave, so they cancel their plans. This scuttles the bash and forces the kids to improvise.

The rest of the movie follows all of their shenanigans. Mostly this means we get interactions and bonding among the various parties. I suppose Dazed could offer less of a plot, but it'd be tough to do. Yeah, it gets into Pink's dilemma, but otherwise interpersonal situations dominate. Whether romantic, antagonistic, or otherwise, the film mainly concentrates on the interactions of the characters and their activities.

This could have made the movie unfocussed or meandering, but instead, it allows Dazed to feel real. Really, the lack of plot helps create a believable impression. The portrayals ring true, whereas if the flick tacked on some sort of superficial plot, it'd have been less convincing.

I also like that Dazed largely avoids the usual "coming of age" claptrap. Again, Pink's dilemma causes some themes in that area, and the movie shambles to a conclusion as he confronts his choice. Those are the weakest parts of the film, as they feel forced and artificial. I got the feeling Linklater didn't quite know how to finish the tale, so he shoved in Pink's choice and let that cap matters. It doesn't work, and it feels disconnected from the rest of the story.

Dazed and Confused works best when it just acts like a slice of life. We get a fun look at a certain period of time as well as the activities and concerns of teens. The movie presents a serious American Graffiti vibe, just set in a different era. Its appropriate looseness works for it and makes it a lively, amusing snapshot.
---
The DVD Grades: Picture B/ Audio B/ Bonus C-
---
Dazed and Confused appears in an aspect ratio of approximately 1.85:1 on this single-sided, double-layered DVD; the image has been enhanced for 16X9 televisions. A few flaws crept nto the presentation, but Dazed usually looked good.
No real problems with sharpness occurred. A couple of minor instances of softness popped up, but they went by quickly and caused no issues. Instead, the movie mostly was accurate and concise. I saw no concerns with jagged edges or shimmering, and only minor edge enhancement appeared. Print flaws popped up occasionally, with most of them obvious in the movie's early parts. Those scenes showed more grain than usual along with some specks and grit. I saw some examples of those elements in subsequent scenes, but they showed up much less frequently, and the movie usually was clean.
Dazed went with a pretty natural palette, though with a moderately garish Seventies tone. The DVD replicated the tones well. The colors were consistently lively and fresh, with only a little runniness at times. Blacks were dense and firm, while shadows seemed concise and well developed. Too many modest issues showed up for me to give Dazed more than a "B", but it remained a pretty solid presentation.
Similar thoughts greeted the soundtracks of Dazed and Confused. The movie featured both Dolby Digital 5.1 and DTS 5.1 mixes. I noticed little to differentiate the pair, as both offered very similar audio.
Given the film's budget and scope, I didn't expect much from the soundfields, and they developed along anticipated lines. The front speakers heavily dominated, and music played the most important role up there. The film used period songs almost constantly, and they showed good stereo delineation. Effects mostly stayed in the realm of general ambience, as they offered a nice feeling of place and setting. Occasionally we got a little more than that, such as during the mailbox destruction scene, but usually we stayed with modest environmental material. The surrounds lightly supported those elements and that was about it.
Audio quality was fine. Dialogue consistently came across as natural and distinctive, with no signs of edginess or problems connected to intelligibility. Effects appeared accurate and crisp. They didn't often tax things, but they were clean. Music varied dependent on the source. Some songs appeared vibrant and lively, while some others seemed somewhat muddy and flat. The majority of the tunes appeared well defined, though. Overall, the tracks weren't scintillating but they functioned fine for this style of movie.
Only a few extras round out this "Flashback Edition". We locate nine deleted scenes. All together, they last 14 minutes and 26 seconds. We see more exposition about the antagonism between the seniors and the rising freshmen, and there's also a snippet that makes Benny look like a racist. There's also some general chatter among various groups of girls as well as more at the movie-ending party. Only the clip where Benny complains about Asians really needed to get the boot, as it changed the tone of the film. The rest of the stuff seems decent but probably was cut for time and redundancy.
The Blunt Truth goes for four minutes, 23 seconds. It presents a fake anti-marijuana film. At best it's cute, but it's not very interesting.
Two retro public service announcements appear. We get "VD Is For Everybody" and "Crying Indian", two TV spots from the Seventies. Anyone who grew up in the era will remember the anti-pollution commercial with the Indian, but the VD one is new to me. Finally, text production notes discuss Linklater's personal inspirations for the film and its music. The information's decent but brief.
The DVD opens with some Previews. These include ads for Quantum Leap, Seed of Chucky, and the new DVDs of Billy Madison and Happy Gilmore.
Scads of movies have looked at the shenanigans of teenagers, so its focus doesn't make Dazed and Confused special. What helps it stand out from the crowd? Its looseness, lack of artificial emphasis on plot, and its casual humor allow it to rise above the usual genre restrictions. The DVD presents pretty good picture and audio but skimps on extras. It includes some decent deleted scenes but otherwise comes without substantial supplements. Nonetheless, it's a fun flick and worth a look.
| | |
| --- | --- |
| Viewer Film Ratings: 4.7083 Stars | Number of Votes: 24 |