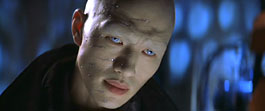 Die Another Day appears in an aspect ratio of approximately 2.40:1 on this single-sided, double-layered DVD; the image has been enhanced for 16X9 televisions. Much of Day looked fine, but given the film's recent vintage and high profile, it demonstrated a weaker transfer than I expected.
Sharpness presented some decidedly erratic images. Significant parts of the movie came across as detailed and accurate. However, many wide shots looked surprisingly soft and indistinct. Even a few close views appeared less than well defined, as more than a few segments betrayed a moderately fuzzy appearance. A lot of this occurred due to some edge enhancement that marred a fair amount of the movie. Haloes didn't pop up constantly, but they showed up enough to create some problems. Print flaws didn't seem heavy, but they were more prominent than I'd anticipate from such a new flick. I saw sporadic examples of specks and grit throughout the movie. In addition, the image seemed a little noisy at times.
With its stylized palette, Day offered a pretty varied palette. For the most part, the colors looked nicely vivid and lively. They came across as tight and distinctive and showed no issues related to noise, bleeding or other issues. Black levels also appeared deep and rich, while shadows were appropriately heavy but not overly dense. Overall, the image showed some attractive elements, but between the softness and the minor flaws, Die Another Day offered a disappointingly problematic transfer.
A rarity for an MGM DVD, Die Another Day included both Dolby Digital 5.1 and DTS 5.1 soundtracks; I believe that Hannibal was the first and only prior MGM disc with DTS. 99 percent of the time, I prefer DTS to Dolby or I think the two seem essentially the same. Part of that ever-so-rare one percent, I found the Dolby Digital track of Day to sound the best. I'll discuss it first and then relate why I liked it better than the DTS one.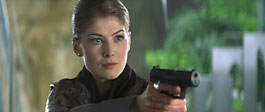 As one might expect, Day presented a very lively and active soundfield. The mix used all five speakers to terrific advantage. Various forms of effects popped up all around the spectrum, and they mixed together neatly and concisely. Elements moved among the speakers smoothly. The surrounds added a great deal of information, especially during the movie's many action sequences. The opening chase in the minefield made fine use of the track, and the battle in the laser room also brought the movie to life very well. The soundtrack seemed appropriately vivid and involving.
Audio quality appeared positive. Speech came across as natural and distinctive, and I noticed no problems with intelligibility or edginess. Music was bright and dynamic, as the score came across with good fidelity. Effects worked especially well, as those pieces were clean and accurate. All elements showed clear highs and deep, intense bass response.
How did the DTS track differ? In a reverse of the usual pattern, I thought it seemed a bit less dynamic when compared to the Dolby mix. The DTS audio showed less rich bass and didn't pack quite the same punch. In addition, highs came across as slightly shrill at times, whereas the Dolby version sounded smoother and more natural. The differences didn't appear enormous, but I thought the Dolby track offered the superior auditory experience.
Footnote: Day does not consistently include the film's original "burned-in" subtitles. When it presents location names and Korean translations, it uses player-generated subtitles most of the time. A few burned-in bits show up, mostly toward the end of the film. However, most of the subtitles come from the player and aren't affixed to the movie itself.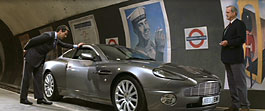 The first-ever two-DVD Bond release, Die Another Day includes a substantial roster of extras. On Disc One, we start with two separate audio commentaries. The first features director Lee Tamahori and producer Michael G. Wilson, both of whom sit together for this running, screen-specific piece. A lively track, the pair cover a lot of ground. Tamahori dominates the commentary and he brings a fresh tone to this discussion of his first Bond flick. Not surprisingly, technical elements occupy much of the piece, as we hear a lot about effects, stunts, gadgets, sets, locations, visual design and other components of that sort. We also get some notes about casting the actors, working in John Cleese as the new "Q", Brosnan's stunt work, and some story issues. The track moves quickly and fills the space well. This isn't one of the best Bond commentaries I've heard – I think that Roger Spottiswoode's discussion of Tomorrow Never Dies remains my favorite – but it seems informative and satisfying.
The second commentary presents actors Pierce Brosnan and Rosamund Pike. The pair offer separately recorded running, screen-specific tracks that are edited together for this piece. The track starts with just Brosnan. Following the logical course, Pike doesn't show up until the point when her character appears on screen. She and Brosnan both offer comments for the rest of the film.
Though it suffers from a few more gaps than I'd like, it provides a generally entertaining and informative chat about the film. Brosnan gives us some nice insight into the world of Bond and his work on the series. He relates some of the character and physical challenges and he also speculates on the future of the series after his departure. Pike presents some very nice comments. As a Bond neophyte, she reflects upon her casting and indoctrination into the series, and she relates good anecdotes and reflections about her experiences. Overall, the actors' commentary works well and gives us a worthwhile examination of the film.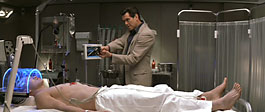 Also on DVD One, we get the MI6 DataStream. This offers a trivia track with a difference: in addition to the normal text, 19 times during the film the screen alters to show some video material. For the standard trivia part of it, we get lots of nice notes about the movie. Created by John Cork – the co-author of James Bond: The Legacy - we learn about diverse elements such as locations, connections to other Bond flicks, stunts, technical effects, story points and many other pieces. It's a nicely informative piece.
The "video streaming" moments offer extra details in the same vein. For these, the movie itself shrinks to about 1/6th of the screen, and the other footage fills most of the rest. We learn about story developments, acting challenges, fencing training, the creation of effects, and a number of other bits. We get shots from the set along with interviews clips with model effects supervisor John Richardson, writers Neil Purvis and Robert Wade, actors Pierce Brosnan, Judi Dench, Halle Berry, Rick Yune, Toby Stephens, Rosamund Pike, Michael Madsen, and Samantha Bond, makeup supervisor Paul Engelen, costume supervisor Lindy Hemming, workshop supervisor Nick Finlayson, and special effects supervisor Chris Corbould. I would have preferred a format like the "follow the white rabbit" deal found during The Matrix, as that gives the viewer a choice to skip segments and it interferes less with the presentation of the film; it's virtually impossible to watch the movie in a coherent manner with the "DataStream" active. Nonetheless, I like the information presented and think it's a fun way to learn more about the flick.
Now we go to DVD Two, where we open with a documentary called Inside Die Another Day. Unfortunately, this doesn't present one coherent program. Instead, it consists of seven featurettes that can be linked via the "Play All" option; they progress in chronological order to follow the film in the order events appear on screen. That means we open with information related to the surfing stunt and go from there.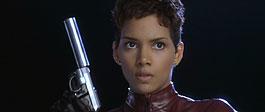 Clocking in at 81 minutes and 40 seconds combined, the documentary mostly includes behind the scenes footage and interviews, though a smattering of movie clips show up as well. We hear from director Lee Tamahori, actors Pierce Brosnan, Halle Berry, Rosamund Pike, Toby Stephens, Rick Yune, John Cleese, and Colin Salmon, specialist surfers Darrick Doerner and Dave Kalama, surfing coordinator/specialist surfer Laird Hamilton, additional unit director Don King, camera operators Sonny Miller and Michael Graber, executive producer Anthony Waye, co-stunt coordinator George Aguilar, producers Barbary Broccoli and Michael G. Wilson, second unit director Vic Armstrong, writers Robert Wade and Neil Purvis, costume designer Lindy Hemming, Justin Llewelyn, the son of former "Q" actor Desmond, production designer Peter Lamont, construction manager Paul Hayes, production manager Terry Bamber, location production supervisor Chris Brock, safety consultant David Rootes, workshop supervisor Andy Smith, visual effects supervisor Mara Bryan, editor Christian Wagner, and composer David Arnold.
Through the seven featurettes, we learn about a mix of subjects. As noted, the program starts with information about the flick's opening surfing stunt, and then we go through the hovercraft sequence, the challenges of Bond for Brosnan and his blown knee, Zao's character and physical appearance, shooting in Spain for Cuba and weather issues there, Jinx's entrance, the new "Q", creating the ice hotel, staging the ice car chase, digital effects, editing, the score.
While I didn't much care for the multi-featurette format of "Inside", the information seemed quite good. The presentation made the program less integrated than I'd like, but it still came across in a logical manner that allowed us to get a reasonable recap of the production. Many useful notes popped up along the way, and I learned a lot about the flick. I especially liked Wagner's notes about editing, as he elaborated on the processes quite well. "Inside" didn't substitute perfectly for a true documentary, but it covered its topics pretty nicely.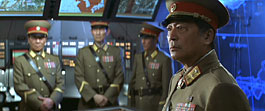 Next we move to the "Mission Deconstruction" domain. This includes Scene Evolutions, a way to look at two different segments: the "Hovercraft Chase" and the "Car Battle". You can use your angle button to flip between storyboards and a storyboard/final shot comparison. It's a decent way to check out this material.
Interaction Sequences gives us more multi-angle information. It covers four different scenes: "Hovercraft Chase", "Blades", "Car Battle" and "Antonov Fight". We can flip through four various camera angles or watch one screen that shows all of them. I like this kind of feature, as it provides a revealing way to examine the staging of a scene. In a nice touch, each of the angles shows the frame rate, lens choice and exposure setting for that camera.
In Title Design, we find a featurette that examines the creation of the opening credits. It traces the evolution of the various shots and their integration. Presented as visuals with no audio other than music, it would have been nice to hear comments about the information, but I still enjoyed this bit-by-bit deconstruction of the complex sequence.
The final component of "Mission Deconstruction", Digital Grading examines computer-executed color correction. We hear from post-production supervisor Michael Solinger as he discusses the process. He offers a good examination of this field and what he needed to do for Die Another Day. The splitscreen comparisons nicely help illustrate the work as well.
After this we go to the Equipment Briefing section. Narrated by a faux "Q", this gives us short clips with specs and information for the following gadgets: "Surfboard (with special modifications", "Standard Issue Watch", "Switchblade Personal Jet Glider", "Ultra-High Frequency Single Digit Agitator Unit", and "Aston Martin V-12 Vanquish". Not much real substance appears here, but it gives us a decent examination of the movie's most prominent toys.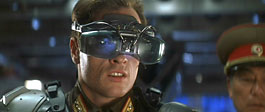 Within the Image Database we discover a collection of stills. The disc divides these into five sections: "Cast Portraits" (38 photos), "Special Shoot" (49), "Sets and Locations" (73), "Stunts and Special Effects" (43), and "Vehicles and Gadgets" (23). The DVD allows you to check these out in their individual sections or together via the "Play All" option. This is a nice sample of photos.
Lastly, the "Ministry of Propaganda" section includes a mix of materials. Trailers & TV Spots presents two theatrical "teasers" plus one full trailer. We also get eight TV ads. Presented as one long running piece, you can skip from one to the next via chapter search.
After this we get the music video for Madonna's theme song. Unusually violent for a music video, the clip nonetheless seems unusually good for a piece related to a movie. Unlike most, it includes no shots from the film itself, though we do get some well-integrated and sly bond references. Mostly it alternates scenes in which military thugs torture Maddy and those in which she stages a fencing match against herself. The song remains lackluster for Madonna, but the video delivers the goods.
For more information about that subject, we shift to The Making of Madonna's "Die Another Day". This featurette includes a few soundbites from Maddy and the clips' director, but we mostly watch footage from the shoot. It's a cool way to see how the complex video came together.
Another Bond product gets coverage next. We find a trailer for the 007: Nightfire videogame plus a featurette about The Making of 007: Nightfire. We hear from MGM Interactive VP Neil Haldar and producer Joel Wade. A few interesting notes about level design emerge, but essentially this program exists just to promote the game.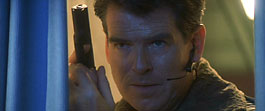 A few more ads pop up in the Other Great MGM Releases section. Here we find trailers for Evelyn, the "Director's Edition" of Windtalkers, Agent Cody Banks, and Bulletproof Monk.
Both discs one and two include the same DVD-ROM materials. These simply include links to sites for MGM and Bond. The latter promises "exclusive" pieces, but as I write this, there's not much there. It provides a fairly fun trivia game but not much else. Perhaps the site will expand when the DVD formally hits the shelves.
Inside the DVD's package we get a decent four-page booklet. It tosses in some production notes but not much else.
I've often commented that mediocre Bond still works well, and that applies to Die Another Day. The film comes across as a moderate disappointment because it shows more promise than most Bond flicks, but it still seems like a reasonably satisfying entry in the series. The DVD provides terrific sound and a very nice roster of extras, but it suffers from surprisingly spotty visuals. I still recommend the DVD because it's generally a solid package, but the flawed image quality makes me less enthusiastic about the release.