Reviewed by Colin Jacobson (August 29, 2008)

DIRTY HARRY: "With 1971's Dirty Harry, one of the screen's most iconic characters made his debut. I can't say he did so in grand fashion, as Harry doesn't provide stellar filmmaking but it does act as a reasonably compelling action drama."

MAGNUM FORCE: "The "Dirty Harry" franchise takes a steep decline with the limp, ineffective Magnum Force. Among other problems, the film tames its lead character and suffers from a dull story."

THE ENFORCER: "1976's The Enforcer doesn't stand as the best "Dirty Harry" flick, but it's not the worst. Although it falters at times, it manages to create a generally involving story bolstered by better than usual chemistry between its leads."

SUDDEN IMPACT: "One of the most successful "Dirty Harry" movies, Sudden Impact also stands as possibly the most three-dimensional of the bunch. It seems inconsistent and often comes across like two barely-connected movies combined into one, but I admire it for trying something ambitious."

THE DEAD POOL: ""Dirty Harry" Callahan makes his final film appearance via 1988's The Dead Pool. The movie entertains to a moderate degree, but it doesn't provide a particularly strong cinematic experience."
The Bonus Disc: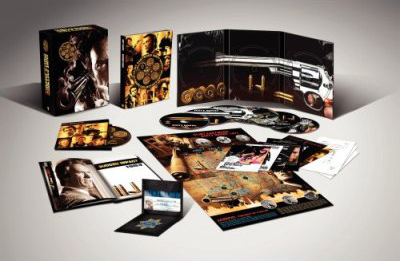 With the seven-DVD "Dirty Harry Ultimate Collector's Edition", we get to investigate Clint Eastwood's most famous onscreen character. The "Ultimate Collector's Edition" includes the five "Dirty" Harry Callahan flicks from 1971 to 1988. It also presents a new bonus disc. For full information on the individual movies, please consult my separate reviews of 1971's Dirty Harry, 1973's Magnum Force, 1976's The Enforcer, 1983's Sudden Impact and 1988's The Dead Pool via the links above. Please note that the picture and sound grades found at the top of this article represent an average for the five movies, whereas the "bonus" grade solely reflects the materials reviewed here. (Confusing, isn't it?)
Though this article covers the boxed set as a whole, here I want to concentrate mainly on the package's seventh DVD as well as its non-disc-based materials. The bonus disc presents a 2000 BBC documentary called Clint Eastwood: Out of the Shadows. In this one-hour, 26-minute and 44-second show, we find archival elements, movie clips and interviews. Narrated by Morgan Freeman, we hear from Eastwood, novelist/screenwriter William Goldman, actor/director Forest Whitaker, critics Pauline Kael and Janet Maslin, writers Nat Hentoff and Walter Mosley, directors Sergio Leone, Martin Scorsese, Don Siegel, Bertrand Tavernier, and Curtis Hanson, mother Ruth Wood, critic/biographer Richard Schickel, assistant director Tonino Valerii, author Richard Slotkin, director/stunt coordinator Buddy Van Horn, former WB Distribution president Barry Reardon, WB Senior VP Publicity Joe Hyams, editor Joel Cox, composer Lennie Niehaus, director of photography Jack N. Green, casting director Phyllis Huffman, wife/TV journalist Dina Ruiz Eastwood, and actors Donald Sutherland, Meryl Streep, Eli Wallach, Dani Janssen, James Garner, Rip Torn, Richard Burton, Geoffrey Lewis, John Wayne, Bill McKinney, and Gene Hackman.
The program looks at Eastwood's childhood and influences, his move into acting and his early career, aspects of his personal life, and his development as an actor and a filmmaker. As a general career overview, "Shadows" proves quite satisfying. Of course, it rips through Eastwood's life and work at a rapid pace, but it can be acceptably deep and introspective at times. The documentary succeeds in the way it covers all these elements, and it also entertains along the way; the clip of Rip Torn as a Rawhide Indian is worth the price of admission alone.
All of the other components in the "Ultimate Collector's Edition" consist of non-disc-based elements. An insert card offers A Personal Message From Clint Eastwood. In this text, the actor/director tells us how he got the Harry Callahan part and welcomes us to the boxed set. I wouldn't call this a valuable piece, but it's a classy opening.
A hardback book covers all five "Dirty Harry" movies. It presents basic facts about each one as it goes through "body counts", Harry's partners, the various villains, and memorable quotes. The book also provides photos from the flicks and a few other minor notes. Though not bad, the text is actually a bit of a disappointment, as I hoped it'd give us more substance about the flick; it remains consistently superficial.
For something quirky, we find a Harry Callahan Replica Wallet. Don't plan to carry money in it, as it just opens up to show Harry's badge and his ID. It's borderline useless but cute.
More interesting are the 14 Poster/Communications Cards. The advertising materials come on glossy paper and offer small but nice reproductions of the promos. In the other cards, we find telegrams, press releases and other relevant communications. Most of these address Dirty Harry subjects like Frank Sinatra's interest in the film, but we also find Eastwood's note of thanks to the WB folks after the success of Sudden Impact. All are fun to see.
Finally, a Dirty Harry Events Map shows where all the movie's significant events occurred. It takes us around the Bay Area to get a better idea of the geography. The presentation seems somewhat disjointed and messy, but it's a cool idea that receives acceptable exploration.
After 37 years, "Dirty Harry" Callahan maintains a good fan base, one strong enough for this elaborate package. The quality of the five films bobs about, so don't expect great consistency, but they usually provide reasonable entertainment. Picture and audio quality are also erratic, but the films tend to come across fairly well. The extras are less compelling, unfortunately, mostly due to audio commentaries that usually aren't very good. This "Ultimate Collector's Edition" adds a few interesting components, though.
Purchased separately, the five movies would cost $80.90 MSRP, while the "Ultimate Collector's Edition" goes for $74.98. If you want all the films, it's obviously the way to go. I'm not enough of a fan to want the whole magilla, but I think it's a nice set.