SHOUT FACTORY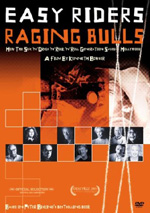 MOVIE INFO
Director:
Kenneth Bowser

Writing Credits:
Peter Biskind (book), Kenneth Bowser
Tagline:
How the Sex Drugs and Rock 'n' Roll Generation Saved Hollywood.
Synopsis:
This 2 DVD set is Kenneth Bowser's BBC-produced documentary of Peter Biskind's controversial, best-selling book. It chronicles the evolution of a new breed of filmmaker who, in the late '60s and '70s, exploded old Hollywood, in the process redefining the very nature of movies. The results were edgy, impressionistic pictures - The Godfather, Easy Rider, Mean Streets, Midnight Cowboy, Rosemary's Baby, Taxi Driver - by maverick, now-legendary directors: Scorsese, Coppola, Lucas, Altman, Polanski, Peckinpah.
In bringing the celebrated book to the screen, director Bowser employed some adventurous filmmaking of his own. Narrated by William H. Macy, Easy Riders, Raging Bulls features vintage clips of the directors who defined the movement; original interviews with such directors as Arthur Penn and John Milius, actors such as Peter Fonda and Richard Dryfus and more.
MPAA:
Rated NR


DVD DETAILS
Presentation:
Widescreen 1.78:1/16x9
Audio:
English Dolby 2.0
Subtitles:
None
Not Closed-captioned

Runtime: 118 min.
Price: $24.98
Release Date: 5/11/2004

Bonus:
• "More Sex, Drugs and Rock & Roll" Documentary




PURCHASE @ AMAZON.COM

EQUIPMENT
Sony 36" WEGA KV-36FS12 Monitor; Sony DA333ES Processor/Receiver; Panasonic CV-50 DVD Player using component outputs; Michael Green Revolution Cinema 6i Speakers (all five); Sony SA-WM40 Subwoofer.


[an error occurred while processing this directive]
---
Easy Riders, Raging Bulls (2003)
---
Reviewed by Colin Jacobson (May 21, 2004)

Many regard the Seventies as the last golden age in cinema. Clearly the BBC documentary Easy Riders and Raging Bulls subscribes to that theory, and it gives us a look at all the movers and shakers who led to the resurgence of film in the era. Based on a book by Peter Biskind and narrated by William H. Macy, the project purports to examine the following cinematic notables: Martin Scorsese, Dennis Hopper, Peter Bogdanovich, Sam Peckinpah, Warren Beatty, Robert Altman, Arthur Penn, Jack Nicholson, Francis Ford Coppola, Steven Spielberg, and George Lucas.

It does so via archival materials, movie clips, and new interviews. We hear from actor/director Dennis Hopper, writer/director Peter Bogdanovich, producer Tony Bill, Variety editor-in-chief and former Paramount VP Peter Bart, writer/director Paul Schrader, actor producer/director Arthur Penn, screenwriter David Newman, editor Dede Allen, producer/director Roger Corman, cinematographers Laszlo Kovacs and Vilmos Zsigmond, costume designer/production designer/writer/producer Polly Platt, writer/director Henry Jaglom, actors Richard Dreyfuss, Peter Fonda, actresses Jennifer Salt, Karen Black, Ellen Burstyn, Margot Kidder, Cybill Shepherd, actor/musician Mickey Dolenz, producer Jerome Hellman, former UA vice president David Picker, producer Charles Mulvehill, producer Mike Medavoy, writer/director John Milius, screenwriter Gloria Katz, screenwriter Willard Huyck, script supervisor Joan Tewkesbury, singer/songwriter/actor Kris Kristofferson, former Paramount president Stanley Jaffe, writer/producer Albert S. Ruddy, producer Michael Phillips, screenwriter Mardik Martin, producer Jonathan Taplin, screenwriter Rudy Wurlitzer, and writer Carl Gottlieb.

In addition to the new comments, we get some archival interviews. For those materials, we discover notes from directors Roman Polanski, Warren Beatty, Martin Scorsese, Francis Ford Coppola, George Lucas, Dennis Hopper, and producer Julia Phillips.

Riders starts in the mid-Sixties as it looks at the collapse of the studio system, financial problems and the dearth of creativity. We hear about the feeling of revolution that started with foreign films and the French New Wave as well as the influence on Americans. This leads directly to the writing of Bonnie and Clyde.

The film covers Roger Corman's "training grounds" for young directors and the markets his films served. With Clyde, the "B"-movie crowd and studio flicks coalesced. We then hear about Bogdanovich's start with Corman, troubles at Paramount and the arrival of Robert Evans and Peter Bart, who then brought in Roman Polanski for Rosemary's Baby.

We met hip producer and Columbia executive Bert Schneider plus his partner Bob Rafelson. Both of them created the Monkees, and they used that series' success to lead to 1969's Easy Rider. We also learn about the development of Midnight Cowboy at United Artists and then get notes on Sam Peckinpah and The Wild Bunch.

Next Riders depicts some down moments during this positive period via the Manson killings of Polanski's pregnant wife Sharon Tate and others, but it then shows the development of Francis Ford Coppola and George Lucas. We see the rise and fall of Coppola's American Zoetrope production company before we go into the creation of Bogdanovich's The Last Picture Show. Here we check out the affair between Bogdanovich and actor Cybill Shepherd.

The program briefly noted Robert Altman previously, but we learn more when we explore his pairing with Beatty on McCabe and Mrs. Miller. We also hear of Hopper's flop with The Last Movie before we get into the development of The Godfather. Hal Ashby and his quirky Harold and Maude shows up next, and we then get information about Lucas's renewal with the sleeper hit American Graffiti in 1973.

After this the program covers the southern California social network of male directors more obsessed with movies than women. This group includes Scorsese and Spielberg, and the show then leads into the development of the former's Mean Streets. Friedkin, Bogdanovich and Coppola create the Director's Company at Paramount, but various blossoming egos lead to its quick downfall.

Scorsese gets his first studio gig with 1974's hit Alice Doesn't Live Here Anymore, which then gets followed by notes about stumbles suffered by other directors. That changes when Spielberg hits the big time via 1975's enormously successful Jaws. 1976 brings Scorsese's seminal Taxi Driver as well, and the program then explores the evolution of the era's blockbuster mentality after Jaws.

As it heads toward its end, Riders looks at the prevalence of cocaine in the Hollywood scene and some drug casualties. We see flops like Scorsese's New York, New York and Peckinpah's Convoy before the arrival of 1977's Star Wars. The program declares it to signal the end of the "era of the director", though it briefly touches on Scorsese's classic 1980 drama Raging Bull.

Frankly, that last element feels tacked on just to satisfy the program's title. The show barely mentions the Scorsese flick and it comes across like an afterthought. Actually, a lot of the material seems superficial, but that feels inevitable. Riders only covers about 10 years, but it goes over a lot of information in that period.

This means that Riders often bites off more than it can chew. It wants to examine all of the important cinematic developments within the time period, but so much happens that the program needs to rush through much of it. This makes the result less coherent than I'd like. The show flits through the topics so rapidly that it fails to develop most of them well.

As I alluded, I don't really fault the program for those problems. For it to avoid such surface examinations, Riders would either need to restrict its focus to many fewer subjects or it would need to run much longer. 118 minutes just isn't enough to offer more than a really quick run-through of the various areas, so the program often feels more like an appetizer than a full meal.

That said, it provides a nice general overview and seems consistently entertaining and compelling. Movie fans will already feel acquainted with much of the material, but the show combines the elements fairly effectively. The interview subjects seem frank and upfront, and they help flesh out the piece.

One negative comes from the absence of so many prominent subjects. Of the 11 cinematic notables established in the film's introduction, only three of them appear in new interviews: Arthur Penn, Peter Bogdanovich, and Dennis Hopper. Since he died in the Eighties, Peckinpah couldn't appear, but the others remain alive and kicking. The program balanced them out with archival interviews, and those helped. Some of the period pieces also seemed very interesting, such as the brutally heartbreaking press conference Polanski held soon after Tate's murder.

Nonetheless, the program really could have used new information from the absent seven participants. Riders doesn't collapse due to their lack of involvement, but remarks from those folks would have given it substantially greater heft and gravity.

Ultimately, Easy Riders and Raging Bulls provides a superficial but entertaining examination of cinema's last "golden age". The program zooms through a lot of material, and that leaves it less than detailed. However, it still seems generally informative as it gives us a nice "Cliff's Notes" take on the era.
---
The DVD Grades: Picture B+/ Audio C+/ Bonus B+
---
Easy Riders, Raging Bulls appears in an aspect ratio of approximately 1.78:1 on this single-sided, double-layered DVD; the image has been enhanced for 16X9 televisions. Though it displayed some issues, given the film's genre and budget, it offered a pretty solid picture.
I didn't really factor the archival material not shot explicitly for Riders into my grade. Those elements demonstrated all sorts of flaws, but it didn't seem fair to criticize the DVD for problems with that kind of stuff. As for the new shots, they presented good sharpness. The new elements consistently looked crisp and detailed, and they betrayed no significant signs of softness. Those bits portrayed no problems with jagged edges or shimmering, and I saw no instances of edge enhancement. As for source flaws, outside of the problems with the older footage, the program showed no defects.
Not surprisingly, the DVD's palette tended toward natural tones. The movie's hues came across with positive clarity and definition. The interviews tended toward little expression of colors, but what we saw looked fine. Blacks also seemed deep and firm, while the occasional low-light shots appeared well defined and clean. In general, the picture seemed solid.
As one might expect from this sort of movie, Easy Riders and Raging Bulls presented a pretty modest Dolby Surround 2.0 soundtrack. The soundfield stayed largely monaural. Speech dominated the program and stayed well focused in the center speaker. The examples of music and effects blended decently to the sides. These played a small role in the proceedings. The surrounds echoed those elements in a minor way and didn't add much to the mix.
Audio quality was solid. Speech consistently sounded natural and crisp, with no problems related to edginess or intelligibility. Effects seemed accurate, though they were so modest that they never taxed the mix in any way. Music also sounded warm and dynamic, as the occasional bits of score were full and broad. The soundfield of Riders seemed too limited to merit more than a "C+", but the audio was more than satisfactory for this sort of project.
This two-DVD release of Riders packs some extras, all of which show up on its second platter. Actually, that disc includes only one piece: a one-hour, 42-minute and 39-second documentary called More Sex, Drugs and Rock & Roll. The program consists entirely of interviews culled from the same sessions used for the main piece. These include almost all of the folks there, as we hear from writer/director Paul Schrader, writer/director Henry Jaglom, actors Margot Kidder, Ellen Burstyn, Karen Black, Cybill Shepherd, Richard Dreyfuss, Kris Kristofferson, and Jennifer Salt, writer Rudy Wurlitzer, director Peter Bogdanovich, production designer Polly Platt, producer Michael Phillips, writer/director Joan Tewkesbury, actor/director Dennis Hopper, producer Jonathan Taplin, former United Artists VP David Picker, producer Jerome Hellman, writer David Newman, film critic Andrew Sarris, former Paramount VP Peter Bart, producer Charles Mulvehill, writer Willard Huyck, writer/director John Milius, cinematographer Gordon Willis, producer Mike Medavoy, cinematographer Vilmos Zsigmond, director Monte Hellman, and author Peter Biskind.
Each chapter looks at a different subject. We find information about the revolutionary tenor of the era and its reflection in films, use of sex and drugs and attitudes toward them in the period, the development of Midnight Cowboy, the impact of film critics, and general notes and anecdotes about directors Robert Altman, Hal Ashby, Peter Bogdanovich, Francis Ford Coppola, Dennis Hopper, George Lucas, Sam Peckinpah, Martin Scorsese, and Steven Spielberg. The program also lets "the participants strike back" at their problems with the Peter Biskind book, and we also hear from Biskind himself.
Clearly "Drugs" lacks the narrative thrust and chronological force of Riders, so it doesn't come across as another historical telling. However, the program wonderfully fleshes out the elements heard in the main show. The first few sections work fine, but the meat of the documentary comes from the notes about the various directors. We hear a fair amount about the men and some of their specific projects. For example, we get a great story about Barbra Streisand's behavior on the set of What's Up, Doc, and we also find an interpretation of the reason the new Star Wars movies include so many meetings. Tons more great material appears in this very informative and entertaining documentary. It's just as valuable – and maybe more so – than the main show.
As a movie fan, I looked forward to Easy Riders and Raging Bulls and its examination of the developments of cinema in the Seventies. The program rushes through its subjects and would benefit from a substantially longer running time, but for what it attempts, it mostly succeeds. The DVD presents quite good picture quality as well as acceptable audio and one terrific extra: a feature-length documentary that adds a lot of additional information connected to the main program. Film buffs will want to give this solid package a look.
| | |
| --- | --- |
| Viewer Film Ratings: 3.5 Stars | Number of Votes: 4 |