Picture/Sound/Extras: B+/B-/D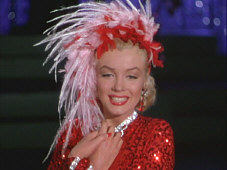 1953's Gentlemen Prefer Blondes was far from Marilyn Monroe's first film, and it wasn't even the initial hit in which she appeared. Marilyn had a small part in 1950's All About Eve, a flick that won the Best Picture Oscar for that year. However, based on a survey of her résumé, GPB seems to be Marilyn's first big success as a lead, and it was the one that firmly established her as the legend we know today.
It also strongly set a pattern for her roles that she would be unable to shake: the ditzy, greedy blonde bimbo. In GPB, Marilyn plays Lorelei Lee, a lounge singer who has gotten engaged to Gus Esmond (Tommy Noonan), a wealthy but dull Daddy's boy. It seems that Daddy is intent on stopping this union, so Esmond ships Lorelei off to France where they can soon be wed.
Along to keep her dizzy friend's excessive tendencies in check, Dorothy Shaw (Jane Russell) is Lorelei's levelheaded singing partner and friend. She thinks Lorelei needs to find something other than money to love in a man, while Lorelei believes that Dorothy should become more materialistic. Much of the film takes place on their boat cruise to France, where the two encounter a series of men and have a generally wild time before nasty reality sets in on the continent; some snags interfere with Lorelei's plans, and the duo need to set things right.
Movies like GPB pretty much define the concept of light-hearted, escapist fare, and for that kind of flick, this was a fairly entertaining piece. One shouldn't go into the film with great expectations, as they'll likely be dashed. At its heart, it's a slick and frothy piece that pops a few tunes, provides a few laughs and goes on its merry way. Is there anything wrong with that? Heavens, no; I have no objection to this sort of pleasant, insubstantial program. However, I couldn't help but think that had GPB not featured the world's most legendary sex symbol, few people would remember it.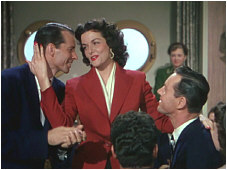 While I enjoyed GPB, I probably would have liked it better were it not for timing. Unfortunately, I watched 1959's Some Like It Hot immediately before I screened the earlier Monroe flick, and GPB simply could not compare to the delights of the more famous piece. SLIH is a legitimate classic, whereas GPB is just a fun trifle.
Still, there's nothing wrong with that, and GPB kept things loose enough to largely maintain my attention. As longtime readers know, I don't care for musicals, so I definitely could have lived without this film's various production numbers. All of them looked nicely flashy, but even the film's famous rendition of "Diamonds Are a Girl's Best Friend" left me cold; I kept wishing I were watching the video for "Material Girl" instead. At least GPB didn't go overboard with the showtunes, unlike a subsequent Monroe offering; 1954's There's No Business Like Show Business really hammered me with crummy musical bits.
Ultimately, Gentlemen Prefer Blondes provided a slight but generally entertaining experience. The movie has few genuine strengths. Its lead actresses are certainly adequate, and the supporting cast add competent performances. Director Howard Hawks moved the film along at an acceptable pace, and I had a few laughs along the way. Other than Lorelei's creepy habit of referring to her boyfriend as "Daddy" and too many showtunes, I had few complaints. GPB is a dated and features a thin plot, but it has some charms that made it a fairly fun piece.
The DVD: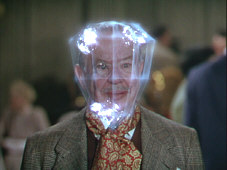 Gentlemen Prefer Blondes appears in an aspect ratio of 1.33:1 on this single-sided, double-layered DVD; due to those dimensions, the image has not been enhanced for 16X9 televisions. Though the picture occasionally showed a few concerns, as a whole it seemed positively gorgeous and looked remarkably good for a movie that will soon hit its 50th birthday.
Sharpness appeared generally positive, as most of the film presented an appropriately crisp and detailed image. However, some parts of the movie could appear slightly soft and fuzzy. I didn't feel that these were extreme concerns, but they arose during a variety of moments, and they could become mildly distracting. I detected no examples of jagged edges or moiré effects, and print flaws seemed to be wonderfully subdued. At times, the picture showed some examples of grit and speckles, but these were both infrequent and slight. Grain cropped up mainly during process shots on the boat; otherwise I thought the picture appeared to be free of that concern.
Black levels came across as nicely deep and rich throughout the movie. I didn't see any signs of muddy or cloudy tones, as the dark elements consistently stayed dense and solid. Black levels also appeared clear and appropriately thick. The low-light sequences showed no problems related to excessive heaviness, and these looked accurately portrayed.
Though not without their own concerns, colors were truly the star of this show. Shot in Technicolor, GPB offered a stunning palette of hues at times. When you first fire up the film, prepare to pick your jaw up from the floor, as the opening rendition of "Two Little Girls From Little Rock" provided absolutely stellar tones; the lush red dresses worn by Monroe and Russell and the deep blue background seemed amazingly vivid and clean.
Most of the movie continued this pattern, especially during the various production numbers. Those set pieces featured the best variety of hues, and the DVD replicated them with fine brilliance; the famous version of "Diamonds Are A Girl's Best Friend" also stood out in this regard. However, I do need to note that some flaws accompany the vibrant colors. Although they usually seemed accurate, at times skin tones could look a little red, and some fluctuation of intensity affected the colors. Although I'm definitely not an expert on this, I believe that a number of other Technicolor films of the era encountered similar problems; 1947's Black Narcissus showed a pattern that was much the same, as did Monroe's fellow 1953 piece, How to Marry A Millionaire.
What form did this problem take? Essentially I saw modest color "pulsing" at times. This meant that most of the movie alternated between a look that was a little too blue to one that seemed overly red. The tones were mild and didn't seem ridiculously exaggerated, but the effect appeared quite noticeable nonetheless. I didn't think the issue was as pronounced as during Black Narcissus, but it definitely occurred and it could be slightly distracting. Nonetheless, as a whole Gentlemen Prefer Blondes was a visual treat that deserved high marks for a largely excellent image.
While the film's Dolby Surround soundtrack doesn't quite live up to the highs of its picture, I thought it worked acceptably well for a program from this era. The soundfield showed very modest spread throughout the movie. In the front channels, I heard a little breadth to some effects, most of which operated in an ambient manner, and the music also demonstrated minor stereo imaging. Surround activity was extremely slight and really played very little role in the affair; the rear speakers may have added some atmosphere to the audio, but they essentially were not a factor. The Surround track adapted the original monaural - which also appears on the DVD - and it didn't reinvent the wheel, which was fine with me; this mix stayed essentially one-channel but it added a mild kick to the proceedings.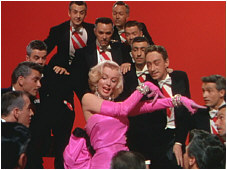 Audio quality seemed decent but erratic. Speech generally appeared relatively natural and distinct, with no problems related to intelligibility. However, some lines came across as slightly edgy at times. Effects were a bit bland but they showed reasonable fidelity; little low-end appeared but the various elements seemed acceptably clear and accurate. Music could come across as somewhat too brash and shrill - mostly due to horns - but I thought that the vocals and instrumentation remained fairly clean and crisp. Dynamics were nothing special, although the track occasionally featured some modest bass response that seemed good for the age of the material. Ultimately, Gentlemen Prefer Blondes offered an auditory experience that won't dazzle you but it won't horrify you either; the track was quite solid for its age.
Less exciting are the DVD's extras. With GPB, Fox establish the trend we'll see with all five of the Monroe movies available in the "Diamond Collection". First up is a Movietone Newsreel called "Marilyn Monroe and Jane Russell In Cement". This 45-second clip shows the two actresses as they commit their imprints to history in Hollywood. It's a cute addition but is too insubstantial to be terribly interesting.
We get a mix of publicity materials. The DVD includes both the film's "one-sheet" poster and a "one-sheet postcard", and we also discover a slew of ads. The disc tosses in the theatrical trailer for GPB plus trailers for all four of the other Monroe movies that are part of the "Diamond Collection": How to Marry a Millionaire, Bus Stop, The Seven Year Itch, and There's No Business Like Show Business. We also get a promo for the "Diamond Collection" as a whole.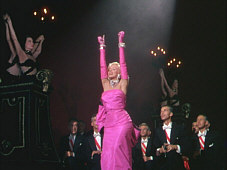 Lastly, this DVD features a Restoration Comparison. In one part of this 130-second piece, we see a contrast between the film restoration and a combination of film and video restoration, while the rest of it demonstrates the differences between the film/video restoration and the old video master. The comparison is most distinct in the latter instance, mainly because the new transfer cleaned up a lot of flaws. Frankly, I usually think these sorts of demonstrations seem fairly self-congratulatory, but they're somewhat interesting at times.
Gentlemen Prefer Blondes doesn't deserve consideration as a film classic; it's mainly memorable because of its legendary star, Marilyn Monroe. Nonetheless, I thought it was a moderately entertaining and winning piece that kept me interested for most of its running time. The DVD offers truly fine picture and good sound, though it skimps on extras. Despite the latter drawback, this was still a solid DVD that will be greatly enjoyed by Monroe fans.
Note that Gentlemen Prefer Blondes can be purchased on its own or as part of Fox's Marilyn Monroe "Diamond Collection" set. The latter includes four other movies - How to Marry a Millionaire, Bus Stop, The Seven Year Itch, and There's No Business Like Show Business - plus a sixth DVD, a documentary called Marilyn Monroe: The Final Days. That disc only appears as part of "The Diamond Collection", a package that's really a steal for Monroe fans; in addition to the bonus DVD, it costs only $99.98 list as opposed to a total of $124.90 for the five films on their own. Granted, you'd need to really love Marilyn to want that much of her material, but if you fall into that category, it's a great idea.