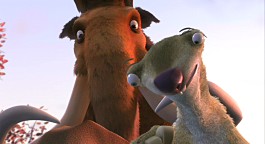 Ice Age appears in both an aspect ratio of approximately 1.85:1 and in a fullscreen version on this single-sided, double-layered DVD; the widescreen image has been enhanced for 16X9 televisions. Only the letterboxed picture was reviewed for this article. While not quite on a par with the amazing quality seen on DVDs for Pixar flicks, Ice Age presented a generally excellent image.
Sharpness appeared terrific. At all times, the material remained distinct and accurate. I noticed no signs of softness during this detailed and crisp presentation. Jagged edges and moiré effects created no concerns, and I also detected no examples of edge enhancement. As for print flaws, I saw none. I don't know if this picture came from a film print or from a digital transfer, but it seemed immaculate, with no instances of any kind of defects.
Ice Age featured an earthy, natural palette, and the colors consistently looked fine. The various hues came across as warm and vibrant, and they showed no problems related to noise, bleeding, or other concerns. Black levels seemed deep and dense, but I thought shadow detail looked a little heavy at times. For example, the tiger attack on the human village appeared somewhat too thick. However, this might simply have been a question of personal taste and not an issue related to the transfer itself. In any case, Ice Age looked wonderful as a whole.
While I expected terrific visuals – after all, how many computer-animated blockbusters don't look amazing on DVD? – I didn't anticipate a soundtrack quite as excellent as the Dolby Digital 5.1 mix of Ice Age. This active track made marvelous use of all five channels. It placed elements appropriately and showed very positive localization and blending. For example, one scene featured a waterfall on the left side of the screen. The roaring water neatly occupied both the front left and rear left speakers, which made it nicely involving.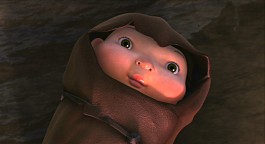 Different elements also moved cleanly from channel to channel. Whether side to side or front to rear, those pieces meshed together seamlessly. The whole package blended neatly and presented a lively and engaging soundfield that really helped embellish the film.
Audio quality also came across as solid. Speech seemed natural and warm, and I noticed no issues related to intelligibility or edginess. Music sounded reasonably vivid and dynamic. I felt the score needed a little more oomph at times, but it usually offered a rich representation of the material. Effects also packed a nice punch. At times, I questioned whether Manny's footsteps seemed too gentle; they didn't provide the loud bass response I expected. However, I felt this probably occurred as a design decision; since Manny played such a heavy role in the film, it'd become distracting to constantly hear those stomps. Otherwise, low-end material sounded deep and resonant. To my surprise, the audio of Ice Age lived up to the visuals, as the sound provided a very fine addition to the project.
Ice Age earned the deluxe special edition treatment on DVD, and the set starts with an audio commentary on disc one. It includes director Chris Wedge and co-director Carlos Saldanha, both of whom sat together for this running, screen-specific piece. Overall, this seemed like a good but unspectacular track. At the start, Wedge heavily dominated the piece, but Saldanha became much more involved as it progressed. Both provided some nice notes about topics such as why the film opened with Scrat, changes to the original script and other alterations made during the production, and different animation challenges. Unfortunately, quite a lot of the track consisted of simple praise for the film and its participants, and this watered down the proceedings noticeably. As a whole, the commentary gave us some good information about the production, but too much happy talk made it less compelling than it should have been.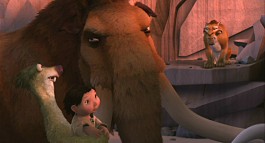 Within the Games domain on DVD One, we find three different contests. "Hide and Eek" offers a very simplistic test in which you have to find Scrat's lost acorn. It requires no skill and just makes you guess randomly. "Frozen Pairs" seems more challenging, as you must select a match for different movie characters; you choose from three images that nearly replicate a model. It's not great, but it's a little fun. "Playing Darwin" has you manipulate body segments of different film animals to match all three. When you finish a character, you get some basic information about that species. Though easy, this game seems like the best of the bunch since it actually offers a modest reward for accurate completion.
DVD-ROM users will find some additional Ice Age stuff. "Sid Shreds" offers an arcade snowboarding game. I never played any of the Tony Hawk videogames, but I imagine this one "borrows" from it. The content seemed pretty lame – when I got it to work, that is. It frequently crashed, and the game appeared lackluster even when it functioned properly. I saw some of the worst clipping problems I've ever witnessed; Sid usually looked buried in the snow!
Another game appears as well. "Super Dodo Ball" seems less ambitious than "Sid Shreds", but at least it works. You try to collect melons and avoid/attack dodos. It doesn't go much of anywhere, but after the clumsy and frustrating "Shreds", it comes across as a little more entertaining.
"Printables" lets you create a number of Ice Age items with your printer. You can produce a mobile, a 2003 calendar, a boardgame, a paper doll, snowflake ornaments, a puppet playhouse, and an activity book with some puzzles. This seems like a rich and useful selection of materials for kids. I found myself rather impressed with the breadth of the "Printables"; usually those kinds of features offer little of use, but this area appears chock full of neat items.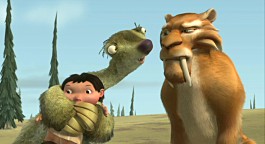 Also on DVD One we found the THX Optimizer program. It purports to help you set up your home theater to best present the movie on the disc in question. Apparently the Optimizer is unique for each DVD on which it's included; unlike programs such as Video Essentials, the Optimizer should tweak your set-up differently every time. Frankly, I've been very happy with my already-established calibration and I'm afraid to muck with it, so I've never tried the Optimizer. If you lack calibration from Video Essentials or a similar program, or if you're just more adventurous than I, the Optimizer could be a helpful addition.
On DVD Two, we get lots of additional materials. Referred to as Scrat's Missing Adventure, we find a new animated short called "Gone Nutty". Scrat the squirrel again obsesses over acorns in this cute and inventive cartoon. Presented anamorphic 1.85:1 with Dolby Digital 5.1, "Nutty" lasts four minutes and 48 seconds.
More animation appears in a collection of six Deleted Scenes. Each of these runs between 48 seconds and 141 seconds for a total of eight minutes and 38 seconds of footage. Most offer fairly complete animation, though one - "Sabre Stake Out" – remains pretty rough. Sid features prominently in all but one of the clips, and we see a few alternate introductions to that character. Overall, these scenes seem interesting to see.
One can watch the deleted scenes with or without commentary from Wedge and Saldanha. They provide some general information about the segments and – more importantly – they tell us exactly why the snippets failed to make the final cut. The commentary offers some useful information and seems better focused than the material the men offered during the main film.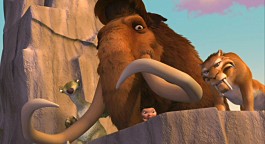 Sid on Sid lasts three minutes, 12 seconds and provides a clever spoof of the traditional audio commentary. We see Sid as he watches parts of the movie and gives us behind the scenes notes about them. Voiced by Leguizamo, the snippet is short enough that it doesn't wear out its welcome, so this adds a fun touch to the set.
For something a little different, check out Scrat Reveals. This section offers three interstitials that I guess appeared on Fox TV. In each short clip, Scrat does something that causes the ice to reveal the Fox logo. It's an odd little piece, but it's sort of interesting.
To satisfy your more technical urges, take a look at the Animation Progression. This area includes three different scenes and lets you watch them from five angles each. You can look at "Opening", "Tigers Attack", and "Almost Home". As for the various angles, those cover "Storyboards", "3D Layout", "Un-rendered Animation", "Final Render", and "Composite of all stages listed above". I liked the latter angle the best, as it let me easily examine all three stages at the same time. This fun extra helped demonstrate the varying levels of animation and seemed compelling.
If you wonder what Sid sounds like in Swedish, move to International Ice Age. The two-minute and 52-second clip offers bits translated into French, Italian, German, Swedish, Polish, Greek, Cantonese, and Korean. Similar pieces on Disney DVDs tend to offer more options, and the absence of Spanish seems weird, but this bit is moderately amusing nonetheless. Too bad they failed to offer Manny in Mandarin and Diego in Danish!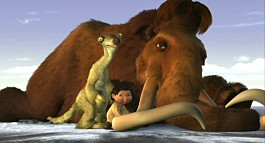 Under the Ice breaks down into nine separate pieces. To further complicate matters, The Making of Ice Age then splits into seven smaller featurettes. Each of these lasts between 109 seconds and seven minutes, 16 seconds for a total of 26 minutes, 59 seconds of footage. One annoyance: the DVD's producers failed to provide a "View All" option, so it can be awkward to navigate this area.
As for the content, it follows the standard procedure. We get a combination of movie snippets, behind the scenes materials, and interviews. In the latter category, we hear from director Chris Wedge, producer Lori Forte, actors Ray Romano, John Leguizamo, and Denis Leary, character designer Peter de Seve, modeling supervisor Mike Defeo, modeler Alexander Levenson, co-director Carlos Saldanha, editor John Carnochan, lead animators Mike Thurmeier and Jim Bresnahan, lead technical animator Mark Piretti, and lighting leads David Esneault, Mitch Kopelman and Jodi Whitsel. All together, these pieces go through most of the movie-making process, and they do so in a reasonably concise and informative manner. Fans won't find any revelatory details, but it offers a good look at the specifics as they relate to Ice Age. I most enjoyed the longest piece, "Acting in Animation", as it gave us a better-than-usual glimpse at the voice performers.
A more traditional promotional HBO "First Look" program, Behind the Scenes of Ice Age lasts 14 minutes and three seconds. Hosted by Ray Romano, it includes the usual complement of movie shots, behind the scenes images, and interviews. We hear from Romano himself as well as actors John Leguizamo, Denis Leary, and Cedric the Entertainer, director Chris Wedge, producer Lori Forte, co-director Carlos Saldanha, executive producer Christopher Meledandri. Animator Nina Bafaro, and lead animator Michael Thurmeier. The program doesn't expand the boundaries of this sort of piece, but it moves by briskly and offers a reasonable amount of decent information. In addition, the bumpers from Romano provide some amusing bits.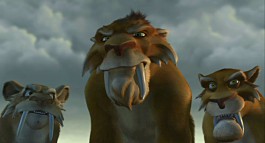 The remaining seven pieces of "Under the Ice" each offer brief featurettes about different subjects. At three minutes and 38 seconds, Sid Voice Development is the longest of the seven, and probably the coolest. We watch pictures of John Leguizamo as well as some production images and other film images and initially hear him discuss his approach to the role. That part seems good, but it gets better when we listen to a few minutes of Leguizamo's different takes on the voice. He runs through a slew of variations, and it's terrific to hear this creative process.
Compositing lead Andrew Beddini takes us through a discussion of Using 2D in a 3D World. In this 69-second piece, we look at some movie shots and learn how the studio executed the cave painting sequence. Making a Character runs 67 seconds and offers comments from supervising modeler Mike DiFeo. He chats about how they translate clay maquettes of characters into the computer models.
In The Art of Rigging, we find 83 seconds of commentary from lead technical animator Mark Piretti as he covers how the animators work on the character movements. Animators Acting lasts 51 seconds and features co-director Saldanha. He goes over the challenges of bringing emotions to the animated screen.
Master lighting lead David Esneault chats about Lighting and Materials. In this 66-second clip, he quickly relates how the animators convey realistic appearances, especially about the lighting. Finally, in the Art of Effects, we get a 64-second piece in which technical director/effects Tim Speltz discusses those elements of the production. Overall, this six animation-related featurettes seem brief but fairly informative. One comprehensive program would have been more satisfying than these quick bits, however.
Another animated short called Bunny appears. This seven-minute and 19-second cartoon comes from 1998, and it earned an Oscar for Best Animated Short. An unusual and surprisingly touching computer-animated piece, "Bunny" merits a look.
One can watch "Bunny" with a couple of optional bits. We find a 112-second introduction from director Wedge, who sets up the piece with some interpretation of it. The short can also be viewed with commentary from Wedge. He contributes some good technical and background notes about the cartoon in this informative piece.
Trailers includes three ads for Ice Age. We find the teaser as well as two full theatrical trailers. We also get a promo for Like Mike.
In the Design Galleries domain, we find two sections. "Size Comparison/Behind Ice Age" lets us see how the film's critters vary in height, and it also gives us some factual information about each species. "Create Your Own Gallery" offers a unique take on the traditional stillframe compendium. It includes 14 subsections of art. 12 detail the film's creatures, while the other two depict backgrounds and cave paintings, respectively. You can select to browse through as many or as few of them as you'd like and can arrange them in any order. It's a cool way to provide some user control. In addition, you can go for the "Play All" function and work through the whole bunch. The different sections include between three and 70 drawings for a total of 241 frames of material. One nice touch: each piece of art lists the person who created it.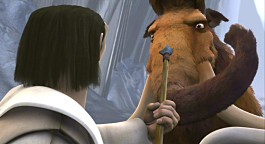 One unusual aspect of the Ice Age packaging: affixed to the back of the flap that holds DVD One I saw a sticker for a major pizza chain. Though my copy was an early screener, I assume all the retail editions will have this as well. I know they assume we DVD reviewers are fat pizza-guzzling slobs, but I doubt they did this simply to attract our business. I don't know if I regard the sticker as a negative, but it was something different and I thought I'd mention it.
While I enjoyed Ice Age, I frankly can't figure out why it became such a big hit. The movie offers a gently amusing diversion but it lacks the cleverness and wit that enhance the best films in the genre. The DVD itself provides a top-notch piece of work. Picture and audio quality appeared excellent, and it also packs a reasonably comprehensive and engaging selection of supplements. Although I remain somewhat lukewarm toward Ice Age, it works well enough to merit a recommendation, especially since this DVD seems so solid.