Picture/Sound/Extras: A+/B/B+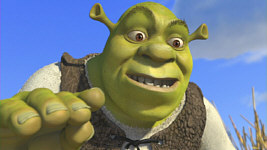 Since they produced their first animated films back in 1998 with Antz and The Prince of Egypt, DreamWorks have become the only studio to challenge Disney's hegemony in that field. However, prior to 2001, this confrontation had been mild at best. While most of DreamWorks' animated flicks have been successful, they've been modest hits at best. Antz grabbed about $90, while Egypt snuck a little past the magical $100 million mark. While they released no animated movies in 1999, DreamWorks put out two in 2000. The first was The Road to El Dorado, and it brought in a fairly anemic $50 million. That summer's Chicken Run fared better but it still didn't light up the box office with a gross of $106 million.
Compared to the receipts earned by animated films from other studios, however, these numbers were positive. After all, 2000's Titan AE took in a pathetic $22 million for Fox and killed their animated division, while Warner Bros.' much-praised Iron Giant did similar numbers in 1999. Films with audiences that were cultivated on TV did pretty well, though; 1999's Pokemon: The First Movie grabbed a solid $85 million, while The Rugrats Movie topped out at $100 million for Paramount in 1998. Their sequels did less well, but Pokemon The Movie 2000 still took in $43 million, while Rugrats In Paris snared $76 million, both of which were quite strong when one considers the relatively low production costs for the flicks.
In any case, Disney remained the only really big game in town. Sure, others produced a few animated flicks that hovered around the $100 million mark, but consider that Disney has only released three cartoon movies over the last decade that didn't top $100 million. 1997's Hercules just missed the landmark with an eventual take of $99 million, while 2000's The Emperor's New Groove made $88 million. 2001's Atlantis: The Lost Empire also was a relative disappointment, as it earned $83 million. Otherwise, the $100 million milestone is regularly passed by Disney's fares, and often they top it by a lot, as in the case of $200 million plus grossers like The Lion King, Toy Story, Aladdin and Toy Story 2.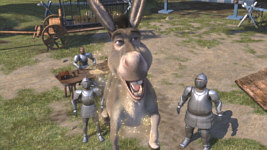 With 2001's Shrek, DreamWorks finally established themselves as one of the big boys. Amidst a crowded summer release schedule, the movie went on to establish itself as the season's biggest hit, and it stands a good chance of being the top-grossing film of the year. As I write this, about two months remain in 2001, but with a gross of $267 million, Shrek will be tough to beat.
Thus formally ends Disney's domination over the animated landscape, all because of a green ogre with a Scottish accent. In addition to all of its financial success, Shrek nabbed many glowing reviews, and when I saw it theatrically, I expected to embrace it as well. After all, I love animation, and the film's irreverent attitude looked like it'd be a lot of fun.
However, I must admit that Shrek didn't do a lot for me during that initial screening. The humor seemed a bit stiff and forced, and I simply didn't feel that anything about it was very special. Obviously audiences disagreed, but I really couldn't understand what all the fuss was about.
Would my attitude change during a second viewing? Unfortunately, no. While Shrek consistently offered a moderately entertaining experience, I thought it almost never rose above that level, as it seemed like a strangely bland and uncompelling piece.
At the start of Shrek, we quickly meet the titular character, an ogre (voiced by Mike Myers) who appears happy to terrify countryfolk and live his solitary existence. However, early in the movie he finds his swamp overrun with fairy tale characters. Monomaniacal Lord Farquaad (John Lithgow) has deported all of them from his "perfect" realm, but Shrek is none too happy to have his territory invaded by the likes of Pinocchio, the Big Bad Wolf, and the Three Little Pigs.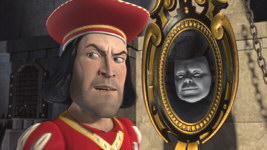 One of the deportees, a talking mule simply called Donkey (Eddie Murphy), quickly attempts to strike up a friendship with Shrek, who strongly resists the critter's charms. However, Shrek needs to go to DuLoc to confront Farquaad, and since Donkey's the only fairytale creature who claims to know the way, the pair are stuck together.
Once they get there, they find that Farquaad has staged a tournament. He needs to marry a princess to make his realm an actual kingdom, and he's decided to nab lovely Princess Fiona (Cameron Diaz), a maiden imprisoned in a tower guarded by a dragon. He's too much of a coward to do it himself, so he wants a knight to get her for him. When Shrek wanders into this contest, he easily handles the amassed warriors, and Farquaad makes a deal: if Shrek rescues Fiona, the Lord will clear the swamp and Shrek can return to his old life.
Grudgingly, Shrek embarks on this quest, and after much struggle, he does free the Princess. Their relationship starts in a cantankerous manner, for she's upset to be freed by an ogre. Fiona suffers from a mysterious curse, and the only way for her to escape it is to receive love's first kiss. Clearly she requires a real prince or something, not some sour ogre.
Inevitably, Shrek and Fiona start to warm to each other, but Shrek's insecurities prevent him from taking action, and eventually a rift based on a misunderstanding takes place. Will Fiona marry Farquaad and ditch the ogre? I'll leave that up in the air, but let's just say that the movie doesn't do much to depart from tradition.
That's part of the problem I had with Shrek. The film tries desperately to take the piss out of standard fairy tales and the typical animated feature. However, it works frantically to be wicked and irreverent for a while, but it also wants to have its cake and eat it too. The flick attempts to spoof and mock the genre, but then it turns around and gives us many of the form's most tired conventions. Yes, the ending does include a twist, but it's a mild one, and the movie generally stays with the standard elements; I really felt that the story provides little to make it stand out from the crowd.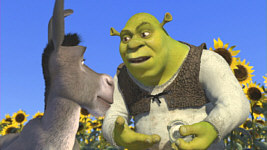 Actually, Shrek starts fairly well, especially in regard to the spoofing of other fairy tales. The first act is easily the most compelling part of the movie, though even the most irreverent moments really didn't do a lot for me. The idea of the unusual presentation of the fairytale creatures was funnier than the reality, partially because I thought Shrek seemed a little too intent to be crude. In addition to some mild gross-out humor that appears to be the norm in kid-oriented fare these days - is there a law that all non-Disney features must include a fart joke or 12? - Shrek forces its "PG" rating with some minor cursing and other light crudeness; for example, when Farquaad interrogates the Gingerbread Man (Conrad Vernon), the little cookie exclaims, "Eat me!"
Is any of this material really nasty? No, not by a long shot; it seems fairly tame compared to many movies these days. However, it did feel unnecessary. Some of the humor in Antz struck me in the same manner; it appeared to exist just for the sake of being "adult". I don't see the point of this, and it comes across as vaguely odd and inappropriate.
However, that's not my main problem with Shrek. Actually, I don't know if I have a "main problem" with the film, as I find it hard to point out any significant flaws. The animation seems more than competent. I remain less-than-enthused about this form of computer artwork; Pixar really feel like the only studio that do it right, as the work from the others always comes across as too flashy and obsessed with faux naturalism to me. Nonetheless, Shrek is an attractive movie that shows nicely executed animation at all times.
Unfortunately, I simply feel the film lacked much spark or personality. None of the characters meant anything to me. Shrek never became endearing or likeable to me, and Donkey was a bland nuisance at best. Fiona was also drab and without much flair. Farquaad was the most compelling character, but he received little screen time.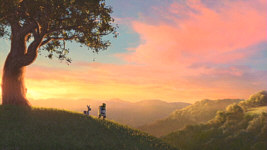 The vaunted humor left me cold as well. Flicks like A Bug's Life and the Toy Story movies were often laugh-out-loud funny, and other DreamWorks animated fare like Chicken Run, El Dorado and Antz had some witty moments as well. Shrek provided a snicker or two, but I thought the majority of the gags seemed surprisingly lackluster.
Overall, Shrek did provide a generally watchable affair, but I never was able to get into it, no matter how badly I wanted to enjoy the movie. It wasn't a bad flick, and on the surface, it seemed to have the appropriate components to be a terrific experience. Unfortunately, I thought it fell flat at almost all times. It tried frantically to be creative and witty, but it just seemed like more of the same and I didn't discern much inspiration to it.
The DVD:
Shrek appears in both an aspect ratio of 1.78:1 and in a fullscreen version on these single-sided, dual-layered DVDs; DVD Two offers the 1.78:1 presentation, while DVD One includes the fullscreen film. The widescreen image has been enhanced for 16X9 televisions. Only the letterboxed picture was assessed for this review. Of the four prior DreamWorks animated titles on DVD, my picture grades varied from a low of "A-" for The Prince of Egypt to highs of "A+" for both Antz and The Road to El Dorado. As such, I expected a lot from this new DVD, and I'm happy to report that DreamWorks didn't disappoint me; Shrek provided another absolutely stellar visual experience.
Sharpness seemed immaculate. At all times, the movie remained terrifically crisp and detailed, and not a single instance of softness or fuzziness occurred. The image stayed detailed and distinct from start to finish. No signs of jagged edges, moiré effects or edge enhancement appeared, and the movie also was totally free of any source flaws. I've not heard if Shrek was transferred straight from the original computer files - ala A Bug's Life - or if it came from an actual film print, as did DreamWorks' Antz. Whatever the case may be, the image looked totally clean.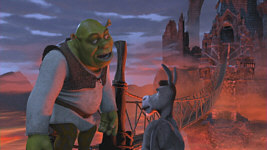 The fairytale setting of Shrek offered a nicely bright and varied palette, and the DVD reproduced the colors wonderfully. From the cartoonier tones to more natural and lifelike hues, the colors always came across as vivid and lively, and they appeared absolutely gorgeous at all times. Black levels also seemed deep and rich, while shadow detail looked appropriately heavy but not overly dense. In the end, Shrek provided a tremendously clear and exciting visual presentation that never faltered.
While the soundtracks of Shrek weren't as good, they still seemed fine. The audio options for the two versions of Shrek differ, but since I only examined the widescreen edition, I'll solely worry about those. That platter includes both Dolby Digital 5.1 and DTS 5.1 soundtracks, and I felt that sounded virtually identical. If any distinct variations occurred, I didn't note them.
Shrek provided a soundfield with a fairly forward emphasis. The front spectrum offered very nice separation and presence for the music. Effects displayed reasonably good atmosphere, but they usually didn't go much beyond that. At times I heard good movement across the front, such as the guy in the Farquaad costume who ran from Shrek and Donkey, and a few other instances provided decent directionality. Nonetheless, the front field usually stuck with general ambience.
The surround channels functioned in a similar manner. They provided reinforcement of the music and effects and didn't add many distinct elements. On a few occasions, I heard some isolated activity from the rear, and some split surround usage occurred as well, such as some elements related to the dragon. However, the rear speakers usually played a fairly minor role during the film; they weren't terribly active participants, though I thought they seemed satisfactory.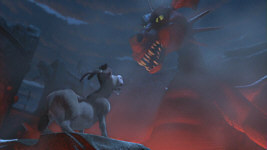 Audio quality was generally solid. Dialogue consistently appeared natural and distinct, as I heard no concerns related to intelligibility or edginess. Music provided pretty good dynamics and depth, as the score sounded nicely robust and clear. Effects were clean and accurate for the most part, though I thought they lacked great warmth. Bass response seemed a little flat, as some elements - like the stomp of the dragon - lacked much force. Overall, the soundtrack remained perfectly acceptable for the film, but it didn't do anything to stand out from the crowd.
This 2-DVD release of Shrek features a lot of extras, and these are spread across both discs. Most of the time when we find a two-disc package that includes both widescreen and fullscreen versions of a film, the supplements are largely identical on each disc, but DreamWorks provide a great deal of unique content for each platter.
Starting on DVD One, we encounter the standard HBO First Look special about Shrek. With a running time of 24 and a half minutes, this one lasts a bit longer than the usual featurette, but it utilizes the normal format. Called "Creating a Fairytale World: The Making of Shrek", this show mixes production shots, short snippets from the film, and interviews with a slew of participants. We hear from actors Cameron Diaz, Mike Myers, Eddie Murphy, and John Lithgow, producer Jeffrey Katzenberg, directors Andrew Anderson and Vicky Jenson, supervising animator Raman Hui, art director Guillaume Aretos, co-executive producer David Lipman, producer Aron Warner, head of layout Simon J. Smith, art director Douglas Rogers, director of animation software development Ken Pearce, visual effects supervisor Ken Bielenberg, lead character TD Richard Walsh, and editor Sim Evan-Jones.
That's a lot of folks to pack into a short feature, but "World" does so pretty neatly. The technical issues are discussed in a loose but informative manner that quickly runs through the basics. The show features them in a compelling way that's fun to see, especially when we watch some of the problematic rough animation that cropped up along the way.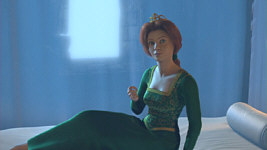 One very interesting aspect of "World" stems from its heavier-than-normal emphasis on the voice talent. Most "making of" programs that deal with animated films barely acknowledge the actors, but here they're the main focus of the piece. We hear a lot from the four leads and get a slew of interesting notes from them. Overall, "World" is a short but very solid little documentary. It tends to the promotional side of the fence, but it remains breezy and informative at all times.
Sneak Peek provides a look at a 2002 DreamWorks animated film. Entitled Spirit: Stallion of the Cimarron, this two-minute and 45-second trailer offers an anamorphic 2.35:1 image plus Dolby Digital 5.1 sound. It'll be interesting to see how this one does, for it looks exceedingly earnest from the trailer, which makes it the polar opposite of the irreverent Shrek. In the Cast area, we find much more than the usual text entries. The section includes listings for Mike Myers, Cameron Diaz, Eddie Murphy and John Lithgow. While we do get the standard text biographies of the four, we also discover video interviews with three of the characters themselves! All but Lord Farquaad appear, and the clips last between 38 seconds and 82 seconds. Though obviously brief, the snippets are very entertaining and add a cute touch to the package. When we move to the Filmmakers department, we find no video clips, but we do discover a slew of text biographies. A whopping 19 of the crew are included. DreamWorks always provide the highest number of biographies, and I think they're a nice nod to the talent behind the camera.
Initially I thought Shrek in the Swamp Karaoke Dance Party would be another of those "Sing-along Songs" ubiquitous on animated DVDs, but I was way off base. Instead, it's a two-minute and 45-second medley of pop tunes performed by the film's characters. It's a true hoot that's a delight to watch; it's much funnier than anything in the movie itself. The Games area provides two contests. First we get "Mirror, Mirror On the Wall", which acts as a DVD version of the "Magic 8-Ball"; ask a yes or no question, and the Mirror provides a glib reply. It's cute but not something I'll visit with much frequency.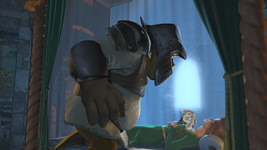 "Shrektacular Trivia" offers 12 questions about the movie. If you answer correctly, you're "rewarded" with the appropriate clip from the film. Wrong replies get mocking snippets from Shrek. Mistakes allow you to try again, but a perfect score doesn't result in anything special. As such, it's a cute piece but nothing special.
The Production Notes section includes some very lengthy and interesting text details about the film. They cover casting, adapting the book, lots of technical data, and many other areas, and they're very good. A shorter, alternate version of these notes appears in the DVD's booklet.
Hidden Fun Facts touts the existence of some "Easter eggs" strewn throughout the disc. Actually, there's only one spot they can be found. Click on the gumdrop buttons of the Gingerbread Man in the "Special Features" menu and you'll get these little trivia tidbits; additional passes yield new notes. There are some decent factoids here, but the interface interferes, as each click forces you to witness the same animation; if I never hear the phrase "Not my gumdrop buttons!" again, it'll be too soon.
In the upper right corner of the main menu, there's an icon that says DWK - This Way to Play! Click here and you go to a special area with some kid-oriented activities. "Favorite Scenes" is essentially an alternate version of "Scene Selection". It provides different clips under such subsections as "Laugh Out Loud" and "Weird Animal Incidents".
Shrek's Music Room adds two music videos. We find "I'm a Believer" from Smash Mouth and "Best Years Of Our Lives" from Baha "Aren't Their 15 Minutes Up Yet?" Men. The first one combines a lip-synch performance by the band with a minor plot in which lead singer Steve Harwell pursues his dream girl. Movie clips are integrated in a clever and smooth manner, and it's a decent little video with a funny ending.
The Baha Men clip is much less interesting. It combines an annoying lip-synched performance alongside some dancing babes with the standard movie snippets. The song itself's a bland and inane piece of dreck. Ugh! We also are "treated" to a featurette about the making of the video. The 105-second clip is even more obnoxious. It shows little other than a few shots of the production and a couple of brief comments from the performers. They come across as true lunkheads, and they really need to learn a new phrase in addition to "off the hook". Make yourself happy and skip the Baha Men segments.
The Game Swamp retreads the "Mirror, Mirror" and "Shrektacular Trivia" bits from elsewhere on the DVD, and it adds three others. "Rescue the Princess" is a fairly pointless exercise in random selection. You pick one of three choices per screen, with no rhyme or reason behind them, and no treat rewards success.
"Character Morph" is silly but moderately interesting. It allows you to take parts of our four leads (Shrek, Donkey, Fiona and Farquaad) and "morph" them together. Three segments - head, torso, and legs - appear for each. It didn't do much for me, but kids should like it.
Lastly, "Decorate the Gingerbread Man" lets you see him in a variety of costumes. There are 11 from which to choose, and GM sings a tune that relates to the one you choose. It's another fairly cute but insubstantial piece.
DVD One of Shrek contributes a slew of DVD-ROM materials. These start inside a cool Shrek-ified window that provides a fun look to the piece. First up is the "Shrek Revoice Studio". This feature allows you to record your own takes of 12 different movie scenes. I should accentuate that it allows you to record your own takes of 12 different movie scenes; my microphone is buried underneath the wreckage that is my computer room, so I wasn't able to try this segment. It sounds pretty cool, though.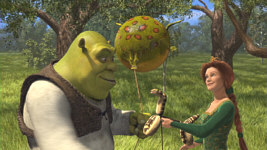 "Learn to Draw Shrek" gives a nice little step-by-step tutorial. It combines visuals and narration and should be very fun for kids to emulate. "Ginger Hangman" offers a surprisingly entertaining take on the old game. You have to decode various words and phrases related to Shrek to keep the Gingerbread Man from being eaten. I played this for much longer than I expected, as it was cute and interesting.
"Soup Slam" is a game that provides a Shrek take on Whack-A-Mole. You have to use a "spoon" to bop funky items in Shrek's soup. It's a bit awkward to run; at least on my machine, it behaved in a moderately jittery manner that made it somewhat frustrating. It's a decent idea, but not as cool as "Ginger Hangman".
In "Fairy Tale Lanes", we get to go gnome bowling. Another surprisingly compelling game, you use the mouse to aim and roll the ball. This sucker kept me going for more time than I'd like to admit.
"Bugs and Slugs" provides a slimy take on Tic-Tac-Toe; plenty of tie games result from this reasonably cute enterprise. "Coloring Pages" adds five different images that kids can print and color, while "Color a Scene" takes a 21st century approach to the task; you can fill in onscreen pictures with the desired hues and dispense with the paper aspect entirely.
More paper options ensue in "Ogre Masks". This area gives us four different Shrek masks that can be printed and worn. "Pin the Tail On Donkey" also requires a printer to play the Shrekized variation on the old party game.
Two more games complete the DVD-ROM area. "Fire Donkey" offers mild fun. You have to make your little Donkey character stomp on burning parts of the bridge. It's tedious but still better than "Soup Slam". Lastly, "Shrek Pinball" gives us a moderately entertaining take on the old arcade game. It's not something I'll play again, but it's not bad as a DVD add-on feature.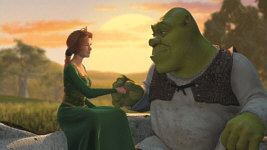 Now that I'm done with all of that, I can finally move on to DVD Two. In addition to the widescreen version of the film, we discover a wealth of additional extras. First up is an audio commentary from producer Aron Warner and directors Vicky Jenson and Andrew Adamson. All three were recorded together for this running, screen-specific piece. Overall, I enjoyed the track, though it could be fairly erratic.
The first half of the commentary offered the strongest information. The three participants provided a wealth of solid information about the film, from animation problems and details to story development to alterations made along the way. They seemed peppy and involved in the process as they added lots of useful tidbits in an engaging and entertaining manner.
Unfortunately, the commentary started to run out of steam about halfway through the film. After the 45-minute mark, valuable remarks popped up less frequently, and the participants spent more of their time simply watching and enjoying the movie. A lot of their statements related to their appreciation of the film, and Jenson especially came across like a cheerleader at times. The second half of the commentary still provided some good details, and even during the less informative spots, it remained reasonably entertaining. However, you'll encounter the most compelling data during the movie's first half.
You get to activate that rarely used "angle" button on your remote as you watch Storyboard Pitch of Deleted Scenes. This area includes three different unused segments: "Fiona's Prologue", "The Deal", and "Fiona Gets Them Lost". Each clip offers two viewing angles, and they run between 130 seconds and 145 seconds for a total of six minutes, 45 seconds worth of footage per angle.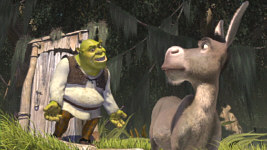 Storyboard pitches depict the artists as they show the boards for a scene to their colleagues; the presenting filmmaker adds voices and generally acts out the segment as he or she points to the appropriate pieces of art. For this piece, angle one focuses on the boards themselves, while angle two lets you watch the artist and the crowd throughout the presentation. Angle one was more interesting, since it let us see the scenes better, but the second angle was also fun to have.
As for the deleted scenes themselves, I thought the first two were interesting but nothing special; the movie didn't suffer for their omission. On the other hand, "Lost" was a lot of fun. I don't know how well it would have integrated with the film, but I liked it a lot and wish it had been completed. In any case, I enjoyed this look at the unused footage and thought the dual-angle presentation was a nice touch.
X-Box Game Playing Hints is exactly what it states: clues for parts of the Shrek videogame. As such, it's completely useless for a) anyone who doesn't play that game, and b) anyone who plays the game but doesn't get stuck. (There also may be a "c": someone who plays the game and gets stuck but is held up in an area unaddressed by the hints.) The presentation of the clues was problematic, as you couldn't pick your segment individually; you may have to wade through a number of other hints to get to yours. That means you may see a lot of tips that you don't want to get. I suppose the hints can be useful, but I thought they didn't seem very helpful.
Another featurette, The Tech of Shrek expands upon some of the animation-related topics discussed in the HBO special. During the 22-minute and seven-second piece, we see many of the same participants who appeared in the other show. It reprises comments from Cameron Diaz, Mike Myers, Eddie Murphy, and John Lithgow, producer Jeffrey Katzenberg, directors Andrew Anderson and Vicky Jenson, supervising animator Raman Hui, art director Guillaume Aretos, producer Aron Warner, head of layout Simon J. Smith, director of animation software development Ken Pearce, visual effects supervisor Ken Bielenberg, lead character TD Richard Walsh, and editor Sim Evan-Jones. It also adds co-supervisor of character technical direction Lucia Modesto, layout artist Bob Whitehill, production designer James Hegedus, and sequence supervisor Janet Rentel-Lavin.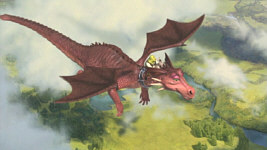 "Tech" really just elaborates a little more about the same material seen in the HBO piece. They share many soundbites and snippets, and they often seem rather redundant. However, the show still includes a fair amount of exclusive clips, and they do help flesh out the prior program. The repetition makes "Tech" less valuable than it otherwise might seem, but it covers its subject reasonably well nonetheless.
In the Technical Goofs section, we find a bunch of animation errors. Some of these also appeared in the HBO and "Tech" featurettes, but "Goofs" also includes some new material, much of which revolves around Fiona and Farquaad. There's some creepy stuff in this two minute and 50 second clip; some of the "exploding face" shots reminded me of the dead baboon in 1986's The Fly.
During the two-minute Dubbing Featurette, we see brief examples of voice talent from different countries. Some short interview clips with Jeffrey Katzenberg also appear, but mostly the program offers glimpses of various performers. It's too quick a glimpse to be terribly useful, but it offers a nice twist on the standard "multi-language reel" that normally appears in this kind of package.
Though the Progression Reel sounds like a video piece, it's actually a collection of still images. We find nine different areas that cover the various characters and some locations. Each section includes between six and 21 pictures in all for a total of 108 shots. These mainly follow different conceptual possibilities, and they're interesting to see for that reason; we get many looks at the ways the characters could have appeared.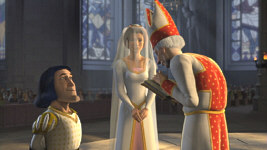 In addition to the theatrical trailer for Shrek - which is enhanced for 16X9 TVs and also includes Dolby Digital 5.1 sound - DVD Two repeats a few extras from the first platter. We find the same "Production Notes" and "Filmmakers" sections, and "Cast" appears as well. However, the latter includes only the biographies for the actors; the character interviews don't shop up here. From the "Special Features" menu, the Gingerbread Man's buttons again allow access to additional "Fun Facts". Note that if you run the movie through the end credits, you'll get to see "Swamp Karaoke". It's also accessible if you click on the musical note icon on the main menu screen.
One note about the extras: many of them provide Spanish and French subtitles, but English text is more difficult to find. The "Dubbing Featurette", the character interviews and "The Tech of Shrek" provide all three languages, but the HBO special just has French and Spanish, though it does toss in English closed-captioning. The "Swamp Karaoke" includes French and Spanish text but nothing in English, which seems odd, since that makes it tougher for folks to sing along if desired. The remaining features include no form of captioning or subtitles.
The good news about the DVD of Shrek is that each package comes with a special game piece, and each one's a winner. You might only get a free ice cream cone out of it, but it beats a kick in the head! The bad news - or the goo news, as it were - involves the adhesive used to affix the contest paper to the front of the case. This leaves a sticky residue on the package that already has started to annoy Internet denizens even before street date! I can't blame them; it's irritating to have a gunky substance stuck on the front of the case. The game piece could - and should - have been located inside the package.
When it came time for me to grade the extras of Shrek, I ran into some difficulty. On the surface, the set seems absolutely packed with supplements. However, as was also the case with The Mummy Returns, Shrek included a lot of fairly brief and insubstantial pieces. The quantity was there, but the quality was lacking. To be certain, the DVD included a lot of fun material, but I felt the depth of the set fell below "A" level.
After two viewings of Shrek, I still can't understand the fuss the film has received. While it had some reasonably fun moments, I felt it was generally somewhat lackluster and it rarely involved me. The humor appeared forced and vaguely crude, and the characters were bland and unmemorable. As a DVD, however, Shrek is a nice piece of work. It provides virtually flawless picture quality with good sound and a fairly nice package of extras. For already-established fans of Shrek, they should be delighted with this fine set. If you haven't seen the movie, you might want to rent it first.