DISNEY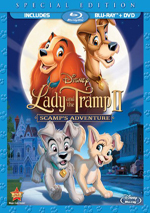 MOVIE INFO
Director:
Darrell Rooney, Jeannine Roussel
Cast:
Scott Wolf, Alyssa Milano, Chazz Palminteri, Jeff Bennett, Jodi Benson, Bill Fagerbakke, Mickey Rooney, Bronson Pinchot, Cathy Moriarty
Writing Credits:
Bill Motz, Bob Roth, Tom Rogers, Flip Kobler, Cindy Marcus
Synopsis:
Walt Disney's Beloved Classic continues with a whole new breed of Disney fun in Lady & The Tramp II: Scamp's Adventure. Join Jock, Trusty, and all the characters you love as they meet a new generation of hilarious canine characters in this heartwarming adventure. Lady and Tramp have their paws full raising mischievous Scamp, who's always in the doghouse. Longing for freedom, Scamp ventures far from home and joins the notorious "Junkyard Dogs". With his idol, the streetwise Buster, and a sweet and sensible stray named Angel tugging at his heart, Scamp is faced with the ultimate decision: living a collar-free life or the pampered life at home. With nonstop laughs, tail-wagging songs, and exciting bonus features - including an all-new game - Lady & The Tramp II: Scamp's Adventure is purebred fun your family will enjoy again and again!
MPAA:
Rated G


DVD DETAILS
Presentation:
Aspect Ratio: 1.78:1
Audio:
English DTS-HD MA 5.1
English Dolby Digital 2.0
Spanish Dolby Digital 5.1
French Dolby Digital 5.1
Subtitles:
English
Spanish
French
Closed-captioned
Subtitles:
English
Spanish
French

Runtime: 70 min.
Price: $39.99
Release Date: 8/21/2012

Bonus:
• Audio Commentary with Director Darrell Rooney, Co-Director/Producer Jeannine Roussel and Animation Director Steve Trenbirth
• "The Making Of Lady And The Tramp 2: From Tramp To Scamp" Featurette
• Sing-Along Songs
• Puppy Trivia Tracks
• 3 Classic Disney Cartoons Featuring Pluto
• Sneak Peeks
• DVD Copy




PURCHASE @ AMAZON.COM

EQUIPMENT
Panasonic 50" TH-50PZ77U 1080p Plasma Monitor; Sony STR-DG1200 7.1 Channel Receiver; Panasonic DMP-BD60K Blu-Ray Player using HDMI outputs; Michael Green Revolution Cinema 6i Speakers (all five); Kenwood 1050SW 150-watt Subwoofer.


[an error occurred while processing this directive]
---
Lady And The Tramp II: Scamp's Adventure [Blu-Ray] (2001)
---
Reviewed by Colin Jacobson (June 20, 2006)

With 2001ís Lady and the Tramp II: Scampís Adventure, we find the first sequel to a film from the studioís ďgolden ageĒ, 1955ís terrific Lady and the Tramp. After this release, the floodgates appeared to open. That meant efforts like Cinderella 2, Peter Pan II, 101 Dalmatians II and Bambi II. (By the way, I donít count Fantasia 2000 in this category because it was more the continuation of a style than an actual ďsequelĒ to 1940ís Fantasia.)

Many fans reacted negatively to this trend, and I canít really blame them. Sequels to more recent films make some sense because so many of the participants can reprise their roles and continue the stories. However, thatís not the case with the older movies, and for the studio to create new extensions of those tales can seem cynical.

Nonetheless, I didnít want to prejudge the product, so I was happy to give these movies a chance. Frankly, none of the prior DTV offerings did much for me, so I didnít expect a whole lot from Scamp. That was a correct assumption, for while the film is generally enjoyable, itís a fairly lackluster affair that doesnít remotely live up to the heights of the original.

The events of Scamp take place pretty soon after the conclusion of the first tale. Lady and Tramp have spawned a litter of three females - who strongly resemble their mother - and one male, Scamp, who physically takes after his old man. It seems that he also possesses a similar personality, as Scamp (voiced by Scott Wolf) has trouble remaining within the limits of a proper household. He wants to play and get rowdy, and after one too many punishments, he escapes and pursues life as a free-and-easy street dog.

Scamp meets up with a crew of junkyard dogs led by Buster (Chazz Palminteri), a self-centered tough guy who supports an attitude of one-for-one, all-for-none. Among the other pooches, one stands out to Scamp: cute little Angel (Alyssa Milano), a dog with a past.

A past in which she lived in a variety of homes, that is, and a past to which sheíd like to return. She canít explain to the others that she wants to be a house dog because Buster loathes such pampered pooches and would boot her from the gang if he got wind of that attitude. Eventually she lets Scamp in on the secret, but he doesnít understand why sheíd want to return to such an apparently suffocating lifestyle when she could be free and easy on the streets.

Of course, Scamp eventually learns his lesson and finds that life as a stray isnít as much fun as he thought. Some soap opera elements arise along the way before the movie winds toward its inevitable happy ending.

Most recent Disney DTV films offer plots that strongly echo the original offerings but they provide a small twist. For example, in Pocahontas, settlers came to America, while in the sequel, Pocahontas traveled to England. In The Little Mermaid, a mermaid longed to be human, while in the continuation, a human wants to live under the sea.

Scamp doesnít offer quite as obvious an example of that reverse tendency, but itís there nonetheless. In the original, a coddled female dog learned what it was like to live on the streets, fell in love, and eventually took home her stud with her. In the sequel, a coddled male dog learns what itís like to live on the streets, falls in love, and eventually takes his bitch home with him. Both Lady in the original and Scamp in the sequel even depart their households for fairly similar reasons, as both felt incorrectly unappreciated and neglected by their owners.

This means that Scamp is little more than a rehash of the first film, and it simply doesnít match up well with the original. The sequel lacks spark or genuine emotion, and it seems flat most of the time. All of the characters in Tramp were charming and full-blooded, but the same doesnít occur here. From Scamp to Angel through all of the gang, they feel like generic cartoon animals without much real personality.

It doesnít help that the voice acting fails to make the characters breathe. Both Wolf and Milano are adequate in their roles but no better; they certainly canít compare with the vivid vocalizations provided for their parents in the original by Barbara Luddy and Larry Roberts. Even a fine actor like Palminteri seems bland here, as his routine appears weak and forced.

The various junkyard dog gang members function a little more successfully. For such small roles, we find a surprisingly high level of talent here, with actors such as Mickey Rooney, Cathy Moriarty, and Bronson Pinchot providing the voices. However, these fairly solid portrayals are balanced by less compelling work from Jodi Benson as Lady and Jeff Bennett as Tramp. They seem bland and lifeless in the roles and really made me miss the originals.

On the positive side, Scamp offers one of the better-looking DTV programs. As we learn in the discís supplements, the filmmakers had access to the original movieís art, and they incorporated a lot of that featureís style into the new one. As such, Scamp provides a surprisingly lush and vibrant environment that looks gorgeous at times. Some of the animation is a bit stilted and clunky at times, but the movie nonetheless is a definite step up from the usual DTV fare. Itís a lovely visual experience.

Nonetheless, I couldnít help but reflexively compare Lady and the Tramp II: Scampís Adventure to the original film as I watched the new one, and the sequel feels lackluster in that regard. On its own, I think itís a decent little story that lacks much spark but seems mildly entertaining. The problems evolve when one thinks of the greatness found in the first movie, a quality that is absent here. Ultimately, Scamp is a cute enough film but it remains mediocre as a whole.
---
The Blu-ray Grades: Picture A/ Audio B+/ Bonus B+
---
Lady and the Tramp II: Scampís Adventure appears in an aspect ratio of approximately 1.78:1 on this Blu-ray Disc. No concerns developed in this strong visual presentation.

Sharpness appeared terrific at all times. I never witnessed any hints of softness or haziness as the movie always seemed crisp and detailed. No jagged edges or moirť effects appeared, and print flaws were absent as well; the film seemed clean and fresh.

As with the first movie, Scamp used a pastel-influenced color design, and the gentle hues seemed well-reproduced. Itís a quiet but broad palette that looked smooth and vivid at all times. Black levels were deep and rich while shadow detail seemed appropriately dark but never excessively heavy. Ultimately, the disc presented a satisfying visual experience.

Although the DTS-HD MA 5.1 track occasionally showed some surround usage, for the most part the audio stuck to the forward spectrum. Across the front channels, the sound presented a fairly broad array, mainly due to the stereo music. Effects provided some general ambiance but werenít terribly involving. The rear channels came solidly into play on a couple of occasions - the trainís passing and the fireworks - but otherwise they simply bolstered the music and effects with light reinforcement. It was not a showy mix, but it seemed fairly appropriate for the material.

Audio quality appeared excellent. Dialogue always seemed crisp and natural with no signs of edginess or problems related to intelligibility. Effects were quite clean and realistic, and when appropriate, they showed some solid dynamics. Music could have provided a little more depth to its low end, but the score and songs largely sounded clear and bright with acceptably appropriate bass. Although the soundtrack lacked ambition, it still provided a good auditory complement.

How did this Blu-ray compare to the 2006 Limited Edition DVD release? Audio was a little perkier and more dynamic, and visuals delivered the expected boost in quality. The Blu-ray appeared better defined and fuller than the DVD, with more vivid hues as well. For its format, the DVD looked nice, but it canít compare with the excellent Blu-ray.

The Blu-ray replicates most of the DVDís extras along with some new elements. We get a running audio commentary from director Darrell Rooney, co-director and producer Jeannine Roussel and animation director Steve Trenbirth. All three appear to have been recorded together for this screen-specific track. Although I love animation, I must admit that many of the commentaries that accompany these kinds of features are fairly dull, and the track for Scamp follows that pattern.

The filmmakers provide a basic discussion of some of the challenges that went into the creation of a sequel to a beloved classic, but for the most part, we learn rudimentary details of the animation process and we hear a lot about the story. Many commentaries become general reiterations of the filmís story, and that occurs here as well. Ultimately, the track reveals some interesting information but it seems a bit dry.

During this commentary I noted one problem with the character design of Angel. In the movie we learn that sheís lived with five different families. It seems extremely unlikely that one dog would get the boot from so many homes due to the factors listed - moves, allergies, children - without any faults on the part of the dog, but thatís what weíre supposed to believe. At no point are we told that Angel possesses any flaws that let to her removal from these homes.

However, one factor that we specifically learn in the commentary is that Angelís supposed to be a puppy. By definition, that makes her less than a year old. The poor pooch has been through five families in less than one year? I suppose thatís possible, but it seems to seriously stretch credulity. This is one of the first times Iíve learned something from a commentary that caused the film to make less sense to me!

Next up is a breezy featurette called The Making of Lady and the Tramp II: From Tramp to Scamp. This 16-minute, 34-second program mixes interview snippets with a few of the actors and the animators plus movie clips and some behind the scenes material. The latter offer the showís best components as we get to see some bits of Walt Disney and other archival footage. Unfortunately, these glimpses are maddeningly brief, as the program zips rapidly from topic to topic. Still, it gives us a decent enough glimpse of the process behind Scamp - especially when it came to the challenge of reprising the spaghetti scene - and the vintage clips are fun, so the brief show deserves a look.

After this we find three cartoon shorts, all of which star Pluto: ďBone TroubleĒ (eight minutes, 42 seconds; 1940); ďPluto JuniorĒ (seven minutes, eight seconds; 1943); and ďPlutoís Kid BrotherĒ (six minutes, 51 seconds; 1946). All three are enjoyable, but only ďBone TroubleĒ seems particularly special. It provides a rollicking good time as Pluto outsmarts another pooch. In any case, I appreciate the inclusion of the cartoons, as they definitely add value to the collection.

Under Sing-Along Songs, we find four musical numbers from the film. These allow you to access the tunes and croon along with the lyrics printed onscreen. That does nothing for me, but I guess someone likes this kind of feature.

New to the Blu-ray, the disc included Puppy Trivia Tracks

. Iím not sure why the presentations uses the plural, as there appears to be only one ďtrivia trackĒ, but in any case, the option shows pop-up canine factoids as the movie goes. These tend to be basic and kid-oriented. They also deactivate all audio choices other than Dolby Stereo, which reduces the featureís appeal.

As the disc starts, we encounter ads for Cinderella and Finding Nemo. These also show up under Sneak Peeks along with promos for Disney Parks, Secret of the Wings, Planes, Pocahontas, The Tigger Movie, Pocahontas II: Journey to a New World, The Aristocats, The Rescuers, The Rescuers Down Under, Chimpanzee and Beverly Hills Chihuahua 3.

The package also includes a DVD Copy of Scamp. This gives us a full retail version with a handful of extras.

Does the Blu-ray lose extras from the DVD? Yes, but not much. It axes some games but everything else returns.

All in all, I feel that Lady and the Tramp II: Scampís Adventure is a bland and lifeless sequel to a classic animated film. Nothing about Scamp seems overtly bad, but it suffers from a serious case of the ordinaries and rarely betrays any spark or verve. At least the Blu-ray provides excellent visuals as well as good audio and a few interesting supplements. I donít care much for the movie, but the Blu-ray reproduces it well.

To rate this film, visit the Limited Edition review of LADY AND THE TRAMP II: SCAMP'S ADVENTURE