COLUMBIA TRISTAR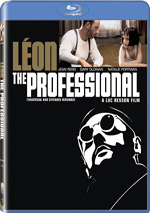 MOVIE INFO
Director:
Luc Besson
Cast:
Jean Reno, Gary Oldman, Natalie Portman, Danny Aiello
Writing Credits:
Luc Besson
Tagline:
A perfect assassin. An innocent girl. They have nothing left to lose except each other.
Synopsis:
Calling himself a "cleaner," the mysterious Leon is New York's top hitman. When his next-door neighbors are murdered, Leon becomes the unwilling guardian of the family's sole survivor - 12-year-old Mathilda. But Mathilda doesn't just want protection; she wants revenge. Training her in the deadly tricks of his trade, Leon helps her track the psychotic agent who murdered her family. From the electrifying opening to the fatal finale, Leon, is a non-stop crescendo of action, suspense and surprises. This uncut version contains 24 minutes of extra footage deemed too explicit for the American audience.
Box Office:
Domestic Gross
$19.251 million.
MPAA:
Rated R


DVD DETAILS
Presentation:
Widescreen 2.35:1
Audio:
English DTS-HD MA 5.1
French DTS-HD MA 5.1
Portuguese DTS-HD MA 5.1
Subtitles:
English
French
Spanish
Portuguese
Closed-captioned
Supplements Subtitles:
Portuguese
Spanish

Runtime: 133 min.
Price: $24.95
Release Date: 11/17/2009

Bonus:
• Both US and International Cuts of the Film
• "10 Year Retrospective: Cast and Crew Look Back" Featurette
• "Jean Reno: The Path to Leon" Featurette
• "Natalie Portman: Starting Young" Featurette
• Fact Track
• Previews




PURCHASE @ AMAZON.COM

EQUIPMENT
Sony 36" WEGA KV-36FS12 Monitor; Sony DA333ES Processor/Receiver; Panasonic CV-50 DVD Player using component outputs; Michael Green Revolution Cinema 6i Speakers (all five); Sony SA-WM40 Subwoofer.


[an error occurred while processing this directive]
---
Leon: The Professional [Blu-Ray] (1994)
---
Reviewed by Colin Jacobson (December 31, 2009)

That Jean Reno is one rockin' frog! If more French were like him, we wouldn't have needed to save their snail-eating butts in World War II. (Okay, the truth is that Reno isn't actually French, though he's spent most of his life there. Still, I liked the intro, so I went with it.)

We witness Reno in all his vicious glory in Leon, Luc Besson's 1994 story of the hitman (Reno) who takes on Mathilda (Natalie Portman) as a young female apprentice whose family has been brutally murdered. As the plot progresses, the two develop a strong bond and affection for each other as they create their own little dysfunctional family.

Leon had the potential to be horribly sappy, and it treads on thin ice at times. There are some unnecessarily cutesy scenes, like when Mathilda plays dress-up and imitates celebrities for Leon, or when they have a water fight in the apartment. Yeah, I suppose there was a need to leaven the film's darkness with a little levity, but these segments were simply annoying, and they risked fracturing the mood of the piece.

Make no mistake: Leon is a rough film, and I'm surprised it never churned up more controversy. Or maybe it did, but 1994 wasn't that long ago, and I don't remember any extreme angst surrounding it. Still, a pubescent girl being trained as an assassin has to have raised some hackles.

Whatever controversy may have existed would have been worse if this edition had made US screens. This Blu-ray presents the "uncut international version" which runs 24 minutes longer than the US one did; the latter also appears here. (In the US, Leon was called The Professional, which leads to this disc's awkward title of Leon The Professional.)

Although I saw The Professional theatrically, I don't remember it well enough to verify the additions myself, but a trip to IMDB confirmed that the parts I thought were new indeed didn't appear in 1994. Virtually all of the scenes that were omitted in the US featured either the sexual aspect of the relationship between Leon and Mathilda, or showed her in some socially inappropriate manner (participating in missions, drunk, using a gun). Not all of the rougher stuff involving Mathilda was excised from the US version, but much of it was.

Because it's been so long since I last saw the film, I can't honestly say if Leon works significantly better than The Professional, but I suspect the additions do improve the story. They add a dimension to the awkwardness of the situation that otherwise wouldn't exist. The film would be harsh nonetheless, since the seedy premise remains, but the added footage makes the picture grittier and more real.

In any case, I thought it was a terrific film. Leon provides a little something for almost everyone, as there's enough pure action for fans of that genre but the violence takes on a suitable nastiness that makes it palatable for folks who prefer fare that's darker than the cartoony shoot-em-ups that dominate screens. In the way it depicts the humanity of a hit man, Leon isn't dissimilar from its era-mate Pulp Fiction, though the latter's a lot more glib.

At times director Luc Besson has been accused of favoring style over substance. His two post-Leon films - The Messenger and The Fifth Element - certainly have legions of detractors, but I honestly disagree with them. Yes, his movies portray a high level of visual flair that works wonderfully within them, but they also provide the goods, as it were, and Leon may be Besson's best example of that trait. Certainly the movie looks terrific, but it possesses a strong emotional and dramatic backbone as well. It's one of the more affecting "action flicks" I've seen.

It helps that our two leads are absolutely terrific. Reno beautifully plays the gruffness and isolation of Leon and makes him into a much better developed character than was scripted; he adds a life to the role that certainly wouldn't have existed on the printed page. To look at him, you wouldn't think the guy's a tremendous badass, but he makes his hitman persona as convincing - or more so - than any stereotypical action hero could do.

Also terrific is Portman in her first film role. Anyone expecting the leggy lovely she's become will be disappointed, as Portman's a bony and awkward 12-year-old here who shows few traces of the babe to be. She does display an enormous amount of talent, however, as she turns Mathilda into a very realistic-seeming kid. She never resorts to usual child-actor ploys like cuteness or excessive weepiness; she keeps her personality well modulated and appears very believable. This has to have been a tough part, but she pulls it off with aplomb.

Surprisingly, the only dud in the film is Gary Oldman. I really quite fond of his work, as Oldman's one of the most adaptable actors around today, but he becomes a complete ham as corrupt DEA agent Stansfield. Honestly, his performance can be painful to watch as he overplays virtually every scene in which he appears. He uses a cartoony presence to much better effect in The Fifth Element, but that movie has a comic book feel to it that doesn't occur in Leon. As it stands, Oldman's extremely broad performance seems out of place.

Nonetheless, it doesn't hurt the movie to a significant degree, as Leon remains a superb piece of work. It's a dramatic, exciting and emotionally moving action film that manages to avoid the pitfalls common amongst a variety of genres. It's not for easily upset viewers, but others should find it very compelling.
---
The Blu-ray Grades: Picture B+/ Audio B+/ Bonus B-
---
Leon The Professional appears in an aspect ratio of approximately 2.35:1 on this Blu-ray Disc. Though it fell short of excellence, the transfer usually satisfied.

Sharpness was positive most of the time. Some shots could be a bit soft, especially during interiors. Nonetheless, the image mainly appeared to be concise and accurate. No issues with jaggies or moiré effects emerged, and only light edge haloes were noticeable. Source flaws were absent in this clean presentation.

Colors presented the transfer's strongest elements. Despite the flick's yellowish tint, the tones came across as full throughout the movie. No signs of bleeding, noise, or other concerns appeared. Black levels also looked deep and dense, and shadows showed reasonable clarity; they didn't excel, but they weren't an issue. The negatives almost made this a "B" transfer, but enough of the flick looked great to warrant a "B+".

As for the DTS-HD MA 5.1 soundtrack of Leon, it also seemed pretty positive. The forward soundfield appeared well defined, with consistently good localizing and a reasonably high activity level. The surrounds kicked in with lively audio during much of the film, though you shouldn't expect stereo imaging from the back speakers. If any split-surround material appeared, I didn't notice it; I thought the rear channels offered monaural imaging. Nonetheless, they helped flesh out the audio and contributed to the mix's overall impact.

Overall, the quality of the audio was solid. Dialogue occasionally sounded somewhat rough, which affected the intelligibility of a few lines, but speech generally appeared natural and crisp. Effects were clean and full, with good impact. The same went for music, which was lively and dynamic.

How did the picture and sound of this Blu-Ray compare with those of the prior Deluxe Edition DVD? Both showed improvements. The audio was crisper and more dynamic, while the visuals were tighter and cleaner. The Blu-ray presented a good upgrade over the DVD.

This Blu-ray replicates the extras from the 2005 Deluxe Edition DVD. First we find a Fact Track. This works in the standard subtitle commentary manner. Text runs at the bottom of the screen that covers topics like the cast, locations and sets, production elements and good notes from the shoot. In the category of "annoying punctuation", the track uses way too many exclamation points, but that's pretty much my only complaint about the commentary. It includes a lot of nice information about the creation of the movie and helped add to my appreciation of the flick.

The Blu-ray includes two versions of the film. We get Leon, the 133-minute international cut, and The Professional, the 109-minute US edition. I'll stick with Leon since it represents the director's preferred version, but it's nice that the Blu-ray offers viewers the option to see The Professional as well.

Next we get a 10 Year Retrospective. This 25-minute and seven-second program includes archival footage, movie clips, and new interviews with producer Patrice Ledoux, casting director Todd Thaler, director of photography Thierry Arbogast, costume designer Magali Guidasci, editor Sylvie Landra, and actors Natalie Portman, Jean Reno, Maiwenn, Ellen Greene, Michael Badalucco, and Frank Senger, They discuss the movie's conception as a spin-off from La Femme Nikita, casting challenges, shooting in New York and Paris, the looks of the characters, a few real life connections in the story, Besson's style as a director, and filming some specific scenes. Don't mistake "Retrospective" for a complete look at the movie's creation, but it includes quite a few interesting notes. We learn a lot of nice tidbits about the flick and find a lot to like here. The best part comes from the alternate takes of Gary Oldman as he threatens Matilda's father.

Entitled Jean Reno: The Road to Leon, the 12-minute and 23-second piece features the actor as he discusses his life and profession. We get information about his upbringing, his entrance into acting and the progression of his career, specifics about making Leon, and general thoughts about his work. It's a fairly honest piece that doesn't gloss over some of the problems Reno encountered. It doesn't discuss many of his films, so it doesn't work as a full biography or overview. That said, it's interesting and presents a reasonable amount of compelling information.

Natalie Portman: Starting Young fills 13 minutes and 48 seconds with comments from Portman. I thought this would work like the Reno chat, but instead it concentrates mostly on Leon. She talks about her audition and desire to be in the flick, concerns exhibited by her parents, acting challenges, and the specifics of some scenes. I like the focus on her Leon experiences, as Portman tosses out many useful tidbits about what it was like to create the flick.

A few ads appear under Previews. We get clips for Blu-ray Disc, The Da Vinci Code, The Taking of Pelham 1 2 3, Close Encounters of the Third Kind, Felon, Angels & Demons, 12, District 9, and Moon. No trailer for Leon shows up here.

Leon effectively combines hard-hitting action with moving drama to create an indelible piece of work that seems very effective. The Blu-ray provides generally positive picture and audio along with a few decent extras. While this isn't a great disc, it still manages to serve the movie well and it earns my recommendation.

To rate this film, visit the Superbit review of LEON: THE PROFESSIONAL