FOX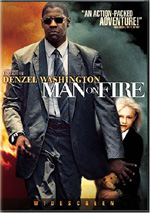 MOVIE INFO
Director:
Tony Scott
Cast:
Denzel Washington, Dakota Fanning, Christopher Walken, Marc Anthony, Radha Mitchell, Giancarlo Giannini, Rachel Ticotin
Writing Credits:
A.J. Quinnell (novel), Brian Helgeland
Synopsis:
Two-time Academy Award winner Denzel Washington ignites a masterpiece of mayhem in this "powerful" (Los Angeles Times) action-thriller about sweet redemption ... and savage retribution. Hard-drinking, burnt-out ex-CIA operative John Creasy (Washington) has given up on life - until his friend Rayburn (Christopher Walken) gets him a job as a bodyguard to nine-year-old Pita Ramos (Dakota Fanning). Bit by bit, Creasy begins to reclaim his soul, but when Pita is kidnapped, Creasy unleashes a firestorm of apocalyptic vengeance against everyone responsible.
Box Office:
Budget
$70 million.
Opening Weekend
$22.751 million on 2979 screens.
Domestic Gross
$77.862 million.
MPAA:
Rated R


DVD DETAILS
Presentation:
Widescreen 2.40:1/16x9
Audio:
English Dolby Digital 5.1
English DTS 5.1
Spanish Dolby 2.0
French Dolby 2.0
Subtitles:
English
Spanish
Closed-captioned

Runtime: 146 min.
Price: $29.98
Release Date: 9/14/2004

Bonus:
• Audio Commentary with Director Tony Scott
• Audio Commentary with Actor Dakota Fanning, Producer Lucas Foster, and Writer Brian Helgeland
• "Inside Look"




PURCHASE @ AMAZON.COM

EQUIPMENT
Sony 36" WEGA KV-36FS12 Monitor; Sony DA333ES Processor/Receiver; Panasonic CV-50 DVD Player using component outputs; Michael Green Revolution Cinema 6i Speakers (all five); Sony SA-WM40 Subwoofer.


[an error occurred while processing this directive]
---
Man On Fire (2004)
---
Reviewed by Colin Jacobson (August 29, 2004)

Denzel Washington doesn't often take on roles that threaten his "good guy" image, but he shows a willingness to occasionally indulge in his darker side. Perhaps he'll do this more often after the success of Training Day, a role that brought him his second Oscar.

In 2004's Man on Fire, Washington plays a self-described drunk and has-been former CIA agent named John Creasy (Denzel Washington). He goes to Mexico along the US border to visit with his friend Paul Rayburn (Christopher Walken) and we see how bad Creasy feels.

At the film's start, text tells us that one kidnapping every hour occurs in Latin America and that 70% of the victims don't survive. Wealthy Samuel Ramos (Marc Anthony) worries about the threats in Mexico City, so family attorney Jordan Kalfus (Mickey Rourke) convinces him to get a bodyguard for his nine-year-old daughter Pita (Dakota Fanning). Rayburn talks Creasy into taking the job.

When Creasy first starts to hang out with Pita, she tries to chat with him, but he remains distant and tells her he doesn't want to socialize so he can focus on his job. He stays haunted by his past and considers suicide. Eventually, however, Pita's charm wins him over and the two start to bond.

Inevitably, this changes when a kidnapping attempt occurs. Creasy manages to slay some of the kidnappers, and they also wound him badly, but he survives. Unfortunately, Pita gets abducted along the way. Her father agrees to pay the ransom, but things go poorly, and this apparently ultimately ends in the death of Pita.

This sets off loose-cannon Creasy on a rampage. He decides to get revenge on the killers and starts to methodically investigate the kidnapping and kill those involved. This leads him into an ever-widening net of corruption as he finds out additional details behind the abduction.

Usually movies in particular genres tend to clock in with similar running times. When Fire landed on my plate, I figured it'd fill 110, maybe 115 minutes. Imagine my shock when I saw that the flick rambled for an extended 146 minutes. I don't rigidly adhere to these genre/length conventions; a three-hour romantic comedy would be very unusual, but if it works, it doesn't matter. Nonetheless, some kinds of films tend to work better at certain running times, and Fire definitely needed judicious editing it didn't receive.

Actually, the movie encountered many snips from the editor's scissors, as the movie often went with a choppy, herky-jerky visual style. Musical and effects snippets contributed to this feeling, all of which dated the movie badly. I don't mean that Fire will look dated 10 years from now. Instead, I mean that it already looks dated, as the movie used a style more in vogue in the mid-Nineties. I got the feeling director Tony Scott really, really, really liked 1995's Se7en and used its opening credits as his inspiration for Fire. Don't get me wrong - I adored Se7en and still do. But any film that emulates it like this will inevitably feel like a wannabe and a product of a bygone era. Frankly, the whole thing felt like a long 1995 music video.

For the film's tone, it essentially went back even farther, as its sense of vengeance came across like something from the Eighties. I won't say that Fire presented Creasy's killing spree as totally justified and without ramifications - either psychological or practical - but I certainly got the impression from it that we were meant to be on Creasy's side of things. Yeah, the early parts of the movie purport to demonstrate his emotional pain after a life of violence, and we see how his closeness to Pita brings him back to humanity. However, that feeling gives his quest for vengeance an apparent sense of justice. We don't get an impression that Creasy will lose anything as he slaughters the involved parties. The movie doesn't quite bask in and glorify the violence, but it doesn't do much to condemn it.

And make no mistake - you'll see some nasty material in Fire. The movie doesn't depict the violence terribly graphically much of the time, but Creasy indulges in some sick forms of killing, such as an explosive suppository. He also coolly tortures the folks he interrogates, and given the film's lack of complications, it comes across as though we're supposed to see these actions as justified. Fire involves little gray area, as it mainly concentrates on simple black and white good and evil.

That applies to the Creasy character as well. On the surface, he appears to present a complex personality, as we see him open up and emerge from the darkness in which he resided before he met Pita. Plenty of room for a multifaceted personality emerges, especially when Creasy goes back to the dark side during his murderous pursuit. However, the movie looks at things in such an uncomplicated manner that Creasy never turns into much more than a stock character.

Much of this wouldn't bother me if Fire offered a more satisfying take on its subject. Unfortunately, it seems like a definitive example of style over subject. Scott appears so concerned with the jagged visuals that he doesn't concern himself with telling the story. It doesn't help that he uses odd and distracting techniques along the way. In addition to the jerkiness, he'll do things such as run English text on the screen to echo statements. Fire features a lot of subtitles to translate Spanish, but Scott highlights certain English lines with onscreen words as well. Why? To make an obvious movie even less subtle.

That sense of being beaten over the head with themes and concepts causes much of Man on Fire's undoing. Frankly, it feels like Scott stretches for the sake of stretching. He's always been a slick visual filmmaker whose films don't feature much depth, but they succeed moderately when he sticks with his strengths. He puts on his David Fincher suit here, unfortunately, and it doesn't work.
---
The DVD Grades: Picture B+/ Audio B+/ Bonus B
---
Man on Fire appears in an aspect ratio of approximately 2.40:1 on this single-sided, double-layered DVD; the image has been enhanced for 16X9 televisions. A few small concerns popped up, but not much, and Fire offered a generally positive presentation.
Sharpness consistently appeared crisp and detailed. At no time did I discern any signs of unintentional softness or fuzziness, as the movie always came across as well-defined and accurate. Some shots were purposefully distorted, but I didn't count them as an issue. Moiré effects and jagged edges showed minor concerns, and some mild edge enhancement did mar the presentation at times. Print flaws were largely non-existent. Stylized grain popped up at times along with a speckle or two, but otherwise the movie seemed clean.
Fire went for a rather cool look, which meant that colors usually appeared desaturated. Nonetheless, they came across as accurate and distinct within those parameters. The hues rarely looked natural, but they weren't supposed to generate that appearance, so I was satisfied with the sickly tint found during much of the movie. Black levels seemed to be deep and rich, while shadow detail was clear and appropriately opaque. Mostly Fire offered a strong transfer.
The DVD for Man on Fire packed both Dolby Digital 5.1 and DTS 5.1 soundtracks. Both seemed similar, as I discerned no substantial differences between the pair. Actually, the DTS track came across as marginally more dynamic and powerful, but this was a very small variation.
Music dominated the soundfield. The score and song snippets mixed together well to create the appropriate feelings of tension. Stereo separation was excellent, and the music spread to the surrounds neatly at times. Effects played a small role during the first half, but they were appropriately placed and they meshed together well. As Creasy went on his rampage, the second half demonstrated more active material and brought the non-musical elements of the mix to life. The surrounds bolstered those sequences nicely and gave the movie a fine sense of atmosphere.
Audio quality was excellent. Speech consistently sounded natural and distinctive, with no edginess or problems connected to intelligibility. Effects were concise and tight, and they showed no distortion or flaws. Music shined the most brightly, though, as the score and songs demonstrated fine dynamics. Highs were clean and bright, and bass response was consistently deep and firm. I felt especially impressed with the reproduction of the Nine Inch Nails' snippets, as they offered terrific power. Fire came across as a little too unambitious in regard to its soundfield to get into "A" territory, but the high quality of its audio made it a solid "B+" that bordered on an "A-".
Not a ton of extras appeared with Man on Fire, but we did find a pair of audio commentaries. The first one comes from director Tony Scott, who provides a running, screen-specific chat. Scott goes into a nice mix of topics. He discusses how he came to the project and originally wanted to make it in the early Eighties. He also talks about locations and the dangers in Mexico City, the cast and their methods, character issues, cinematographic techniques and style, deleted scenes and changes from the original tale, research, the use of subtitles, and many other issues. Scott gives us a great overview of matters and usually seems entertaining and insightful. It's a fine commentary that comes across as useful and illuminating.
For the second commentary, we hear from actor Dakota Fanning, writer Brian Helgeland and producer Lucas Foster. All three sit together for this running, screen-specific track. Since Scott left few stones unturned during his excellent chat, we don't get a ton of new information here. Nonetheless, it includes an interesting slant on things. Foster essentially acts as the ringleader and takes the helm for most of the commentary. He tosses out various production details like the debates with the studio about some elements, the pacing of the film's first act, and obscure challenges like rounding up enough sheep for a particular (deleted) sequence.
Fanning seems mature beyond her years but not cloyingly or annoyingly so. She adds notes about her experiences with the other actors and crew as well as her training; she doesn't contribute much strong material, but she comes across as likable and engaging. Helgeland mainly talks about story and character subjects. The three mesh nicely and portray a lively and fun chemistry. We get a very good feel for the production in this fine chat, though it includes too much happy talk for my liking. However, it mainnly suffers by comparison with the stellar commentary from Scott, as it works well independently.
Finally, we get Inside Look, an "exclusive insider's look at upcoming projects from Fox". This presents a trailer for Hide and Seek and also a featurette for Taxi, a Jimmy Fallon effort. We get a synopsis plus notes from actors Fallon and Queen Latifah in this very promotional piece. The area finishes with that movie's trailer.
A dark tale, Man on Fire is the kind of film I normally like. However, the flick's emphasis on style over substance seems extreme, and the distracting visuals make it difficult to take at times. It manifests occasional moments of interest but not many. The DVD presents generally solid picture and audio plus a few supplements highlighted by a terrific audio commentary from the director. Fox brings Man on Fire to DVD in a positive way, so fans will be happy, but I can't recommend this slow and insubstantial film to new viewers.
| | |
| --- | --- |
| Viewer Film Ratings: 4.2321 Stars | Number of Votes: 56 |