Picture/Sound/Extras: A-/A- (Dolby Digital), A (DTS)/B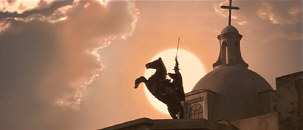 Hollywood just loves to update properties from the past, and some of these make more sense than others. A new Shaft with Samuel L. Jackson? Sounded like a good idea. A version of The Mummy made for contemporary tastes? Seemed to work out well. A new edition of Zorro? That one caught me by surprise.
Zorro was one of those heroes who felt stuck in a past era so strongly that I didn't think an updated take on the character would work. I believed that such a swashbuckling persona wouldn't appeal to modern audiences, and Zorro was best left to parodies like 1981's Zorro, the Gay Blade.
I was wrong, at least to a certain extent. While 1998's The Mask of Zorro didn't knock off any box office socks, it did reasonably well with a US gross of $93 million and it nabbed a tidy $232 million worldwide. Not exactly Titanic level, but it seemed pretty solid for a movie with a $65 million budget.
As for the film itself, I thought it provided a reasonably entertaining experience that surpassed my expectations. The flick mainly takes place in 19th century Mexico, but it actually begins with a flashback sequence of sorts. We see Zorro, as masked hero who champions the people. Unfortunately, his archenemy Don Rafael Montero (Stuart Wilson) discovers his real identity of Don Diego de la Vega (Anthony Hopkins). Montero's men accidentally kill Diego's wife, and they then imprison him and leave the fate of his infant daughter Elena uncertain.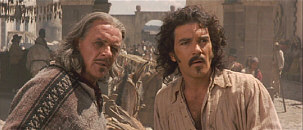 Twenty years later, we meet a ragged criminal named Alejandro Murrieta (Antonio Banderas), his brother Joaquin (Victor Rivers), and a partner named Three-Fingered Jack (L.Q. Jones). A vicious military captain named Harrison Love (Matthew Letscher) kills Joaquin and harms Jack, but Alejandro escapes. He vows revenge but is in no shape to enact his plans.
Enter Diego, recently escaped from his long imprisonment. He realizes that a young Alejandro helped him elude pursuers years earlier, and he decides to take on the adult version as a protégé. Much training ensues and eventually Alejandro's ready to become the new Zorro. Matters are complicated by the arrival of Montero's "daughter" Elena, who really is Diego's kid. Montero, Love and others attempt a scheme to own much of California, and it's up to the twin Zorros to stop them.
Three years earlier, director Martin Campbell helped update another slightly moribund franchise with a new James Bond piece called GoldenEye. Zorro didn't bring that series to life with equal success, but he did nicely with the material. The key to Zorro stemmed from the respect with which Campbell treated the subject. While the new movie clearly felt like a product of its times, with some cheeky humor and vibrant action sequences, it still showed a link to its forebears, especially through the exciting sword fighting pieces. These amped the action for a modern audience but kept up a connection with the past; Campbell nicely expanded the material but didn't make it seem like it had no link to the original.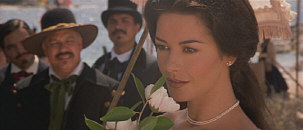 As was the case with GoldenEye, Campbell showed his greatest talent for the action scenes, and those sword fighting sequences offered some genuinely thrilling material. In a smart move, Campbell didn't tip his hand early; though we see a little of that sort of action, he saved the big set pieces for more climactic moments in the film, and they escalated in intensity and activity. While I liked much of the rest of the movie, those parts were definitely the most fun.
Zorro also did well for itself due to its cast, especially in regard to our dual Zorros. Hopkins is almost money in the bank; while he can falter at times, he usually provides a solid performance that adds weight to a movie, and that occurred with Zorro. The concept of Hopkins as a Spanish don seemed a little ridiculous at first, but I quickly forgot any concerns in that regard and accepted him fully in the role. He made Diego strong and led us believe that he would be a forceful presence even as an older man.
As for our newer Zorro, Banderas did a terrific job. He neatly balanced buffoonish humor early in the movie with charisma and vigor as the story progressed. That wasn't an easy task, but Banderas seemed up to the challenges. He created a solid action hero as well as a dashing leading man; the role of Zorro appeared tailor-made for him.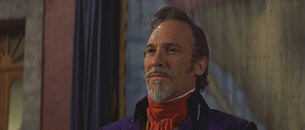 While all of the parts were there, I must admit that at times I felt the whole seemed less satisfying. Sometimes I review movies in which I bitch and moan about everything but then say that I still found the film to be fairly enjoyable. Conversely, there are times that I'll praise everything about a flick but then say that I didn't think it was all that great. Zorro fit into that category. To be certain, I liked the movie, but not as much as my praise might indicate. The story started well and ended with a terrific climax, but at times in between, I felt it dragged at times. I also wasn't especially wild about Catherine Zeta-Jones as Elena; she looked lovely but lacked a great deal of charisma.
Nonetheless, I found The Mask of Zorro to provide a generally exciting and enjoyable experience. The pace usually moved briskly, and it included some excellent action pieces. Much of the acting seemed solid and the film provided something different. The Mask of Zorro wasn't a classic, but it offered a fun screening nonetheless.
The DVD:
The Mask of Zorro appears in both an aspect ratio of 2.35:1 and in a fullscreen version on these single-sided, dual-layered DVDs; DVD One offers the 2.35:1 presentation, while DVD Two includes the fullframe film. The widescreen image has been enhanced for 16X9 televisions. Only the letterboxed picture was assessed for this review. As a whole, Zorro provided a terrific picture that lost a few points only because of some very minor concerns.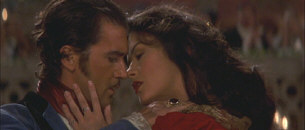 Sharpness looked excellent throughout the movie. At no times did I discern any signs of softness or fuzziness, as the film seemed to be very crisp and distinct. This was a terrifically detailed and accurate picture they appeared genuinely impressive. No moiré effects or jagged edges cropped up, but I saw minor edge enhancement at times. Print flaws seemed to be exceedingly minor. I noticed a speckle or two, but otherwise the image was very clean and fresh.
Colors offered a highlight of the movie. From the lovely sun-dappled scenery to the vivid and gorgeous costumes, Zorro presented a sumptuous vision from start to finish. The hues looked exceedingly vibrant and warm throughout the movie; they came across as genuinely stunning at almost all times. Black levels seemed to be equally deep and rich, while shadow detail appeared to be appropriately heavy but never excessively thick; considering all of the candle-lit sequences, this was an important consideration, and the DVD handled them well. Lose the minor edge enhancement and the picture of The Mask of Zorro would approach reference level. As it stands, the movie remained an excellent piece of work.
The Mask of Zorro was the second Columbia-Tristar (CTS) DVD to include a DTS soundtrack. The first was Men In Black. Both films share the same executive producer, a certain S. Spielberg. Coincidence? Nope - Spielberg has always had a big interest in DTS, so its appearance on some of his productions comes as no surprise.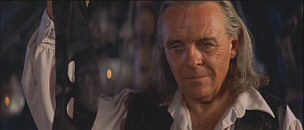 While I thought the two mixes for MIB sounded very similar, I found larger discrepancies between the Dolby Digital 5.1 and DTS 5.1 soundtracks of Zorro, all of which favored the DTS edition. Initially I'll cover my thoughts about the DD mix, and I'll add notes about the DTS version after that.
Zorro featured a nicely active and involving soundfield. All five channels received a full workout throughout the movie, as the track provided a vivid and smooth experience. James Horner's score cropped up cleanly and distinctly from the front and received solid support from the surrounds, while the effects appeared to be appropriately localized and moved between channels well. The surrounds contributed a great deal of material during much of the movie. From galloping horses to cannon blasts to sword swishes, the mix provided clear audio from all around the viewer, and this helped make the movie a more engrossing and dramatic affair.
Audio quality also seemed to be very strong. Dialogue always came across as warm and natural, and I discerned no problems related to edginess or intelligibility. Music was very bright and brilliant, with fine fidelity and strong low-end response. Effects showed similar characteristics, as they seemed to clear and accurate and displayed excellent dynamics. At no time did I hear distortion or other flaws to mar the presentation. Overall, this was a terrific soundtrack that really escalated the effectiveness of the movie.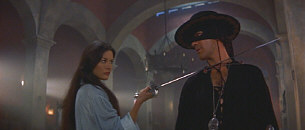 So how did the DTS track improve upon the Dolby Digital one? Both remained very similar, but I thought the DTS version added an extra punch to the package. Bass response seemed even deeper and bolder, and the soundfield blended together a little more smoothly. For example, check out the cannon blast heard in chapter 13; this boasted greater realism and power in the DTS mix. Ultimately, both editions were very strong, but the DTS track seemed absolutely fantastic.
This new two-DVD special edition of The Mask of Zorro replaces the original "bare-bones" effort Columbia-Tristar CTS released in December 1998. While the package includes some good stuff, I must admit it's an underwhelming experience, as the amount of materials seems low. Nonetheless, the first extra I encountered was a winner. That would be a running, generally screen-specific audio commentary from director Martin Campbell, who offered a very chatty and compelling piece.
Often I don't much like this kind of track, during which the director appears to simply sit alone and remark upon the movie; too many of these are dull because of the lack of interaction or editing. However, Campbell's one of the better commentators, and he made this track a consistent joy. He covered a very wide variety of subjects, including topics such as executive producer Steven Spielberg's influence on the film, problems on the set, his own shortcomings, the long path Zorro took to the big screen - with discussions of other directors who worked on the project, such as Robert Rodriguez - and a nice mix of other areas. He provided a wealth of information and did so in a frank and open manner; Campbell didn't seem afraid to speak his mind, and though he never really dished any dirt, the honest attitude was refreshing. Ultimately, I thought this was a fine audio commentary that gave me more respect and admiration for the film and its director.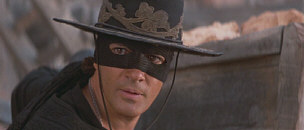 Next we find an "exclusive" documentary about the film. Entitled Unmasking Zorro, this program runs for 45 minutes and it includes the usual mix of film clips, shots from the set, and interview snippets. The latter featured director Campbell, actors Banderas, Hopkins, Zeta-Jones, Stuart Wilson, and Matthew Letscher, Sandra Curtis and John Gertz from Zorro Productions, costume designer Graciela Mazon, executive producers Laurie MacDonald and Walter F. Parkes, producers David Foster and Doug Clayborne, production designer Cecelia Montiel, composer James Horner and sword master Bob Anderson.
I noticed a copyright date of 1999 attached to this piece, which makes me think CTS sat on the special edition DVD for quite some time. In any case, the program offered a moderately interesting experience at times, mainly due to some decent behind the scenes material. Otherwise, I thought it seemed somewhat superficial and flat. It included too many snippets from the movie and the comments provided by the participants brought a little information to the table but didn't reveal a great deal of depth. Ultimately, it was a fairly entertaining program but it wasn't anything special.
Two Deleted Scenes appear on the DVD. The first shows a minor episode early in the relationship between the Hopkins and Banderas characters, while the other provides an alternate ending discussed by Campbell during his commentary. The initial clip runs 75 seconds, while the second lasts three minutes and 27 seconds. Both snippets seem interesting but unspectacular. One disappointment: the documentary showed bits of an unused scene that didn't appear in this section.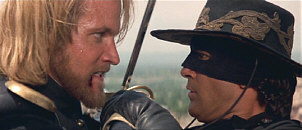 In the Advertising Materials area, we get two trailers - one a "teaser", the other a theatrical clip - as well as a whopping 12 "TV Spots". Two of the latter last 15 seconds each, while the rest go for 30 seconds apiece. The "Publicity Photo Portraits" includes 21 stills. We see Banderas, Zeta-Jones and Hopkins alone, and there are also shots of Banderas and Hopkins and Banderas and Zeta-Jones. One nice touch: an index lets you jump to any of the five subsections, but you can also skim through them as one big package, which means you don't return to the menu after three or four photos.
The Costume Design section shows eight stillframes. On the left, we find costume sketches, while the right side of the screen displays finished product in the movie. It's a minor extra but an interesting one. In addition to bland "Talent Files" for Banderas, Hopkins, Zeta-Jones and director Campbell and brief but good "Production Notes" in the DVD's booklet, the disc finishes with a music video. We get a clip for "I Want to Spend My Lifetime Loving You" from Tina Arena and Marc Anthony. This four-minute and 45-second piece mainly combines shots of the two as they lip-synch the song with snippets from the movie. In addition, it attempts a very weak Zorro-esque subplot in which some dude rescues a babe from a nearby hacienda. That aspect shows no excitement or intrigue; it feels tacked-on and superfluous. Still, Arena's very sexy, so I won't complain too much.
The Mask of Zorro isn't a classic film, but I felt it provided a fun and exciting affair. It benefited from good acting and some solid action pieces that helped compensate for a mildly generic quality. The DVD offers very strong picture and sound, and it adds a smattering of decent supplements crowned by an excellent audio commentary. For those who don't already own the prior DVD, they should be very pleased with this package. As for anyone who's considering an upgrade, I'd recommend it just because of Campbell's audio commentary; it's one of the best I've heard recently, and I thought it was almost worth the price of admission alone.