DISNEY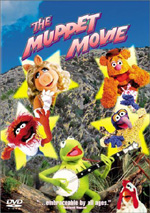 MOVIE INFO
Director:
James Frawley
Cast:
Jim Henson, Frank Oz, Richard Hunt, Jerry Nelson, Dave Goelz, Milton Berle, Mel Brooks, James Coburn, Dom DeLuise, Elliott Gould, Bob Hope, Madeline Kahn
Writing Credits:
Jack Burns, Jerry Juhl
Tagline:
More entertaining than humanly possible.
Synopsis:
They're irreverent, irrepressible, and downright irresistible. They're the Muppets ... starring in their first full-length movie! See how their meteoric rise to fame and fortune began: with a rainbow, a song ... and a Frog. After a fateful meeting with a big-time talent agent, Kermit the Frog heads for Hollywood dreaming of showbiz. Along the way, Fozzie Bear, the Great Gonzo, and the dazzling Miss Piggy join him in hopes of becoming film stars too. But all bets are off when Kermit falls into the clutches of Doc Hopper (Charles Durning), a fast-food mogul seeking to promote his French-fried frog-leg franchise! Featuring Oscar-nominated music (1980, Best Original Song "The Rainbow Connection," Best Original Score) and side-splitting appearances by some of the biggest names on the silver screen - including Steve Martin, Mel Brooks, Orson Welles, and more!
Box Office:
Domestic Gross
$76.657 million.
MPAA:
Rated G


DVD DETAILS
Presentation:
Widescreen 1.85:1/16x9
Fullscreen 1.33:1
Audio:
English Dolby Digital 5.1
English Dolby 2.0
French Dolby 2.0
Spanish Dolby 2.0
Subtitles:
English
French
Spanish
Closed-captioned

Runtime: 95 min.
Price: $19.95
Release Date: 6/5/2001

Bonus:
• Theatrical Trailers
• "Muppetisms"
• Jim Frawley's Camera Test




PURCHASE @ AMAZON.COM

EQUIPMENT
Sony 36" WEGA KV-36FS12 Monitor; Sony DA333ES Processor/Receiver; Panasonic CV-50 DVD Player using component outputs; Michael Green Revolution Cinema 6i Speakers (all five); Sony SA-WM40 Subwoofer.


[an error occurred while processing this directive]
---
The Muppet Movie (1979)
---
Reviewed by Colin Jacobson (November 29, 2005)

For many folks of my generation, the Muppets maintain a nice place in our memories. After all, thirty-somethings like myself were among the first to be reared on these puppets. The Muppets followed us through our lives; just when we got too old for Sesame Street, along came The Muppet Show to provide more sophisticated entertainment.

I recall being quite excited when they released The Muppet Movie in 1979. I can even recall exactly when I saw the flick; my family and I went to a showing on Christmas Day 1979. I loved the film so much that I quickly blew some Christmas cash on a Fozzie the Bear puppet. This meant that many cries of "wocka wocka" were heard throughout my house during that vacation.

Boy, was that a long time ago! I suppose I saw Muppet again between 1979 and today, but I can't say this for certain. In any case, I was happy to check out the movie once more with its release on DVD, though I was also a little nervous. As I noted when I reviewed both 1974's The Towering Inferno and 1978's Jaws 2, it can be perilous to revisit childhood faves. While The Muppet Movie doesn't engender memories as strong as those I have for the other two flicks, I still remember it fondly, and I worried I'd not care for it today.

Although I didn't adore Muppet on this latter-day screening, I still thought it was a fairly entertaining experience. The film purports to tell how the Muppets got together. Actually, it's a movie within a movie, as we see the gathered grouping of characters begin to watch Muppet at the film's start. From there, it's a mostly-uninterrupted view of the "factual" proceedings.

The movie's plot is quite simple. Early on, a talent scout (Dom DeLuise) gets lost in Kermit's swamp, but before he departs, he tells our favorite melancholy amphibian that he'd be a natural in show biz. As such, Kermit (voiced and manipulated by Jim Henson) sets out to make his name in the world, and as he travels to Hollywood, he encounters a mix of new friends. There's Fozzie the Bear (Frank Oz), Miss Piggy (Oz), Gonzo (Dave Goelz), piano-playing Rowlf (Henson), the Dr. Teeth Band, and a slew of others, most of which accompany Kermit on his trip.

Not all is happy, however, as a nasty businessman pursues Kermit every step of the way. Doc Hopper (Charles Durning) owns a chain of frogs' legs restaurants, and he wants Kermit to act as spokes-frog. For obvious reasons, Kermit has philosophical objections to such a role, and he declines. Unfortunately, Hopper won't give up easily, so he uses all sorts of nefarious means to get his frog.

You'll earn no points if you guess that all will eventually end well. Actually, the movie lets you know this in advance; since the entire story is essentially a retelling of past events, we know that Kermit and the gang will make it to Hollywood and become big stars. It's the journey that's the entertaining part, and it indeed is often fun to watch the crew make their trip to fame.

As with most Muppet productions, most of the charm found in Muppet comes from the performances of the puppeteers. Henson, Oz and the others had operated their charges for many years by the time Muppet rolled around, so they clearly were comfortable in the parts. I suppose the pressure of a major motion picture may have created new demands, but they seemed able to handle them well.

One nice thing about good Muppet productions is that they can be entertaining for both kids and adults. The entire event proceeds in a fairly simple, innocent manner that keeps it very kid-friendly, but the crew make sure that there's a mild irreverence and nuttiness that adds interest for adults. I don't think that Muppet is quite up to the fairly sophisticated standards of Disney flicks like The Emperor's New Groove or the Toy Story features, but it still offers enough adult-oriented material to ensure that those of us over the age of 10 will have a good time.

Actually, one of the film's nods to the adult audience became a burden during Muppet. If you look at the list of "special guest stars" credited on the DVD's case, you'll find a stunning roster of talent. Brace yourself, for here they come: Edgar Bergen, Milton Berle, Mel Brooks, James Coburn, DeLuise, Elliott Gould, Bob Hope, Madeline Kahn, Carol Kane, Cloris Leachman, Steve Martin, Richard Pryor, Telly Savalas, Orson Welles, and Paul Williams. Of course, many of these names are bigger than others, but that's still an insanely long list of stars to pack into this brief feature.

Some of them genuinely add to the film. Martin's bit as a snide waiter was fun, and some of the others had decent bits as well. However, the entire enterprise became quite tiresome after a while. This blunted the impact of the cameos; virtually anytime we saw a Muppet request the attention of a human, we'd then see a person with his/her back turned to the camera. After that, the human would make his/her identity known, and we'd go wow! Orson Welles! Or whoever. This seemed interesting for the first few cameos, but after that, I really started to wish that the celebrities would disappear from the project.

Despite that issue, I still found The Muppet Movie to provide a generally enjoyable experience. The movie lacks great depth or humor, but it was largely witty and compelling, as the gentle irreverence of the Muppets remains a solid source of entertainment. Other Muppet programs top it - such as the terrific "Muppetvision" show at DisneyWorld - but for the Muppet films, the first was probably the best.
---
The DVD Grades: Picture C-/ Audio C+/ Bonus C-
---
The Muppet Movie appears in both an aspect ratio of approximately 1.85:1 and in a fullscreen version on this double-sided, single-layered DVD; the widescreen image has been enhanced for 16X9 televisions. Only the letterboxed picture was reviewed for this article. Although the film often had some positive moments, a large number of problems kept it from truly shining.
Sharpness usually appeared positive. At times it became a little fuzzy and ill-defined, but it generally manifested a positive level of clarity. Though this wasn't a razor-sharp presentation, it seems acceptably concise. I saw no signs of moiré effects or jagged edges, but a little edge enhancement popped up through the movie.
Most flicks with lively palettes show those colors through clothes, backgrounds or other non-performing elements. That wasn't the case with Muppet; in this release, it was the actors themselves who provided the brightest hues! Though some of the sets also presented nice tones, the best colors were found in the various Muppets. Those critters connected every tone in the rainbow, and I thought the hues always looked solid. Reds seemed particularly vivid and accurate, but all of the other colors also came across as clean and vibrant as well. The film's best moments involved the Dr. Teeth Band, as the wild mix of Muppets made for a real explosion of color.
Black levels generally seemed solid, with dark tones that appeared acceptably deep and rich. However, shadow detail was a little lacking. Some low-light situations came across as a bit dark and dense, with images that could be somewhat hard to discern. I didn't think the picture seemed muddy, though, and the film included few enough dim sequences that this wasn't much of a concern.
Much more significant were print flaws. Actually, most of the usual culprits made few appearances during The Muppet Movie. I detected more than occasional examples of grit, speckles, and small debris such as a hair or two. These weren't the biggest problem, though as the worst offender was grain. The opening shot of the movie showed intense grain, and many more segments would appear similarly marred. The grain wasn't consistent, as some scenes featured none of it, and others only displayed light problems with it. When it got intense, though, it could become extremely heavy.
The oddest aspect of the grain stemmed from the kinds of scenes that featured it. Some of these made sense, as they showed various sorts of special effects elements that required more than one layer of film. However, others looked to be simple shots with no complicated aspects. Why were these so grainy? I have no clue, but the excessive grain really caused a lot of problems during The Muppet Movie. Lose the grain and this was at least a "B-" picture; except for the other source flaws, it really looked quite good. However, the density of the grain meant that I didn't feel comfortable with any rating above a "C-".
The Dolby Digital 5.1 soundtrack of The Muppet Movie wasn't much better than the picture. Remixed from the original Dolby Surround track - which also appears on this DVD - the audio presented a fairly limited soundfield. Activity stayed pretty firmly anchored to the front channels, and the center speaker dominated the affair. Music and ambient effects spread acceptably to the sides at times, but these were never very involved partners in the affair. I heard some decent panning on a few occasions, such as when a car would cross the screen, but these elements didn't seem impressive.
As for the surrounds, they added little to the track. On a few occasions they demonstrated loud outbursts - such as an explosion early in the film - but for the most part, they were passive partners in the experience. The music spread uncomfortably to the rear, as it echoed the front speakers in a self-conscious manner. This wasn't a terrible display, but it didn't seem natural. Otherwise, I felt that the rear channels provided mild atmosphere to the mix but didn't do much else.
Although the soundfield seemed quite modest, that was fine with me; most films from the late Seventies were still monaural, so a true surround mix didn't need to do much to outperform its peers. Audio quality was more dated and less satisfying, though not terrible.
As a whole, the mix sounded somewhat thin and brittle. Speech was intelligible, but the dialogue seemed sort of lifeless throughout much of the movie. Effects also showed little realism as they displayed reverberated and processed tones; distortion seemed mild for these elements, but their failure to show accurate sounds seemed problematic. Music was similarly tinny and wan, and the track's attempts to integrate low-end tones did not succeed.
While Muppet actually offered quite a lot of bass, the low-end seemed loose and undefined, and it stood out badly. The bass felt as though it'd been roughly grafted on top of this track and it actually detracted from the experience. Ultimately, the soundtrack for The Muppet Movie earned about a "B" for its subdued but more-than-adequate-for-the-era soundfield, but the thin and drab audio quality dropped into "C-" territory. I don't expect a lot from a late Seventies flick, but I really thought this mix had some problems. As a whole, that meant an overall score of a "C+" for this flawed soundtrack but sporadically impressive soundtrack.
While the DVD of The Muppet Movie doesn't include a slew of supplements, we find a few morsels here. Most significant is Jim Frawley's Camera Test. This 13-minute and 30-second piece shows a series of shots that appear to be meant to demonstrate how well the filmmakers could integrate the Muppets into exterior shots. Muppeteers Jim Henson and Frank Oz are along as well, and they operate Kermit (Henson) and Fozzie and Miss Piggy (Oz) in scenes together. Mostly we find Muppets in nature, but there are also shots of Kermit and Fozzie in a car. It's a fun little piece, mainly because Oz and Henson improvise some interesting dialogue between their characters. Make sure you stay to the end to see them deal with some friendly cows.
In addition, we get three Muppetisms. Created in 1989, these appear to be promotional bits in which a variety of characters espouse little words of wisdom like "laugh at your own jokes" and "honesty is the best policy". The three clips individually feature Kermit and Miss Piggy in their own snippets, and the final one offers both Pepe and Rizzo together. They run between 30 and 60 seconds for a total of 140 seconds of material. They're cute little bits but nothing terribly special.
Lastly, the DVD tosses in a mix of Bonus Trailers. Whenever Columbia-Tristar tout "bonus" trailers, that means you can forget about finding the promo for the featured flick itself. In any case, here we discover ads for Muppets From Space, Jumanji, The Muppets Take Manhattan, Buddy, and The Adventures of Elmo In Grouchland. Many CTS titles include short production notes within their booklets, but that's not the case here, as the DVD provides nothing more than a title card.
Not that big fans of The Muppet Movie will really care. I get the feeling this film generates a great deal of goodwill, and most folks will be happy just to own a DVD copy of it. For myself, I thought it was a generally charming and entertaining flick, though it had some slow moments along the way. The DVD provides problematic picture and sound, and the supplements lacked many significant components. In the end, The Muppet Movie is a fun film that will entertain many. I wasn't wild about its treatment on DVD, but it still merits a look for Muppet fans.
To rate this film visit the Anniversary Edition review of THE MUPPET MOVIE