DIMENSION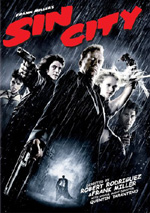 MOVIE INFO
Director:
Frank Miller, Robert Rodriguez, Quentin Tarantino
Cast:
Bruce Willis, Jessica Alba, Benicio Del Toro, Michael Clarke Duncan, Mickey Rourke, Elijah Wood, Devon Aoki, Alexis Bledel, Powers Boothe, Rosario Dawson, Carla Gugino, Josh Hartnett, Rutger Hauer, Jaime King, Michael Madsen, Brittany Murphy, Clive Owen
Writing Credits:
Frank Miller
Tagline:
Walk down the right back alley in Sin City and you can find anything.
Synopsis:
Welcome to Sin City. This town beckons to the tough, the corrupt, the brokenhearted. Some call it dark. Hard-boiled. Then there are those who call it home. Crooked cops. Sexy dames. Desperate vigilantes. Some are seeking revenge. Others lust after redemption. And then there are those hoping for a little of both. A universe of unlikely and reluctant heroes still trying to do the right thing in a city that refuses to care. Their stories - shocking, suspenseful and searing - come to the fore in a new motion picture from co-directors Frank Miller and Robert Rodriguez, and special guest director Quentin Tarantino.
Box Office:
Budget
$45.5 million.
Opening Weekend
$29.120 million on 3230 screens.
Domestic Gross
$74.080 million.
MPAA:
Rated R


DVD DETAILS
Presentation:
Widescreen 1.85:1/16x9
Audio:
English Dolby Digital 5.1
English DTS 5.1
French Dolby Digital 5.1
Subtitles:
English
Spanish
Closed-captioned

Runtime: 124 min.
Price: $29.99
Release Date: 9/16/2005

Bonus:
• Behind-the-Scenes Featurette
• Sneak Peeks




PURCHASE @ AMAZON.COM

EQUIPMENT
Sony 36" WEGA KV-36FS12 Monitor; Sony DA333ES Processor/Receiver; Panasonic CV-50 DVD Player using component outputs; Michael Green Revolution Cinema 6i Speakers (all five); Sony SA-WM40 Subwoofer.


[an error occurred while processing this directive]
---
Sin City (2005)
---
Reviewed by Colin Jacobson (August 11, 2005)

While famous characters like Batman and Spider-Man get most of the attention, the recent flurry of comic book-based movies has also been good for lesser known titles. A fairly obscure mag like Constantine clearly got a big boost from its big screen airing, and the same must be said for Frank Miller's Sin City.

I knew Miller from his years at Marvel in the late Seventies and early Eighties. He made a splash when he revived the Daredevil franchise and earned even greater notoriety with his reimagined Batman in the middle of the Eighties. Miller remains one of the genre's biggest and best-known talents, as evidence by this film of Sin City, an adaptation of his graphic novels.

Episodic in nature, Sin City starts with a short vignette in which a cop named Hartigan (Bruce Willis) prevents the murder of an 11-year-old girl named Nancy (Makenzie Vega). When his partner Bob (Michael Madsen) turns on him in an attempt to protect the killer – Junior, (Nick Stahl), the son of a powerful senator – it looks like Hartigan dies.

Next we meet physically deformed thug Marv (Mickey Rourke). So ugly that even hookers won't sleep with him, he finally finds solace in bed with the angelic Goldie (Jaime King) – and then someone murders her while they sleep. Despite the brevity of their dalliance, Marv becomes obsessively loyal to Goldie and he tracks down her murderer – a cannibalistic serial killer (Elijah Wood) with a connection to powerful Cardinal Roark (Rutger Hauer).

After this we meet Jackie Boy (Benicio Del Toro), a sadist who beats his would-be girlfriend, waitress Shellie (Brittany Murphy). Her actual new boyfriend Dwight (Clive Owen) comes to her rescue and tracks after Jackie Boy and his mob when they head out after some hookers in Old Town, an area the prostitutes essentially own.

Jackie Boy doesn't take no for an answer from off-duty Becky (Alexis Bledel), so the others – led by Gail (Rosario Dawson) and her silent assassin Miho (Devon Aoki) – attack and kill Jackie Boy and his guys. Only after this do they learn Jackie Boy was a cop. This complication and others leads to massive bloodshed as the hookers attempt to maintain their hold on Old Town.

Finally, we learn that Hartigan's death was exaggerated. He didn't perish after Bob shot him, as Senator Roark (Powers Boothe) kept him alive to exact revenge. He frames Hartigan for Junior's crimes and threatens to kill the cop's wife as well as Nancy if he claims otherwise. Despite Hartigan's admonitions not to do so, Nancy states she'll write him all the time while he's in jail, though she uses the pen name "Cordelia" and hides personal details.

Hartigan spends eight years in solitary confinement, and each week a new missive arrives from "Cordelia". However, these eventually cease to arrive, and he fears the worst when a creepy yellow dude visits his cell with an amputated finger in an envelope. Hartigan figures Roark's forces finally got to Nancy, so he cops a plea to get out of prison. The rest of the episode follows his attempts to find and defend Nancy, now all grown up and a sexy stripper (Jessica Alba).

Sin City may be the first movie since 1990's Dick Tracy to really feel like a comic book come to the big screen. Say what you will about Warren Beatty's flick – he did manage to capture the look of the original comics, albeit in a self-conscious manner. Some may argue that City's visuals are also over the top and self-conscious, but that's the point, and they fit the material exceedingly well.

City straddles the line between distinctive and obnoxious. At least it stays on the right side of that line, as virtually every frame of the film looks like they lifted it straight from a comic book. City even manages to use modified black and white photography to good effect. By "modified" I mean that the majority of the flick is B&W, but many splashes of color manifest themselves. This technique has been done to death in commercials and other movies, but here it feels fresh and appropriate.

Indeed, the look of City is so incredibly striking that it may be tough to get past it at times. In a film with this kind of visual impact, the story and characters could get lost. Happily, those concerns don't mar the flick. The actors offer excellent performances across the board. They exaggerate the personalities to match the material but they don't play them in condescending, campy ways. All of the actors buy into their characters in the spirit intended.

And what spirit is that? Gleefully over-the-top and gory. City isn't a family flick. An abundance of blood spurts, and even if the stylized palette often renders it white or other tones – we only see red blood smeared on people – the fact remains that this is an exceedingly violent piece. It portrays this in a cartoony way, but I'm sure the decapitations/amputations/whatnot will make this a film that offends many.

But for that subset of folks who dig this sort of material, they'll have a blast. Reminiscent of Pulp Fiction with its excessive violence and non-chronological, episodic storytelling, Sin City
---
The DVD Grades: Picture A/ Audio A-/ Bonus D
---
Sin City appears in an aspect ratio of approximately 1.85:1 on this single-sided, double-layered DVD; the image has been enhanced for 16X9 televisions. Wow - what a great looking transfer!
From start to finish, sharpness was immaculate. Wide shots, close shots, medium shots – it didn't matter, as the presentation always kept the picture tight and well-defined. No issues with jagged edges or shimmering occurred, and I also noticed no signs of edge enhancement. Shot digitally, the movie looked like it came straight from that source. I didn't detect any source defects through this flawless image.
As I noted in the body of the review, City was a black and white film with occasional splashes of color. Reds were most frequent, while yellows and golds came up often as well – particularly in the third act, since it presented a yellow character. The colors always appeared terrific. They demonstrated the appropriate clarity and definition at all times.
Since they dominated the movie, the black and white tones became especially important. They also seemed positive. Blacks came across as deep and firm, while contrast was brilliant within the movie's design. Low-light shots offered great delineation and visibility. All told, I found nothing about which I could complain in this excellent transfer.
I also really liked the audio of Sin City. The DVD offered both Dolby Digital 5.1 and DTS 5.1 soundtracks. As usual, the DTS mix was mastered a little louder than the Dolby one. When I accounted for those differences, I thought both were virtually identical.
That was good, since both sounded great. With all the action of the various stories, the mixes had a lot of room for involving material, and the tracks took good advantage of that. Of course, the many violent scenes worked the best. Gunfire and other attacks zipped around us to fill the room with mayhem. Vehicles also zoomed about accurately and helped this mix create a good sense of place. The tracks also demonstrated fine stereo imaging for the music and a strong feeling for general atmosphere during the quieter scenes.
Audio quality was top notch. A few lines displayed their looped origins a little too obviously; I thought some of this might be intentional to match the overblown world of the film, but since the film didn't use that tone consistently, it became a minor distraction. Otherwise, speech was concise and crisp, with no edginess or other issues. Music sounded bright and dynamic, as the score always appeared lively and full.
Effects packed a wallop. With all the action, they had many opportunities to blast you through the wall, and they used them well. The elements were accurate and clean, and bass showed good definition and strength. Chalk this up as a terrific pair of soundtracks.
Unfortunately, this DVD of Sin City skimps on the extras. The main attraction comes from an eight-minute and 31-second Behind the Scenes featurette. It includes movie snippets, archival materials, and comments from co-director Robert Rodriguez, creator/co-director Frank Miller, guest director Quentin Tarantino, and actors Josh Hartnett, Bruce Willis, Jessica Alba, Mickey Rourke, Brittany Murphy, Benicio Del Toro, Rosario Dawson, and Clive Owen. We learn a little about the source material, how Rodriguez convinced Miller to adapt the comic, recruiting actors, the characters, and Tarantino's role on the project. The featurette includes a little more depth than the usual promo piece, but don't expect much meat. There's just not enough time, and the emphasis clearly remains on touting the project. We learn a few basics and little more.
Other than the featurette, we just get a collection of Sneak Peeks. This area includes ads for Mindhunters, Spider-Man: The '67 Collection, Lost, and Desperate Housewives.
With imaginative visuals and a wildly gory setting, Sin City won't be for everyone. However, folks who like the idea of an exaggerated comic book film noir will likely dig this creative and entertaining effort. Both picture and audio are top-notch, but the set lacks much in the way of supplements. I've heard that we'll eventually get a second release of Sin City with a longer cut of the film and massive amounts of extras. If you want to hold out for that, I can't sway you not to do so, but if you've not seen the film, this basic theatrical version makes for at least a nice rental. It's a cool flick that deserves your attention.
| | |
| --- | --- |
| Viewer Film Ratings: 4 Stars | Number of Votes: 65 |