SONY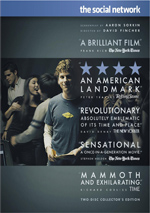 MOVIE INFO
Director:
David Fincher
Cast:
Jesse Eisenberg, Andrew Garfield, Justin Timberlake, Rooney Mara, Bryan Barter, Brenda Song, Armie Hammer, Joseph Mazzello, Andrew Garfield
Writing Credits:
Aaron Sorkin, Ben Mezrich (book)
Tagline:
You Don't Get To 500 Million Friends Without Making A Few Enemies.
Synopsis:
A chronicle of the founding of Facebook, the social-networking Web site.
Box Office:
Budget
$40 million.
Opening Weekend
$22.445 million on 2771 screens.
Domestic Gross
$94.828 million.
MPAA:
Rated PG-13


DVD DETAILS
Presentation:
Aspect Ratio: 2.40:1
Audio:
English DTS-HD MA 5.1
French DTS-HD MA 5.1
Subtitles:
English
French
Spanish
Closed-captioned
Supplements Subtitles:
English

Runtime: 120 min.
Price: $34.95
Release Date: 1/11/2011

Bonus:
• Audio Commentary with Director David Fincher
• Audio Commentary with Writer Aaron Sorkin and Actors Jesse Eisenberg, Andrew Garfield, Justin Timberlake, Armie Hammer, and Josh Pence
• "How Did They Ever Make a Movie of Facebook?" Documentary
• "Jeff Cronenweth and David Fincher on the Visuals" Featurette
• "Angus Wall, Kirk Baxter, and Ren Klyce on Post" Featurette
• "Trent Reznor, Atticus Ross, and David Fincher on the Score" Featurette
• "In the Hall of the Mountain King: Music Exploration" Featurette
• "Swarmatron" Featurette
• "Ruby Skye VIP Room" Multi-Angle Scene Breakdown




PURCHASE @ AMAZON.COM

EQUIPMENT
Panasonic 50" TH-50PZ77U 1080p Plasma Monitor; Sony STR-DG1200 7.1 Channel Receiver; Panasonic DMP-BD60K Blu-Ray Player using HDMI outputs; Michael Green Revolution Cinema 6i Speakers (all five); Kenwood 1050SW 150-watt Subwoofer.


[an error occurred while processing this directive]
---
The Social Network [Blu-Ray] (2010)
---
Reviewed by Colin Jacobson (January 27, 2011)

When she heard of plans for 2010's The Social Network, one of my friends commented that she thought a movie about Facebook was an awful idea.

She did so on Facebook. Oh, the irony!

Though I must admit, my friend's reaction made a lot of sense. After all, how interesting could the story behind the creation of a website be? Only the attachment of David Fincher as director inspired confidence.

Well-deserved confidence, in fact, as Fincher's Social Network creates a gripping story. When his girlfriend Erica (Rooney Mara) dumps him, Harvard student Mark Zuckerberg (Jesse Eisenberg) tries to get back at her via online efforts. Along the way, he takes "facebooks" – photo guides intended to let students better get to know each other – and creates an online program to let users rank the attractives of the various pictures.

This proves to be tremendously popular, and it attracts the attention of Cameron and Tyler Winklevoss (Armie Hammer), two fellow students. They want to create their website, Harvard Connection, a social networking page that they think will fly because the exclusivity of the "harvard.edu" address will appeal to many.

This inspires Mark to make his own social site. He gets the financial backing of his pal Eduardo Saverin (Andrew Garfield) and creates "The Facebook", all while he ignores the requests of the Winklevoss boys to discuss his non-existent progress on Harvard Connection. When The Facebook goes live, the Winklevoss twins and their partner Divya Narendra (Max Minghella) react negatively as they feel Mark stole their idea. This launches a battle over intellectual property and eventually conflicts between Mark and Eduardo as Facebook becomes internationally successful.

As I alluded at the start, the subject matter of Network seemed unlikely to make too many pulses race. I suspect the synopsis I provide above doesn't make it sound especially appealing either, and the film's structure also appears likely to bore rather than entertain. Essentially the movie goes from legal discussions to scenes that depict the "action". If litigation and Internet machinations don't add up to a recipe for boredom, I don't know what would.

Which makes the entertainment factor on display here a minor miracle. Fincher's last film left me cold, as I felt 2008's Curious Case of Benjamin Button was the wrong project for the director. This is the guy who brought bite to dark crime explorations in Se7en and Zodiac. While I respect Fincher's desire to branch out to the Gump-like Button, he couldn't work any magic with that flick and it ended up as dull and leaden.

I doubt anyone will use those terms to describe the brisk Network. It's ironic that Button came packed with fantasy and adventure but bored me while Network provides a taut, engrossing affair. I suspect Fincher simply relates better to stories with a dark side, and that's the case here. No, Network doesn't include evil characters like John Doe or the Zodiac Killer, but given its focus on apparent back-stabbing and treachery, it feels more appropriate for Fincher.

And he makes hay with the narrative. Often when I watch movies at home, I glance at my player's time display. On many occasions, I find myself surprised at how little time has passed, but here, the opposite occurred. I took a glance at the display 40 minutes in and was shocked, as I thought only about 20 minutes had elapsed. If Fincher doesn't win the Best Director Oscar, it'll be a crime; this may not be a truly great film, but his direction is what makes it go.

Where Network loses points stems from its characters, as they lack depth. In essence, all of the leads provide one-note personalities. Mark is little more than a socially inept nerd and emotional cripple, while Eduardo provides the screwed-over nice guy and object of the audience's sympathy. Sean Parker (Justin Timberlake) only needs a moustache to twirl and he could be the perfect villain.

While it's easy to paint the roles as one-dimensional, a relevant question arises: is this intentional? Some viewers contend that the movie opts for shallow characters as a reflection of the medium the film depicts. In a world of Facebook and its lack of true interpersonal connection, perhaps one-note characters serve to illustrate the flaws of that system. I have to admit that this theory makes sense, as it otherwise seems illogical that a filmmaker as talented as Fincher would allow for such an obvious deficit to occur.

But this does still create a bit of a gap at the film's center. Whether or not the characters are intentionally shallow, their lack of depth tends to keep the audience at a distance, and it means the movie never quite becomes transcendent. I don't think it needs broad character arcs or other traditional narrative moves to reach "A"-level, but something a little meatier than this would be nice.

That said, I do enjoy Social Network. It takes a potentially stale subject and delivers a zippy little tale. It's superficial nature means it doesn't hold up terribly well to additional viewings – there are no layers to peel back here – but it's still a good ride.
---
The Blu-ray Grades: Picture A-/ Audio B/ Bonus NA
---
The Social Network appears in an aspect ratio of approximately 2.40:1 on this Blu-Ray Disc. The movie boasted a strong transfer.
No issues related to sharpness, as the movie looked concise and accurate. Virtually no signs of softness marred the presentation. Jagged edges and shimmering failed to appear, and edge haloes remained absent. Source flaws caused no distractions.
Colors were fine within decidedly stylized realms. Though it went with a few other tints on occasion, the movie usually opted for a yellow-gold feel; this was by far the most dominant color choice. This meant we didn't see much visual variety, but the hues looked fine given the constraints. Blacks were dark and tight, while shadows demonstrated good clarity. I expected a positive transfer and that's what I got.
As for the film's DTS-HD MA 5.1 soundtrack, music ruled the day. The score filled out the room in a bold manner that used the whole spectrum well. Given the chattiness of the movie, effects played a minor role. All the most active segments featured music; whether via score or elements in clubs or parties, this was a music-heavy track. And that was fine, as the score and tunes opened up the mix well.
At all times, audio quality was positive. Speech appeared concise and accurate, without edginess or other concerns. Music came across as lively and full, and effects were fine for what they could offer. Because the track didn't do a lot beyond music and speech, I didn't think it merited a grade above a "B", but it still satisfied.
Across these two discs, we get a slew of extras. On Disc One, we find two separate audio commentaries. The first comes from direct David Fincher, as he offers a running, screen-specific chat. Fincher discusses tone and pacing, casting and performances, music, sets and locations, fact vs. movie fiction, some visual effects, and a few other topics.
Fincher always records enjoyable commentaries, and this one continues that trend. On the negative side, the track comes with a little too much dead air, but the quality of the content more than compensates. Fincher delivers a lot of interesting material and offers a wry presence to make this a very good piece.
For the second chat, we hear from writer Aaron Sorkin and actors Jesse Eisenberg, Andrew Garfield, Justin Timberlake, Armie Hammer, and Josh Pence. It sounds like Garfield, Hammer and Pence sit together, while the other three do their thing solo. They cover cast, characters and performances, research, facts and liberties, some technical elements, and thoughts from the set.
Expect another really good commentary here. In particular, the actors offer many nice notes about their work and elements of the shoot. Sorkin throws in a number of positive observations as well, and the track moves along at a great pace. It turns into a fun and informative piece.
Disc Two of Social Network provides a bunch of additional components such as a documentary and some featurettes. Unfortunately, the copy I got only included the first platter, so I'm unable to discuss the extras on Disc Two. That's why I went with "NA" for the "Bonus" grade, as I can't rate something I've not seen. Based on my experiences with prior Fincher releases, I'd expect good content from these pieces, though.
After the disappointing Benjamin Button, director David Fincher returns to good filmmaking with The Social Network. This doesn't threaten to become his best film, but Fincher takes potentially dull subject matter and he turns it into a fun journey. The Blu-ray boasts excellent visuals, good audio, and a broad roster of supplements. I recommend this entertaining flick.
| | |
| --- | --- |
| Viewer Film Ratings: 4.5937 Stars | Number of Votes: 32 |