Reviewed by Colin Jacobson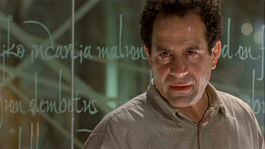 While the American public seems to enjoy supernatural tales, they don't appear as sold on haunted house movies. Flicks like The Blair Witch Project and The Sixth Sense brought in the big bucks, but abode-based films fell short of box office goals. 1999's remake of The Haunting totally bombed, and other lower-budget efforts like 1999's The House On Haunted Hill failed to make much of an impact with audiences.
Actually, considering the flick's $19 million budget, its take of $40 million ain't bad. 2001's Thir13en Ghosts almost perfectly duplicated that feat. With a $20 million budget, it earned a moderately positive $41 million. The fiscal similarities probably shouldn't come as a surprise given the high level of factors shared by each film.
First of all, Joel Silver's Dark Castle production company created both movies. He started that group as a tribute to low-budget horror icon William Castle, the man who made the original versions of Hill and Ghosts. To date, Dark Castle has released just these two flicks, though IMDB indicates they have two more on tap for 2002. Both seem to be remakes, though I'm not sure if both redo old Castle productions. Macabre - directed by a surprisingly big name in Robert Zemeckis - reworks a 1958 Castle flick, but I'm not sure if Ghost Ship - led by the 2001 Ghosts' Steve Beck - has any Castle connection.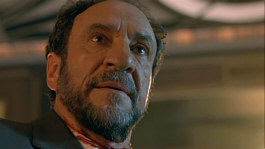 In addition to those important factors, both Hill and Ghosts featured winners of the Best Actor Oscar. Hill gave us Geoffrey Rush, who took home the prize for 1996's Shine. Ghosts, on the other hand, provided F. Murray Abraham, the victor for 1984's Amadeus. At least Rush can claim continued acting success; he also took home Oscar nominations for 1998's Shakespeare In Love and 2000's Quills. Poor F. never earned another Oscar nod at all.
But I suppose that's neither here nor there. I never saw the original Ghosts so I can't compare the two. On its own, the 2001 version certainly seems fairly derivative and it suffers from many of the weaknesses often found in the horror genre, but I still had a little fun as I watched it.
Thir13en Ghosts - yes, the Se7en-inspired spelling is correct - provides a moderately interesting twist on the standard haunted house story. At the start, we meet Cyrus Kriticos (Abraham), a crazy rich dude who tries to imprison ghosts for his own nefarious means. One of them's just a little too wild; though psychic assistant Dennis Rafkin (Matthew Lillard) and the other crew eventually imprison the spook, Cyrus gets killed in the attempt.
From there we cut to the family of Cyrus' nephew Arthur (Tony Shalhoub). He lives with daughter Kathy (Shannon Elizabeth), son Bobby (Alec Roberts), and nanny Maggie Jones (Rah Digga). His wife and their mother Jean (Kathryn Anderson) died not too long ago in a house fire, and they're trying without much success to rebuild their lives.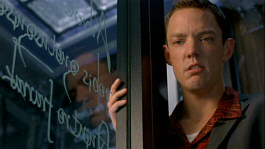 Into this picture steps Cyrus' lawyer Benjamin Moss (JR Bourne), who indicates that Arthur's the sole heir of a fortune and a bitchin' house. The family head out to see this most unusual abode. A glass building, it displays odd Latin inscriptions all over and works more like some funky clock than a standard house.
Dennis turns up outside the place, and he pretends to be a power company worker to gain entrance to the house. There the family checks out their posh new digs. Unfortunately, the basement holds a secret: all the captured ghosts are stored down there. But they won't remain there for long, and most of the movie follows the action as the gang try to escape death at the hands of the dead.
On the negative side, Ghosts is a cheesy horror movie that includes all the stupidity of virtually every cheesy horror movie. It provides plot holes through which one could drive a truck, and the characters are thin and bland. The pacing seems fairly atrocious as well. For extended parts of the film, Kathy and Alec play absolutely no role in the proceedings; they vanish with virtually no explanation.
Ghosts features a fairly decent cast - well, at least a couple of good actors appear, though they make little impact. Abraham doesn't do much with Cyrus, and the usually terrific Shalhoub comes across as bland and forgettable. Young Roberts is just plain irritating. Lillard can be annoying, but I occasionally enjoy his work. Not here, however, where he seems like just another brick in the wall.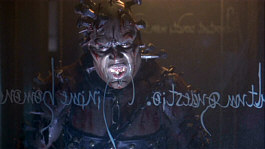 The "R"-rating for Ghosts includes a mention of nudity, but don't salivate over the prospect of seeing more of Elizabeth. She's publicly disavowed any further skin-baring roles, and that promise holds true for Ghosts. Teasingly, in one scene the spirits tear at her clothers, but nothing more than a quick flash of bra appears.
Instead, Ghosts provides some of the least appealing full-frontal nudity I've seen. We see hot-bodied Shawna Loyer in all her bare goodness, but since she's one of the spooks, she's done up in rather macabre makeup. False knife wounds abound, and only the most dedicated necrophiliac will get a charge out of her appearance.
In addition, Maggie's yet another stereotypical sassy black servant who exists just to provide wisecracks and give the film some "color". Things haven't improved since The Jeffersons, have they?
Nonetheless, I still got a minor kick out of Ghosts. To the filmmakers' credit, the budget production looks like it cost much more money. Granted, most of the action occurs in one location, which likely kept down expenditures, but since it's a very complex location, I feel they did a terrific job with it. From the excellent makeup to the fascinating house to some surprisingly well done computer graphics, Ghosts rarely belies its low budget.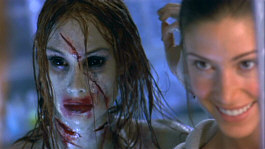 Despite the pacing problems, director Steve Beck manages to string together some pretty good action sequences. The movie does fall apart somewhat during its second half; the plot gets bogged down in too much mystical mumbo-jumbo. However, the sequence that depicts the initial attack against the family and the others works really well. The shocking visuals offered by the monsters combines with some clever "now you see them, now you don't" techniques to create a segment that packs a solid little punch.
Overall, Thir13en Ghosts falls short of anything remotely approaching greatness, but it never intended to be more than a fun thrill ride. In that regard, it does reasonably well for itself. No one will confuse it for a great movie, but if you dig this kind of fast-paced horror flick, you'll probably enjoy it.