Reviewed by Colin Jacobson
Special Edition DVD
Warner, widescreen 2.35:1/16x9, languages: English DD 5.1 [CC], subtitles: English, French, single side-dual layer, 31 chapters, rated R, 115 min., $24.98, street date 4/11/2000.
Supplements:
Under The Bunker: New Behind-the-Scenes Documentary
2 Feature-Lenght Audio Commentaries: One with Writer/Director David O. Russell, One with Producers Charles Roven and Edward L McDonnell.
Deleted Scenes with Optional Commetary by Russell
Director's Video Journal
An Intimate Look Inside The Acting Process with Ice Cube
Tour of the Iraqi Village Set with Production Designer Catherine Hardwicke
Interview with Director of Photography Newton Thomas Sigel
Stills Gallery: Includes Exclusive Location Photos by Spike Jonze
Hidden Bunkers: Find Them and Treasure Awaits
Production Notes
Theatrical Trailer
DVD-ROM Features:
Web Events
Chat Room Access
Persian Gulf War Web Site Links
Character Bios
Original Theatrical Web Site
Studio Line
Directed by David O. Russell. Starring George Clooney, Mark Wahlberg, Ice Cube, Spike Jonze, Nora Dunn, Cliff Curtis, Saïd Taghmaoui.
Absurdly comic, highly kinetic, at times shockingly emotional, Three Kings begins when the Gulf War is over. Amid the partying and confusion, four American soldiers (George Clooney, Mark Wahlberg, Ice Cube and Spike Jonze), determined to take home more than sand fleas, go off into the Iraqi desert to find millions in stolen Kuwaiti bullion. They are plunged into the heart of a democratic uprising that spins the day and their lives out of control. David O. Russell's unique tapestry of humor, violence and history makes Three Kings "one of the best movies of the year." (Roger Ebert, Chicago Sun-Times)
Picture/Sound/Extras (B+/A-/A-)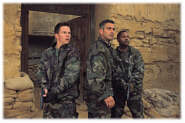 Based on its trailer, Three Kings looked to be a complete stinker. It starred George Clooney, who - though he's done some good films (like Out Of Sight and The Peacemaker) hasn't exactly become the King of Hollywood - plus two former rappers (Ice Cube and "Marky Mark" Wahlberg). The preview made the film largely look like some sort of Tarantino-esque heist movie, with a terrible hip-hop version of Buffalo Springfield's crummy Sixties protest song "For What It's Worth" adding a component that I guess was supposed to make us realize our protagonists would take up a cause. If previews predict anything, then 3K had to be a dog.
To my surprise, the film came out and garnered quite positive reviews. I actually intended to see it theatrically but didn't do so, mainly because I figured a good DVD release would ultimately hit, so I saw something else from a studio less-supportive of DVD. (A bad plan, I know, for it rewards these crummy-DVD studios at the box office, but it helped me choose between 3K and a competitor.)
At least my prediction came true and 3K did inspire a good DVD, which made watching it even more appealing. Now that I've finally seen the film, I can't say that I think it completely lives up to all of its hype, but it definitely makes for an interesting and compelling experience.
And a somewhat unusual one at that. Director David O. Russell pours on all sorts of visual gimmicks; at times it felt like I was watching a Gulf War version of The Matrix. We see various uses of slow motion, special effects and the like that occasionally detract from the experience - it can all be a little clever-clever - but usually are pretty useful. For example, in one scene, Russell slows down gunfire so that we experience each and every impact, something that would be lost at real speed.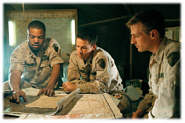 The plot itself is nothing special. Essentially we have some semi-amoral guys who embark on a selfish plan but ultimately get caught up in a bigger cause; they learn, they grow, blah blah blah. Ordinary as the storyline may be, Russell spikes it with some surprises and makes it quite provocative for the most part.
One surprise for me is that 3K is much more of an action film than I expected. Most war movies fit into the action genre as well, but this one seems different. Honestly, at times it felt like I was watching a Die Hard movie! (Which I actually intend as a compliment.)
3K is definitely a compelling movie, but it's not one that has inspired a lot of thought or retrospection on my part. This isn't because it's brainless but comes more from the fact that the heroes and villains are generally so clear. Well, our protagonists are more flawed than most, but we still strongly empathize with them and we know they'll do the right thing. On the bad-guy side we have the second half of the 20th century's Hitler, Saddam Hussein. Saddam never actually appears in the movie, but his spirit is felt through the actions of his minions. One of these characters gets more personality than usual, but although we grow to understand him, we never deviate from our disdain of his comrades, and we will eventually cheer on our heroes.
One part of 3K that bothered me came from the usual grossly stereotypical depiction of Southern characters. We see two redneck types - each played by the distinctly non-Southern Spike Jonze and Jamie Kennedy - who are stupid and/or racist. One character of this sort would have been bad enough but two seems like ridiculous overkill. Perhaps someday someone will explain to me why it's okay to make fun of "rednecks" but similar portrayals of most other sub-groups of people are degrading and insulting. It's one of the few significant misfires in 3K.
Whatever else I can say for it, Three Kings makes for an interesting experience. It's an anti-war movie that guiltily revels in its action scenes but also manifests some self-consciously artsy tones. It's not a perfect movie, or even a great one, but it's compelling and its broad range should make it interesting to a wide variety of audiences.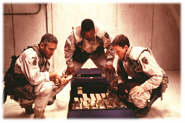 (By the way, am I the only one who sees the irony in Wahlberg and Cube costarring in this film? Think about it: in early 1991 - the time of the events depicted - the two occupied absolutely opposite positions in the entertainment universe. Cube gained fame as a member of incendiary rap group NWA - most famous for their 1988 anthem "Fuck Tha Police" - and was on his way to a successful solo career at the time. Wahlberg, on the other hand, just entered the recording studio that year and - mainly due to his status as brother to New Kids On the Block's Donnie - had a hit with his bubblegum hip-hop album from "Marky Mark and the Funky Bunch". I don't know if Cube's ever spoken on the subject, but let's just say that I doubt he much cared for Marky Mark's style of rap...)
Three Kings appears it its original theatrical aspect ratio of 2.35:1 on this single-sided, dual-layered DVD; the image has been enhanced for 16X9 televisions. At the start of the film, a disclaimer reads: "The makers of Three Kings used visual distortion and unusual colors in some scenes of this film. They intentionally used these unconventional techniques to enhanced the emotional intensity of the story line." Take those words to heart, for while 3K may not look as bizarre as the statement leads one to believe, it indeed offers an unusual visual experience along the lines of something like Saving Private Ryan.
Sharpness usually seems fine. A little softness creeps in at times during wide shots, but this isn't a significant problem. I occasionally noticed some jagged edges but no moiré effects; the edginess appeared largely due to a few issues with the anamorphic downconversion on my 4X3 TV. The print seemed a little grainy at times, but this didn't bother me, and I witnessed no other flaws such as speckles, scratches or spots.
Colors generally seemed somewhat desaturated due to the heavily washed-out appearance given to the film; the bleached atmosphere of the desert comes through well, and as a result, we don't see very intense colors for the most part. Nonetheless, the hues look fine within this framework. Black levels appeared deep, but shadow detail could be too heavy at times; for instance, in one scene that showed birds covered in oil, it was very difficult for me to discern what was happening. Overall, I gave 3K a "B+" just because it's kind of an ugly film, but the DVD seems to accurately replicate the original image.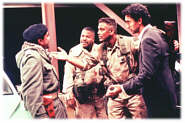 The film's Dolby Digital 5.1 soundtrack provides much less equivocal pleasures. The soundfield seems very wide and deep as well; the front speakers often spread audio across their range, and the rear channels add a lot of spatiality to the image. The surrounds aren't universally active, but they do contribute a good amount of kick to the mix.
Quality seems excellent throughout the movie. Dialogue is always clear and crisp with no intelligibility problems, and speech appears natural even though I'd guess much of it had to be dubbed. Music sounds warm and rich and effectively smooth, while effects are deep and realistic, with no signs of distortion. All in all, it's a very fine soundtrack.
Three Kings isn't the greatest special edition DVD ever made, but it's a very good one. First of all, the package includes two separate audio commentaries. The first comes from director/screenwriter David O. Russell. He seems like a refreshingly frank filmmaker and his commentary adds lots of interesting and provocative information about the actual creation of the film. He's even willing to criticize his work at times, something that's pretty much absent from most commentaries. I really enjoyed Russell's track and will definitely listen to it again.
The track from producers Charles Roven and Ed McDonnell also is chatty and engaging. This commentary spends less time detailing the actual production of 3K and occupies much of its length with facts about the lives of producers, general aspects of Hollywood reality, some interpretation of the film and also discussion of the time period being documented. It's a very useful commentary; my only criticism would be that Roven dominates and doesn't seem to give McDonnell much of a chance to speak.
The DVD features a documentary called "Under the Bunker: On the Set of Three Kings. This piece runs for 21 and a half minutes and it offers a somewhat brief but decent overview of the production. All the usual components appear, such as cast and crew interviews and on-set footage. It's not a tremendously memorable production but it provides some useful information and is always entertaining.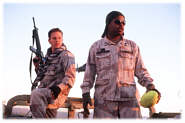 Next is a "Tour of the Iraqi Village Set". This runs for 10 minutes as production designer Catherine Hardwicke shows us the sets and discusses why she did what she did. This is a pretty good piece that stands out because it's not something we often see. Hardwicke is chatty and informative and this program offers a nice look at a sometimes-neglected area of filmmaking.
Even more unusual is the "Director's Video Journal". This 13 and a half minute program was mainly shot by Russell and serves as a pictorial diary of his experiences. Obviously it's been severely edited - one gets the impression Russell had his video camera with him everywhere - but it still provides some fascinating looks at what he did in the making of the film. Actually, the program concentrates mainly on those areas of preproduction that we don't usually see, plus it shows parts of the premiere. Quite frankly, this is one of the coolest extras I've ever seen and is absolutely fascinating; I just wish it had been longer!
Another section offers four deleted scenes; in total, these run for about six and a half minutes. You can watch them with the production audio (what was recorded on the set) or with commentary from Russell. All four scenes are quite interesting; I understood why they were cut but also thought they could easily have remained, which isn't usually the case. Russell's commentary briefly discusses them and communicates why they were removed (which is the most important part of this kind of discussion). All in all, it's a very interesting piece.
We find an "Interview with Director of Photography Newton Thomas Sigel". This seven minutes program essentially provides Sigel's narration on top of shots from movie. His comments usually relate to what's on screen at the time, and he provides some decent information about the photographic choices made during the filming. Some of this data is a bit redundant from other sources, but it's still a useful piece.
"An Intimate Look Inside the Acting Process With Ice Cube" exists purely in the pursuit of entertainment. This rather tongue-in-cheek two minute and 20 second production was shot by Spike Jonze and offers Cube's "serious" discussions of how to act. We see Cube focus on a "crucial" line that he has to offer. It's a very funny piece.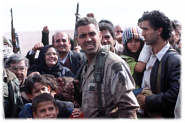 Jonze provides more extras in the "Special Photography" section. This offers 22 production photos, all of which were taken by Jonze himself. They're no more interesting than the usual production stills, but it's kind of neat to see something done by a member of the cast.
More production data comes in the "Production Notes" area. This domain covers four different subtopics ("Origins", "Historical Basis", "The Iraqis" and "Different Film Stocks") and gives us a fair amount of decent text information about the film. Honestly, much of the data appears elsewhere, but it's still worth a look since it only takes a few minutes to peruse.
That trailer I so disliked appears on the DVD, as does a TV ad. To find the latter, you need to go to the "Production Notes" section. When you attempt to move the cursor to the "continue" button on the first page of "Origins", it'll then highlight a little grenade; click the grenade and you'll be able to see the TV commercial.
Other "Easter eggs" such as this can be found on the DVD, but none of them seem to be immediately useful. Two other "grenades" you can click will offer you "passwords". What do you do with this information? Well, you can use it on the 3K "DVD Events" website, but unfortunately, that site is not up yet; apparently it won't be on the air until Warner Bros. start their 3K web events, whenever that will be. It's also unclear to me whether ordinary Internet folks can access this eventual-site or if it'll require DVD-ROM to connect.
In any case, here's where you can find those two grenades: one is on the last page of the "Special Features" menus and can be obtained if you click "down" past the final apparent option, the theatrical trailer. The other grenade exists on the "Cast and Crew" page; click in any direction while there and you'll see it.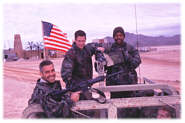 It may seem odd that one can move the cursor any which way on the "Cast and Crew" menu and still hit that grenade; shouldn't some directions highlight the various participants? One would think that, but bizarrely, this page only lists some of the actors and crew members; one cannot highlight their names and then obtain more information about them. Warner Bros. have done similar efforts on other DVDs; for example, Excalibur, Papillon and The Shawshank Redemption all provide a long list of people but will only let you access biographies for one to three of those folks. 3K is the first DVD of theirs I've seen that provides no biographies. It's no big deal, since most of these listings are pretty perfunctory anyway, but it seems weird.
Ultimately, Three Kings provides a very satisfying experience. The film itself has some flaws but nonetheless seems exciting and stimulating, and the DVD provides it with strong picture and sound. The package also tosses in some excellent supplements. Three Kings definitely rates a rental but probably warrants purchase instead; it's a DVD I'm sure to revisit a few times in the future.
Reviews Archive: #, A-C | D-F | G-I | J-L | M-O | P-R | S-U | V-Z
Previous: Bear In The Big Blue House | Back to Main Page