The Matrix appears in an aspect ratio of approximately 2.35:1 on this single-sided, double-layered DVD; the image has been enhanced for 16X9 televisions. Only a few small concerns appeared here to slightly mar an otherwise solid transfer.

For the most part, sharpness looked excellent. A few wide shots seemed just a little soft. However, those remained very minor, and the majority of the movie was crisp and detailed. No issues connected to jagged edges or moire effects appeared, but I did see some light edge enhancement occasionally. Print flaws also created very small concerns. A speck or two cropped up, but nothing much interfered with the presentation. Some light digital artifacting did occur, though.

Over the years, many folks have griped about the DVD's green tint. Portions of The Matrix - specifically those scenes that actually take place in the matrix - have been given a moderate green tint. Apparently this was done in an attempt to make scenes in the matrix look different from those in the "real world."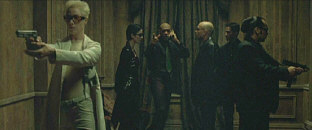 Whether the filmmakers succeeded in that regard, I'll leave up to the individual viewer. The DVD did seem to replicate the original material accurately, green shading and all. Overall the colors looked appropriately displayed. Black levels were nicely deep and tight, and low-light shots came across as well developed and concise. Ultimately, The Matrix displayed a positive image.
The Dolby Digital 5.1 sound mix of The Matrix was also solid, though I must admit that it didn't quite live up to my expectations. I anticipated an all-out sensory assault, and that wasn't the case. Still, it's a very effective mix. The audio created a fairly convincing sound environment, and effects panned nicely between channels. Effects popped up cleanly in the surrounds and combined to create a good sense of place. These became especially useful during fight and action sequences, during which we got almost the level of activity I expected.
Audio quality appeared good. Speech was natural and distinct, and I noticed no issues connected to intelligibility or edginess. Music could have been a little more dynamic, but the score and songs were mostly well defined and bright. Effects packed a nice punch, as they sounded accurate and clean. Across the board, bass response was tight and rich. While not quite demo level, the audio of The Matrix seemed satisfying.
This DVD of The Matrix includes a decent but unspectacular set of extras. We open with an audio commentary from actor Carrie-Anne Moss, editor Zach Staenberg and special effects supervisor John Gaeta. This lineup didn't necessarily have to be a bad thing; big names don't always guarantee a good commentary (Dustin Hoffman on Sphere, anyone?) and participants of less obvious significance often come through nicely; for example, of the three tracks on Contact, I preferred the one from the effects guys over those from Jodie Foster and Robert Zemeckis.
Unfortunately, the underdogs didn't come through during The Matrix. This isn't a bad commentary, but it's not too hot. The participants occasionally offer some interesting information, but this happens on a much too infrequent basis; there are very large gaps during this commentary that feature no participation from the crew. The men dominate the discussions that do occur; Moss chimes in on occasion, but the periods of time that lack her participation are so I suspect she either left the room or fell asleep at one point! She's basically not there for the middle 90 minutes of the film. The track is worth a listen if you don't have much else to do, but don't expect much from it.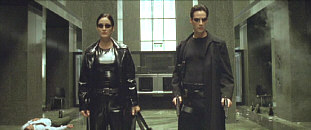 Actually, The Matrix DVD offers a second commentary. This one comes from composer Don Davis and is included during the isolated music-only audio track. As is usually the case with this kind of commentary, the focus is generally limited to a discussion of the music, but Davis also offers some general information about what the filmmakers were trying to achieve. It's a fairly brief commentary - this film contains a lot of music - and it's kind of a hassle to listen to, since you have to skip past the music, but I found it to be pretty interesting. It's not as good as Randy Newman's terrific track for Pleasantville, but it's not bad.
Next up is a nifty 26-minute documentary called Making The Matrix. This program began its life as a "time filler" on HBO, but it's much better than its humble origins would let you believe. Due to its relatively brief length, it's not exactly an in-depth piece, but it manages to offer a nice overview of the creation of the film. It's worth a look, and you'll actually probably want to watch it a few times.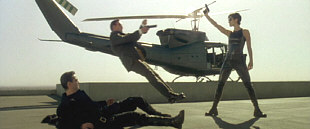 The DVD also contains some semi-hidden extras. First up is the Follow the White Rabbit feature. The way this one works is that if you activate it before you watch the film, a white rabbit icon will periodically appear in the lower right hand corner of your TV screen. At that time, you can press the "enter" button on your remote and you will then get to see "alternate, behind the scenes angles" of the scene you were about to watch.
These segments aren't really "alternate angles"; that implies that you will see the completed scene from a different vantage point. Instead, what they offer are one to four minute video montages that intersperse raw footage from the set with some of the finished product. They're really quite interesting; it's a lot of fun to see the "behind the scenes" machinations for the film. Some of this kind of material can also be found in "Making The Matrix", but this feature presents it in a more easily accessible way (ie, if you just want to watch this stuff without having to search for it in a larger program). Hopefully other DVDs will see fit to include this kind of material.
Oh, and here's a way to skip all that "find the white rabbit" crap: use your remote to select "track" (not "chapter") 27 through 35; each of those "tracks" contains a separate "behind the scenes" segment. Alternately, you can switch between them by finding one of the bits and using the chapter/track forward or back button on your remote to change. I can't guarantee this will work on your player, but it worked nicely on my Panasonic 110.
Which brings me to a DVD controversy: player difficulties. DVD newsgroups and websites have been on fire with reports of various difficulties getting The Matrix to work on many different players. All I can say is that it worked flawlessly on my 110; I encountered no problems as I watched the movie or as I accessed the special features. If you're concerned about this, do a search through Deja.com to see if you can find any problems associated with your particular machine.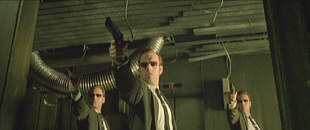 (By the way, don't take my comments as necessarily meaning that if you also have a 110, the DVD will run fine. I've read a bunch of reports of 110s that run into troubles. Happily, I'm not a member of that club, however.)
So what other extras does The Matrix provide? We also find two "hidden" video programs. The first is called What is Bullet Time? and can be found if you click on the "red pill" underneath the title page that lists "Making The Matrix". This segment runs for about six minutes and it details how the "stop motion" effects in the film were produced. It's a pretty interesting piece that lets you better understand how they did some of the movie's most interesting effects.
The second "hidden" video can be found by clicking the "red pill" found in the biography for the Wachowski brothers. This one's called What is the Concept? and it lasts for about 11 minutes. It's a little more abstract than "What is Bullet Time?" as it consists of a video montage of storyboards, rough effects, production drawings, and finished film clips. I didn't like it as much as I enjoyed "...Bullet Time?", but it's nonetheless another fun behind the scenes segment.
Finally, the DVD includes the standard cast and crew biographies. These are nice and fairly detailed (with the exception of the hilariously incomplete entry for the Wachowskis) but they're nothing out of the ordinary. Still, they're nice to have.
DVD-ROM owners get all of what I just listed and more! According to the package, The Matrix includes these DVD-ROM features:
"The One" Challenge: Answer questions about the film to find out if you are really "The One." Meet the challenge and visit an exclusive web site with more cool stuff!
Special Web Events: Check for listings of celebrity chat room guests and other special events!
7 Special Essays and Articles;
A "Phone" icon that will display storyboards while you watch the film;
All the features from the original theatrical web site housed on the DVD;
Theatrical trailer sampler: features trailers for films such as Demolition Man and The Road Warrior. (From what I understand, the trailers for The Matrix can be found within the section that includes the web site's content; the trailers can not be found on the regular DVD portion of the disc.)
All of that sounds great, but I can't comment on it, since I still don't have a DVD-ROM drive! Oh well!
Even without those extras,The Matrix is an excellent DVD. Combine a fantastic action movie with strong picture and sound and some decent supplements and you get a top notch DVD. Add to that the disc's MSRP of only $24.98, and this thing's a serious bargain. The Matrix comes highly recommended.