SONY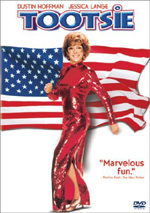 MOVIE INFO
Director:
Sydney Pollack
Cast:
Dustin Hoffman, Jessica Lange, Teri Garr, Dabney Coleman, Charles Durning, Bill Murray, Sydney Pollack, George Gaynes, Geena Davis
Writing Credits:
Don McGuire (story), Larry Gelbart (and story), Murray Schisgal
Tagline:
Desperate, he took a female role and became a star. If only he could tell the woman he loves.
Synopsis:
Michael Dorsey is a talented actor, but his demanding nature and stubborn temperament have antagonized every producer in New York. Now his agent insists no one will hire him. But Michael needs money - eight thousand dollars to be exact - and to earn it, he's willing to play the role of a lifetime. Dustin Hoffman stars with Jessica Lange, Teri Garr, Dabney Coleman, Charles Durning, Bill Murray and Geena Davis in director Sydney Pollack's heart-filled classic that heralded a new era of Hollywood wig-flipping and set a new standard for unpredictable laugh-out-loud comedy.
Box Office:
Opening Weekend
$5.540 million on 943 screens.
Domestic Gross
$177.200 million.
MPAA:
Rated PG


DVD DETAILS
Presentation:
Widescreen 2.35:1/16x9
Audio:
English Dolby Digital 5.1
English Monaural
French Monaural
Subtitles:
English
Spanish
French
Portuguese
Chinese
Korean
Thai
Closed-captioned
Supplements Subtitles:
None

Runtime: 116 min.
Price: $19.95
Release Date: 5/29/2001

Bonus:
• Trailers
• Filmographies
• Production Notes




PURCHASE @ AMAZON.COM

EQUIPMENT
Sony 36" WEGA KV-36FS12 Monitor; Sony DA333ES Processor/Receiver; Panasonic CV-50 DVD Player using component outputs; Michael Green Revolution Cinema 6i Speakers (all five); Sony SA-WM40 Subwoofer.


RELATED REVIEWS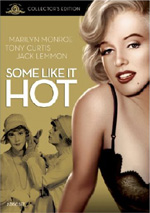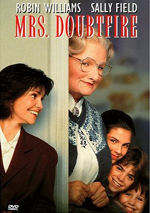 [an error occurred while processing this directive]
---
Tootsie (1982)
---
Reviewed by Colin Jacobson (February 7, 2008)

Is there anything funnier than a guy in a dress? Well, yeah - quite a lot of images and topics are more amusing than men in drag, but that doesnít mean such a sight canít still provoke humor. 25 years after its release, 1982ís Tootsie stands as one of the best-regarded films within this genre. Along with 1959ís Some Like It Hot and 1993ís Mrs. Doubtfire, Tootsie stands tall in this trifecta of trolls.

Of the three, only Doubtfire failed to make the original AFI Top 100 Films list. Hot placed an amazing 14th while Tootsie landed in the 62nd spot.

Tootsie tells the story of struggling actor Michael Dorsey (Dustin Hoffman). Though no one denies that Michaelís enormously talented, his harsh perfectionism has made him virtually unemployable. Heís cheesed off so many professionals that no one will give him work.

Michael remains dedicated to his art, so he continues to try to get a role. He also wants to raise $8000 so he and his playwright roommate Jeff (Bill Murray) can stage a new production in upstate New York. When his insecure actress friend Sandy (Teri Garr) doesnít get a part on a soap opera, Michael decides to show his true talent: he dresses as Dorothy Michaels and tries out for the role him/herself. When Michael/Dorothy wins the job, a double existence begins in which Michael has to try to balance both personalities.

While this would be complicated under the best of circumstances, since Tootsie is a comedy, problems churn almost immediately. Early into Michaelís dual existence, a compromising situation in front of Sandy almost betrays his alter ego. He doesnít want her to know that he got the job; sheís insecure enough without the pain of losing to a dude in drag. As such, Michael fakes an attraction to her and beds her to further this charade.

From there, a semi-relationship begins, though Michael constantly stands up Sandy because of his love for Julie (Jessica Lange), one of his co-stars on the soap. She warms up to Dorothy, which oddly gives Michael hopes for a romance between Julie and himself although Julie doesnít know Michael exists. Things go even more awry when Julie introduces Dorothy to her widower father (Charles Durning) and he promptly falls for her.

All of that confusion, and I didnít even bring up subplots that involve Julieís affair with the lecherous soap director Ron (Dabney Coleman) or the lustful ways of co-actor John Van Horn (George Gaynes). Yes, Tootsie is a screwball comedy, one that flings nutty relationships and scenarios with abandon.

Nonetheless, the movie feels nicely focused. With all of these elements, it has the potential to become a mess and to lose sight of its main characters, but this never happens. Parts of Tootsie havenít aged well over the years. It pushes a proto-feminist agenda in which we see how tough it is for a woman with all of those horrible men around them, and that theme gets old quickly. Sure, itís interesting to see Michael get in touch with his feminist side, but since he was never a bad guy from the start, the anti-male elements come across as heavy-handed.

Despite those missteps, the movie succeeds. Much of the credit goes to the outstanding cast, all of whom turn in fine work here. Hoffman never seems totally convincing as a woman, though I completely buy him as a pushy, demanding actor. Thatís probably since Hoffman has a reputation for being difficult, and itís delightful to see him poke fun at himself. Iím not sure Michaelís a full-blooded human being as performed by Hoffman, but he balances the different elements of the role nicely and holds together the film.

The supporting cast are also terrific. Lange won a Best Supporting Actress Oscar for her turn as Julie, and though I donít think she really deserved it - I prefer the work by Garr, who was nominated along with Lange - she does well in the role, especially since it was the most thankless of the bunch. Julieís really the straightwoman in a cast of comic personae, and Lange adds life and humanity to the role.

Still, itís a comedy, so it seems odd that the only performer formally honored for the movie was the one who had no comic bits. Thatís why Iíd pick Garr, whoís consistently witty and lively as Sandy. In some ways, itís an easier role since Sandy gets to be a broader personality, but that shouldnít underestimate Garrís success in the part. In addition, Murray turns in one of his all-time great bits as Jeff. The character doesnít stray far from the usual Murray territory, but he gives him such a wonderful deadpan tone that he makes his fleeting moments on screen seem lasting.

Do I think that Tootsie is one of the 100 top films ever made? Nope. Do I feel that it should rank as the second-best comedy to date? God no, though thatís where the AFI put it on their ď100 Top ComediesĒ list. Nonetheless, I do find it to offer a generally entertaining and amusing experience. Some parts of it havenít aged well, but as a whole itís a fun and well-executed film.
---
The DVD Grades: Picture C+/ Audio B-/ Bonus D-
---
Tootsie appears in both an aspect ratio of approximately 2.35:1 and in a fullscreen version on this double-sided, single-layered DVD; the widescreen image has been enhanced for 16X9 televisions. Only the letterboxed picture was reviewed for this article. While the movie showed some concerns, as a whole I thought it provided an image that was consistently watchable.
Sharpness generally looked pretty good. Some moderate softness crept into wider shots, but not to a tremendous degree. Instead, the majority of the film demonstrated positive delineation. I saw no problems related to moirť effects or jagged edges, but some light edge enhancement cropped up through the flick.
In addition, print flaws cropped up from time to time. A little light grain appeared during the movie, and I saw general examples of grit, speckles, and other debris. A few nicks could be seen, and I also witnessed a small streak or two. In general, I thought the movie seemed to be fairly clean, but some minor problems interfered with the transfer.
Colors appeared natural and appropriately vivid. The movie featured a fairly subdued palette but the hues looked clear and accurate throughout the film, and they showed no signs of bleeding, noise or other concerns. Black levels could be slightly muddy at times, but they generally were acceptably deep and dense, and shadow detail looked appropriately opaque but not too heavy. Ultimately, Tootsie provided an acceptable visual experience.
The Dolby Digital 5.1 soundtrack of Tootsie offered a remix of the filmís original monaural audio. That version of the sound also can be found here, but only the 5.1 track was screened for this review. To call this a modest expansion of the mono audio would be an understatement, as the 5.1 track fully met the criteria to be known as ďglorified monoĒ.
Donít take that as a criticism, however, as I had no complaints about the limited scope of the soundfield. Tootsie was a fairly quiet comedy, so it didnít need a wild 5.1 remix ala Jaws or Superman. Some modest ambience was a good idea, and that was what I found here.
The forward spectrum spread gently to the sides; some small effects popped up from the right and left front channels, and the music also broadened slightly, though the score and tunes still largely seemed to be monaural in nature. As for the surroundsÖ well, I guess the track used them, though Iíd be hard pressed to point out any specific examples. At best, the rear speakers added some modest reinforcement of the forward image; if any discrete audio occurred in the surrounds, I must have blacked out during those scenes.
Audio quality was consistently good. Dialogue always sounded warm and natural, with no signs of edginess or problems related to intelligibility. Some slightly thin tones came through via the speech, but these were quite minor and were typical of movies from the period. Effects seemed like a small part of the equation, but they sounded acceptably realistic and clear, with no distortion to mar them. The music appeared decent, though not a lot of range came from those elements; the score and songs tended to be a little flat. Ultimately, the soundtrack of Tootsie was a modest but satisfying affair that worked fine for the movie.
Tootsie flops when it comes to extras. All we find are brief but decent Production Notes in the packageís booklet, Selected Filmographies for director Sidney Pollack and actors Dustin Hoffman, Jessica Lange and Bill Murray plus some Bonus Trailers. There we get promos for Murrayís Groundhog Day and Ghostbusters plus Hoffmanís Hook. Oddly, no clip for Tootsie itself appears.
While I believe that Tootsie is over-rated, I do enjoy it. Tootsie is a classy comedy that offers quite a lot of solid humor despite a few missteps. It works because of a terrific cast, all of whom provide fine work. Despite a paucity of supplements, the DVD looks and sounds acceptable, though itís not spectacular in either area, and it lacks substantial extras. This is a pretty mediocre release.
To rate this film visit the 25th Anniversary Edition review of TOOTSIE